When Apple launched the iPhone, most people realized there was about to be a revolution in mobile telecommunications, what perhaps, was not recognized was the quiet revolution in photography. Since the launch and the emergence of the iPad and Android devices, a huge number of photographic apps have become available, and in this article we will highlight some of the best apps for Apple's IOS, although many of these apps may also be available on Android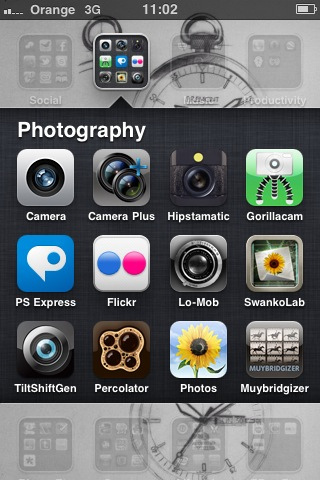 Everything the iPhone photographer needs – Photo by Noodlefish on Flickr

Photo apps can probably be broken down into three defined areas, taking apps, manipulating apps and portfolio apps. Some cross the boundaries between all three and some may not fit into any.
Instagram – Unless you have been living in the jungle for a month, the chances are that you have heard of Instagram, but what exactly is it? Put simply its a free app that allows you to take photos, apply simple filter style effects to them and then share the results with your friends via social networking sites such as Facebook and Twitter.
Camera+ – Somewhat more advanced than Instagram is Camera+. This inexpensive app is designed to help you take more creative images with your iDevice and features touch exposure and focus, a software image stabilizer, and compositional grid and digital zoom facility. The app also feature a simple image browser, the ability to geotag and like Instagram a sharing feature.
Camera Awesome – This app is a powerful image taking app that feature a number of tools to aid the photographer whilst shooting. These include a horizon tool, compositional overlays to aid setting up the image and the ability to select focus in one location and exposure in a different for the same shot.
The Photographer's Ephemeris – This fantastic and underrated app is perfect for travel and location photographers. Using the phones GPS locator, and knowing the time of day, it can tell you exactly which way the light will fall across a scene at a given time. These can be done before traveling or if you have a wifi or data connection on location it can be measured live. The results are shown on detailed maps that can be saved. There is a free online version on their website, http://photoephemeris.com/

Available as an app or online the Photographer's Ephemeris is a powerful tool. Photo by thtstudios on Flickr

DSLR Remote – Another great shooting tool, this app allows you to control your Nikon or Canon DSLR from an iPad or iPhone. You need to have your camera connected to a computer via USB or wifi, if possible, but once a connection is established you can control the camera directly from your idevice. The app features an intervalometer to set up stop motion shots as well as a live preview mode, ideal for remote photography.
iPhoto for iPad – This recently announced app was one of the selling points of the new iPad 3 although it works on iPad 2 as well. Based on, but ergonomically different to the iPhoto Mac app, it allows you to catalogue, browse and manipulate images of up to 19mp in size, including Raw files. The app features a whole host of professional level manipulation tools allowing you to create the exact look you want.
Photoshop Express – From the makers of Photoshop, the IOS version features some of the tools of it's big brother plus a Bridge style organizer, sharing options and a 2GB online account. It also has some tools to aid image capture. The basic app is free but their are add on packs featuring tools such as noise reduction filters and frames and borders. These are payware.
Filterstorm Pro – This is another powerful, browser and manipulation app that allows you to work on RAW files of up to 22mp (iPad 2 and up). It features advanced editing tools such as curves and levels and the ability to export via FTP to multiple locations. Other features include an unlimited edit history, image straightening and a clone tool
Foliobook – The iPad's larger screen has made it an ideal tool for displaying images. Foliobook is an app designed to allow professional photographers show omages to their clients but is equally useful for the enthusiast. It features a versatile built-in customization allowing you to apply you own branding and look to the app. Images can be viewed full screen and swiping the screen moves onto the next image.

The iPad has become a powerful photographer's tool. – Photo by Jasewong on FLickr


Portfolio for iPad – As it's name suggests this is another portfolio viewing app, very similar in style to Foliobook, and also featuring a customizable interface. By wirelessly connecting through an Apple TV, you can stream the images from the iPad to a large screen display.
These are just a few suggestions of some of the more popular apps available, it is by no means exhaustive but one thing is for sure, if there is something you want to do photographically with your iDevice, almost certainly there's an app for that.