Street photography predominantly deals with capturing candid portraits of strangers. If you haven't photographed strangers before, it can be a challenge to do so when starting out with street photography, especially if you wish to take their photographs from up close. However, with practice you can eventually learn to get comfortable with it and be rewarded with some unique street portraits that tell a story.
---
| | |
| --- | --- |
| | Ever wanted to take Dreamy Childhood Portraits Like these? You're in luck! Iwona Podlasińska's guide to setting up, shooting and editing these gorgeous, stylised types of portraits is on sale right now. Grab it here! |
This post lists four guides from Photzy on how to photograph street portraits and cover different aspects of it, including how to approach strangers for their portraits. If you're looking to get started with street photography, these can serve as great resources to help you get right to it. Do check them out.
If creating portraits is something that interests you, and you would like a more complete training on capturing memorable portraits, take a look at Kent DuFault's guide on the art of portrait photography.
---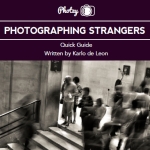 A lot of people find photographing strangers unnerving, for the fear of being confronted or being objected to while taking photos in such a situation. This guide not only addresses that topic, but also provides you with different approaches when photographing strangers, e.g. deciding whether to shoot candid or posed.
---
Storytelling through street photography can be accomplished in a variety of ways. In this guide, photographer Diane Wehr tries to categorize street photography into three major genres, namely, 1. Classic or candid street photography; 2. Street portraits; and 3. Geometric street photography.
---
Today's smartphone can serve as a remarkably capable camera that can capture great shots. Photographer Diane Wehr discusses the challenges and the advantages of using your iPhone camera for street photography in this guide, and how using a technique called 'fishing' can help you get better results.
---
This guide tries to look at the answer to the all-important question in street photography: Should you ask to take their picture or not? The author examines the question from different perspectives: legal, cultural, and ethical. Read the guide to know about the different scenarios where you might have to tackle this question.
---
Take Your Portrait Photography to the Next Level
If you like capturing portraits and you would like a more complete training on creating truly memorable portrait photos, take a look at the guide The Art of Portrait Photography over at Photzy. It covers everything you need to know to take consistently great portrait shots – lighting and posing tips, composition guidelines, getting great shots from minimal equipment, and much more. Click here now to check it out.