Photography is about so much more than just shooting.  Photographers are now required to be their own network administrator and IT people, managing growing storage, finding files, archiving and working on them all.  I will share with you the workflow that I've been using for a few years starting with everything after a shoot.
I'm a pretty strong believer that when you are done with a shoot, no matter if it's a few snapshots at a friends birthday party or a wedding you've just been paid to shoot, each and every shoot should be copied off your memory card and put on your computer.  I try my best to never leave the card in the camera for weeks on end allowing multiple events to pile up on the card.  Memory cards are cheap and the size of them continues to grow making it that much easier.   Transferring the files to a computer after each shoot minimizes the possibility of camera card corruption and aids in better organization, which I'll discuss in a minute.  Having multiple memory cards also helps keep things somewhat separated.
My computer is where I obviously work on all the photos, but I only keep the more recent sets on there.  More will be explained why later.  When I started to shoot Windows 2000 was my operating system, I've since moved to Mac but the structure in which I store my photos hasn't changed.  I know Lightroom, Aperture and iPhoto will all store and catalog my photos, I have never found them to be that good at it though.  Here's my process.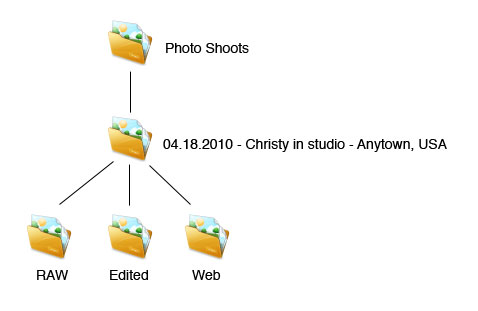 I keep one main directory for my photo shoots.  Because a laptop is my main computer, I usually only keep the most recent shoots on here.  Within that folder are the shoots, shown in the above illustration is one done on April 18th, 2010, who I shot and where.  Within that folder are three more folders.
The RAW folder holds either RAW files or the unedited JPG files if I didn't shoot in RAW.
The edited folder contains everything that's been post processed and outputted as JPG, ready for print.
The web folder contains the photos from the Edited folder resized for the web, watermarked and ready to be displayed on my website or for e-mail and social media purposes.
There isn't much automation in this, but it's simple and has worked for me for 10+ years now.
Previously mentioned was transferring files to your computer for each shoot or occasion, not when the card is full.  Doing a transfer after each event helps keep this organized.
I also mentioned that my primary and currently only computer is a laptop, so I try not to keep too much on here at any given time.  I utilize external hard drives to store shoots for long periods of time.  I was previously burning each shoot to a DVD, but with file sizes growing, sometimes it would take two or three DVDs for one shoot and storing them was a paint unto itself.
The external hard drives are structured the same way my Photo Shoots directory is on my laptop in regards to folders.  Nothing changes. Also, prior to deleting anything from my laptop I'll verify it is indeed on the external hard drive and randomly select files and open them to ensure the integrity of the file.
In addition, I have one more way to backup my files and keep my workflow going.  Apple's built in system called Time Machine.  Probably the best peace of mind I have.  Run this once a day, sometimes twice to a separate hard.  In the event my laptop fails, breaks, gets stolen or I drop it, all my data is on an the external drive.  Luckily, I haven't had to use the Time Machine backup yet, but it's one more reason I'm glad to be a Mac user.
This is my basic primer to the photographic workflow that's working best for me, and has for the last decade.  It might not be the best, or most efficient, which is why I'm always looking for suggestions and ideas.
What's your workflow like? Share it in the comments!