In 1999 I bought my first digital camera, it was an Olympus C2000, a compact camera with zoom lens and a class beating, for the time, 2mp resolution. For the previous 12 years I had been a photographer working on 35mm film, yet despite it's dire ergonomics, poor image quality and even poorer speed, even then, I could see that digital was going to change the face of photography forever. So where did this road to digital imaging start? Today we will have a look back at a brief timeline in the history of digital imaging.
1968 – 1975 Genesis
At Phillips Labs in New York, a patent was filed for "All Solid State Radiation Imagers" basically the forerunner to todays CCD and CMOS sensors. By 1972 an engineer at Texas Instruments had filed for a patent on a film less camera but the first true digital camera was developed by Eastman Kodak in 1975. Weighing in at a massive 8lbs, it had a resolution of 0.01 megapixels and shot only in black and white.
1990 – 1999 The Early Years
There is some debate as to what was the first truly commercial digital camera but consensus seems to lean towards the Logitech Fotoman. It featured a resolution of 320×240 pixels and wrote images to a 1mb internal ram and cost a not inconsiderable $1000. The first professional DSLR camera came a year later in the shape of Kodak's DCS100. Effectively a Nikon F3 with a specialized digital back it was designed for the photo journalist market and featured a colour 1.3mp sensor that uploaded images to a large and separate digital storage unit that contained a 200mb hard drive.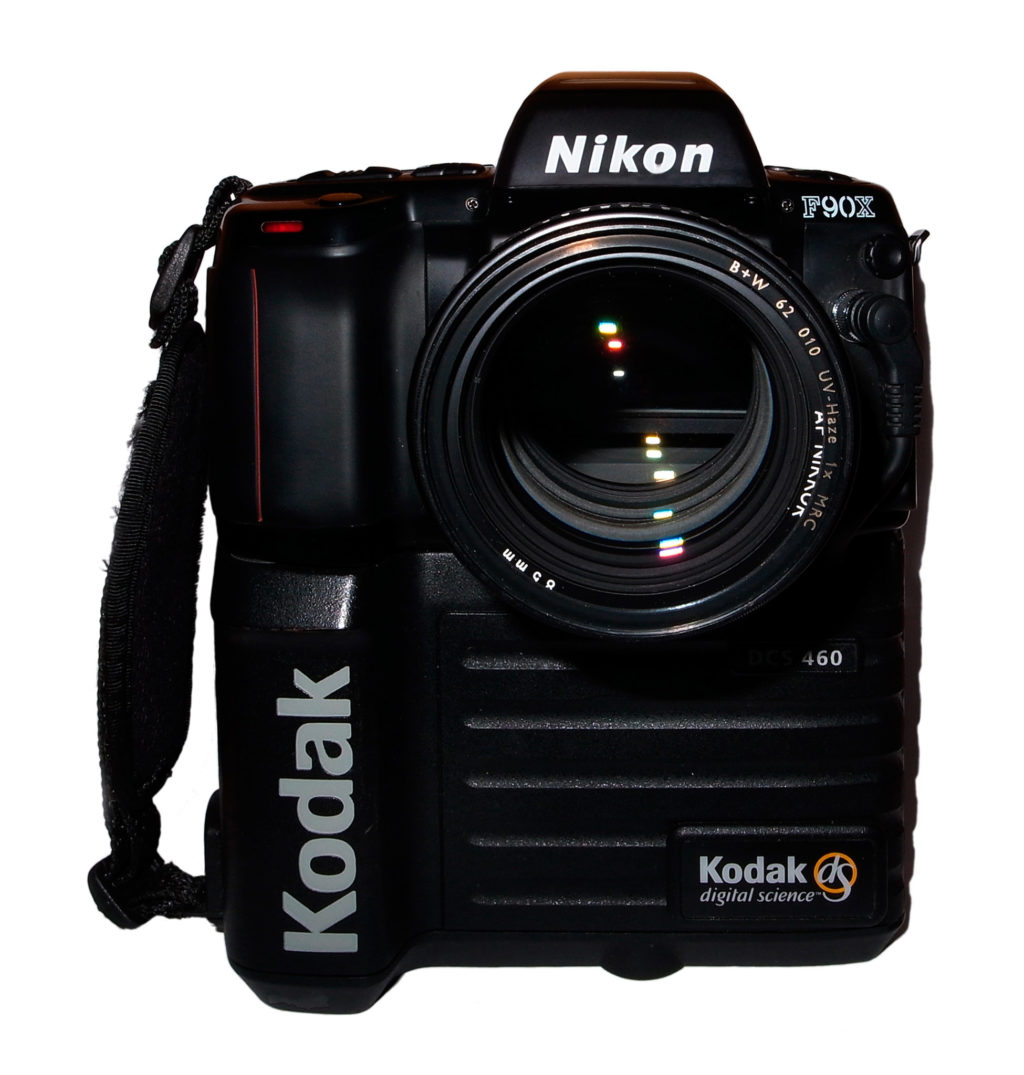 It was 1995 that the first consumer level digital cameras began to appear, lead by Casio, Ricoh and a number of other Japanese consumer electronics companies. In 1996 the compact flash memory card arrived, as utilized by the Kodak DCS25, a further development of the DCS100. Perhaps the most important camera of of the digital age so far, was released in 1999. The Nikon D1 was a professional digital SLR camera that features a 2.74 megapixel sensor and cost $6000, putting it within the budget of national newspapers and beginning the relentless technological march towards where we stand today.
Perhaps the first DSLR as we know them today – by zoootty, on Flickr
2000 – Today
The Nikon D1 opened the floodgates of digital technology. Until 2000 many digital camera's had been developed by electronics and computer companies, the major camera manufacturers holding back on development. Nikon forced the major players to re-evaluate their stance on digital imaging and in the early 2000's the pixel race began.
In 2000, Canon announced the D30, a consumer level 3.1mp camera that truly brought DSLR's within the range of non professionals for the first time. By 2003 the other major players in photography had all introduced DSLRs. Other developments by this stage included bridge cameras, DSLR style cameras without interchangeable lenses, the increased use of CMOS sensors as opposed to CCDs, new memory card formats such as SD and XD as well as big developments in imaging software products and a rapid increase in hard drive space, driven by the need to store digital images and video footage.
The Canon 30D brought DSLR's to the masses – by Adrian Holerga, on Flickr
The Future – Back in the mid 90's the near death of film based photography would have seemed a very distant possibility. In reality the first decade of the new millennium was all it took to reduce film from the dominant force to an intriguing yet dated technology. It seems the rate of advance in digital photography is exponential at the moment. Mirror-less cameras, electronic viewfinders, and of course the rise of the smart phone have all made such a huge impact on the way we take images that it would be virtually impossible to predict the future. All that can be said is that as photographers, we most certainly live in interesting times.