Photographers! Professionals And Those Just Starting Out. Sidestep A Potential Catastrophe And
Backup Your Work

.
Today we're going to look at Backblaze Online Backup software – it's in the cloud and it's totally secure.
As modern photographer's in the digital age we can get into the mindset that our precious images are perfectly safe because they are stored on modern high tech hard drives. I'm sorry to start with bad news, but that assumption will get you into some trouble.
I'm not sure we need to remind ourselves there will be a high percentage amongst us (myself included), who now realize that relying on "quality hardware" simply isn't enough.
Even the best hard drive can and will fail…eventually. Even if it's atomic-bomb-proof, why bother risking it.
Modern SSD drives are believed to have a limited number of read & write cycles but guessing when they are going to fail, is impossible.
The key, of course, is backing up. Simple.
Most of us will back up to one, two maybe even three hard drives. We might even keep one of those hard drives off site in case mother nature strikes our home or office with an act of God. We're cautious, there's no doubt about it!
Until recently, the idea of backing up online, or to the cloud to give it it's modern parlance would seem a daunting prospect. Backing up hundreds of gigabytes of images over relatively slow connections would have taken months if not years.
Things change, however, and with ever increasing upload speeds and more sophisticated websites, backing up to the cloud is a definite possibility.
Today we're going to look at one such service, Backblaze. I had been looking at several online services to back up both my images and HD and 4K video files.
Let's bear in mind I am considering some 7 Terabytes of information in total to become safe & secure.
Cost and convenience were both major factors as was a trial period.
My Verdict:


Backblaze fitted my requirements well.
What Is Backblaze Online Backup?
Backblaze is a service dedicated to backing up one or several computers in the cloud. The beauty of it is that there are
No storage limitations, and
A reasonable cost.
As I only needed to back up my main computer I went for the personal backup service. It costs $5 a month or $50 a year for unlimited backup.
The thing to note is that Backblaze and similar services are not dedicated photographer's backup services but complete computer backups.
It will backup all your documents, images, videos and any other files on your system. It will not back up your operating system itself or applications but will allow you to restore all your own files after a hard drive or operating system failure.
When deciding on an online backup service, be careful to check what files are allowed. Some services limit file size and or file types.
Backblaze however, does not restrict either of these. There is also a 14-day FREE trial.
Further Learning
How are your Photoshop skills? Do you have any? Do you want some?
Answering any of those questions could mean you want to learn some more.
Photoshop Basics for Photographers! For new users, it's where it's at!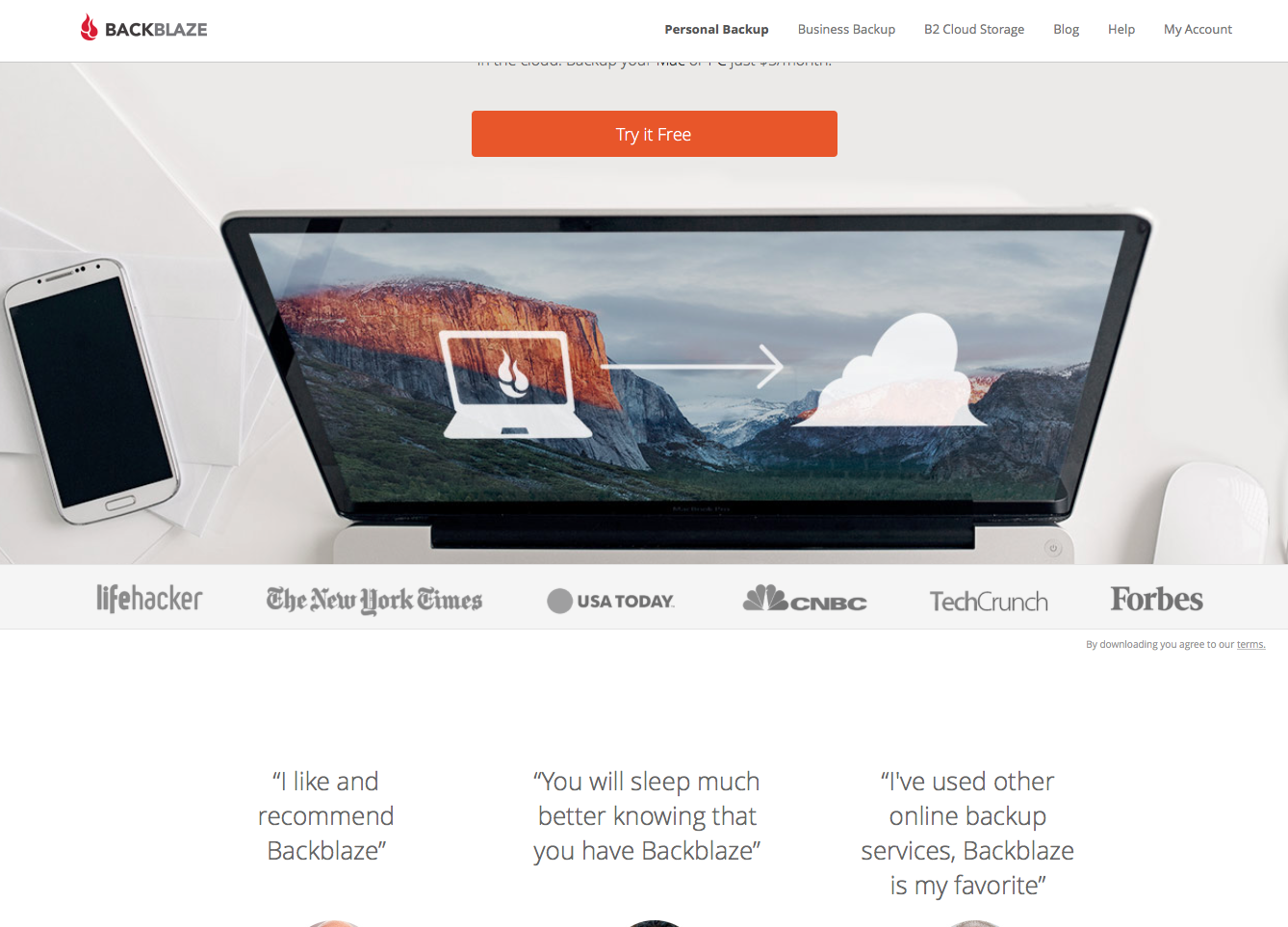 Running Backblaze On Your Computer
When you sign up for Backblaze you need to download a small app.
This app, available for Windows and Mac sits in the background and uploads your files to the Backblaze servers. It places an icon in the Taskbar on Windows or Menubar on OSX that allows you to access several functions.
The most important of these is the Backblaze preferences.
From the preferences you control which drives to backup. You can backup both internal and external drives.
You can also set the performance, throttling back upload speeds if you need the bandwidth for something else. (See screen clip below).
In the preference settings you can also define:
Which files and file types to exclude,
Schedule your backups and get reports on the status of your current backup.
Your initial backup is going to take some considerable time, requiring you to keep the app running continuously.
On my machine, I have a 10mb upload speed but with 6Tb of data, the initial backup will take about 12-14 days. Once you have all your data backed up, Backblaze will just update files that are new or updated.
Restoring Your Computer From Backblaze
Should the unthinkable happen, you can access Backblaze's restore function from the app – think of this like the software's ambulance service!
Clicking the Restore menu item will open Backblaze's restore webpage. From there you can get an overview of the condition of your backups on each individual drive.
You can view or restore files from any of those drives. You can select from drives, folders or individual files. These can be downloaded as a zip file, or copied to USB or Flash Drive for an extra fee.
This fee is reimbursed if you return the drive or USB within 30 days.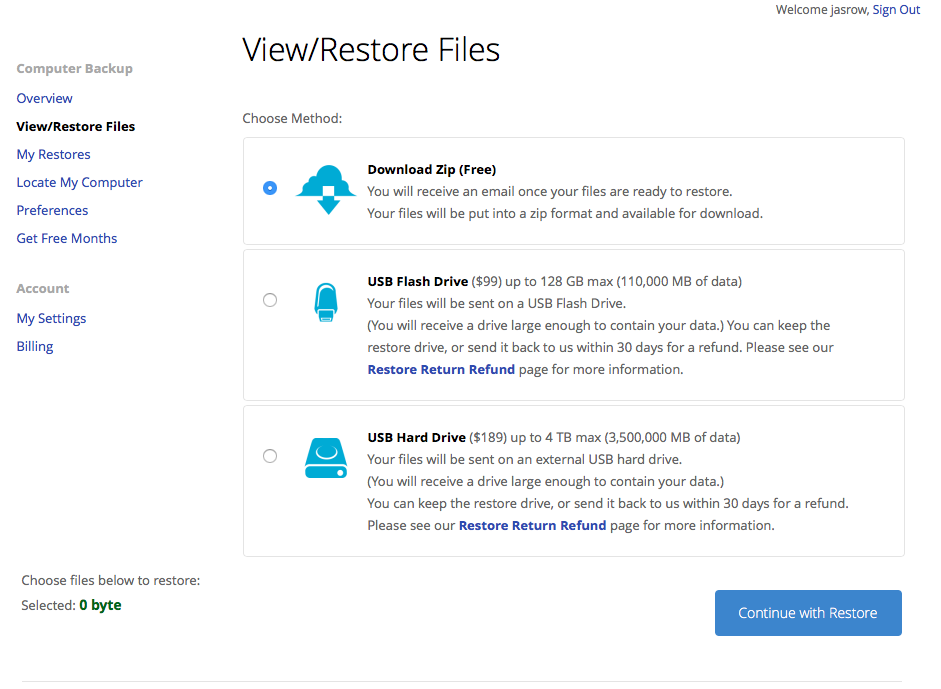 Offsite, online backup is an important consideration for us photographers.
Knowing who to trust with our valuable files is another major consideration.
I Chose Backblaze Online Backup, Based On Several Factors:
Reviews from trusted tech websites,
Unlimited storage space,
Unlimited file size,
A Competitive Price and lastly,
Ease of use.
Summary
Backblaze has been around for a while now and seems to me like a good option. However as the old cliché goes, never put all your eggs in one basket.
Online backup should be just one thread of an overall backup strategy that includes external disks and off-site backups. Expect the unexpected.
Final Note:
After using BackBlaze for some time, it's worth noting that if you have huge amounts of data, a terabyte or more, allow yourself considerable time to upload.
Even on my 10mp/s upload, my catalog of video and images will take weeks to complete.
---
The Backblaze Online Backup Cloud Service – Top Takeaways
Consider whether your current backup habits are adequate?
Backblaze, for me, is excellent value for money and the idea alone of 'Unlimited Storage', is worth it in itself
Cloud storage is nothing new but it's here to stay, and to have your personal machine backed up for under $10 p/month?!
Be catastrophe-proof! Whether you're a professional photographer, or just a computer user (I think we all are).
Further Resources
Further Learning
How are your Photoshop skills? Do you have any? Do you want some?
Answering any of those questions could mean you want to learn some more.
Photoshop Basics for Photographers! For new users, it's where it's at!