When buying new cameras, they come with straps that are not comfortable to use. Some photographers do not give much importance to the strap as they consider it just an accessory to hang or hold the camera, but in order to carry the camera comfortably and have easy access when you need to photograph something, you need to invest in a camera strap that suits your purpose and the type of camera and lens combination that you have.
Neck Straps
Peak Design Slide Camera Strap
Wrist Straps
Spider Camera Holster SpiderPro
Shoulder Straps
BlackRapid Breathe Curve Camera Strap
Harness Straps
Holdfast Gear MoneyMaker Strap
Before buying a camera strap, there are certain features that you need to check before investing in one. There are a huge selection of camera straps in the market, and choosing the best can be difficult. Here are some camera straps that we think are some of the best, and we have listed a few for each category.
Purpose Of Camera Straps
Camera straps serve various purposes, from comfort to safety during photography.
Most photographers who are hobbyists or travelers, use the camera strap to securely have the camera on them, so they do not accidentally drop it.
It can also be a safe way to carry the camera when photographing outdoors.
The strap also helps the photographer to have their hands free when they are not shooting.
When it comes to professionals, most photographers have more than one camera, especially when they are shooting weddings and other events. A harness will be a more suitable choice for these photographers.
A harness that can hold more than one camera compared to a camera strap will be a great choice for these photographers.
The harness needs to be comfortable to wear with good padding and needs to allow the photographer easy access to their cameras.
There are different types of camera straps based on photographers' shooting needs, cameras and other preferences. The main types are:
Neck Straps
Wrist Straps
Shoulder Straps
Harness Straps
| Camera Strap Type | Benefits |
| --- | --- |
| Neck Straps | For camera and lens combinations that are not heavy as otherwise they can cause pain and strain to the neck and back. |
| Wrist Straps | For smaller cameras and for photographers who are happy to hold the camera in hand rather than their neck or shoulder. |
| Shoulder Straps | More comfortable compared to a neck strap and also comfortable to carry heavier camera-lens combinations |
| Harness Straps | Allows the photographer to carry multiple cameras and allows quick access to them when needed and be handsfree at other times. |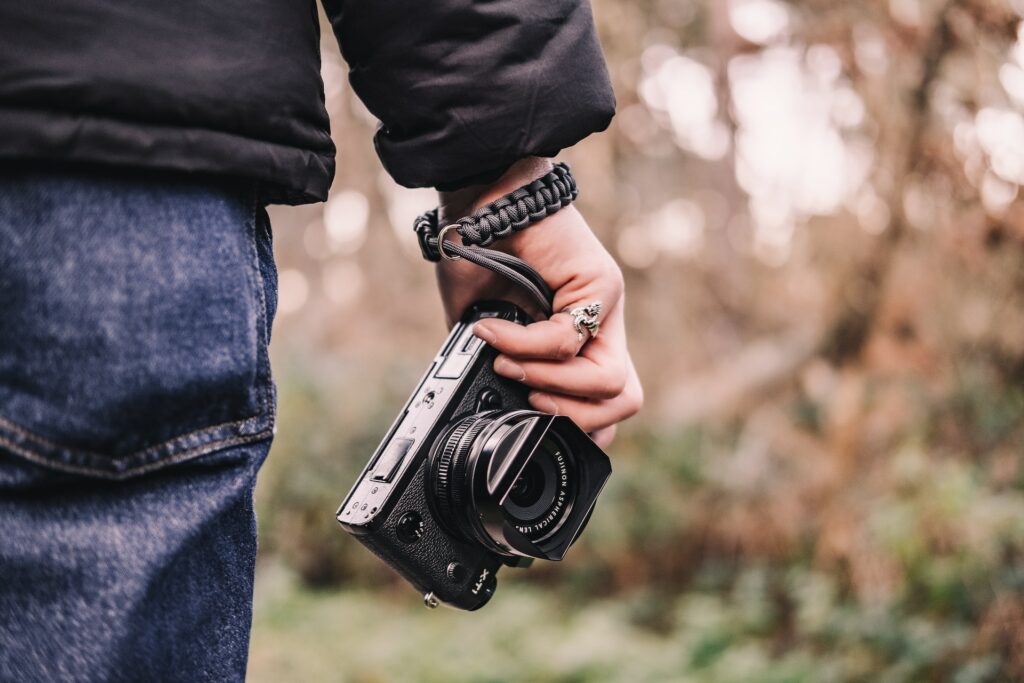 Neck Straps
Neck straps are the most common type of camera straps, and they, as the name suggests, are worn around the neck. The camera hangs with easy access to the photographer and can help them quickly grab the camera when they need to capture a photograph.
Neck straps are good for camera and lens combinations that are not heavy so as to cause pain or strain to the neck and back.
Wrist Straps
Wrist straps are small straps that wrap around the wrist of the photographer and they help with added security and more stability when photographing.
Wrist straps are mostly helpful for smaller cameras and are good for photographers who are happy to hold the camera in hand and do not want to hang it around their neck or shoulder.
Shoulder Straps
Shoulder straps are very similar to neck straps but may be slightly longer and are worn across the shoulder rather than the neck. These are also called sling straps. There are many shoulder straps, and the photographer must choose one based on the purpose and need.
Shoulder straps will help the photographer feel more comfortable, as having a heavy camera and lens hanging from the neck can cause a lot of strain and make the photographer feel very uncomfortable.
Harness Strap
Camera harnesses are worn over the shoulders, distributing weight evenly on the back and shoulders, and these have straps to hold the cameras. These are used by photographers who shoot events or those who are on hiking expeditions, etc.
Harness straps allow the photographer to carry multiple cameras and allow quick access to them when needed and be hands-free at other times.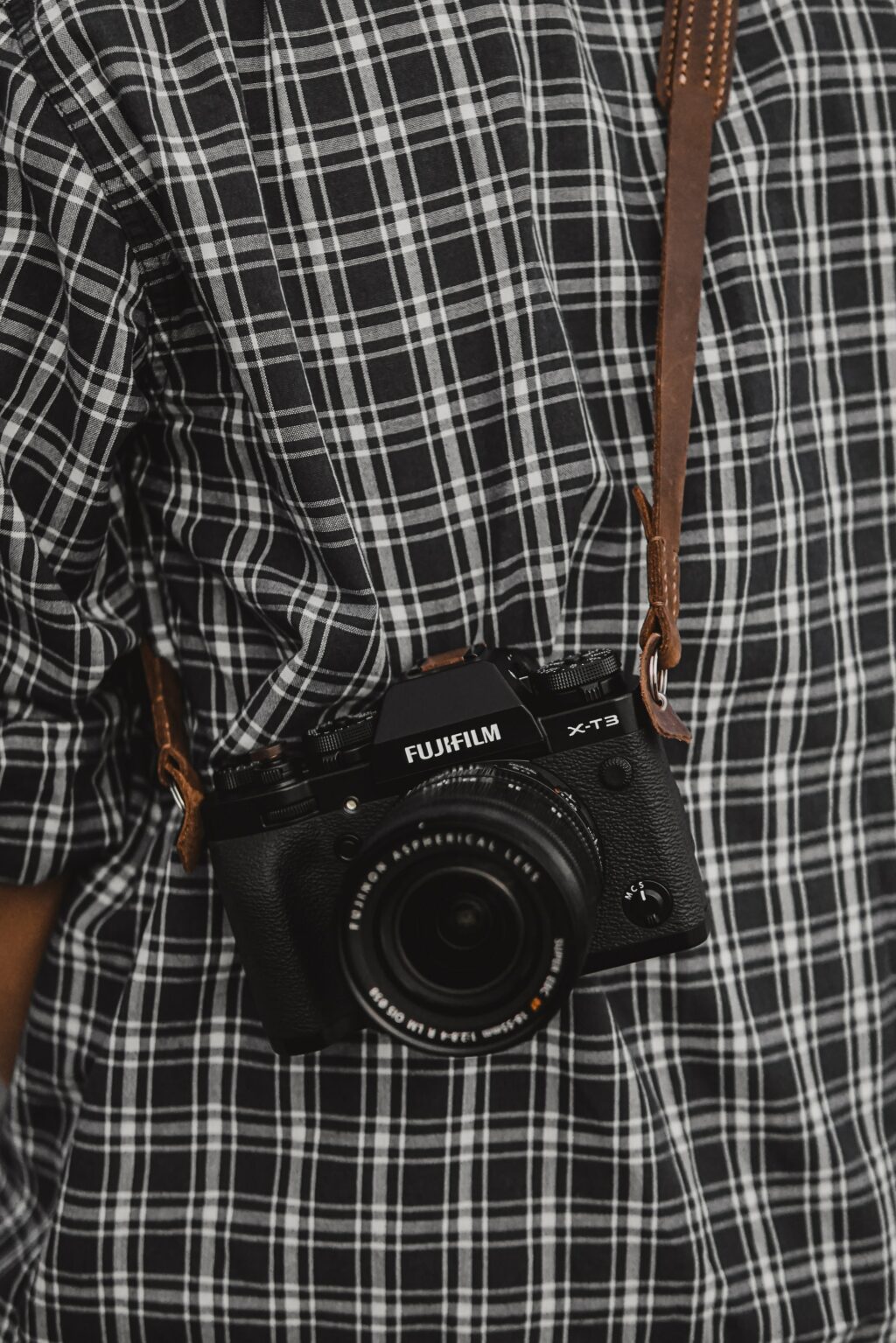 Here Are Some Important Features To Look For Before Buying A Camera Strap:
Straps that come with the camera will not be a perfect fit for most photographers. Even if the camera is small and lightweight, some straps are too flimsy with a bad design, and they feel very uncomfortable when out on long walks and photoshoots. So it is good to invest in a good camera strap, considering the following factors.
Camera And Lens Size / Weight
Depending on your profession or the genre you photograph, you may use different types of cameras and lenses that weigh differently. Always check the weight limits for the straps that you purchase.
For example, a street photographer will carry a smaller, lightweight camera, which means a neck, shoulder, or wrist strap will be convenient, whereas an event photographer will carry a heavier combination or even more cameras requiring a harness.
Wildlife and sports photographers carry heavier cameras and lenses. Although sometimes tripods are used by wildlife photographers, most of the time, on safaris and other birding expeditions, they must carry the heavy camera-lens combination on them, ready to photograph when they see a specimen. In situations like these, a neck strap may not be helpful as it can hugely strain the neck and shoulders, so something like a double sling shoulder strap will help distribute the weight evenly and reduce any strain caused.
Length Of The Strap
Not all camera straps are suitable for all photographers who follow the same routine, profession, etc. Length of a camera strap is of equal importance as the other factors considered here. So, based on the photographer's height or what they shoot, different length straps may be required.
Choose a strap that has options to adjust the length of the strap, and also make sure that adjusting length will work effectively in terms of wearing it comfortably and easy access.
Straps To Suit Your Need – Hobby, Travel Or Professional
Based on the genre that you shoot and also based on your need, whether you shoot as part of a hobby, or you are a professional or you need one as you're most of the time traveling, you will need to choose a strong strap. The strap needs to help you hold or carry the camera safely without strain and be also comfortable when you need access to the camera.
If you are using a camera for travel, you will be outdoors walking long distances and so you need a comfortable strap that you can wear around for a long time. Look for passed ones that will withstand the weather and other conditions of long use during travel. Also make sure that this strap will keep your camera safe.
If you are a professional and carrying heavy cameras and lenses, look for a strap that will distribute the weight evenly and not cause strain to your body.
Check the lock mechanisms and see if they are secure and also easy to work with. Make sure they are made with high-quality metal that do not rust.
Look for comfortable straps that distribute weight evenly and do not apply pressure on your shoulders.
Photographers have different shooting styles and needs even if they shoot similar genre. Think about what the requirements are in terms of shooting like,
Quick access to get the shot, for example street and wildlife
Changing cameras, for example event and weddings, so look for easy but strong lock features
Comfortable, for example when travelling
And if you wish to be handsfree when not shooting, a harness strap will work great
Most importantly, check to see how the camera strap connects to the camera in terms of safety and if that will be compatible for your camera and convenient for your shooting style.
Material
There are various camera strap materials used to manufacture camera straps and there are a few things that need to be checked before buying a good strap.
Look for materials that are durable and those that do not get easily damaged with constant use or due to change in climatic conditions.
Look for strong straps made of high quality materials, so they stay good for a very long time.
It is also good to look for straps that are easy to clean.
The material needs to be sturdy and strong, but at the same time comfortable and soft to wear.
Some Of The Best Camera Straps In The Market Are:
There is no single best camera strap in the market and it all depends on a photographer's needs. Take into account the budget, shooting style, comfort, secure features, etc., before deciding on a camera strap. Find one that you will feel comfortable to carry and shoot while at the same time enjoying the process.
We have categorised the straps into four types so you can check out the ones that will suit your style of shooting.
Neck Straps
Suitable for photographers who use a lightweight camera.
Can be worn around the neck or shoulder
Adjustable length and hence suitable for different heights
Anchor link for quick attachment
Good quality materials
Strap strong and secure to hold heavy cameras
They also do a lite strap, useful for smaller cameras – Peak Design Slide Lite Camera Strap
After reading the many positive reviews I bought this strap and am very pleased with its quality, comfort and especially its versatility and ease of adjustment. After struggling with my OEM Nikon SLR strap which I considered a quality strap love the quick release strap attachments that will allow me to switch from the standard strap anchor locations to the tripod mount strap connection point; and finally the two sided strap surface is brilliant from when I want a grippy surface for carrying on my shoulder or a smooth surface for around my neck or body; The final benefit that may not be as obvious, is that this is a plain black strap that doesn't advertise what kind of camera I have for would-be thieves that might be lurking about of a quick snitch.

5 stars – Great Camera Strap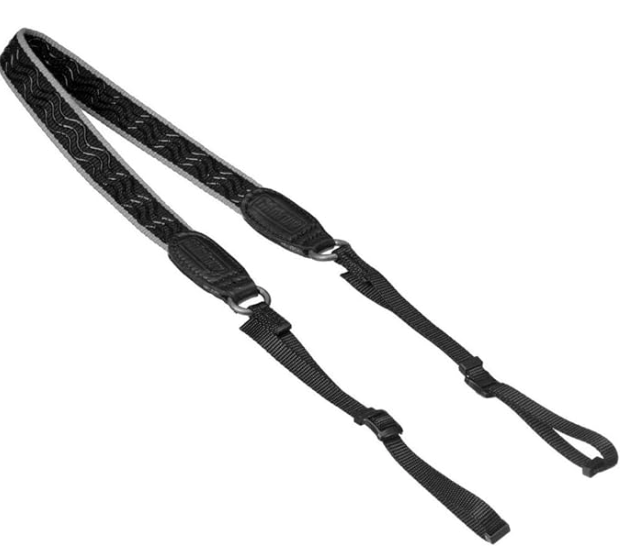 Non-slip material on both sides of the strap
Great for travel to carry lightweight cameras
Good quality minimalist design, lightweight but solid
Reasonably priced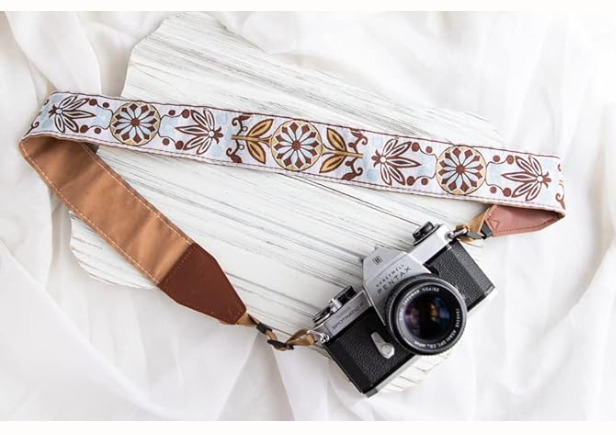 Vintage woven design for anyone looking to add a touch of colour to their camera accessory – comes in various colours/designs
Durable with adjustable length to suit various heights
Can be worn on the neck and around the shoulder.
Made from high quality fibers and embroidered.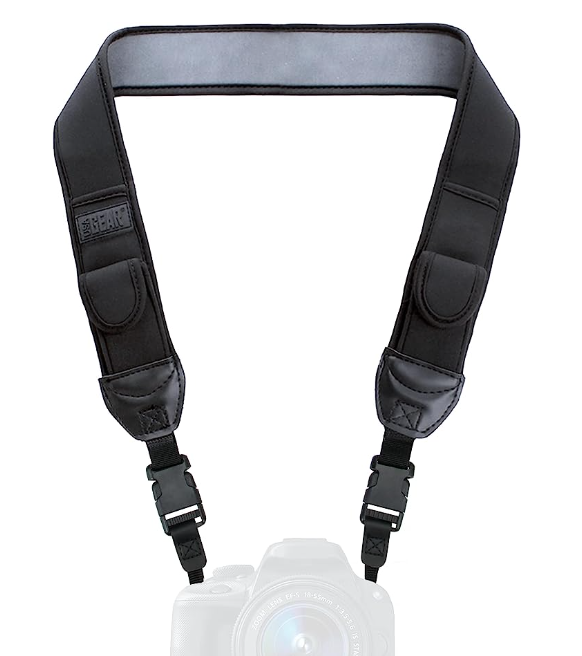 Neoprene padded strap to distribute weight across the shoulder.
Two quick release buckles wirh adjustable loop straps
Protective memory card storage pockets.
Non-slip design to prevent camera from slipping and to have it secure around the neck or shoulder.
Comes in a variety of colours including black.
Suitable to carry big cameras like DSLRs.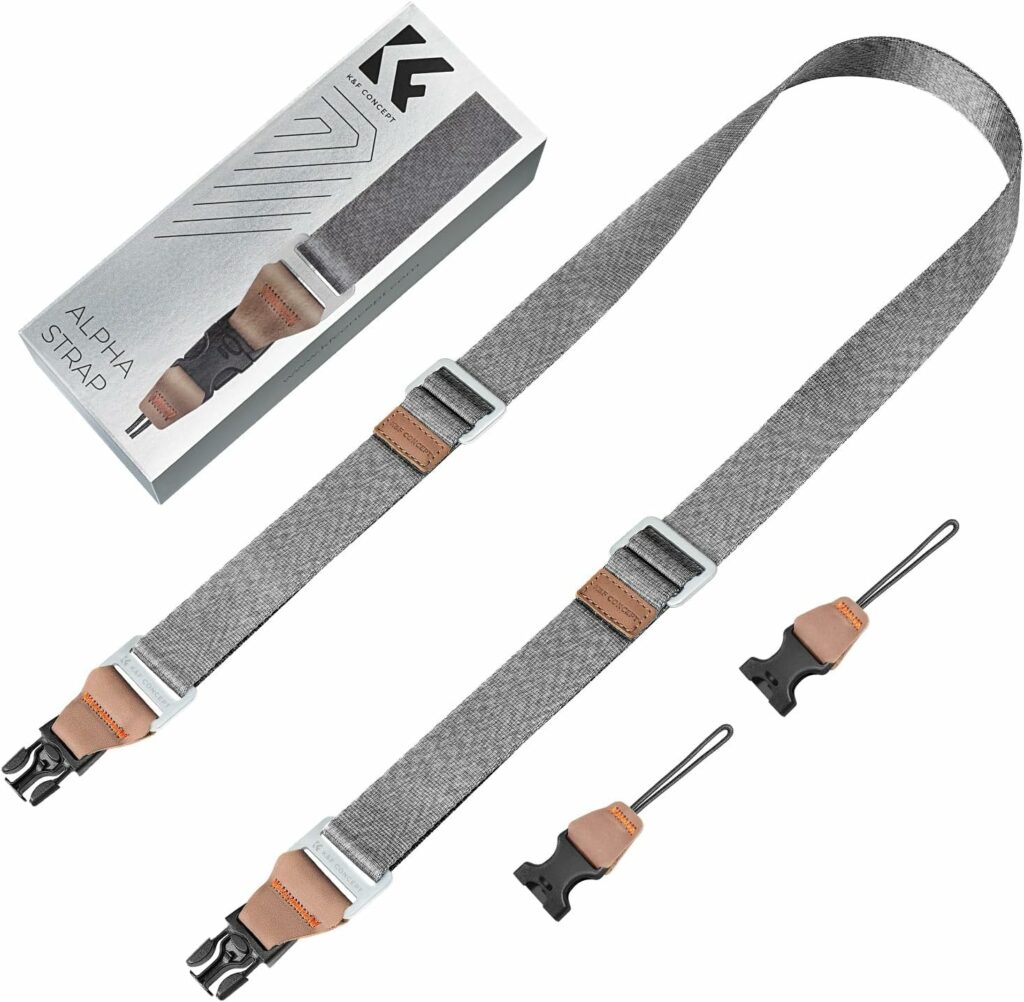 This 3 in 1 strap can be used as a shoulder, neck or crossbody strap.
Made of durable nylon with unique locking mechanism to prevent accidental drops
The strap can be quickly connected or released when needed to be used on a tripod or used on the shoulder.
Adjustable strap with a heavy load capacity
Shoulder Or Sling Straps
Suitable for photographers who walk long distances and for light weight to moderately heavy cameras.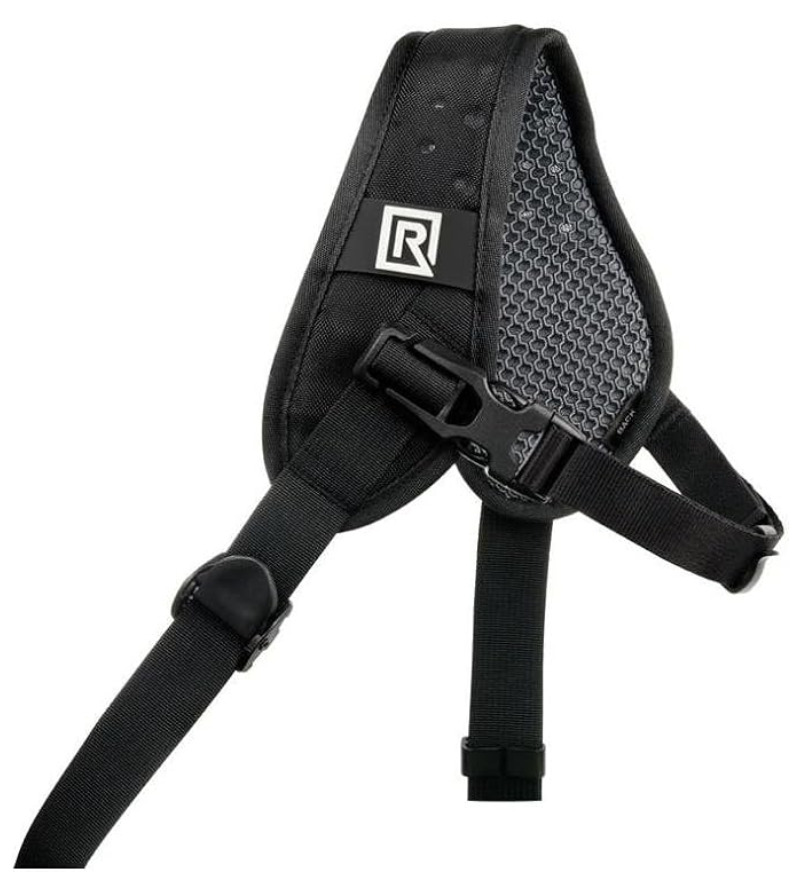 Good padded shoulder pad
Adjustable length to customise for individuals
Compatible with most cameras
Works for camera-lens weight up to 3 kg
The sling is so easy to use and super comfortable–I hardly notice it at all and my camera is so easy to access. I took it to a Blue Angels Air Show last Sunday and had my long lens, which is pretty heavy, attached to it. It was so simple to use…also I saw a professional photographer there in my section–we had the same sling and he loved his, too. I'm thinking of getting another one, as I used 2 cameras and the 2nd one I had a traditional neck strap–not comfortable!

5 stars – Love the Blackrapid Curve Camera sling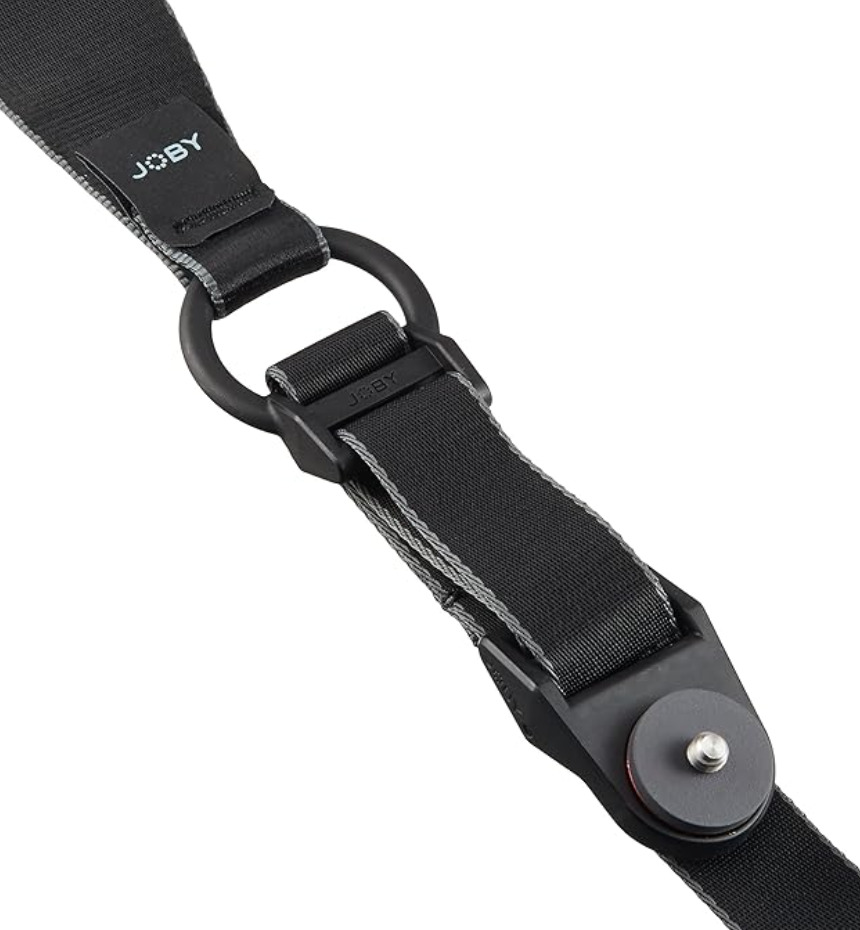 Quick length adjustment
Secure locking system
Compatible with a wide range of cameras
Slightly bulky strap, and not suitable for very heavy camera-lens combinations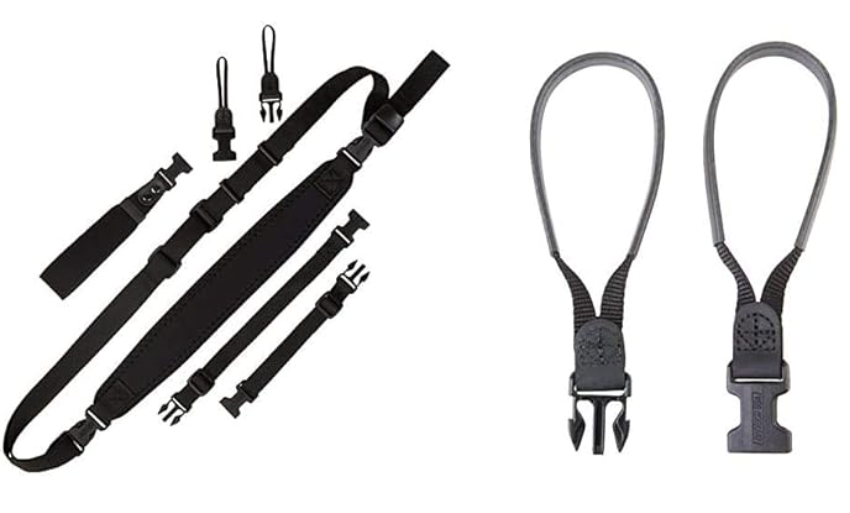 Options to switch between neck, wrist or shoulder strap. Uni-loop connectors enable switching option easier
Neoprene pads enable anti-skid features
Comfortable and secure to carry the camera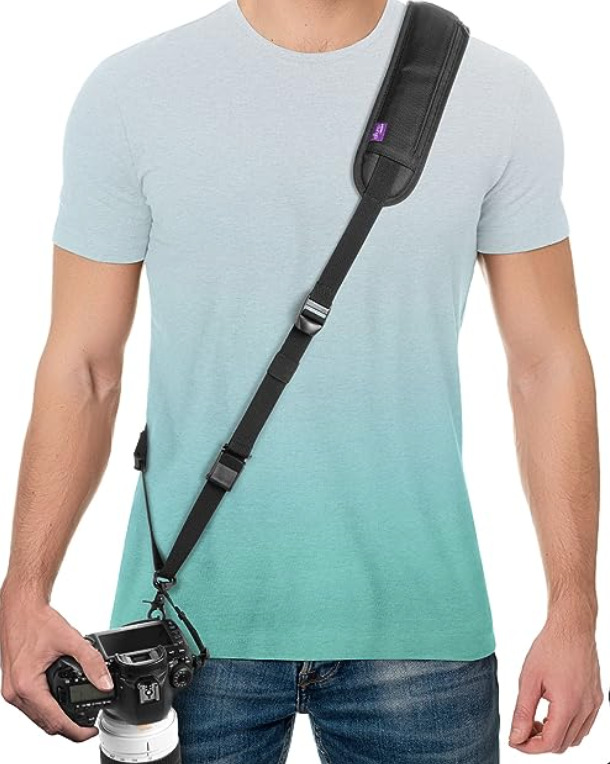 Durable material with metal clasps to mount on to the tripod mounting base plate
Adjustable strap to suit all heights and non-slip ergonomic shoulder pad.
Camera safety tether to provide added security through a backup connection point between camera and strap
Can attach camera to tripod without having to remove the mounting base and works with almost all cameras that have a standard tripod mount.
Made of reinforced durable material, adjustable strap and anti-slip neoprene pad that distributes weight evenly.
Extra safety tether to protect cameras from accidental falls.
Comfortable design to carry the camera when on a hike along with a zipper pocket to store extra batteries and memory cards.
Heavy duty support and is compatible with a variety of camera models.
Hand Or Wrist Straps
Suitable for smaller sized cameras and for photographers who do not mind carrying the weight of the camera in their hands, but these are best for point and shoot and some small mirrorless cameras.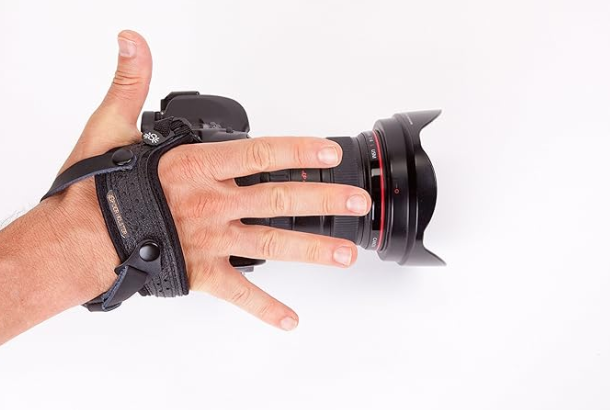 Comfortable and secure grip
Works well for a range of hand sizes
Compatible with most camera models
Durable material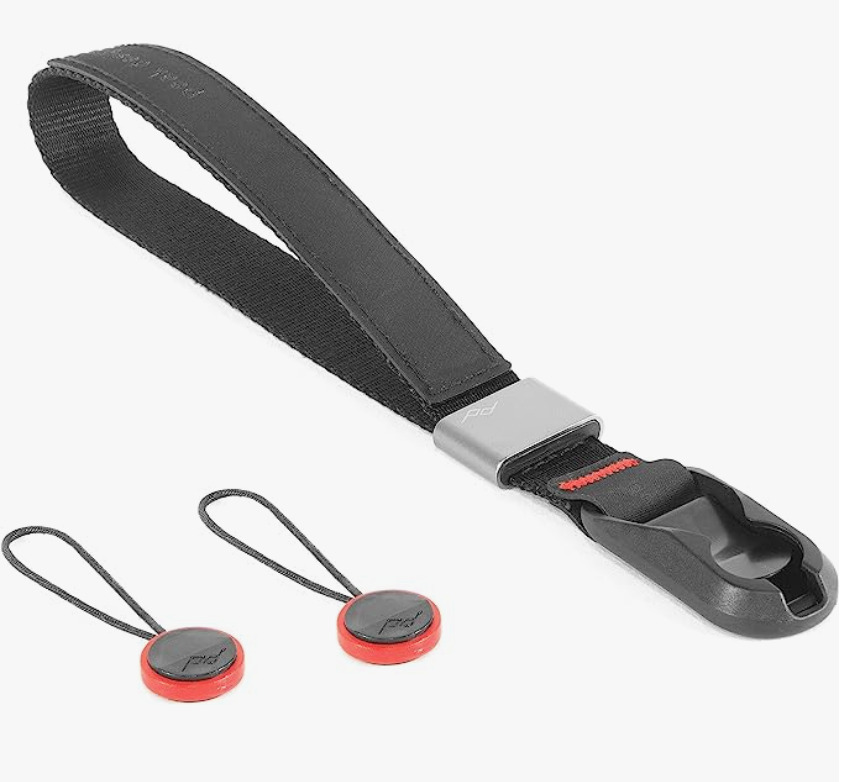 Allows to secure the camera to the wrist
Comfortable nylon webbing, adjustable to wrist size
Durable material
Can attach heavier cameras as long as they are comfortable to carry
I swear by Peak Design straps for securing cameras and photo gear–this wrist strap is no exception. I've used it for about two years with no noticeable wear or change in reliability or comfort.

If there is one gripe it's that the magnet in the wrist loop, which allow you to turn the strap into a bracelet of sorts when not in use, is a little weak and doesn't always keep the end of the strap in place. However, I rarely use this feature and it works reasonably well the few times I do.

I initially considered purchasing other wrist straps or making my own out of leather or paracord, but this one leaves me more than satisfied. I expect it will for years to come.

5 stars – Secure and Comfortable Wrist Strap
Good padded and comfortable grip to prevent accidental slips or drops. Strap attaches to the eyelet and bottom of the camera for perfect grip
Made to fit all hand sizes
Compatible with most cameras that have a tripod thread.
Metal mounting plate can also be used with this company's neck strap product
Designed to tether any camera safely to the photographer to prevent accidental drops
Quick adjusters to switch between carry modes
Can attach to any camera and suitable for all hand sizes.
Made of recycled soft touch nylon webbing that is comfortable and durable.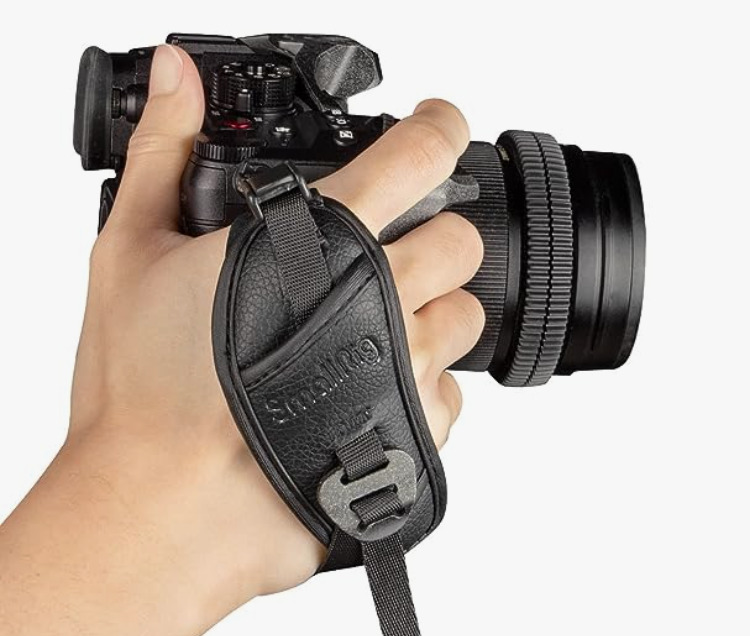 Secures your camera to the wrist and improves shooting stability and safety
Made of PU material that makes the strap wear resistant and durable.
Easy to detach when needed using a press buckle locking method
Adjustable strap to fit all hand sizes.
Harness Straps
Suitable for photographers who like to be handsfree when hiking and for photographers who have to use more than one camera during their shoots.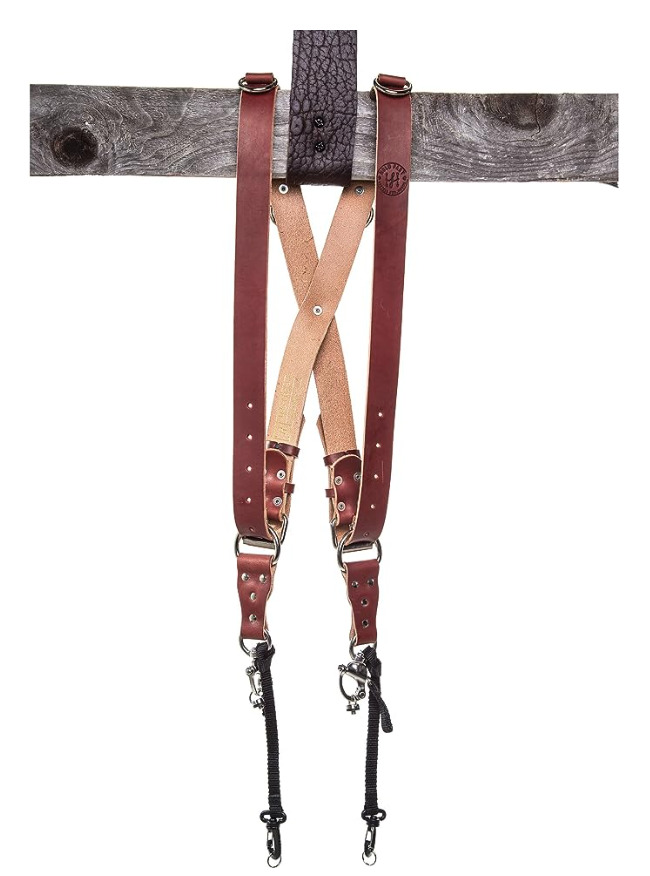 Good quality leather but needs care when used in extreme environments
Distributes weight evenly and comfortable to wear
Can be customised according to individual need
Quite expensive and bulky and may not suit all photographers
Spring loaded bumper locks and is easy access, but not everyone may like this design
Wide shoulder pads
Suitable for photographers who need to shoot with two cameras
Backpack style straps to distribute weight evenly. Extra webbing to attach a third camera or other accessories like a binocular, especially useful for wildlife photography.
Padded camera harness for handsfree use and with comfortable neoprene design. Good for quick access to cameras
Easy to use quick-release buckles, adjustable lengths and even weight distribution
Built-in accessory storage pockets and also can hold moderate camera weights
Comes in colourful patterns or just plain black
Designed for carrying two cameras and may be suitable for some wildlife photographers who need to hike a lot and carry cameras with long lens combinations
Patented twist and lock mechanism to keep camera safe
Made with high quality materials
Adjustable harness to suit all sizes and does not strain the neck
I tend to use very long lenses when I'm out taking nature photos. I've tried numerous other straps and harnesses, but none compared to Cotton.

As you can see, my Nikon Z8, FTZII, and 200-500mm with hood fit nicely . Having the almost 13 pounds distributed along my body gave instant relief. I've gone 6 hours with this configuration. The locking mechanism works great. Only thing I wish I had ordered was the second camera holder at the hip. I could put one of the buttons on my 70-200mm lens or another body….oh well, guess that will be my next order. Thanks Cotton!

5 stars – What a relief
Perfect harness to have two cameras within easy access
Made of good quality leather, stainless steel mounting screw and metal D rings for added security
X pattern to evenly distribute weight across the back and shoulders and have the cameras at hip level.
Works with a wide range of camera models and comes in a few colours.
I haven't used any competitors' camera harness systems, but this one feels like good build quality and should last a long time. I used it for an event for 3 hours on Sunday, walking around and going back and forth from a DSLR and mirrorless camera. They didn't move around in an uncomfortable manner. They felt secure yet accessible – exactly what is needed for event photography. I didn't adjust anything as it was quite comfortable overall. The sense of even weight distribution for two fairly heavy cameras was particularly nice; balance and accessibility are the essential reasons for purchasing this and it worked well.

5 stars – Strap yourself in
Neck Straps
Peak Design Slide Camera Strap
Wrist Straps
Spider Camera Holster SpiderPro
Shoulder Straps
BlackRapid Breathe Curve Camera Strap
Harness Straps
Holdfast Gear MoneyMaker Strap
Camera straps are one of the most important accessories and photographers need to give importance to these accessories in order to comfortably photograph and at the same time keep the camera safe. What type of camera straps do you recommend? Let us know in the comments section below.
Further Resources: