Are you looking to learn or try something new this week or weekend? Here is a small assignment that you can try – learning to freeze actions or movements.
For this task, in terms of brainstorming and discussion let us consider the image of this dog playing with water here.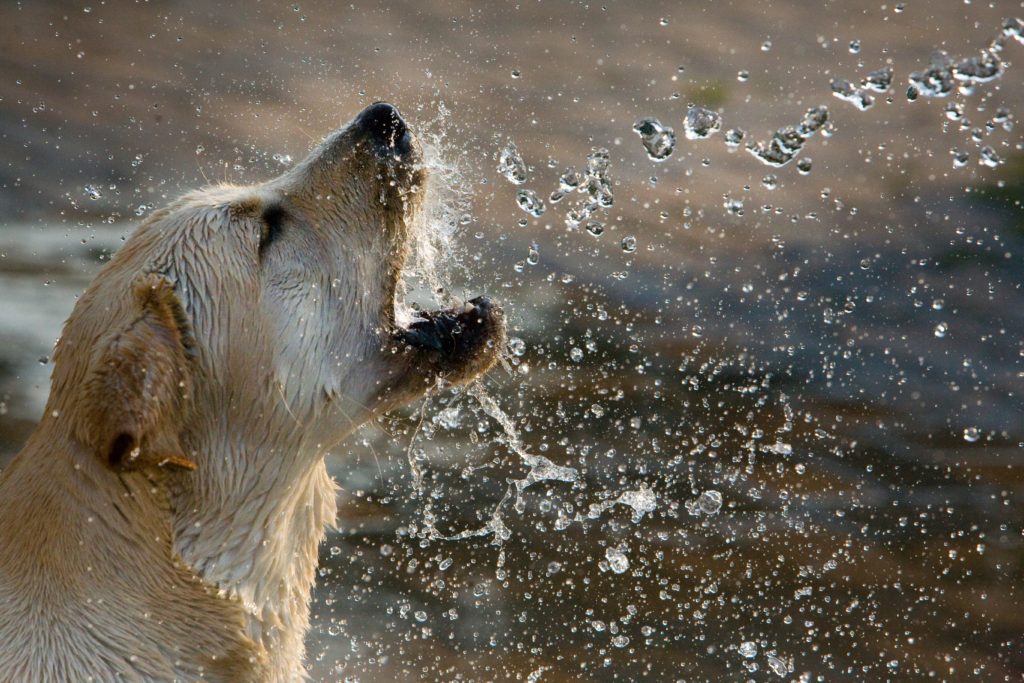 1. Observe This Picture
Look at what you need to do to capture a shot similar to this.
You need to shoot from an angle to get the light shining on the splashing water and the dog. A time when the sun is lower in the sky would be best to get soft beautiful side lighting like these – which means early mornings or late afternoons.
You need excellent timing to capture fast actions and in order to do that, a good knowledge of camera settings is required. You need a fast enough shutter speed to freeze the action.
And, you need to know the exposure triangle!
Remember this – fast shutter freezes movement and slow shutter blurs movement.
2. What Settings Do You Need?
Ok, now you need all of the dog and the water drops or splashing water in focus. So, what settings do you need to choose, to get the best shot?
Remember to have your camera on manual mode so you have full control over the settings and use a telephoto lens (above 120mm) so you can shoot from a distance without disturbing your subject and without water splashing on your equipment.
Shooting wide open apertures like f/1.8 or f/2.8, for action shots like these, will lead to parts of the frame (that is either the dog's face or water drops) being out of focus. So use a narrow aperture narrower than f/5.6 to capture these type of images.
Shutter speed needs to be faster than 1/1000th or 1/2000th of a second in order to freeze the action and get crisp water drops.
Depending on aperture value and shutter speed, adjust your ISO. Since it is soft light, a fast shutter speed and slightly narrow aperture, you may have to compensate for these by using iso between 320 to 800. It really depends on the scenario.
3. Are There Any Other Settings I Should Think About?
Shots like these are very difficult to get in a single shot. So you may need to make use of the burst mode or continuous shooting option to fire a few shots so you can choose the best among them.
If your subject is moving, make use of continuous focus or the focus tracking option on your camera to keep your subject in focus.
It is good to use the matrix metering mode to get the exposure right in all regions of the frame
You can use all the possible focus points available, but make sure that the subject's eyes are in focus.
4. Review Your Images Using The Checklist Below
Is your image sharp with no motion blur on your subject or water drops?
Are all the elements in the frame in focus?
Did you capture beautiful actions or expressions?
Are the exposure and lighting right?
Based on your assessment, if you are not happy with your results, try again. Try different settings if necessary like narrow aperture or faster shutter speeds. And, always shoot RAW!
We hope you liked this photo assignment helpful. Please make sure you post your images capturing movement and freezing the action in the forums if you'd like some feedback.
If you would like to see more, please tell us in the comments below.