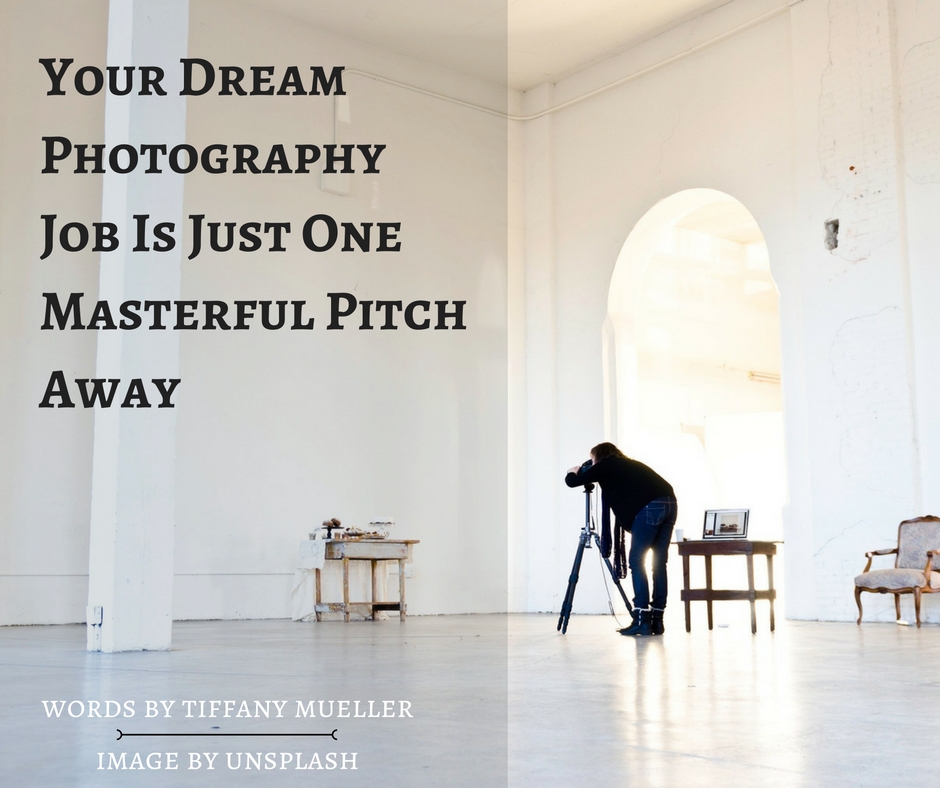 I landed my first photography job by pitching to a local magazine. A friend's band had just played a local show and I took some shots of the event. I was actually working as a chef at the time, and though I was a fairly serious amateur photographer, I had never really considered a career as a professional.
But, I was pleased with the shots I took and, hoping to get some nice publicity for my friends, sent a couple of the photos along with a quick note to the editor of a local arts and entertainment magazine.
Since then, I've forgotten exactly what I wrote in that email, but long story short, a day after sending it I found myself with a new job as a staff concert photographer and monthly columnist for the publication.
Looking back on it, I contribute a good part of that experience to dumb luck, but regardless of how it all came to be, a new chapter of my life started that day – had I not sent that email I may still be stuck in a kitchen somewhere instead of travelling the world taking photos.
And if you're wondering why I think any of this would be important to you, it's because I want you all to know about the magic of pitching yourself (and your art) and how putting yourself out there may be the best thing you can do if you're interested in pursuing a career as a professional or semi-professional photographer.
As I did, using event photography as a foot in the door is very possible, ask favors and try to find out about local events in your neighborhood. So why not start by checking out this great course guide on "Event Photography" by Steele Training.
1. Who To Pitch To
If you want to increase your chances of landing a gig, you're going to want to make sure you're sending your portfolio to the people it will appeal to most. In other words, make sure the business you plan on reaching out to is relatable to the kind of photography you do.
If your area of expertise is fashion photography, reaching out to a tech startup may not be the best use of your time – instead, find a designer, clothing retailer, or publication that is likely to publish fashion photography.
Once you have yourself a handful of potential clients, do a little research to find who's responsible for making decisions such as hiring a photographer within those businesses. That's the person you're going to want to reach out to.
2. When & What To Pitch
Image by Fort Wainwright's Photography Studio
A big part of making a successful pitch is having a plan. Before you start typing up that email, you should already have some kind of idea in mind as to what exactly you have to offer the individual you're reaching out too.
This may be a very specific idea for a product/ad campaign type of photoshoot or it could be something more general, such as a typical corporate headshot session.
The point is to have an idea to bring to the potential client instead of just telling them you're a photographer looking for work and hoping they have something for you to shoot.
Instead, give them a more tangible reason to hire you as a photographer. If you can see a way in which hiring you will help their business, that should be the core message of your email.
In my personal example from the beginning of this article, I had a concert review and photos to offer them – something I had noticed their publication was lacking and could almost certainly benefit from.
You don't need to need to reveal all the details in your initial email. In fact, you may want to keep that first email somewhat short and sweet. Try not to come off as a salesman, rather present your concept as though you were colleagues sharing ideas, briefly explaining the ways it may improve business.
Give enough details to spark interest in your work, and let them know you'd be happy to hear their feedback. Try to do this in no more than three or four paragraphs. Include a few of your photos that are relevant to the pitch and show your best work.
Another important detail is to personalize your emails – no copy and paste jobs to make it easier for you. If you plan on pitching to five different people, plan on writing five different emails.
3. The Waiting Game
Now that you've got your emails all sent out, don't let waiting to hear back drive you bonkers. You may not hear back right away or you may hear back the next day with a job offer – we just don't know.
And if we're being candid, there are going to be plenty of times where you don't hear back at all. Don't take it personally, let it go and start working on your next pitch!
As I did, using event photography as a foot in the door is very possible, ask favors and try to find out about local events in your neighborhood. So why not start by checking out this great course guide on "Event Photography" by Steele Training.
Summary
Oftentimes, if you're not hired for the idea you pitched, businesses will still keep your information so they can reach out if they ever need a photographer in the future.
So, if you're not hired right away, it's always helpful to maintain a nice rapport with these businesses as a way to keep your foot in the door. If something doesn't work out right now, that doesn't mean it won't come together at a later date!
Further Resources