Gone are those days when photography was not only a rare profession, but also a dangerous one. By dangerous, I mean, photographers have taken risks enough to lose their lives or survived with very bad injuries and disfigurement!
So what was the reason?
It was the use of artificial light for photography and photographers had to depend upon explosive and dangerous flash powders, ignite them, cause a mini explosive flash in order to light up their subjects when light was not sufficient. This also helped them to considerably reduce exposure times.
Some Background To The Advent Of The Flashcube:
As research and technologies were improving, photographers along the path of evolution of flash used something called a flashcube in the place of flash that we use these days. Don't confuse them for the magicubes, as both of these are completely different and there is a brief mention and comparison of these towards the end of this article.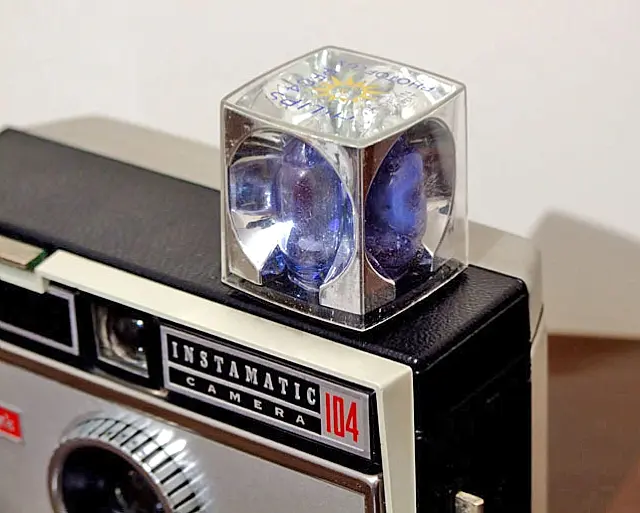 A flashcube fitted to a Kodak Instamatic camera – Image by Futurebobbers (By en:User:Futurebobbers (self-made Futurebobbers) [Public domain], via Wikimedia Commons)
Let Us Look Into What Flashcubes Are:
After the use of flash powder, photographers used flash lamps and then flash bulbs for the purpose of artificial lighting. Based on a similar technique, the flashcubes were developed.
If you did not know, Flash Bulbs were filled with oxygen in which aluminium foil /wires or magnesium foil / wires were burned. This was a one time use only and the bulbs were too hot to hold after use.
Later for brighter light from the flash, magnesium was replaced by Zirconium. These bulbs took longer to reach full brightness. As a result longer shutter speeds were used to keep the flash in sync. Cameras with a flash sync triggered the flashbulb before opening the shutter.
Flash Bulb Containing Magnesium Foil:
Flash bulb containing magnesium foil (By Thuringius (Own work) [GFDL (https://www.gnu.org/copyleft/fdl.html) or CC-BY-SA-3.0 (https://creativecommons.org/licenses/by-sa/3.0/)], via Wikimedia Commons)
Flash Bulb Containing Filaments Of Magnesium: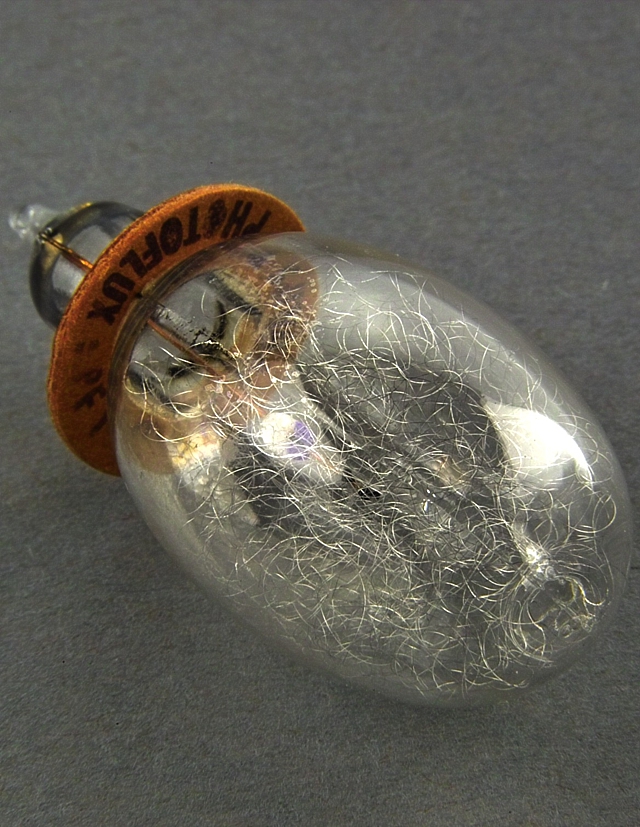 Flash bulb 'Photoflux' manufactured by Philips, containing filaments of magnesium (By Thuringius (Own work) [GFDL (https://www.gnu.org/copyleft/fdl.html) or CC-BY-SA-3.0 (https://creativecommons.org/licenses/by-sa/3.0/)], via Wikimedia Commons)
Flashcubes:
These compact little pieces were developed in the 1960s by Sylvania Electric Products after which Kodak replaced the flashbulb technology on their Instamatic series of cameras with flashcubes. Following on the earlier processes of how flash worked, the flash bulbs that were used earlier were replaced by flashcubes, however the process of how they worked remained almost similar.
Kodak Instamatic Camera with flashcube (By Karsten11 (Own work) [Public domain], via Wikimedia Commons)
These flashcubes were detonated by a tiny explosive charge that gave rise to a bright flash of light.
Flashcubes are also single use pieces with four flashbulbs on each side of the cube, arranged at 90 degrees to each other on the four faces of the cube. Each bulb has its own miniature reflector and the camera had a socket to insert these cubes (very similar to how we have a hot shoe these days).
This is connected to the film progress mechanism enabling the flash to rotate along when the film was advanced thereby bringing the next bulb to the front after each flash was fired. The cubes required electrical power to get fired and they took power from the batteries.
How Do These Flashcubes Work?
The flashcube is connected to the top of the camera through a shaft linked to film advance, that turns the flash cube to a new position after each picture. This also provides the electrical connection for the shutter release inside the camera.
The flash cube has a rotating collar that fits into the camera socket. The locking pin keeps the flashcube in place.
Each flashbulb in the flashcube is filled with combustible material (which we think are magnesium filaments in tiny bulbs filled with oxygen gas) and its base has a powder filled primer cap. When the shutter is released, a tiny hammer linked to the shutter release mechanism is actuated that strikes the base of the bulb setting off the charge in the primer. The primer in turn fires a flash charge that ignites the combustible mixture in the flash bulb producing flash of very high intensity.
Note: According to camera-wiki.org, the flashcubes had 4 AG1 sized bulbs.
For each exposure, the flash fires and rotates 90 degrees when the film advance lever is rotated to bring a fresh bulb. This way one can take four images using a flashcube.
Once all four exposures are complete, the cube needs to be discarded and replaced with a new one.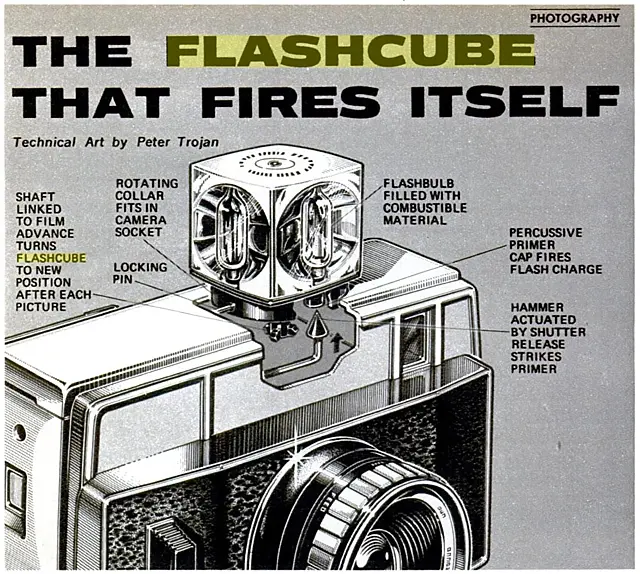 Flashcube – Technical art by Peter Trojan
What Were The Advantages Of Using Flashcubes?
Since it was considerably easier to mount flashcubes compared to the flash bulbs and fire the shots quickly, flashcubes helped with firing quick sequence shots. If more flashcubes were needed, they could be mounted in very little time without much delay between shots.
Since the flashcubes advanced automatically along with film advance, there was no need to wait in between the shots. This was a lot faster compared to the previous flash methods.
Since each flashcube could help with four shots, there was no need to carry a large number of flashbulbs. For example, a 12 exposure roll of film needed only 3 flashcubes.
Note: Since flashcubes were a successful technological development, Kodak went on to adapt some of its more popular instamatic and 35mm cameras to fit the new flashcubes. The top part of the camera was modified to accommodate the base of the flashcube.
Magicubes or X-cubes
The flash cubes were later replaced by the Magicubes in 1970s, also called the X-cubes, which was an improved version of the flashcubes but looked very identical to them, except the socket part. These did not require electrical power but were fired mechanically.
The flashbulb in these cubes contained shredded zirconium foil. In order to fire the flash, a pin in the cube mount released a spring wire into the cube, that struck a pin at the base of the bulb that contained fulminate ions or fulminating material. Due to friction caused, they caused a small fire which in turn ignited the zirconium that worked as a flash.
If you need to know what fulminate ions are, to be short and easy to understand, they are unstable ions and their salts are friction sensitive explosives.
The flash can also be simply fired by inserting a thin pin into one of the slots at the bottom of the cube.
Flashcubes and Magicubes are not the same but are different and have different sockets. Flashcube has a round socket hole whereas the magicube has a protruding slightly bigger square socket marked with an X.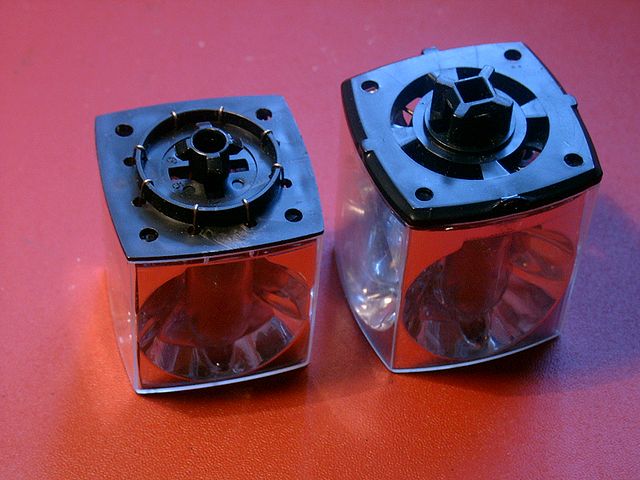 "Flashcube" (left) and "Magicube" (right) (By The original uploader was Conejo de at German Wikipedia (Original text: conejo de) (Self-photographed) [CC BY 3.0 (https://creativecommons.org/licenses/by/3.0)], via Wikimedia Commons)
After the introduction of these cubes, various other manufacturers introduced different types of flashes when finally the affordable electronic flash became popular.