Long exposure photography is a tough but very rewarding genre where one can capture the movements of elements around. There are times when photographers get to any extreme to capture the beauty of the things around them, in the sense that, they do not even worry about the risks involved.
This week, we have an internationally recognised and leading volcano and nature photographer G. Brad Lewis, who is also called the Volcano-man and has shot some award winning and incredible photos of volcanoes.
Volcanic Photography can be a very dangerous job, but anyone ready to face these dangers are sure to be awarded with the most incredible images of Planet Earth. It also requires one to be skilled technically and be psychologically, physically willing and fit.
About Brad:
Inspired by beauty and variety, Brad is based out of Hawaii, Utah and Alaska, traveling several months each year to pursue his art. Among his primary subjects is Kilauea Volcano on the island of Hawaii.
Brad grew up in the Wasatch Mountains in Utah and spent his boyhood exploring this range and the sandstone deserts in the south. Inspired by the beauty around him, Brad went to Alaska.
Brad had lived in Alaska for years, doing geology initially in the Brooks Range and then as an archaeologist in Prince William Sound. Brad observed numerous volcanoes during this time.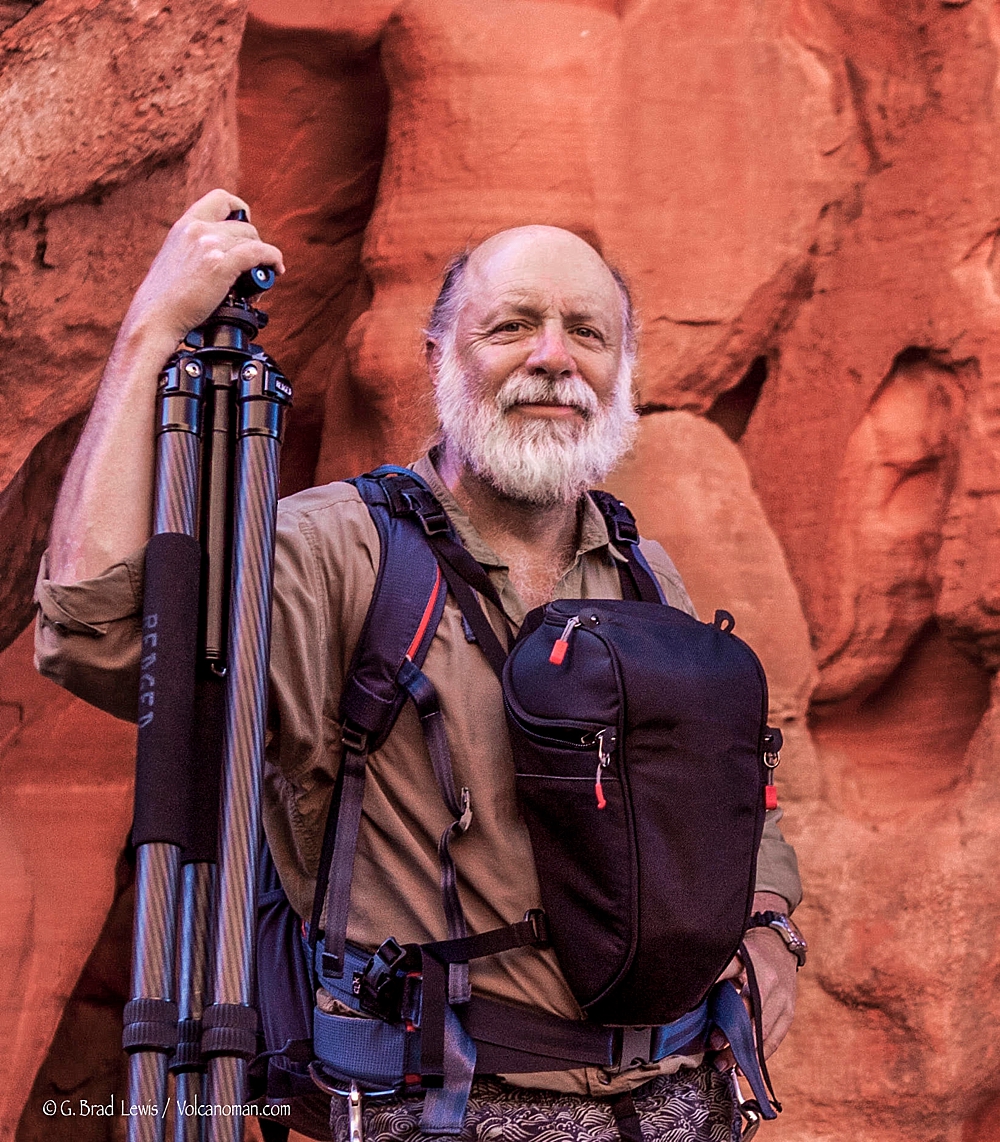 Brad at the Valley of Fire – Image by Grant Kaye
Here is how Brad found his passion…
He went to the Big Island of Hawaii in 1982, that was supposed to be a quick trip, a break from the Alaskan Winter. His two weeks tour of Hawaii turned out into a lifelong love affair and the Kilauea Volcano has a lot to do with this. Also, the Kilauea Volcano's ongoing eruption started a few months after Brad came to Hawaii.
Brad has chosen Kilauea Volcano on the island of Hawaii as his primary subject because he believes that nowhere else on Earth is creation happening on a continual basis at such a rapid rate.
When he talks about the Kilauea Volcano, he says,
"The living pulse of the planet is found in many places, but nowhere is it more clearly seen and experienced than upon Kilauea Volcano, on the Big Island of Hawaii.
Kilauea is the most active volcano on Earth. It is a gentle, free-flowing volcano, a user-friendly, scientifically interesting, spewing phenomenon. Kilauea is located on the most remote landmass on the planet.
I have lived on the flank of Kilauea since 1982. During this time, I have been intrigued by its continual displays of raw power and creation. Most days, several hundred thousand cubic meters of lava gush from its vents and tubes, explode from its cones and fissures. When the lava flows into the ocean, it blasts up billowing clouds of steam.
Kilauea Volcano has shown me the pulse of the Earth. When I first saw molten lava, I understood like never before that the planet is alive, a dynamic living organism, not unlike my own body. To me, Kilauea is the heartbeat of the planet."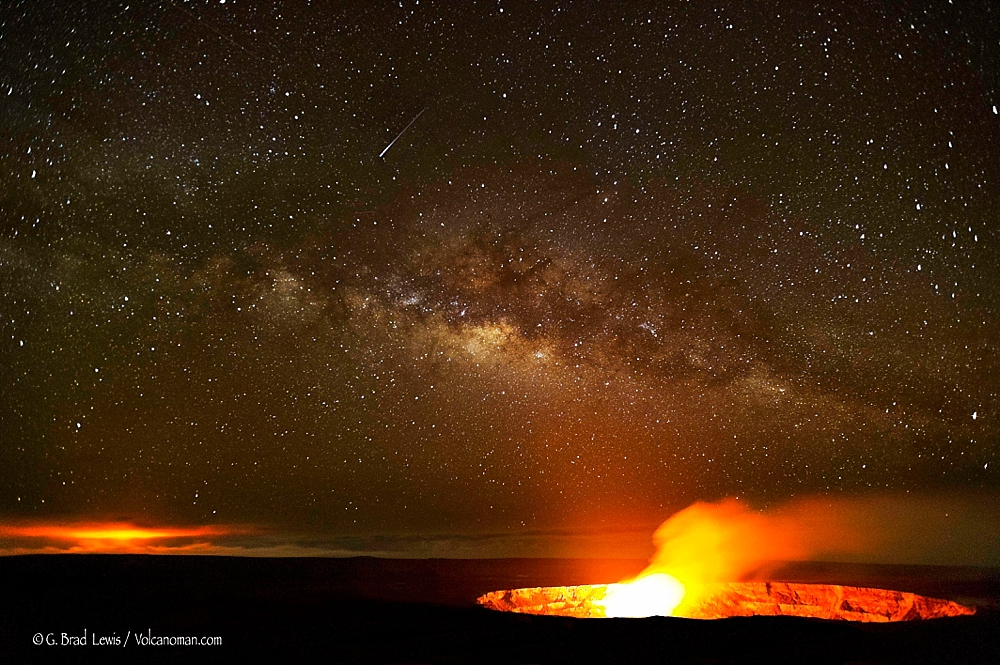 Galaxias – Image by Brad Lewis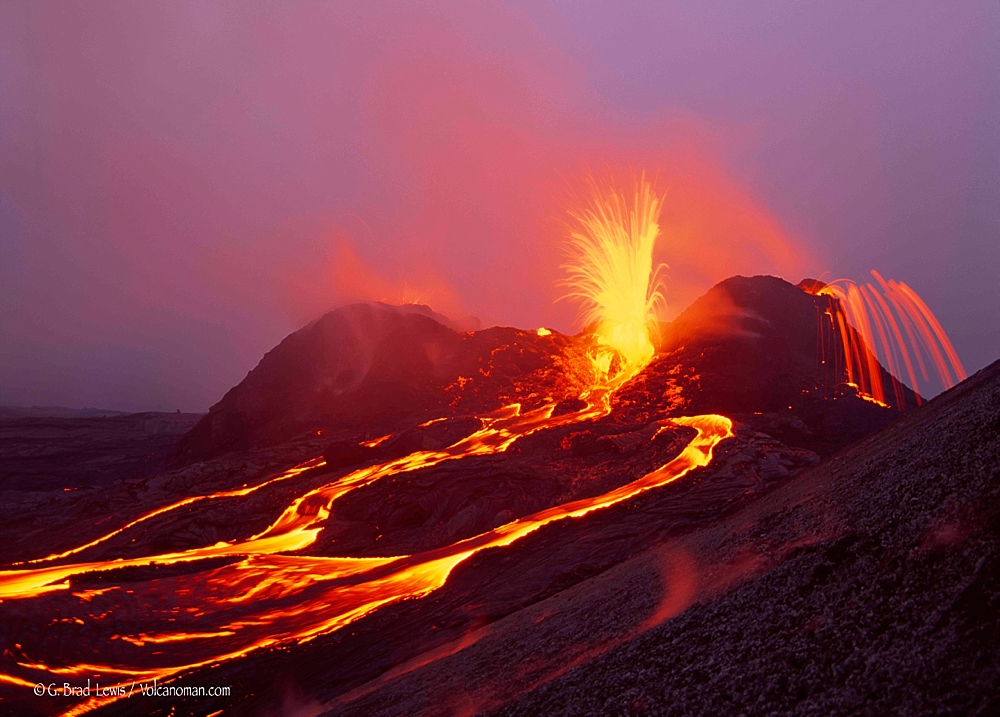 Rift Zone – Image by Brad Lewis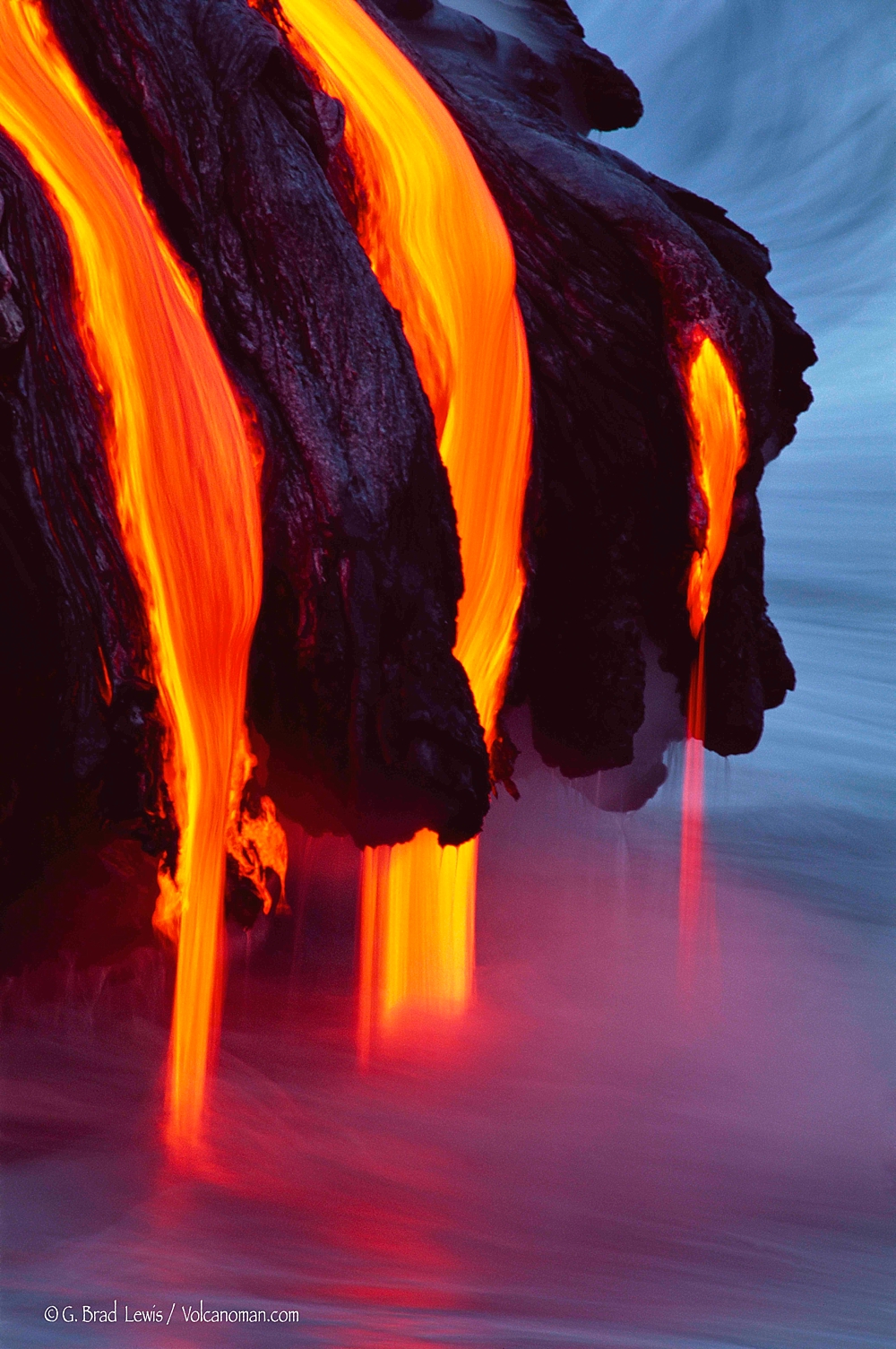 Synthesis – Image by Brad Lewis
Volcanic Lava Flow – Image by Brad Lewis
Lava Masquerade – Image by Brad Lewis
Chasing liquid light has been his passion since then and Brad spends time in between, in Alaska in Summer and Utah mostly in Winters, with being in Hawaii in the Spring.
Brad pursued photography from a very young age and as a result, he knew that the volcano's eruption and textures would offer for some very special images. He spends days amidst the lava in unpredictable circumstances.
Brad himself says, "Many times I am walking over lava that is so hot, I can smell the rubber as the soles of my shoes melt."
Brad finds it crucial that there exist visual reminders that the Earth is alive and fulfilling an agenda of its own. He says, it is crucial for understanding our place in nature. Capturing the essence of terrestrial creation, beauty and raw power and generating positive inspiration from it has been his life's mission.
Brad desires to continue generating positive inspiration by focusing on photography that captures this essence of creation, beauty and raw power.
The goal of Brad's photography is to further the viewer's understanding  and appreciation of the natural world to contribute on a global scale, photographs that help us to comprehend the bigger picture.
In creating volcano images, Brad utilises movement, light and texture of volcanic activity to open human emotions to the pulse of the Earth.
Brad says, 
"Earth birth, Creation, Beauty, Elements coming together, are a reminder that the Earth is alive, Forever growing and Expanding. When I view hot lava gushing from the Earth, flowing down her flanks and pouring into the ocean, I feel wonderfully small and insignificant, yet empowered by the eternal dynamics that make life possible on this planet."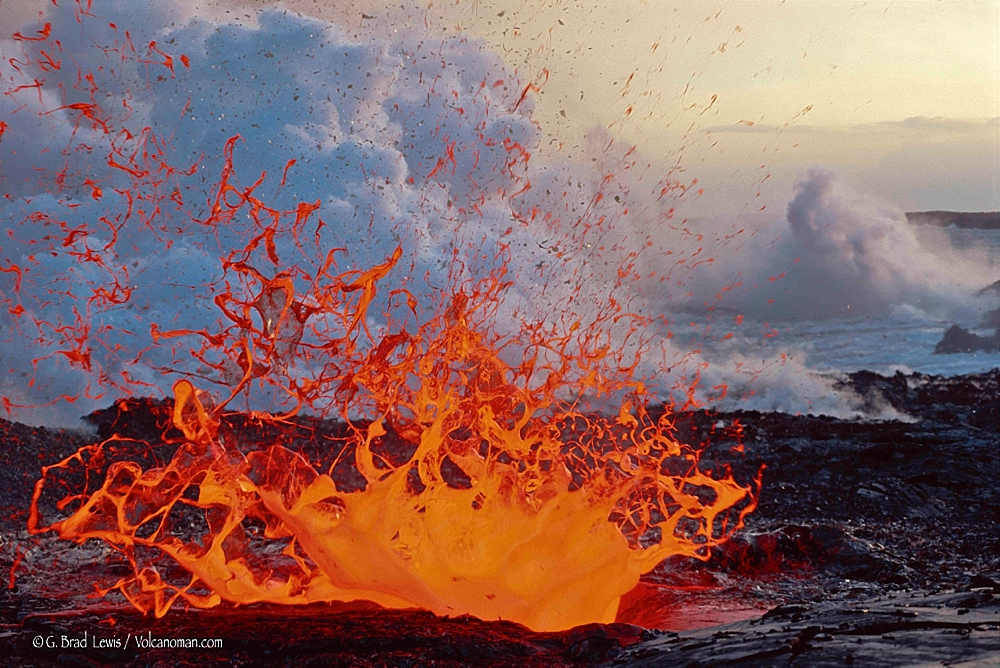 Limu O Pele – Image by Brad Lewis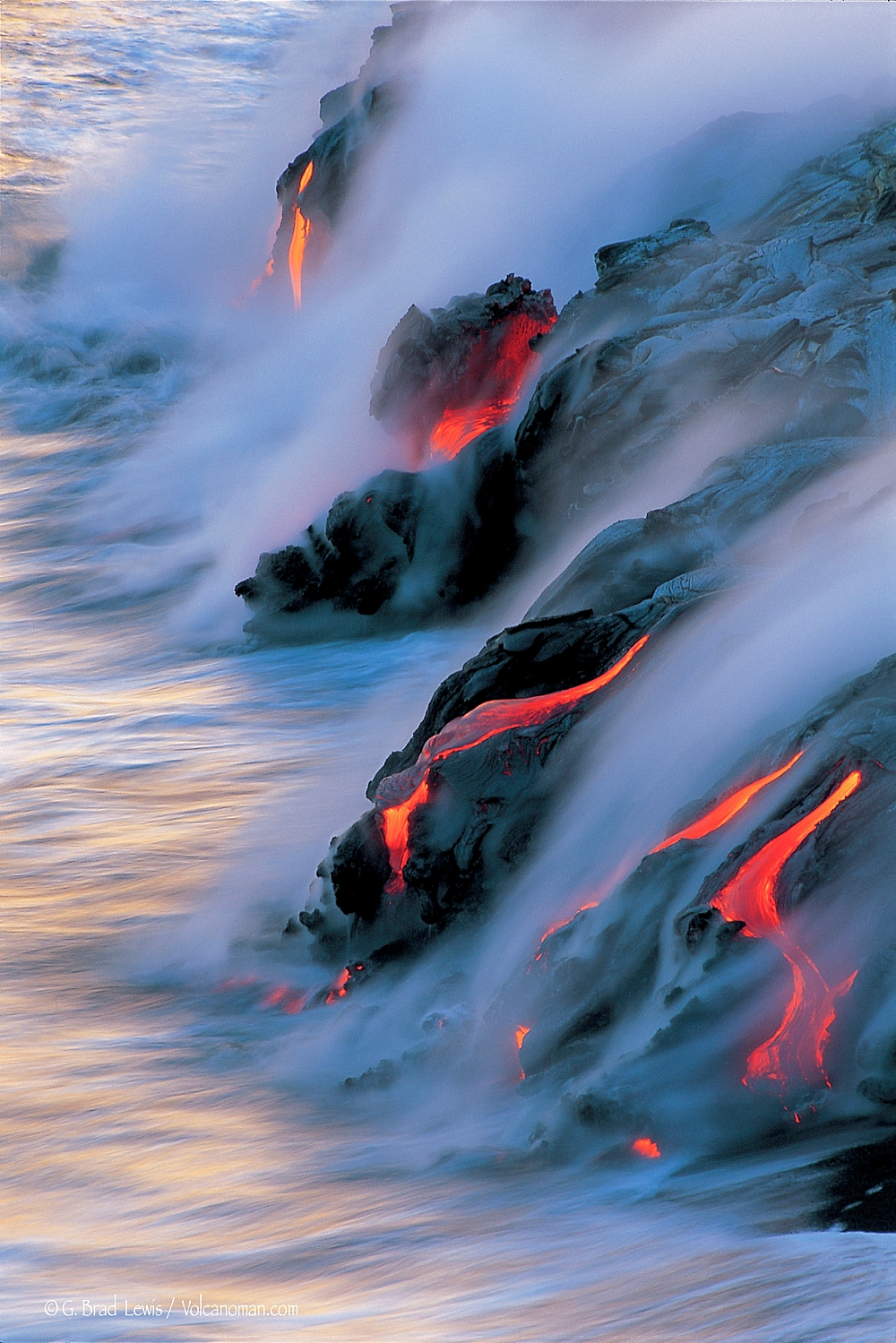 Ocean Dancing – Image by Brad Lewis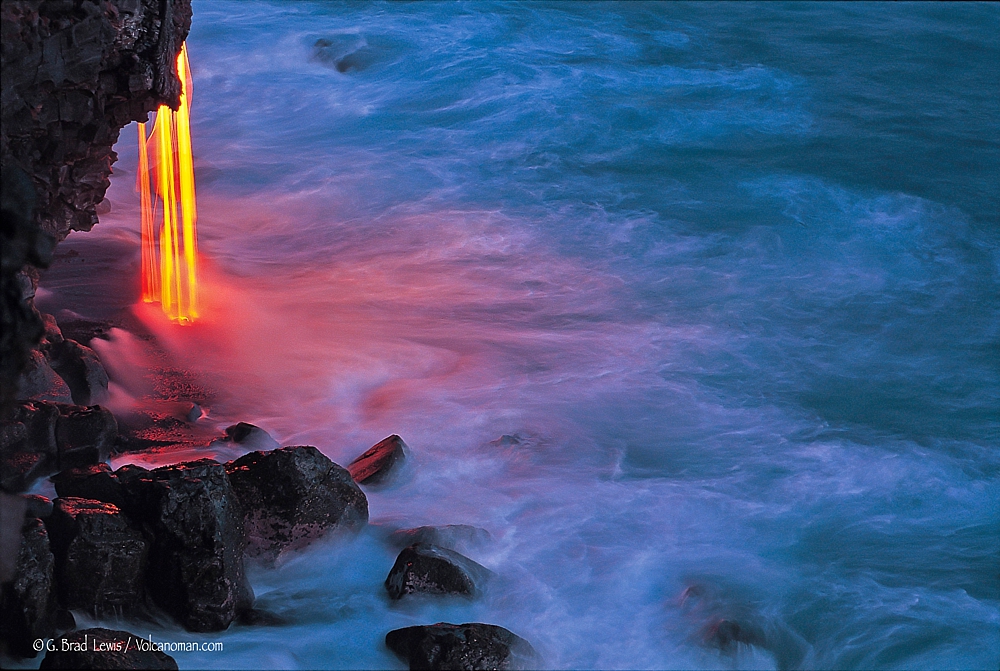 Firefall – Image by Brad Lewis
Endless Balance – Image by Brad Lewis
Brad's Backyard – Image by Brad Lewis
From the Photographer:
"It has been a formidable challenge to capture striking images of this mountain of fire. The dangers are extreme at times. Thin roofed lava tubes and spontaneous pit-craters are a threat. Where the lava flows into the ocean, huge benches of land break away from the coast and fall into the ocean.
I tread lightly and travel by intuition. The conditions are often terrible for camera equipment. Acid steam fries electronics and pits lenses. I always carry several camera bodies and a host of lenses, from 16mm to 500mm. I also carry a stout tripod, plenty of memory cards and survival gear.
It is an honour and privilege to witness, learn from, and photograph this great mountain called Kilauea."
Brad's award-winning photos have appeared on the covers of Life, National Geographic, Natural History, Photographer's Forum, and Geo, and within the pages of Time, Outside, Fortune, Newsweek, Stern and many other publications. He's been featured on NBC's Today and CBS's Evening News, as well as Disney and Discovery channels. Photo essays of his work and interviews have been featured in Photo District News, DigitalFoto, Studio Photography & Design and Outdoor Photographer. 
Brad's photographs are found in private, corporate and public collections around the world, as well as in fine art galleries and major stock agencies.
More about Brad and his works can be found on the links below.