The competition between massive smartphone manufacturers is probably all the more intense because consumers often struggle to distinguish one brand from another (unless you're Apple or Google).
So, when you're making a smartphone that wants to capture the attention of photographers, where do you look?
If you're HUAWEI, you turn to trusted name-brand equipment from yesterday to add that extra sparkle to your shiny new product.
That's probably one of the reasons why the new smartphone line from mainland Chinese conglomerate HUAWEI will feature dual Leica lenses with a F1.6 aperture, bringing HUAWEI's phones into the "fake bokeh" game as The Phoblographer calls it, and doing it all with a dash of nostalgia.
The new handsets are touted as ideal for photographers according to press from HUAWEI.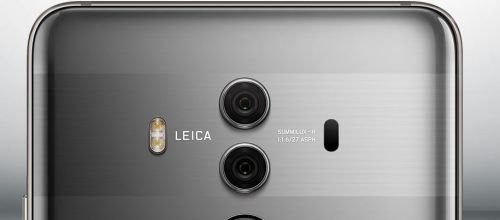 HUAWEI's Mate 10 and Mate 10 Pro devices made their debut in Berlin, Germany at the IFA Berlin. The two phones will feature HUAWEI's Kirin 970 chipset, a chipset that HUAWEI boasts is the first application of a dedicated AI neural network processing unit in a smartphone.
The star of the show, however, was the handset's dual Leica lenses, called the Leica Dual Camera System.
Both the HUAWEI Mate 10 and Mate 10 Pro will have Summililux-H lenses. The new Kirin 970 chipset also allows the HUAWEI Mate 10/Pro smartphone camera to engage in AI-driven scene and object recognition. In addition, the chipset powers the faux "bokeh" effect.
HUAWEI is positioning the Mate 10 and Mate 10 Pro as smartphones for photographers, and
has rolled out a set of features to meet that call.
The phones feature a 12MP RGB Color sensor and a 20MP Monochrome sensor, OIS (image stabilization), and an AI motion detection feature, a technology that will make capturing moving images easier and result in higher quality shots according to The Phoblographer.
The phones will also have a 4000 mAh battery and feature IP67 Water/Dust Resistance.
In terms of pricing, a Mate 10 phone with 64GB of storage and 4GB RAM of memory will be approximately €699 while a Mate 10 Pro will cost €799 for a 128GB Storage with 6GB RAM. The Pro handset will top out at 256GB of storage with 6GB of RAM for €1395.