When you are just starting out in photography or even if you have already started but are still a beginner, there are times when you wish you had your training materials right there in the bag out there with you, on location for quick reference. Even intermediate and professional-level photographers require these references at times. One may argue, that everything these days is available for easy access on the internet. However having training materials handy means, you can access them in remote locations.
Carrying photography guides can take up a lot of space and weight in your camera bag. What would be much more useful would be small printable cards that you could tuck in your bag and take with you for referencing on the go.
Photzy Snap Cards
Secure Your Limited Time Bonus With Photzy Snap Cards Here
With this in mind, the team at Photzy came up with the idea of putting together all the information that a beginner or mid-level photographer would need in the form of clear, graphical PDFs called Snap Cards. They sent us a set to take a look at. So here is our Photzy Snap Cards review.
Who Is Photzy?
Photzy is a photographic tutorial site that creates ebooks and other photography resources such as snap cards and action cards. They also produce photography books and tutorial videos. All of them help people master their skills in photography. Photzy started as an experiment by the Light Stalking team, but has since rolled off into its own company with its own great team.
Their printable products come in PDF format. This means they are environment-friendly and can be displayed easily on a tablet or smartphone. If you prefer the printed form, they can easily be printed at home in A4 or A5 size.
What Are Photzy Snap Cards?
Photzy Snap Cards are a collection of 44 graphic cards that help jog your photographic memory on the go. These snap cards can be downloaded and saved to your smartphone or tablet and accessed wherever you are.
The snap cards are designed to provide condensed and precise information on specific photographic techniques. They do this in a predominantly graphic way, using combinations of icons and images, supplemented with brief text information. This enables the photographer to quickly glance at a card, ingest the relevant information before getting on with the shot they were taking.
Like other Photzy products, they are easily printed at home. Printing back-to-back on A5 paper will require just 22 sheets.
Carrying the Photzy Snap Cards, either digitally or printed, gives the photographer the peace of mind that they can handle most situations they come across, be it lighting or other complicated conditions, as they have their training material for quick reference right in their camera bags.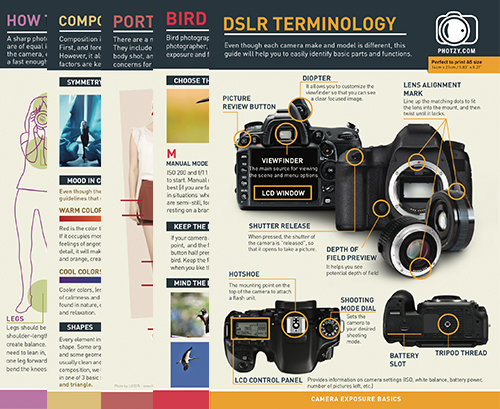 Why Photzy Snap Cards?
The Photzy Snap Cards cover most types of photography that newcomers will come up against (and are not to be confused with the Photzy Action Cards which are a different product).
The information in the cards starts from the very basics so that a novice in photography can jump right in and start learning photography. They are split into 9 specific sections each color-coded. We will take a look in detail at the sections a little later in this review.
Even as a seasoned photographer, the simple-to-read, attractive layout of the snap cards makes them visually appealing. The design remains uniform throughout all the snap cards, so you know where and how to reference the information that you need.
The Photzy Snap Cards start with basics such as how to hold the camera, focal length, aperture, shutter speed, and iso. They continue through to more advanced features such as focusing modes, exposure, composition and people photography. The last section deals with some of the special techniques required for different genres of photography.
Overall the cards are illustrative, concise and easy to understand for beginners. More intermediate photographers will find some of the advanced topics useful but would probably not have need for the more basic cards. It may be worth Photzy considering releasing the more advanced cards as a stand-alone set.
What Do You Get From The Photzy Snap Cards?
The Photzy Snap Cards come as a collection of 9 color-coded topics. This way, the cards can be arranged accordingly with each topic put together. Let's take a look at the individual topics.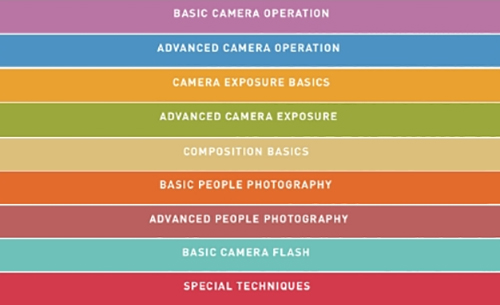 The Subjects Covered Are:
Basic Camera Operation
These are the most basic cards and enable the inexperienced photographer to get up and running and taking photos without too much study.
How To Hold The Camera
Lens Focal Length
Taking Sharp Pictures
Scene Modes
Advanced Camera Operation
This topic is covered with six cards, each one having more illustrations than text. The graphics cover some of the more advanced subjects that newcomers will come across such as depth of field. As such, it would be useful to study these cards a little at home as well as taking them with you. The subjects covered are:
Auto-Focus Modes
Background Blur
Depth Of Field
Drive Modes
Raw Vs Jpeg
White Balance
Camera Exposure Basics
This section covers all the basics required to take correctly exposed images and the illustrations demonstrate graphically what happens when values are changed for aperture, iso, shutter speed and the use of different metering and shooting modes.
Aperture (F-Stop)
DSLR Terminology
Understanding ISO
Metering Modes
Shooting Modes
Shutter Speed
Advanced Camera Exposure
This topic covers advanced exposure techniques like exposure compensation, exposure techniques for different lighting conditions, metering modes for different lighting conditions, exposure for landscape, low light conditions. Again these cards warrant a little study at home as they can be a little intimidating if seen for the first time on a shoot.
Exposure Compensation
Exposure Triangle
Understanding The Histogram
Landscape Exposure
Photos In Low Light
Manual Mode
Mastering Backlight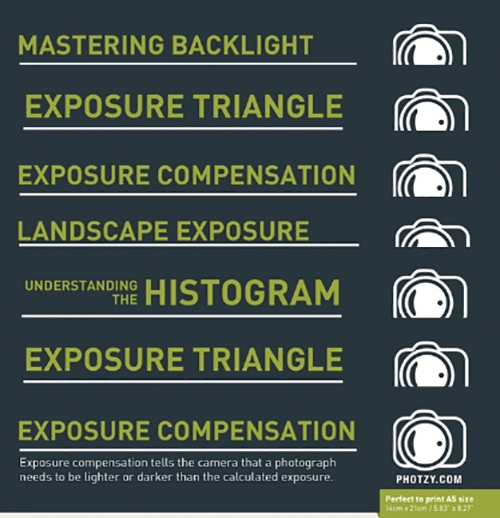 Composition Basics
This topic goes quite in-depth into basic and advanced composition tools and techniques touching on almost everything you need to know to compose a compelling photograph. They are a useful reference in the field to help jog your memory on different compositional techniques. There is also a card that covers the psychology of composition
Beginner Tools – Part 1
Beginner Tools – Part 2
Intermediate Tools – Part 1
Intermediate Tools – Part 2
Composition Psychology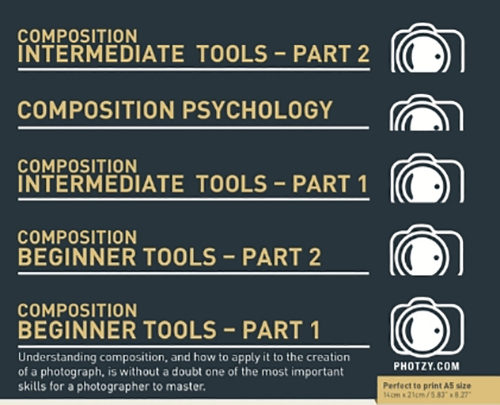 Basic People Photography
This is a basic topic for beginners who wish to step into portrait photography and take images without the help of flash, but by just using natural light available indoors and outdoors. It covers both group and individual shots in people photography along with a checklist for portrait sessions in general.
Planning A Family Portrait Session
Indoor Natural Light
Outdoor Natural Light
Advanced People Photography
This topic is created as quite an in-depth guide into creating portraits by incorporating composition, posing, positioning of body parts. Like other more advanced cards, you will benefit more with a little study before shooting.
Portrait Crop Guide
Group Posing Guide
Photographing Women
Photographing Men
Basic Camera Flash
Although most photographers think that the in-camera flash is not a good enough one to be used for photography, especially portraits, there are certain things you can accomplish using this little attachment on your camera. This topic covers some of the things that this in-built flash is helpful for.

Special Techniques
This is a detailed section that covers compositional and creative tips as well as settings for landscape photography, macro photography, night photography with an exposure guide, bird photography, use of filters to capture movement and beautiful sunsets. It also includes a useful guide for uploading images to social media.
Landscape Checklist
Landscape Creative Tips
Macro Photography
Night Photography
Bird Photography
Photographing Moving Water
Photographing Sunsets
Social Media – Image Sizes
Should You Buy Photzy Snap Cards?
For beginners in photography, they can be very useful. The cards go also go into some more advanced topics that intermediate photographers may also benefit from. They can also act as a useful refresher for anyone who has already started in photography, but not used their camera for a while.

If you struggle to remember techniques learnt at home, Photzy snap cards have a lot of useful information in one place, condensed into a concise PDF. With snap cards, you can just go out and shoot with peace of mind that you have a visual reference when required.
Even if travelling to a shoot, they are useful to simply read and learn with. They look attractive and the information is clearly laid out in a logical format.
The snap cards are not camera specific. They give generic, illustrated information that will suit photographers with even more basic camera gear.
If you are specifically going out for a particular type of shoot, for example, portraits, night photography, landscape, macro, etc, just carry the snap cards that are relevant to the shoot and leave the rest at home.
The cards are well-designed with lots of graphics, illustrations and sample images. This makes them easy to understand for people who may have less knowledge about photography.

How you want to use the snap cards, depends on each individual preference. Overall, the cards touch on just the main points and important information rather than any detailed information.
Who Snap Cards Are Not For
Experienced photographers who already have the knowledge without the need to reference a specific subject.
Less patient photographers might struggle with using the cards. They do require you to take time out in a shoot to study the cards. Not everyone will have the time for this.

Although heavily illustrated, if English is not your primary language, you may struggle with some of the text-based definitions.

Intermediate photographers may find the more advanced sections useful but will probably not require all 44 cards.
What's In The Package?
You receive 44 downloadable snap cards in .pdf format, covering 9 major topics, all colour coded based on each topic. These can be downloaded and printed to the size of your choice as required and thrown into your camera bag.
You will also get two bonus videos that will help you with getting the most out of your snap cards when you are out shooting and also help with any questions relating to the printing process.
Photzy also provides a 365-day risk-free money-back policy, so you have enough time to learn and practice. By the end of 365 days, if you still feel that the cards were not good enough to help you with your photography or you think that it was not the right product for you, you are covered as Photzy will refund your payment in full.
Things To Consider Before Buying
There is no "Table of Contents" section with page numbers on the cards that can make for quick references much easier. Unless you are very well versed with all the cards, it would take quite a few minutes to shuffle through all the cards.
Whilst you can print them in black and white, as the cards are colour coded you would loose some of the design elements that make the cards appealing. Printing in colour can be expensive, but it is only a one-time investment if you laminate the cards and store them safely. It's well worth considering the extra expenses you may incur if deciding to print and laminate. Speaking of costs.
The full price of the snap cards is $220. This is a considerable investment for a new photographer and may be considered too expensive by some.
With that said, Photzy has a limited-time offer going on at the moment, with the full set of 44 cards available for $29. Given the design and usefulness of the cards, this is a very decent price indeed. I do not have any information on how long the sale will last.
Final Thoughts from this Photzy Snap Cards Review
Photzy Snap Cards are an excellent tool for new photographers to put in their camera bag to help learn photography. The range of subjects covered and the graphical design of the cards make them excellent aide memoirs for working on a shoot but also great for sitting down and digesting on the way to a shoot.
They will not appeal to everyone though. Experienced photographers will probably not find great use from them. More mid-level photographers will probably not require all 44 cards. However, at the sale price, the more advanced snap cards are certainly worth getting even if you have no need for the basics.
Personally, I think the cards work best when used on a mid-size tablet such as an iPad mini. This alleviates the need for printing and gives you a clear concise digital PDF to help you get through your photoshoot or for use as a quick study guide when you are time-limited.