When I was asked if I would like to review the Portrait Pro 12 software package for Lightstalking.com, I got pretty excited.
I became excited because – just like you; I like playing with new stuff!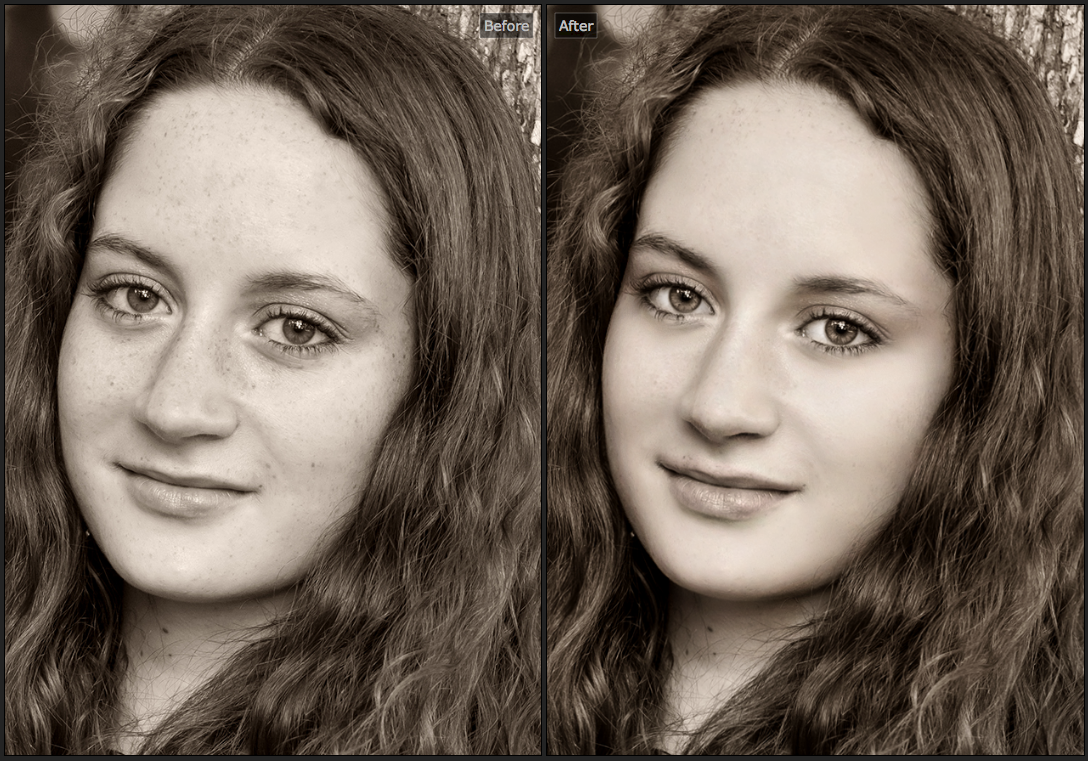 On top of that, I take my job seriously. When I'm asked to write a review, I attempt to put that product through its paces. I want to discern quickly, whether I believe that the product would be a value – to you – the Lightstalking.com readership.
First of all, if you don't like shooting portraits, you might as well move on right now.
Portrait Pro 12 has but one purpose in life – the retouching and enhancement of the human face. There's nothing else that can be done with this program.
Now, that being said – it goes about making the process of retouching and enhancement a lot easier.
In fact, for the "before & after" sample image above, all I did was load the image, let the program execute its default settings, and then save the file.
Pretty dramatic improvement for doing nothing except those basic steps (and that took less than 30 seconds)!
But… like anything in life, I did find a few quirks.
It's like buying a new car. You test-drove the vehicle, and it drove really nice, so you purchased the car. But, you never tested the radio, and now you turn it on for the first time… and you discover that you can't stand the way the buttons are configured.
It doesn't change how nice the car is- it's just something to consider.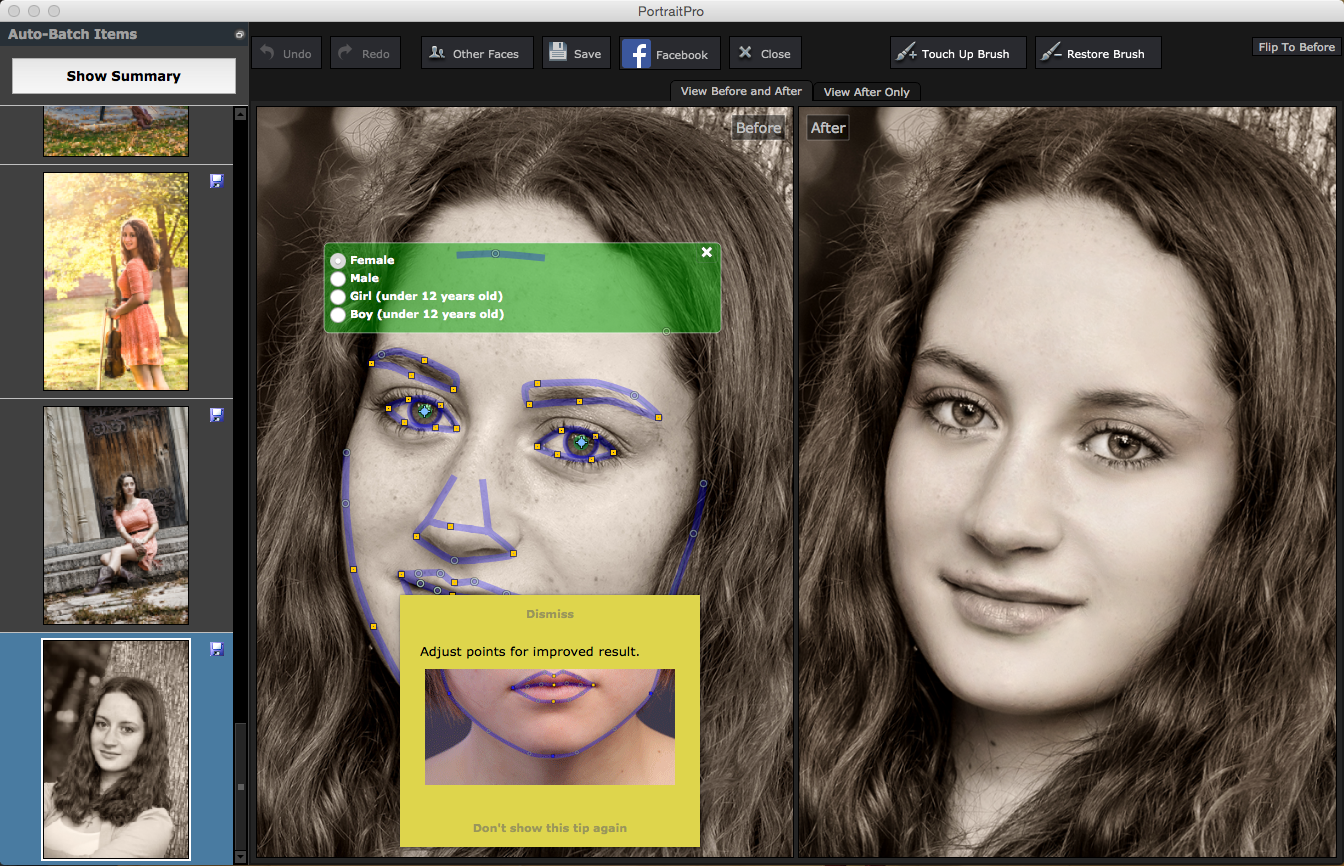 For my review of Portrait Pro 12, I wanted to get into the nitty-gritty of three factors.
Does the program perform as advertised?
Does the program perform as easily as advertised?
Where might this program fit into the toolbox of the average Lightstalking.com reader?
Who Makes Portrait Pro?
First of all, here is a little information about the company that developed Portrait Pro 12?
The software was developed, and is distributed, by Anthropics Technology, Ltd. They have offices in London, U.K. and Elkhart, Indiana, U.S.A.
The "original" Portrait Pro was released in 2006. Portrait Pro 12.0, the version that I'm reviewing today, was released in January of 2014.
In my opinion, the company seems well organized, on top of things, and not going anywhere soon. (Which is always a good feeling to know, when you're buying software, and might require tech support down the line.)
Their website claims that they will answer tech support questions within 48 hours and sometimes less.
I generated a support ticket to test that claim. I received an initial response within ten hours and a final follow up at 24 hours. That's pretty darn good in my opinion.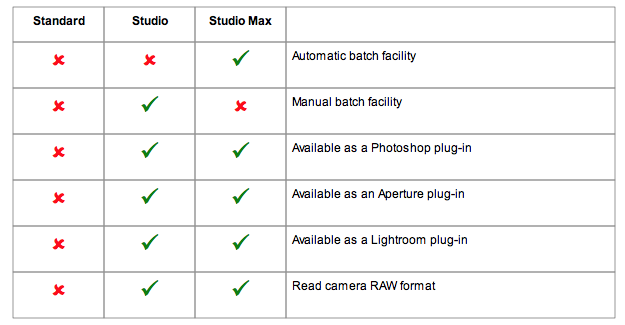 About the Software
The Portrait Pro software is available in three versions. I would think that all Lightstalking.com users would want the "Studio" or "Studio Max" versions over the standard version.
Why? Because those two, (slightly pricier), studio versions can work with RAW files, can batch process multiple images, and they will work as an integrated plugin for Photoshop or Lightroom.
Portrait Pro 12 is compatible with Apple Mac and Microsoft Windows, and it's also available in a 64 bit, as well as a 32 bit version.
I will be testing the software on an Apple iMac that is running OS X Yosemite while using Adobe Photoshop CC.
Once the software is installed it can also be opened "independent" of the Adobe Mother-ship program.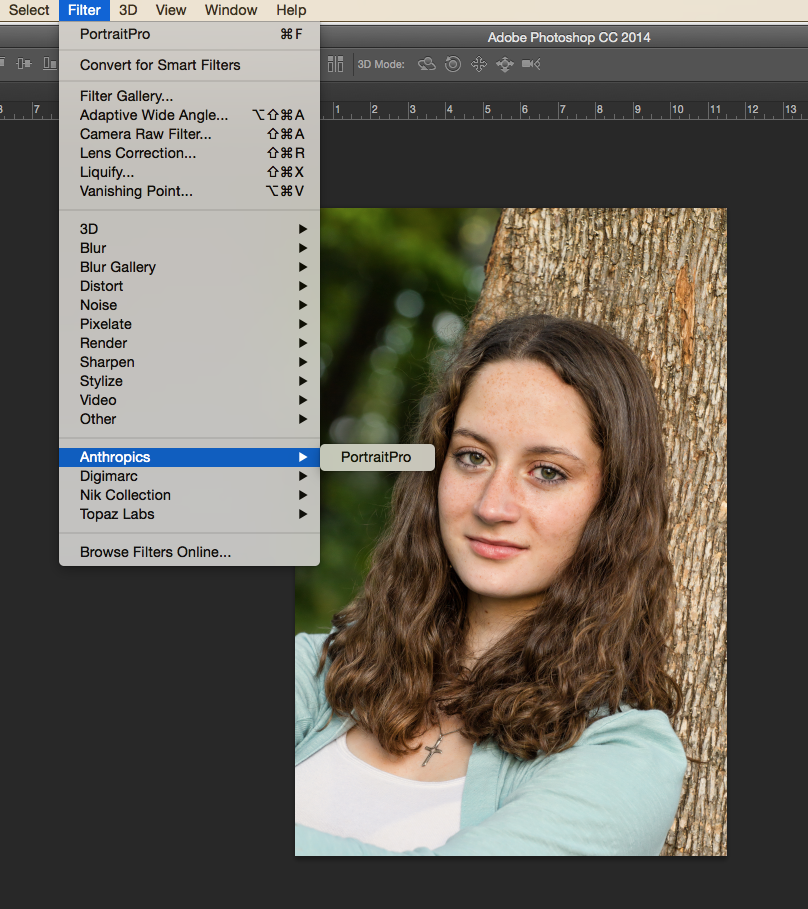 The program begins with a dialog box that asks if the subject is female or male. It also asks if the subject is pre, or post, 12 years old.
These questions allow the software to open up with a slew of adjustments already in place.
I have to be honest. Most of the time, I was happy with the opening default adjustments and I felt no need to go any further – with one caveat…
I only felt that way with single person portraits – not group shots.
We'll talk a little more about group shots in a minute.
This is the main interface when you open up your image.
You'll see a before and after view of the initial settings. On the right, will be the menu palette for making additional adjustments. All the windows are floating and independent of the host program, so I was able to them around and resize them until I got them just the way I wanted them.
Those purple lines and the green bar that you see on the left… They appear when you move your mouse over that image and disappear when you remove the cursor.
Those purple lines are super important because they tell the software where to apply the lighting effects and contouring adjustments to the face.
Portrait Pro 12 does an amazing job of detecting the correct features. But the purple lines can be fine-tuned by grabbing the yellow handles and adjusting. I tried this on numerous pictures with different head sizes and different models. It worked pretty darn well.
The one place that the software seemed to consistently miss getting it right- was the forehead height.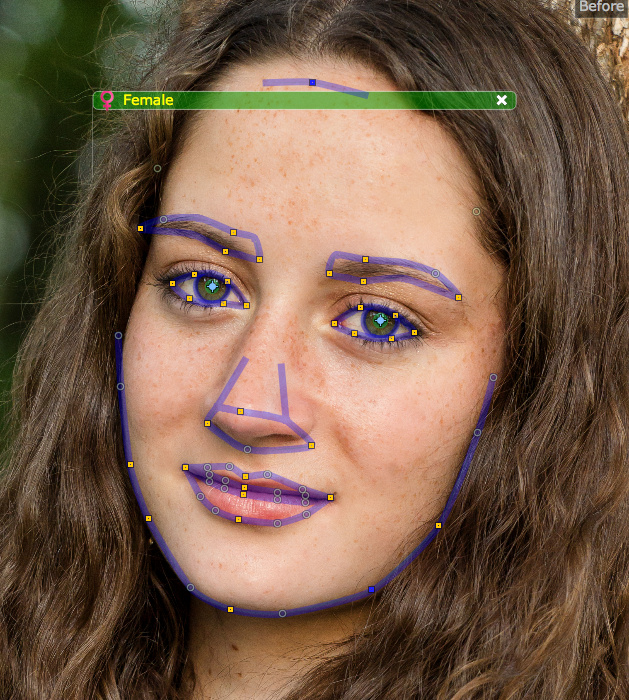 If you compare this image with the previous one, you will see that I have moved the forehead bar up, and I adjusted around the chin on the lower right.
Now, this is one of the coolest features of Portrait Pro 12. When you're making these adjustments, you can see the effects happening in real time to the "after" image on the right. This means no guessing at the results and having to do something over and over.
I was very impressed with that feature.
Here is a close-up view of the "after" image with no other adjustments. This is really impressive!
But, let's say you're one of those folks that likes to get in there and really noodle around with your photographs.
You can do that with the control palettes on the right.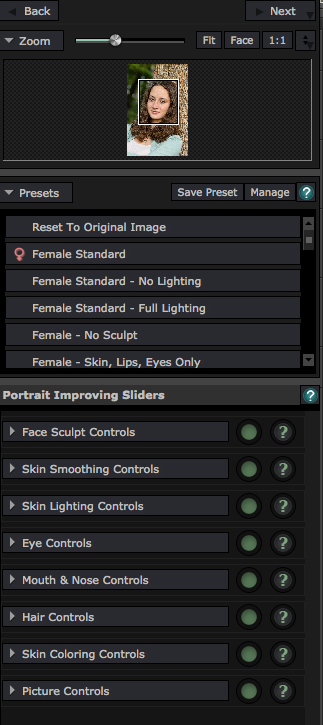 There are three areas within the control palette box. The top is a navigator. The middle section is the presets that really provide some sweeping changes to the retouching. The bottom section provides fine-tuning controls.
Now, this is kind of cool feature when you're getting started. See the question marks to the right. If you click on one of those, it takes you to a web page that provides detailed information on how that particular function works: pretty sweet.
But- some folks, (and I'm one of them), really like easy access to a full manual. There is no access provided to a manual within the software itself – not even under the help menu.
I did find a manual online, but I had to go searching for it. A button under the help menu that took you directly to the manual would have been nice.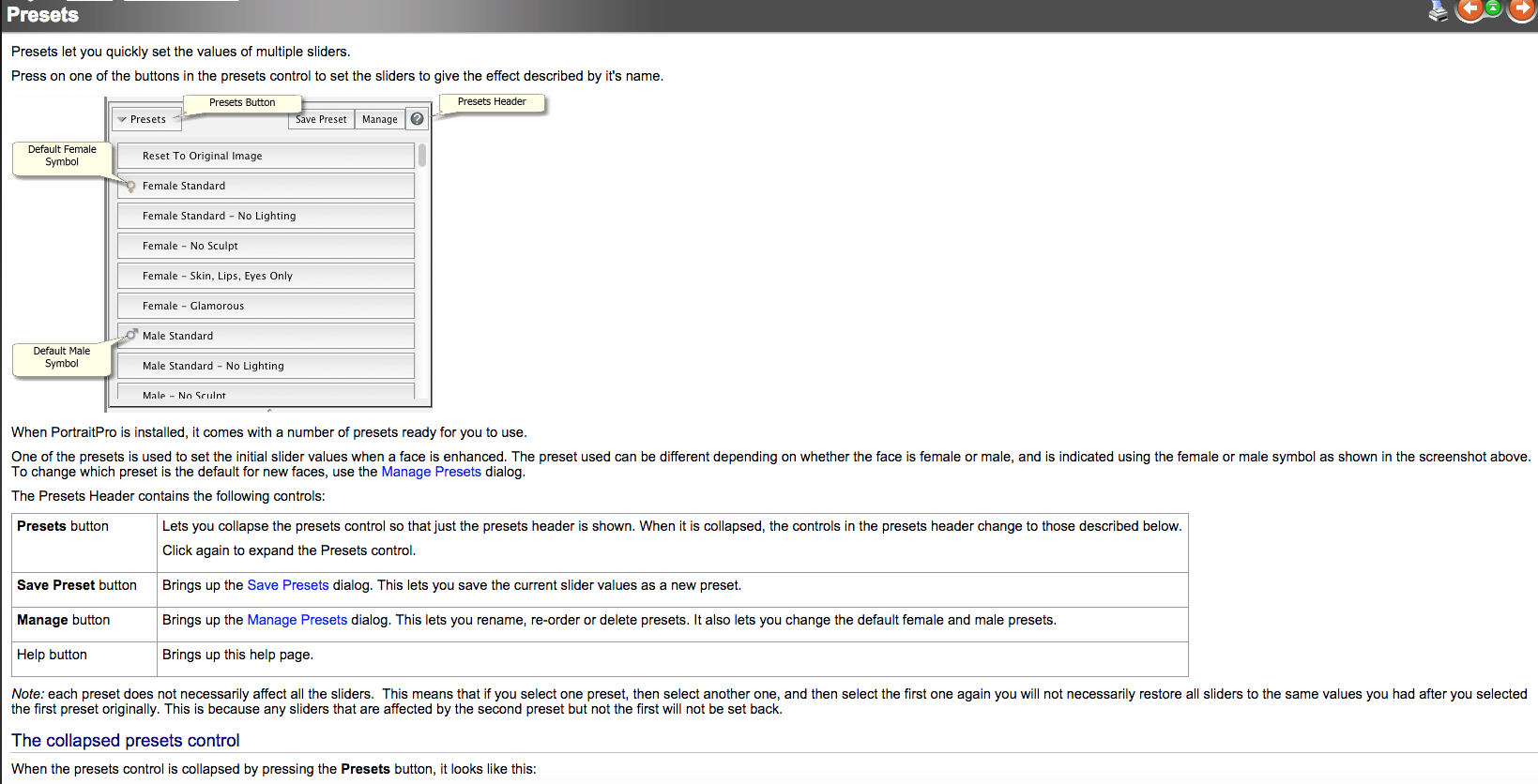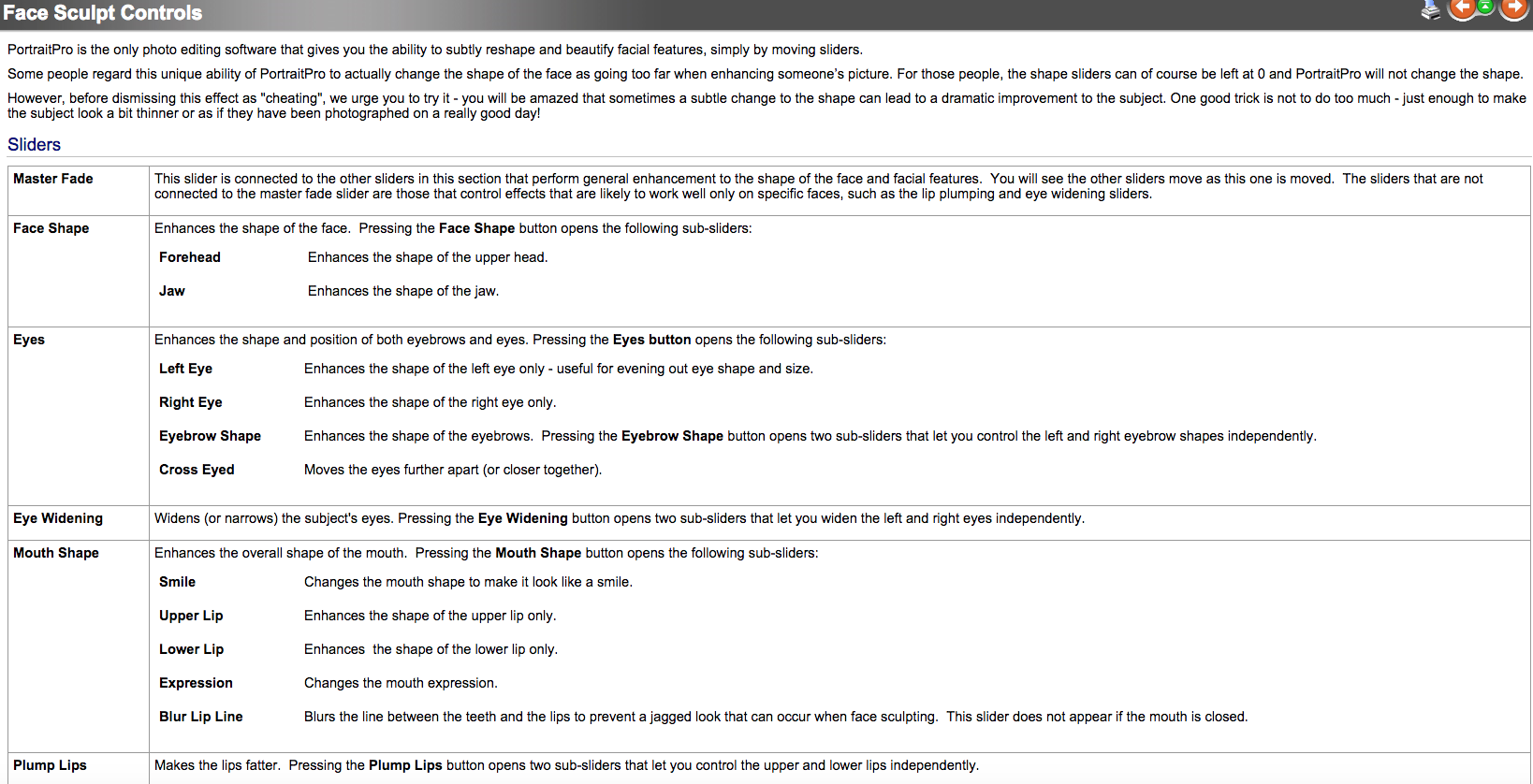 It may be difficult to discern (in these tiny thumbnails) some of the subtle differences between the presets. But, I have to say; "I was amazed at the range of changes that could be applied with the simple click of one of these six buttons".
I now decided to dive into the into the individual sliders at the bottom of the tools palette…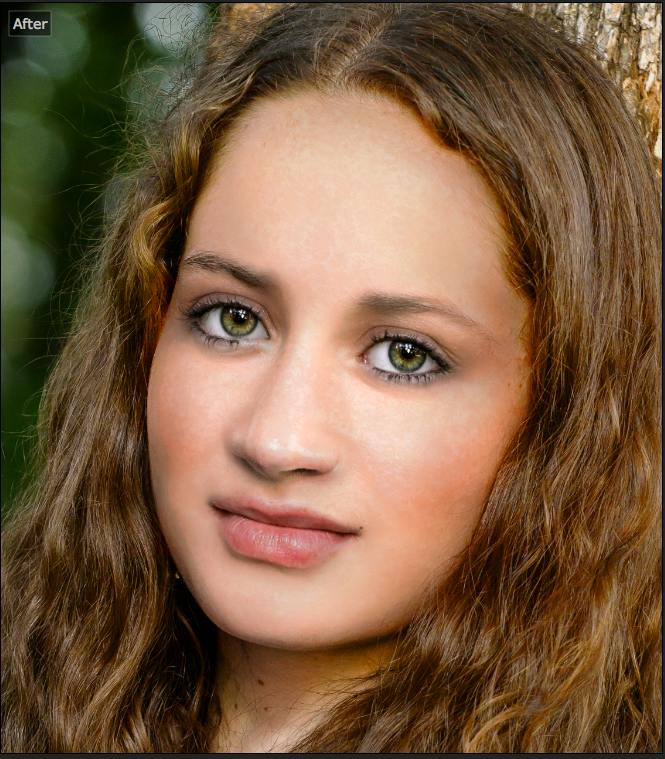 At this point, I just wanted to have some fun and see what the program could do if I pushed it to the limits.
As you can see, you can create a face that barely resembles the original. And, you can do this fairly quickly. Or, if you're like me, you might just spend an hour trying everything that's available.
I have to admit; I had a lot more fun playing with this program than I thought I would. It's amazingly fast and accurate.
So kudos, kudos, kudos – but there must be some downside, right?
What Could Be Better About Portrait Pro?
Well, I found three things that I thought could be improved.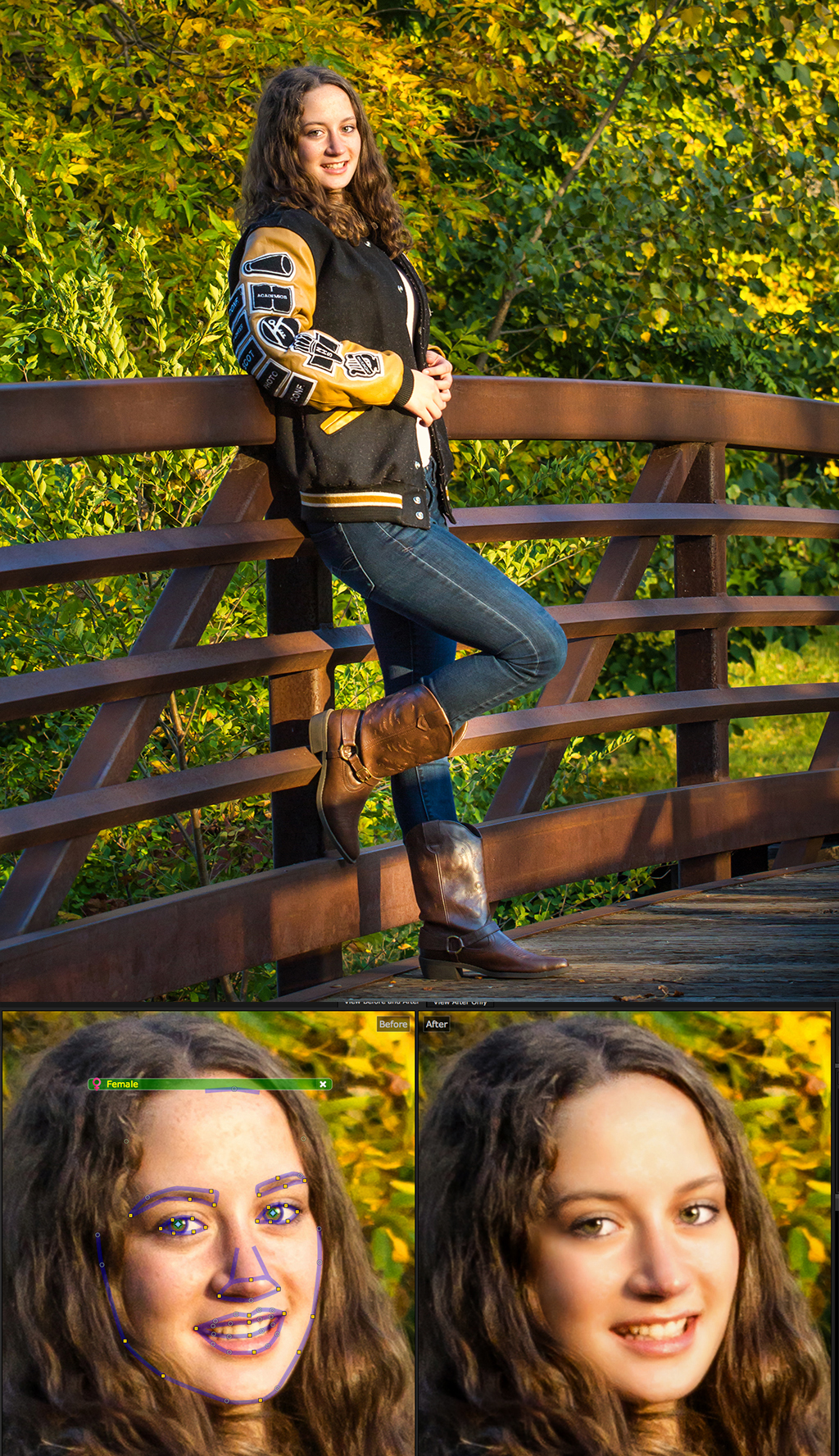 The first issue is with full-length portraits: or any portrait that is wider than half-length. With these wider shots there is a noticeable loss of sharpness to the facial features when the image is processed through Portrait Pro 12.
It also pulled at my nerves because it's blurry in the preview window. Take the above example of the high school senior portrait. I know that the facial features of the girl are in focus and sharp in detail, (in the original file).
Just knowing that, and having to look at a blurry preview, was almost enough to make me want to quit using the software on this photograph.
I exchanged emails with Andrew Berend, the CEO of Anthropics Technology, on this issue.
He acknowledged that this was indeed the reality, and the company was aware of it. He also gave me a technical reason why this was happening, and said that they were working on it.
He expects the issue to be resolved with the next release.
My next trouble spot was working with group shots.
One of the main selling points for Portrait Pro 12 is "speed".
But with group shots things kind of bogged down; especially groups with varying sexes and ages.
Each face must be individually worked on. So, it's not awful: just more time consuming.
I also found that I needed to be careful when making adjustments. It was easy to over-retouch one face, and then it no longer matched the others.
There were also a few group shots where the software would not detect all the faces present in the photograph. The program does allow for a manual selection, but the process is time consuming, especially if you think about using the program to retouch an entire wedding.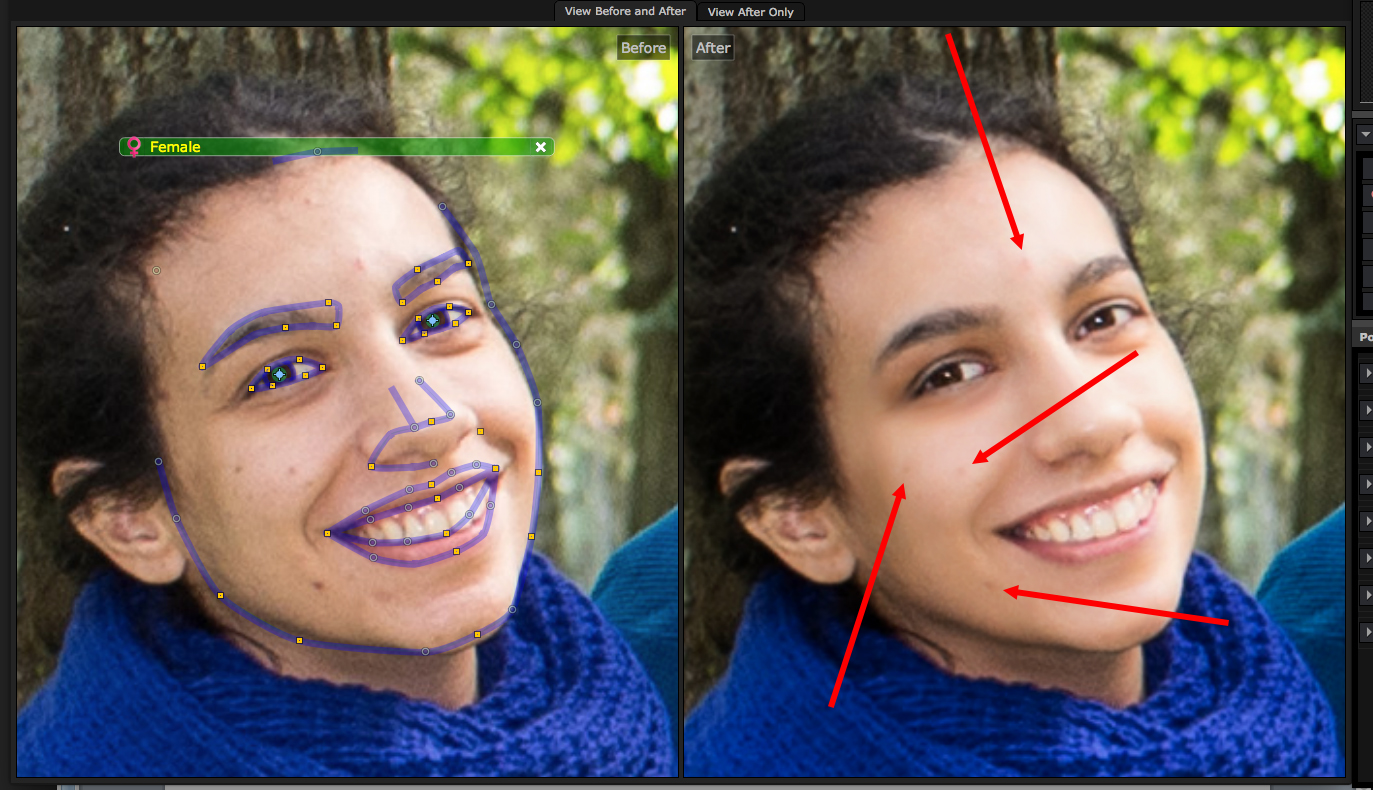 Finally, if a subject has larger marks that need retouching, Portrait Pro 12 will not eliminate them completely. You still have to take the image back into Photoshop, or Lightroom, for additional retouching.
Andrew Berend, also addressed this issue with me. He stated that Anthropics Technology hopes to have a fix for this in the next release as well.
There's one last tool that we haven't talked about, and this is a good place to bring this up.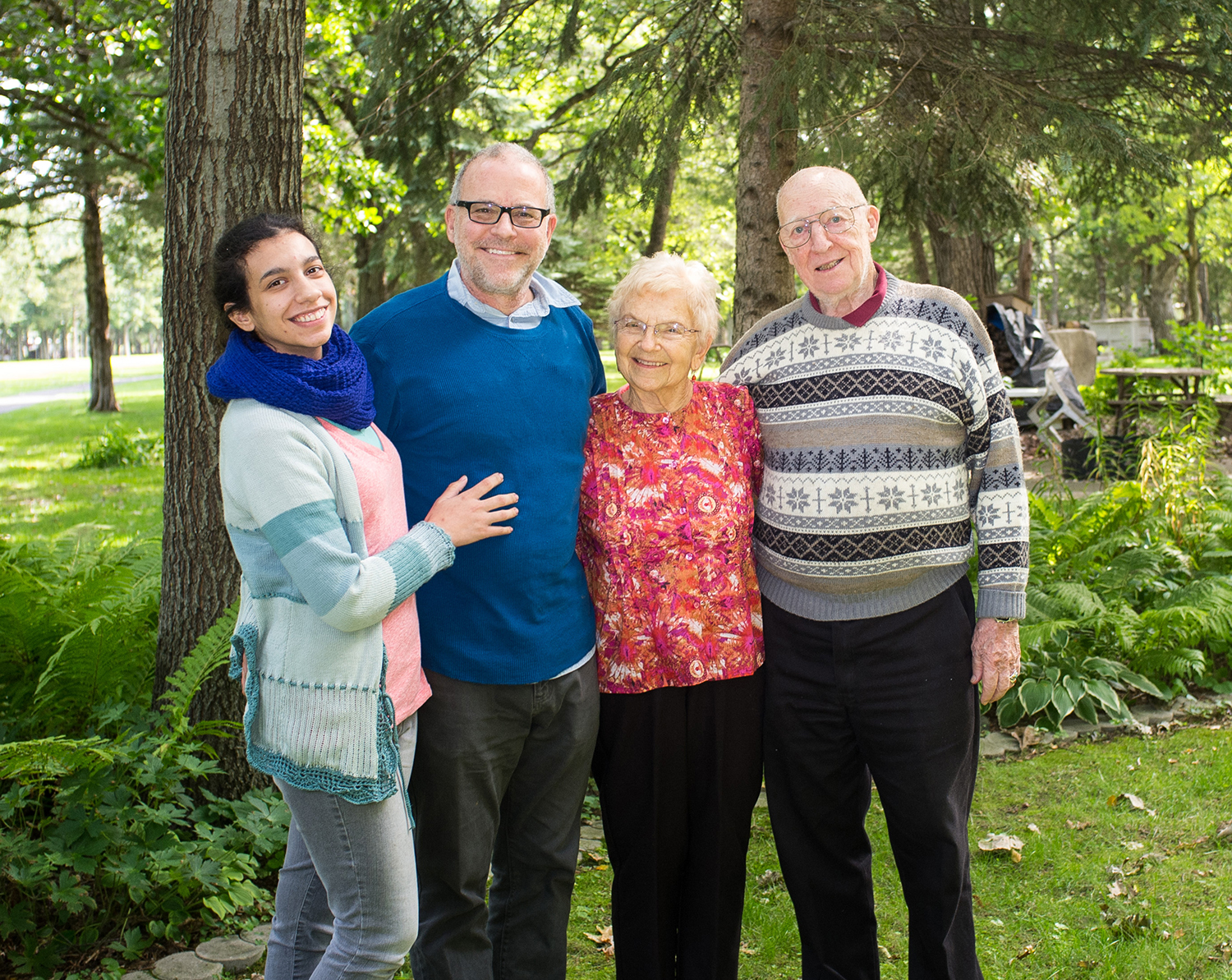 I'm sure you realize by now that Portrait Pro 12 is all about fixing faces. What if you need to retouch other areas of the photograph? Well, you're pretty much out of luck, and you're going to have to revert back to your other editing programs.
I understand the logic behind this – but I still wish for a one-stop shop…
The last tool that we will talk about is called the "Touch Up Brush". It basically provides a localized blurring and blending effect. I found the effect to kind of destructive for my taste, and it wasn't my favorite part of the program. It is reversible, however: should you go too far with it.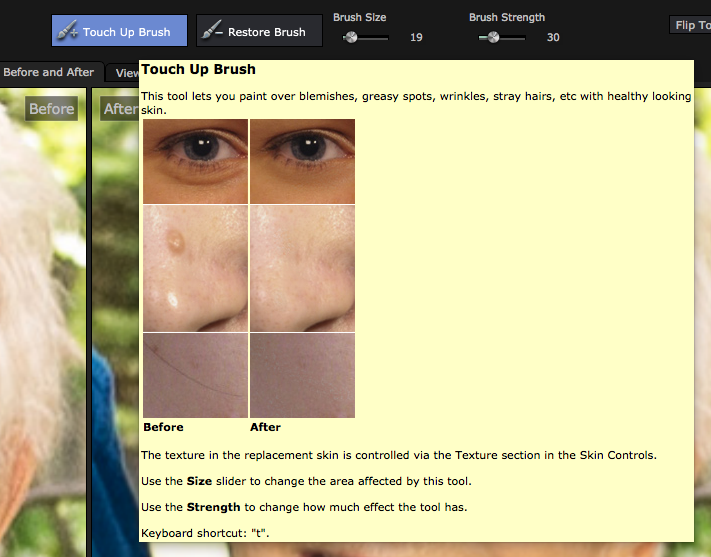 I did find it useful for one thing. Retouching the neck. Most people are very conscious of how their neck looks in a portrait. This is especially true with older folks.
The purple bars that provide the parameter data for the presets- don't include the neck area.
So, for the older woman in this group portrait, I smoothed out her neck using the Touch Up Brush.
The Verdict on Portrait Pro 12
I feel that the Portrait Pro 12 software delivers a solid 8 out of 10 in performance and functionality – for what it does.
That's the key – understanding exactly what it does. I read a number of negative reviews about the software on Amazon. It was evident that most of those folks didn't clearly understand what the software was meant to do before they purchased it.
It only does faces! Repeat. It only does faces!
I actually went into this thinking, "Why would anybody want this product?"
However, I have to admit; I've been sold. If you're a wedding, portrait, or just plain old people photographer – there's a definite place for Portrait Pro 12 in your toolbox.
Sure. You can do this work with Photoshop, Lightroom, or any other of the myriad of plugins that are available for skin smoothing and other retouching efforts.
But, Portrait Pro 12 really shines, especially with single person portraits that are half-length or closer. 90% of the time, I simply loaded an image into the software, and I was happy with the result of the default settings.
We're talking less than a minute. That's a real time saver if you have an entire wedding or portrait session to retouch. And that's not even including the use of the batch setting.
I did point out that there is room for some improvement. The company is trying to make those improvements. Hopefully, future upgrades would be free, or at a reduced price.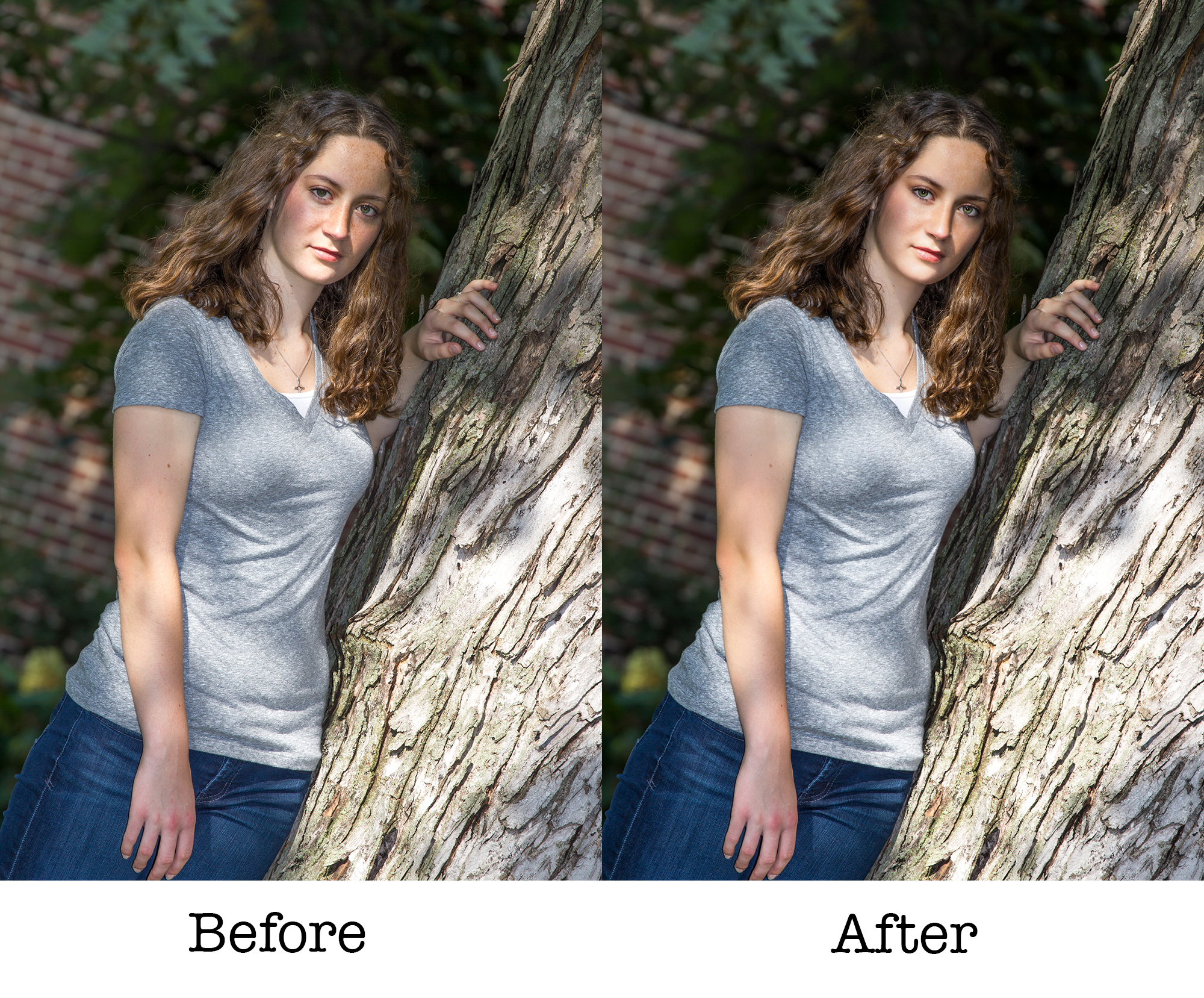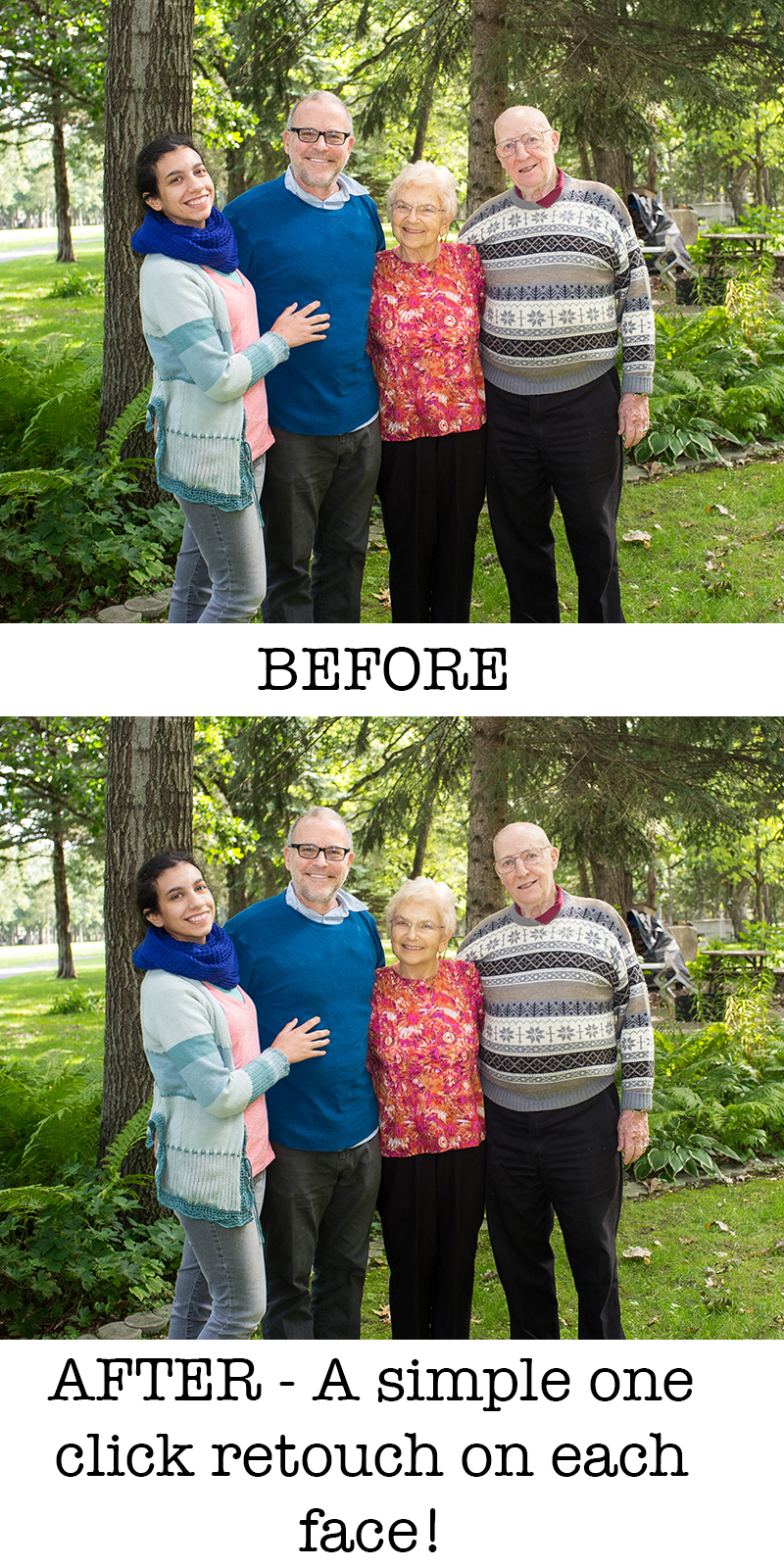 I give Portrait Pro 12 by Anthropics Technology, Ltd. a solid thumbs up!