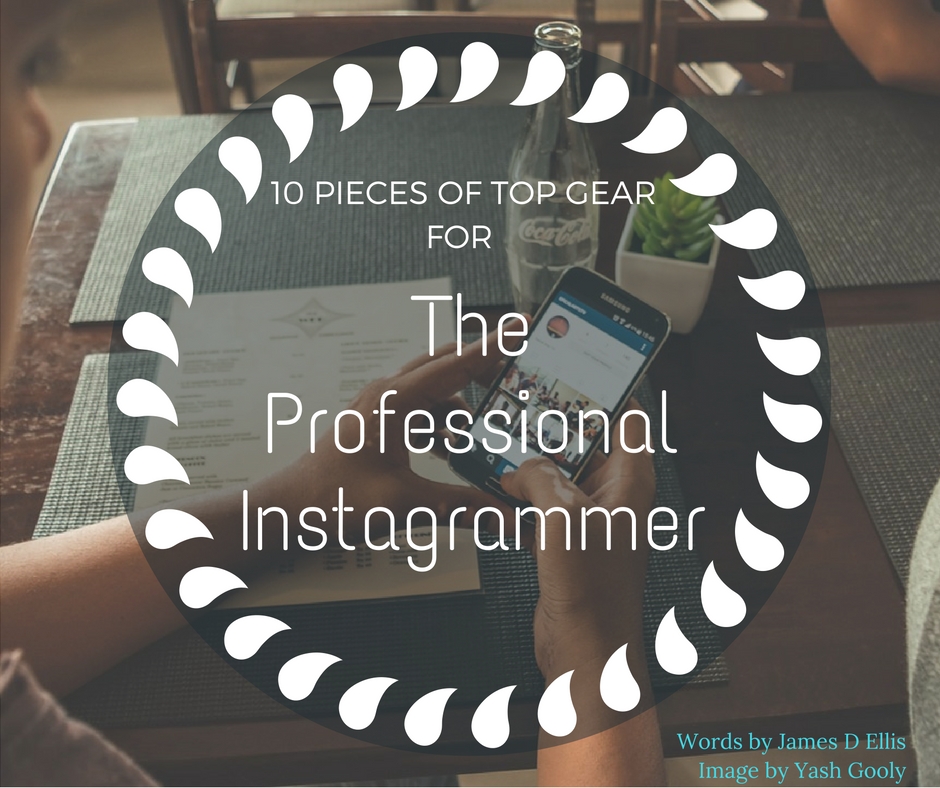 The Professional Instagrammer
Almost every up-and-coming or budding young photographer has Instagram these days, the app that's become cornerstone of all photography apps.
With its accessibility, ease of use and versatility it makes it the perfect app for showing off your photos, however, there is gear out there which could and can help you take your Instagram photography to the next level, here's our top 10 pieces of gear for the serious Instagrammer:
1. Olloclip 4-in-1 lens
The Olloclip is a lens attachment, including a fish-eye, wide-angle, 10x and now a 15x macro lens. With the 10 and 15x lenses having focal distances of 18mm and 12mm respectively.
Alongside this the wide-angle lens doubles the field of view and the fish-eye captures a 180-degree field of view, making this the perfect accessory for those wanting to create sweeping, large photographs.
2. Pocket Spotlight
The pop-up flash on any DSLR is rather, well…crass to say the least, even more so with Smart-phones, often creating a very banal and unflattering light source for your subject matter. This is where the Pocket Spotlight comes in handy.
The Pocket Spotlight offers an alternate constant light source which the user can either plug into the phone's headphone jack, or hold in their hand. With the Spotlight being able to be charged via USB with a battery lasting roughly one hour, the light is perfect for both video and photo shoots.
https://www.amazon.co.uk/Mudder-Portable-Spotlight-Samsung-Tablets/dp/B00KSUSMWK/ref=sr_1_4?s=electronics&ie=UTF8&qid=1473865626&sr=1-4&keywords=pocket+spotlight
3. GripTight
The majority, if not all photographers own a tripod used to frame their subject perfectly whilst retaining balance, however not all tripods work with all smart-phones, this is where GripTight steps in.
GripTight is an attachment for your tripod which holds your phone. Meaning you can use your phone and your tripod wherever you go. GripTight really stands by their quote "We designed s solution that works with your gear, not against it." This piece of gear is great for any photographer who finds themselves traveling or on the move frequently.
https://www.amazon.co.uk/Joby-GripTight-Mount-for-Smartphones/dp/B009GHYLKS/ref=sr_1_1?s=electronics&ie=UTF8&qid=1473865654&sr=1-1&keywords=griptight
Every photographer and professional instagrammer alike needs to understand composition in order to take better shots and continue improving their photography. This course "Understanding Composition" by pro photographer, Kent DuFault, will enable you to really take charge of your photography!
4. GripTight GorillaPod Stand
We just mentioned GripTight's tripod accessory, so why mention another GripTight product? Well, this is somewhat of an all in one piece of gear, a stand-alone tripod created to be used solely with smart-phones.
With flexible and wrappable legs allowing your camera to be secure almost anywhere and reliable rubber grip pads meaning your phone will even be secure whilst turned sideways. It's foldable and portable and will easily fit into a bag, making it once again great for those on the move.
https://www.amazon.co.uk/Joby-GripTight-GorillaPod-Stand-Smartphones/dp/B009GHYMB6/ref=sr_1_3?s=electronics&ie=UTF8&qid=1473865674&sr=1-3&keywords=gorillapod
5. Steadicam Smoothee Mount
For the professional Instagrammer who may find themselves in an unsteady environment, say, up a mountain or out at see taking a still image can be quiet the task, often resulting in a blurry image, this is where Steadicam comes in handy.
We've all heard of Steadicams, attachments that counter the shakes of the camera to create a stable image, well there is now a Steadicam for smart-phones, meaning one can take and create still/stable images wherever they may be, without the hassle of having to find the correct posture of place to stand just to get the image.
https://www.amazon.co.uk/Steadicam-Smoothee-Smartphone-Universal-Adapter/dp/B017BFBL7M/ref=sr_1_1?s=electronics&ie=UTF8&qid=1473865707&sr=1-1&keywords=steadicam+smoothee
6. iPhone Shutter Remote
Though this product is specifically for iPhones it is however something we feel we all need. The Shutter Remote allows the user to remotely take photos from up to 30 feet away, meaning one doesn't have to set a timer and make a quick run to their friends only to realize that they didn't make it in time, or that the timer didn't set.
The remote allows the user to casually set up the composition of the shot and peacefully take the photograph at their own leisure.
https://www.amazon.com/Bluetooth-Remote-Control-CamKix-Smartphones/dp/B00PJSIIES/ref=sr_1_1?ie=UTF8&qid=1473865755&sr=8-1&keywords=iphone+shutter+remote
7. The Bikepod
The name is somewhat rather self-explanatory, an attachment for your bicycle that allows the user/rider to shoot film or take images whilst riding their bike without having to have one hand on the handlebars.
This attachment is great for photographers who enjoy shooting the everyday and don't want to miss that perfect moment due to the fact they're cycling.
Perhaps you may wish to document your daily commute, or their cycle trip up a mountain, whatever the need the Bikepod allows complete security for your phone whilst you peddle away.
https://www.amazon.co.uk/Eximtrade-Universal-Rotation-Motorola-Smartphones/dp/B01CP2O9NE/ref=sr_1_9?s=electronics&ie=UTF8&qid=1473865857&sr=1-9&keywords=iphone+bike+mount
8. Manfroto KLYP+
The Manfroto camera kit is the full package – especially for the professional Instagrammer. It is somewhat of a starter kit when it comes from turning your phone into a fully fledged professional camera.
Including:
A plastic shell which…doesn't sound like much, however what this plastic shell allows the user it to attach the various other included components,
Three clip-on lenses (Fish-eye, landscape and portrait),
A powerful LED flash and,
A clip-on wrist strap for security.
Each lens comes with a cover to save it from getting scratched and dirty also. This piece(s) of gear is great for those wanting to start their journey as a professional Instagrammer as quickly as possible.
https://www.amazon.co.uk/Manfrotto-KLYP-Bumper-Light-iPhone/dp/B00H52AEAW/ref=sr_1_3?s=electronics&ie=UTF8&qid=1473865926&sr=1-3&keywords=manfrotto+klyp
9. Optric PhotoProX Case
The Optric case is for the hardcore photographers amongst us, those who know full-well they're going to be taking their phones into territory never meant for such fragile equipment.
The polycarbonate unibody case can handle drops from up to 30 feet and can dive down into depths of 33 feet and that's with one of the four glass lenses attached:
Fish-eye,
Macro,
2x telephoto, and
Flat for underwater use.
With simply twist on lenses and easily replaceable seals for maintaining the water and dust-proof seals.
https://www.amazon.co.uk/Optrix-Body-Glove-Waterproof-Action/dp/B00U1ID8AU/ref=sr_1_1?ie=UTF8&qid=1473866307&sr=8-1&keywords=optrix+pro
10. Anket Selfie Stick
I guess we kind of had to include a selfie stick. Everyone knows what these are, whether good or bad they're definitely prevalent in terms of phone accessories.
The selfie stick allows the user to easily take a selfie, attaching their iPhone to the end of the stick and then holding it at arms reach, allowing for a self-portrait that feels less claustrophobic than those taken at arms length without the stick.
The Anker Selfie stick is one of the stronger more versatile sticks on the market and is extremely affordable also.
https://www.amazon.co.uk/Anker-Extendable-Battery-Handheld-Monopod/dp/B01AEI6T1Q/ref=sr_1_2?ie=UTF8&qid=1473866575&sr=8-2&keywords=anker+selfie+stick
Every photographer and professional instagrammer alike needs to understand composition in order to take better shots and continue improving their photography. This course "Understanding Composition" by pro photographer, Kent DuFault, will enable you to really take charge of your photography!
Further Resources