You know me, and you know that I love street photography more than anything else in this world. And, unlike several colleagues, I'm not opposed to welcoming more and more people to the genre.
Thanks to the availability of smaller and more capable cameras as well as extremely powerful smartphones, there has been a huge burst of self-proclaimed street photographers. In the current state of photography, it is worth keeping an eye on particularly talented folks in the street photography game, but we know that this can be very hard to do.
Instagram is a powerful content source for photographers, it enables us to see plenty of talent-guided content and empowers us to showcase the very best of our work. However, with such a proliferation of content, there comes the problem of deciding who to follow.
We know now that this platform uses a very sophisticated algorithm to recommend us accounts to follow (among other darker things) based on our interests and behaviour. That being said, it is still a platform that effectively and stylishly brings wonderful photographs to the palm of our hand.
Today we want to share with you 7 Instagram accounts that are dedicated to showcasing street photography rather than the subjects behind them, and, as such, are worth following.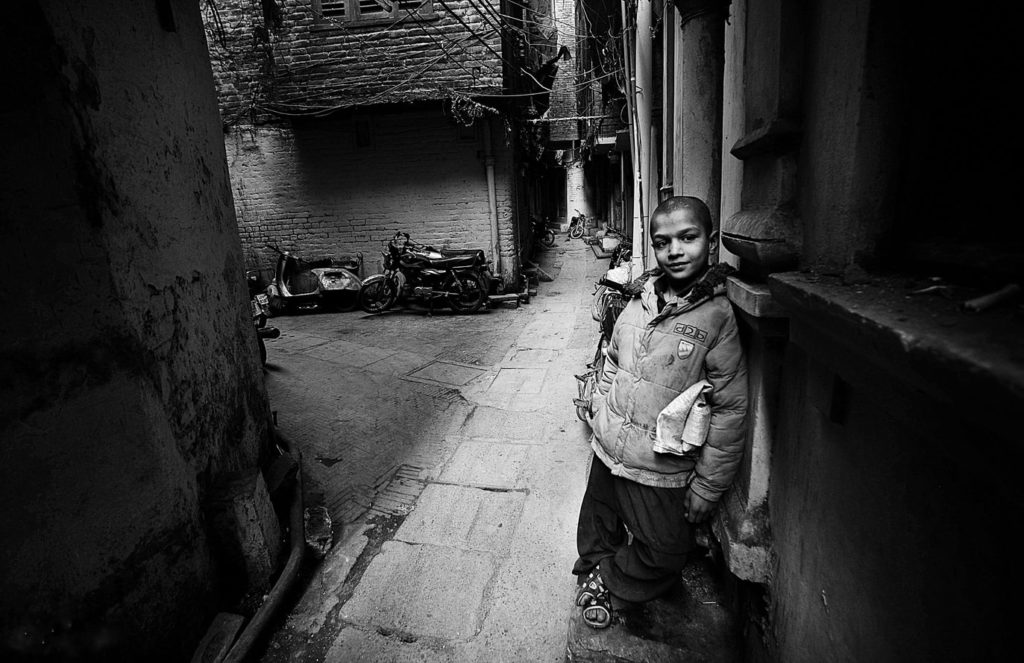 This account is very exclusive when it comes to featuring photographers out there. Here you'll find a lot of humour, which in my very personal opinion is an extremely difficult thing to capture on the streets. A broad array of aesthetics and even ready-made-graphic-design street photographs can be seen in this account. They post one new photograph on average every three hours and as long as you keep a slow pace consumption habit, this can be a great experience.
Renowned street photography magazine, APF is a place for viewing high-quality street photography from all over the globe. They post content as they please, some days they get excited and some others they appear to be quite silent. Their main goal is to provide us with a platform on which emerging street photographers with a keen eye for aesthetics can showcase their work. This is, in my personal opinion, one of the few places in which their exposure can really help you to be seen.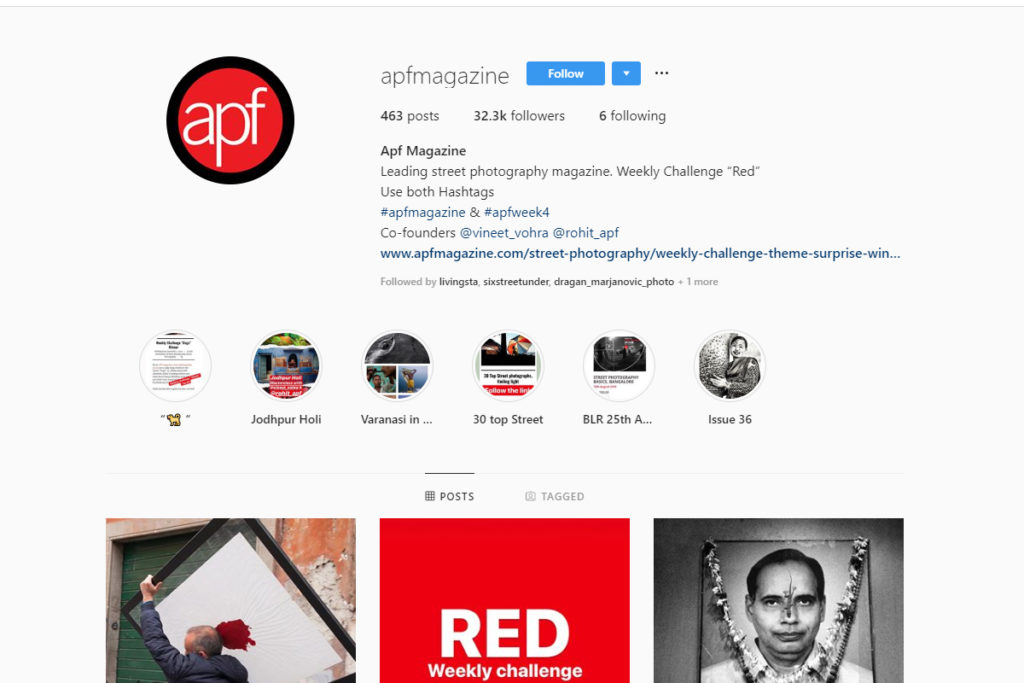 This group is managed by a photography collective, which means that here you can see the work of the collective members rather than a huge flood of different photographers. This is nurturing because you can see how a group of people approaches a single concept via their own style. Their prime goal is to share the art of street photography with us, the community of those who are interested in street photography. Since 2015 they have been gathering to critique and reflect on street photography. They also produce zines and organize exhibits as well.
There are several guilty pleasures when it comes to street photography, from umbrellas to public transportation, and of course plenty of others. The guys from Street Classics have twisted the "cliched" essence of these recurrent topics and have turned them into some sort of "Timeless Motifs" of street photography. Their angle is to create a sort of street-wise society for sharing images and experiences.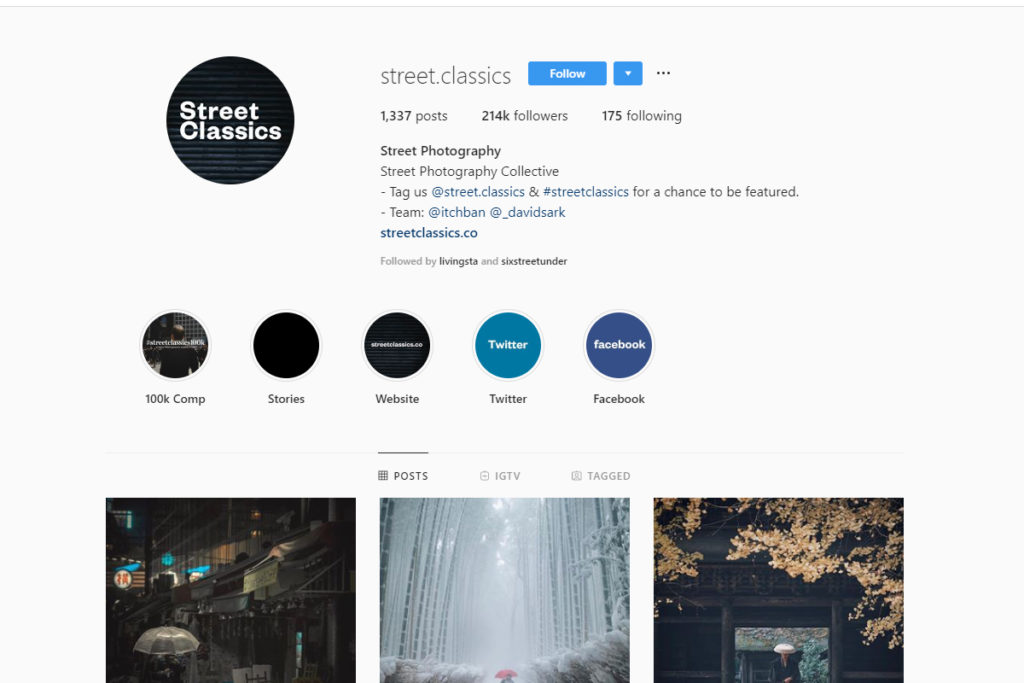 The great thing about photography is its a "universal language". Therefore, it doesn't matter the language behind a platform, as the photographs are the ones doing all the communicating. This collective is from Spain, and their name sorts of translates into "The Street is Ours". Here you can find a very refreshing visual experience thanks to the work of the 7 different street photographers running this account. They do have a higher profile and aesthetic standards so expect a visual bomb here. For them, the street is meant to be smelled, felt, and touched, beyond just merely being seen.
This is an explosion of street photography in all its entire nature. They feature photographers from all over the place using the hashtag #streetphotographylife, after meeting their standards of course. It is like having a mad-genius curated gallery at your fingertips. It is literally like having a scope that enables us to see into the streets of the world in one place, it is simply amazing. They work by empowering other street photography connoisseurs in order to avoid biased curatorial decisions.
Here you can find an interesting nine-photographs-excerpt from various photographers' portfolios. This is a very ambitious project with the main goal of offering a magazine-style that truly speaks about street photography without interruptions. This considers language and aesthetics of course. This account is being run with the mindset of having a magazine for photographers made by photographers who don't expect to be showcased easily.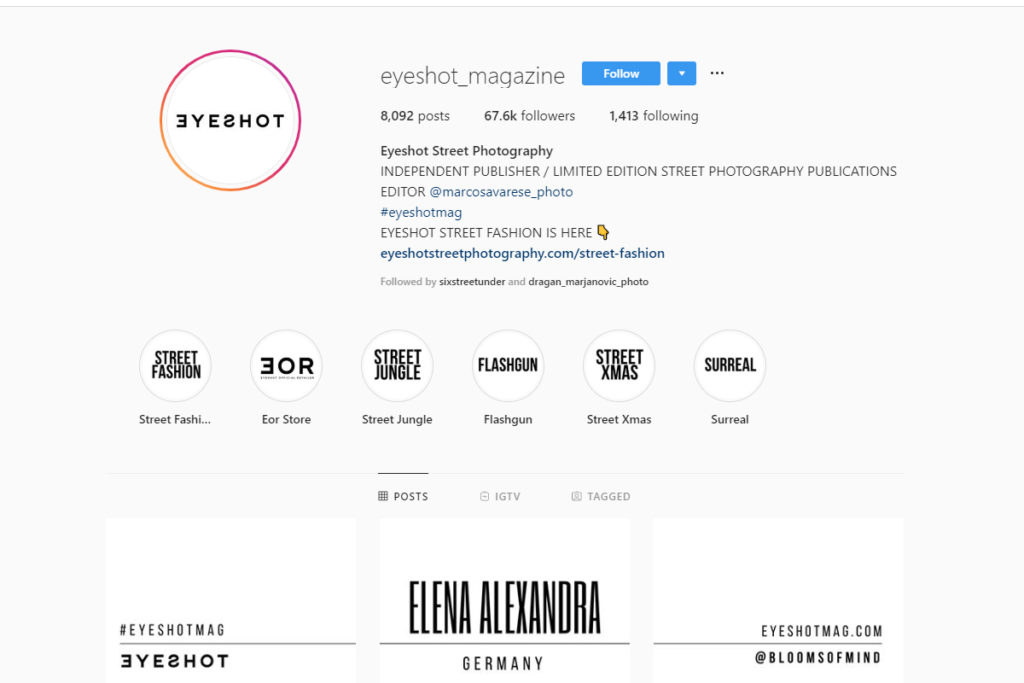 Final Thoughts
All these accounts could be door openers for more wonderfully talented people to follow, but there is a sense of quality when you get recommendations from editors that have curation knowledge rather than an algorithm.
These aren't the only accounts out there working with this dynamic, they are only some of the accounts that I've been following since I started using Instagram a few years ago.
Please feel free to share with us in the comments below some of the accounts you follow in order to consume high-quality street photography. We are all here to learn as well.