Stock photography is a tough old business to get into, and to make money from. Yes there are lots of ill informed clickbait articles out there telling you how easy it is to make money. Simply upload, wait and count the dollars. We at Lightstalking know that that is not true. We also know that it is perfectly possible to make money from stock but that you need dedication and patience.
There are so many variables in submitting to stock, quality, metadata and license to name a few. At Lightstalking we have provided a number of articles and videos to help you prepare your stock images. However, once you are already submitting to agencies, you can get some great information from dedicated stock photography blogs. Today we are going to introduce you to five of our favourites.
Microstockman – https://www.microstockman.com
This is a dual purpose blog for those that sell stock and also this that buy stock such as web designers. Amongst its many useful sections are stock agency reviews and a four part beginner's guide. The latter is very well written and gives readers an excellent overview of not only how to submit to stock but where the potential pitfalls lie.
It is also useful to know what the best agencies are. There are several agencies that have been top of the tree for many years but each ebbs and flows in terms of sales. Smaller agencies tend to come and go and so knowing what agencies are performing best is an important consideration. Microstockman brings you this information well, breaking the information into top level, mid level and low end agencies.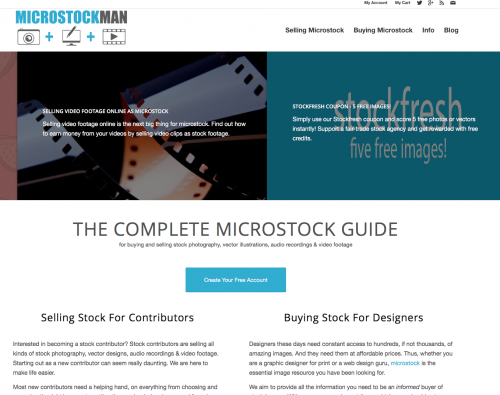 Yuri Arcurs – https://arcurs.com
If you don't know Yuri Arcurs, take the time to look him up. He is one of the world's top selling micro stock photographers, best known for his lifestyle images. Although his blog is not stock specific, it does have numerous articles about stock photography, with specific blogs about agencies. He also has a very useful keyword tool that can help you through the tedium of keywording.
Alamy Contributors Blog – https://www.alamy.com/blog/category/for-contributors
Most of the major agencies have their own contributor blogs and they are well worth following. I have chosen Alamy's as it is one of the most often updated. It also carries a great variety of different information about stock photography and stock trends. One useful segment is the stock request section. This details what types of images are currently required and that Alamy may not have enough variety of. You can use this section to search your catalogue for suitable images or to go and shoot to their requirements.
Microstock News – MicroStock News
Not strictly a dedicated blog, Microstock News is an RSS bases feed of news from stock agencies and well know stock blogs. If you are short on time or don't wish to fill out your bookmarks with dozens of separate blogs, this is the page to go to. The three sections to concentrate on are Microstock Agencies, Photographers and Tools and Software. The first aggregates blogs from the major agencies, the second does the same but for well known stock photographers such as Yuri Arcurs. The tools section reveals blogs from some of the companies that make stock analytics and key-wording apps.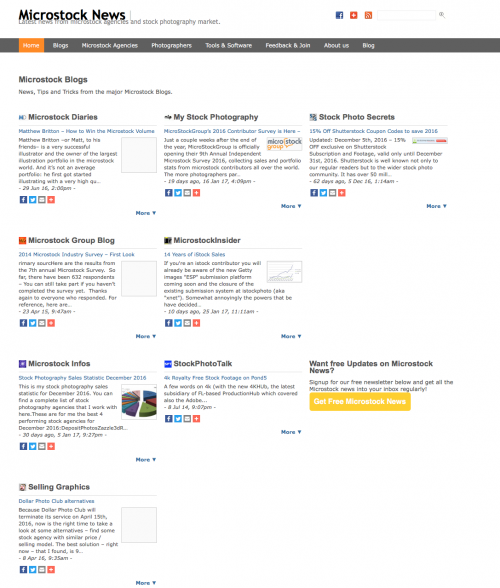 Microstock Group – https://www.microstockgroup.com
Although the Microstock Group does have a blog, it is infrequently updated. Its most useful function however is it's forums. Here stock photographers can discuss a multitude of different things from techniques, trends analytics and so on. The forum is broken down into multiple sub forums each dealing with specific stock related things. They have forums dedicated to all the major and mid level stock agencies as well as forums for critiques and for images found online. Microstock Group is a great place to interact with other photographers and videographers and an excellent resource for getting on in the stock world.
Another very useful feature is their constantly updated online poll which highlights the best selling agencies amongst the group's members.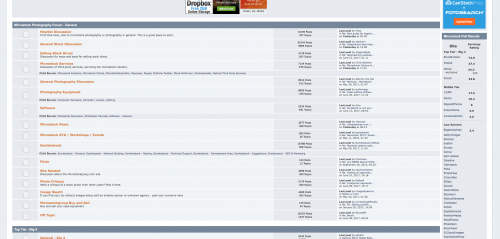 Stock photography is hard, despite what the clickbait articles tell you. If you want to make more than a few cents a month, you need to be armed with the latest knowledge on trends and agencies. These five sites listed above are amongst the best around for expanding your knowledge.
Don't forget, if you would like to see the exact creative process I go through with a raw image before submitting it to a stock photography site, then check out my video of the process here.