This week our community got bigger – so a big, warm, Light Stalking welcome to our 130 new members. We also had tons of great posts and images posted to the forum as well. Here we've condensed for you the best of the first week from October!
So sit back and enjoy all the things that you may have missed!
[thrive_text_block color="note" headline=""]Also important for you to know, we moved Light Stalking to new hosting so we can be more stable and faster for you. This saw us experience some glitches in the system – as any kind of move will always do. Please tell us in the forum if you are experiencing any problems, we are here to help.[/thrive_text_block]
Photo Of The Week – October 8th, 2018
Give It A Twirl – by Mistyisle
Here is what Kent DuFault had to say about the photo of the week:
"I thought this showed a lot of creativity in an interesting and unusual way. Congratulations Jim."
Congratulations on Photo of the Week and don't forget to join our challenges to spark your creativity or post to the Tank to get some constructive feedback on your images.
What You Missed in the Light Stalking Community
After a long wait, we finally got some valuable insights into the Fujifilm X-T3 thanks to Erik Fransman. Here you can see some of the test shots of this powerful and impressive camera. The great thing about this test is that Erik was merciless with the camera and went after some pretty hardcore lighting situations, enjoy!
One of our newest members KAllen started things out with some really big and interesting questions. One of those invites us to reflect and think about the meaning of photography these days. It is an actually interesting subject to discuss, so if you want to share some thoughts on this one, please feel free to post your thoughts here.
Here a question about being a professional photographer when something goes array was asked in the forum – it is so important to be able to get feedback to questions about the business of photography. Please make sure you share your thoughts to help out other photographers.
A couple of days ago Jasenka shared with us a really interesting post at Light Stalking's blog, it is about photographic galleries around the world. Experiencing photography in a physical way is a must in every photographer's life.
Here Are Some Of The Amazing Images From Our Weekly Challenges
We got some great shots from the participants at the 402nd Weekend Photography Challenge – this challenge theme was TIME
We asked Light Stalking's own Federico Alegria's to list some favorites:
What Federico had to say:
"The lighting set-up in this still-life is impressive, all the details are visible and the reflection gives the image an amazing depth – a brilliant photo by Tersha."
"Great exposure on this timepiece, the minimalist setting matches the skeletal clock very nicely, giving the photograph a holistic story. Thanks for sharing this image."
Souvenir of Prague's Astronomical Clock by David Chesterfield
"Great photo absolutely enhanced by the background. A tip to all, remember that backgrounds are a great way to enhance your images. Seeing this clock in Prague is on my bucket list, hopefully, I'll be able to do it someday. Thanks David for sharing this lovely souvenir with us!"
Time In A Bottle by LeanneC
"This image is very poetic and captures the song "Time in a Bottle" very accurately. Leanne left us with a corresponding section of the song as well with her photo – and actually, Leanne's image and the song lyrics she left for us, inspires me to get out and shoot!"
"But there never seems to be enough time
To do the things you want to do
Once you find them"
-"Time In A Bottle" Jim Croce
"What a great way to capture the passing of time. The colors in this faded clock are very charming, and the textures really emphasize the image. It really shows how time has passed by time itself."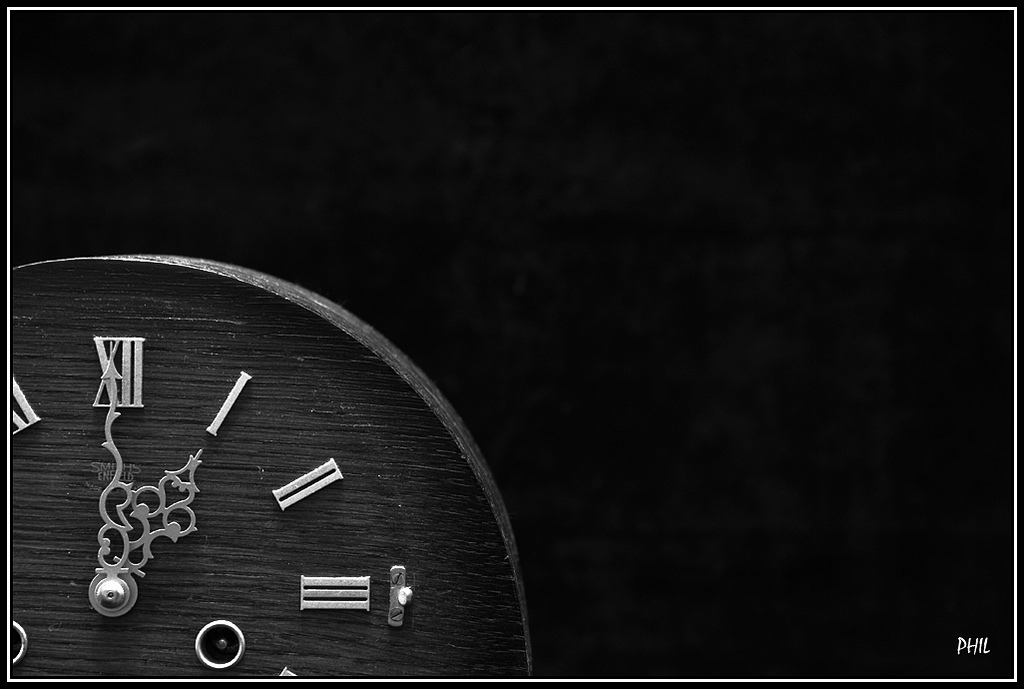 "Another great use of lighting and composition as well. I think I'll show this image the next time I have to explain the importance of using negative space correctly to my students. Great capture Philip!"
"Amazing image by Chris – he noted that he took 200 images to get 8…I love this persistence! A different way of seeing time indeed, a very brief moment in time."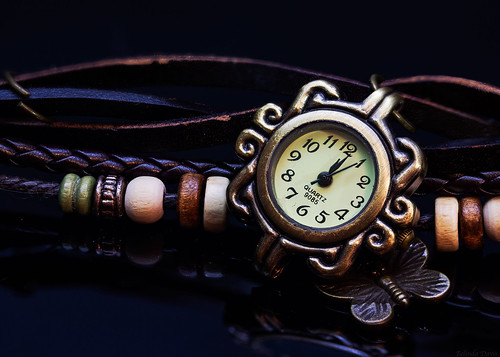 "I'm not sure about the size of this watch or clock, but it feels like something taken out of a Ray Bradbury's tale. Great lighting again – we've had some brilliant use of light in this theme."
Don't forget the latest challenge is up and running – this week's theme is The Rule Of Thirds
We'd Love To Hear Your Thoughts
Help these photographers become even better and more passionate about photography by sharing with them your opinions, well-intended feedback, comments, and critiques:
Don't be shy, try to share some of your photographs at the Tank as well to receive some valuable feedback. Critique is the best way to improve your photography.