Still life photography might seem pretty straightforward as it deals with shooting inanimate subjects but it requires a lot of thoughtful effort to create a still life photo that truly stands out. Your composition and lighting choices play an important role in determining how the photo looks in the end.
To help you get started with still life photography, we have put together a list of free e-Books from Photzy on this topic. All of these guides are written by photographer Stacy Hill, and they will help you learn different aspects of still life photography. Do check them out!
(Note: If you'd like to get better at photography composition and learn concepts that go beyond the basics, definitely check out Kent DuFault's guide to advanced composition.)
---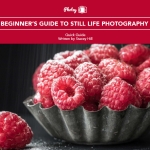 As its name suggests, this guide will serve as a primer on still life photography and will take you through the four key elements in setting up your still life photo. They are – 1. Subject, story and mood; 2. Background; 3. Props; and 4. Layout. Each step is explained in detail with accompanying examples.
---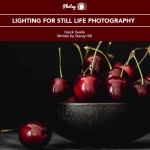 Lighting plays a major role in still life photography as it helps create the mood in your image. You have the option of utilizing natural light coming from a window or you could use artificial lighting too. In this guide, you will learn how to light your still life setups to create the right mood and impact.
---
Post-processing can bring out the best in a photo and still life photography is no different. You can enhance the mood you captured in the photo through post-processing. This e-Book guides you through the basic editing steps in Lightroom, with sections on using presets and applying textures (in Photoshop).
---
Take Your Photography Composition to the Next Level
If you are looking to improve your photography composition and learn concepts that go beyond the 'rule of thirds', do take a look at Photzy's best-selling guide Advanced Composition for an in-depth training on the subject. With this guide, you will learn how to see light, shadow, lines, curves, repetition, juxtaposition and much more, and also develop the skills of anticipation, pre-visualization and timing. Click here now to check it out.