Boudoir photography is a delicate subgenre of portraiture. Besides having to care about lighting, composition, and camera settings, you have to help your model pose in a way that's both visually pleasing and natural. Stiff, awkward, and overly complicated poses usually don't work. Boudoir poses can be a little tricky indeed, especially for portrait photographers who aren't well experienced. Unlike regular portraiture, boudoir photography usually shows the fragile side of your subject. Many women feel quite uneasy before their boudoir session and that's something you need to be aware of.
We have already covered the basics of boudoir photography in this article and now we will focus on posing and boudoir photo ideas that will make your session comfortable for your model. We hope you will use these tips in your next boudoir shoot!
It doesn't matter how experienced boudoir photographer you are – our tips are easy to follow and you will certainly be able to apply them in your boudoir photography shoot.
We will cover some general tips first and then move to the boudoir poses list.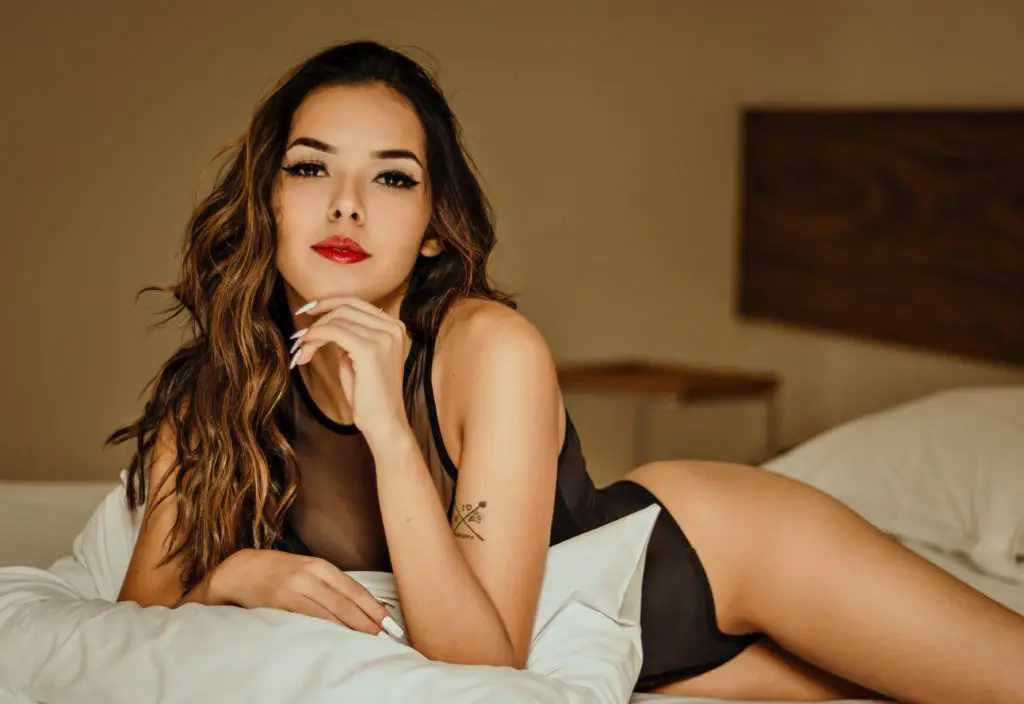 Practice Explaining Each Pose
Describe each pose clearly to your model. If you can't find the right words feel free to demonstrate the boudoir pose yourself. This is the easiest way to help your client.
Talking to your client throughout the posing is very important because it will help put them at ease. Make sure that you're in a good mood, and able to cheer your client on. Silence can be somewhat uncomfortable in boudoir photography.
Talking With A Client About Boudoir Photography Ideas
You can plan a boudoir session well ahead, via email or phone, but having a face-to-face conversation matters much more. Even a video call is better than simple texting because it helps in building trust.
Talk with your client about the expectations. Make sure to mention suitable wardrobe pieces, lingerie, makeup, hair styling, backdrops, props, and of course boudoir poses. Some clients like to come to a boudoir photo shoot with many notes, but others are less prepared and more confused. In any case, you have to be fully prepared and make sure that your client brings with her everything that's required for a successful boudoir photoshoot.
Styling Options For Boudoir Photography Sessions
Styling in boudoir photography refers to the general aesthetic. There are many approaches such as classic, minimal, baroque, art deco, alternative, gothic, cyberpunk, and so on. It all depends on your mode's preferences. Each styling requires different props, different color schemes, and different lighting setups.
An important point to make when consulting with your client on styling is to make sure that she chooses wardrobe pieces that fit properly, are clean and reflect her personal style in a good way.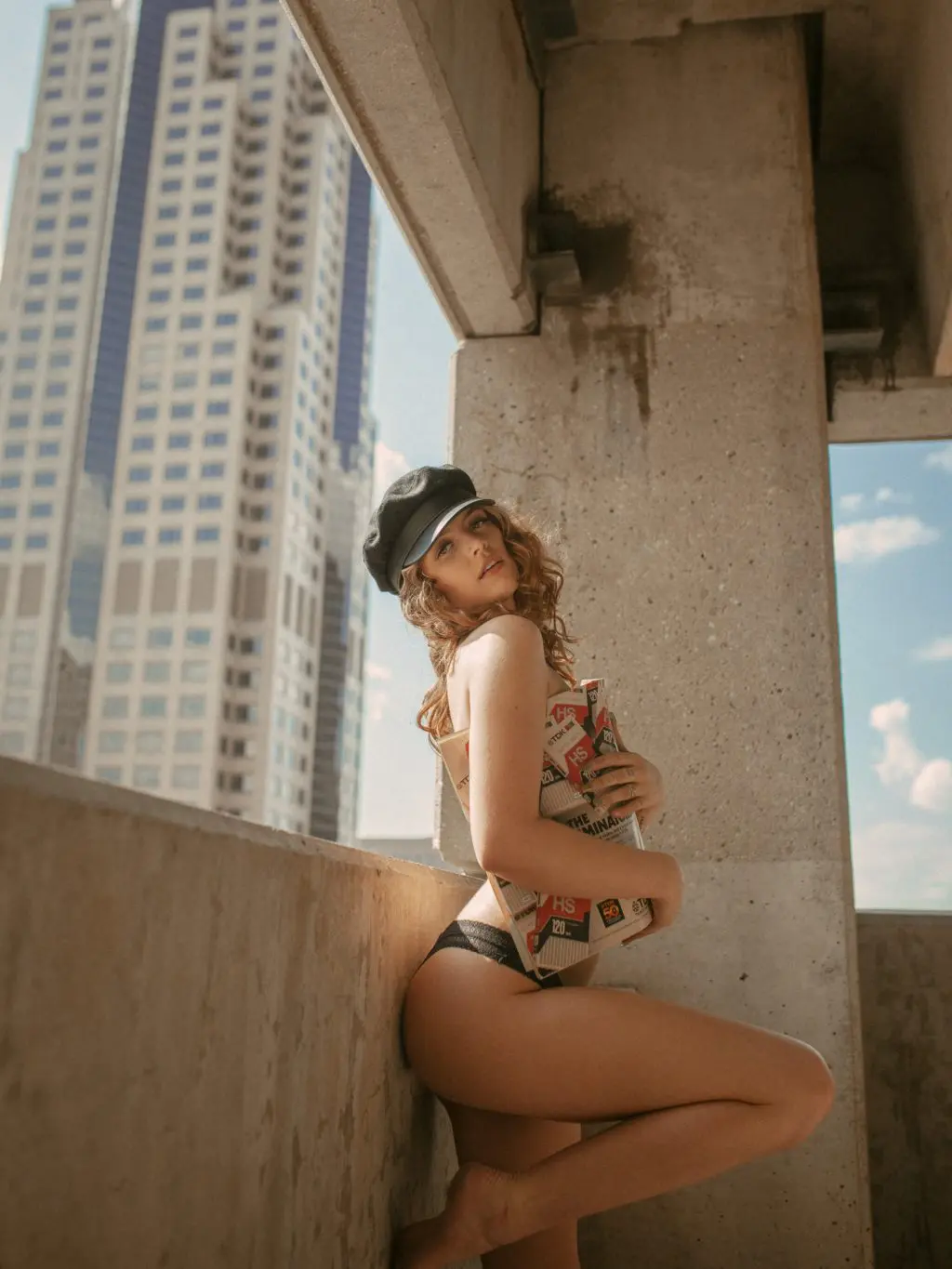 List Of Best Boudoir Poses And Posing Tips
Our list of boudoir poses consists of 10 highly customizable poses that can make your model's body look fabulous! These boudoir poses work for women – we might talk about boudoir poses for men in another blog post so stay tuned!
Beautiful Shapes: From Behind
One of the best ways to emphasize the beauty of the female form is to shoot your model from behind.
You can photograph your model in this way while she's standing or sitting.
If she wants to do the sitting variation of this pose, position her in the middle of a bed with arms extended slightly out to the sides. This will make the pose look more natural!
Pay attention to symmetry when you're shooting your model from the back.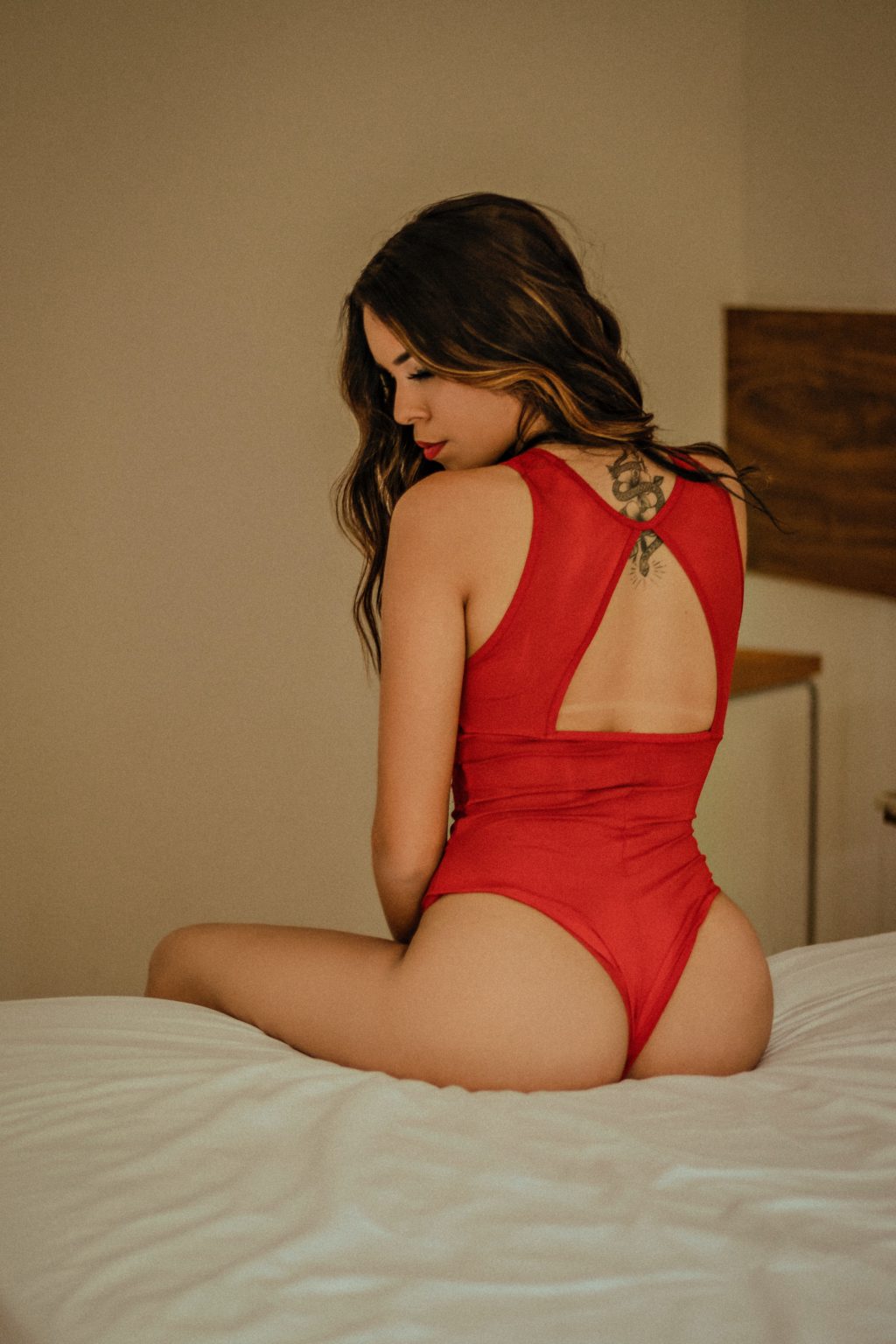 Classic Pose: Lying On Her Back
This is a very sensual boudoir pose that works wonders for any kind of model and any body type. To put it simply poses on the back are flattering to the full body. Your model can wear a nice piece of lingerie or something less revealing – both options will work. An experienced model might be okay with posing completely naked too.
Photographer can stand close to the client's head and shoot down the body. It's important that the client's chin is raised toward the camera to avoid double chin and jowls in the case of older clients.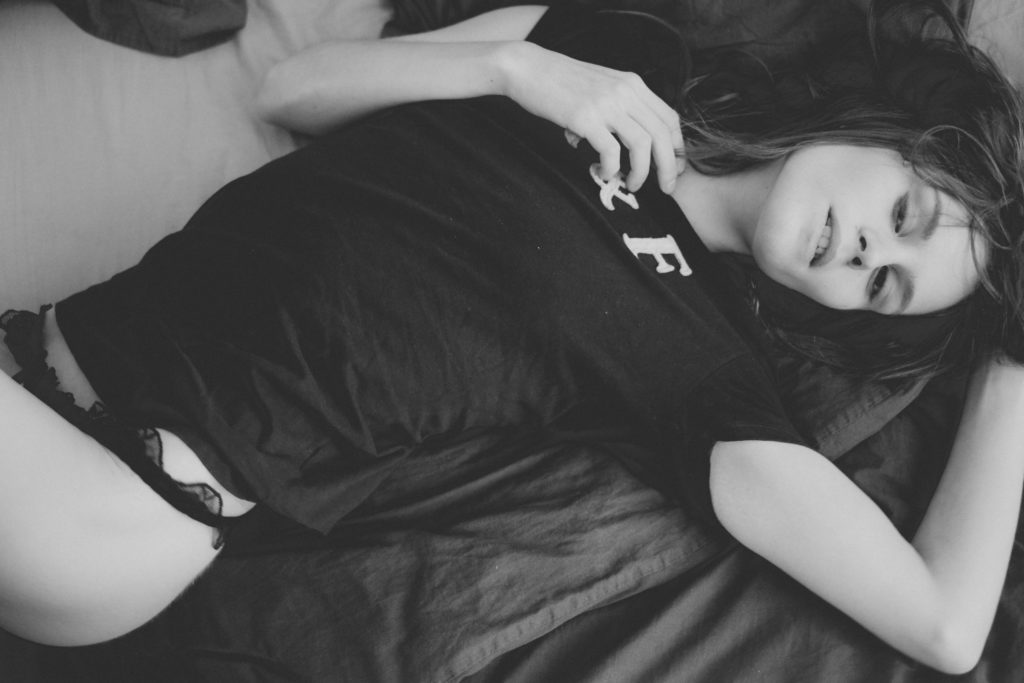 Power Pose: Chest Portrait
This boudoir pose is great if both you and your model like faceless boudoir shots. They are beautiful indeed and they can introduce a certain veil of mystery.
Your client doesn't have to be in lingerie for this kind of shot. She can wear an off-the-shoulder dress or sweater. If she likes jewelry, a stylish necklace can complete this type of shot perfectly.
Gentle Curve: Bent Legs
This pose can look daring and explicitly sexual, but it doesn't have to. It all depends on your client's preferences. Bent knees usually emphasize the submissive traits of a model, and if that's something that your model finds acceptable, then go for it.
Ask your model to put one or both of her arms up behind her head while she's in this pose. This way her breasts will look perkier.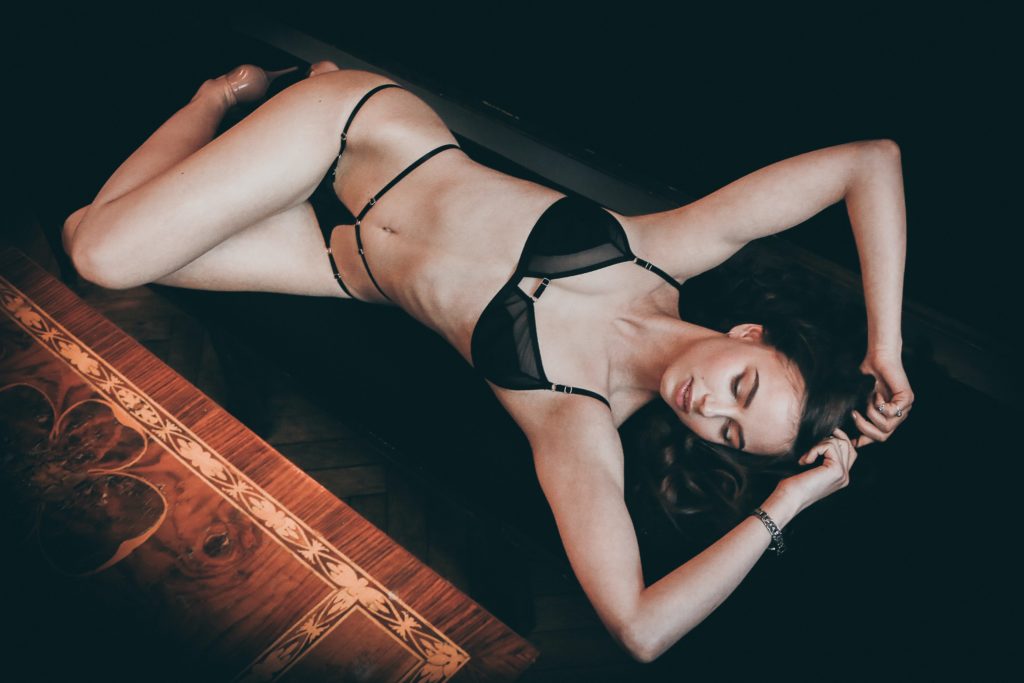 Fantastic Effect: Legs In The Air
The legs in the air shot is a variation of the previous pose, it just looks more playful. Female legs look great stretched out like this – long and lean! And that's something that every woman wants to see in her boudoir shots.
You should move around during this shot and make sure to find the best angle.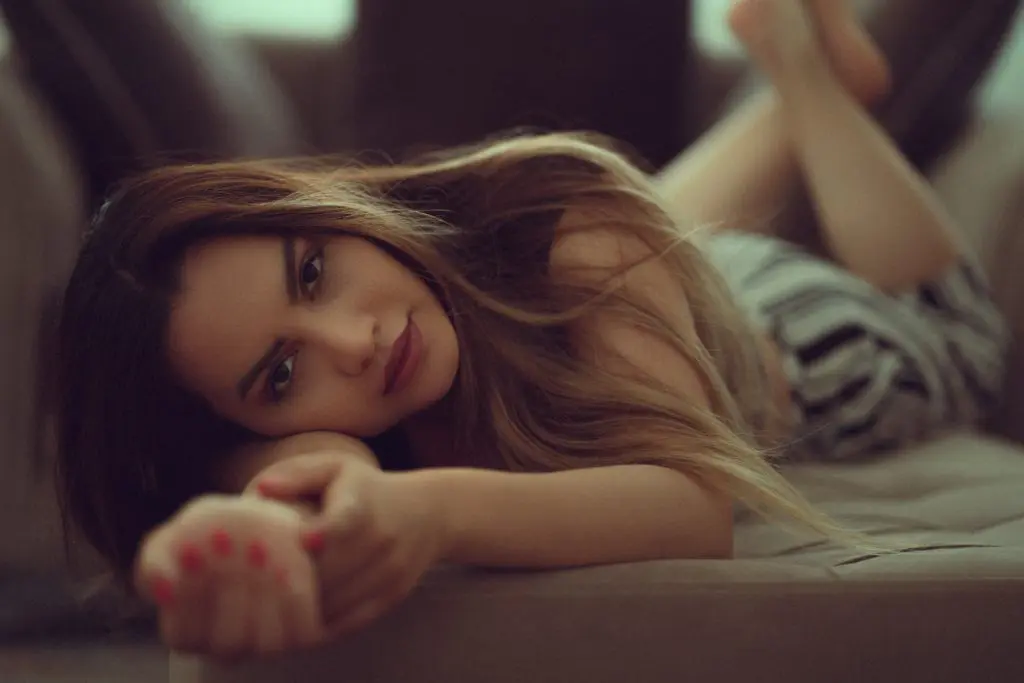 Great Boudoir Poses: Sweet And Shy
Your model might be uncomfortable in front of the camera, but that doesn't have to be a big issue. Boudoir poses that emphasize shyness can look visually pleasing and sweet. Also, if your model has a shy and introverted personality, these poses will suit her much better than bolden boudoir poses.
For a subtle and sweet boudoir shot, ask your model not to look at the camera and to instead look down and out of the shot. She can also cover up with a sheet, a shirt, or a pillow. This can look pretty charming or even mysterious.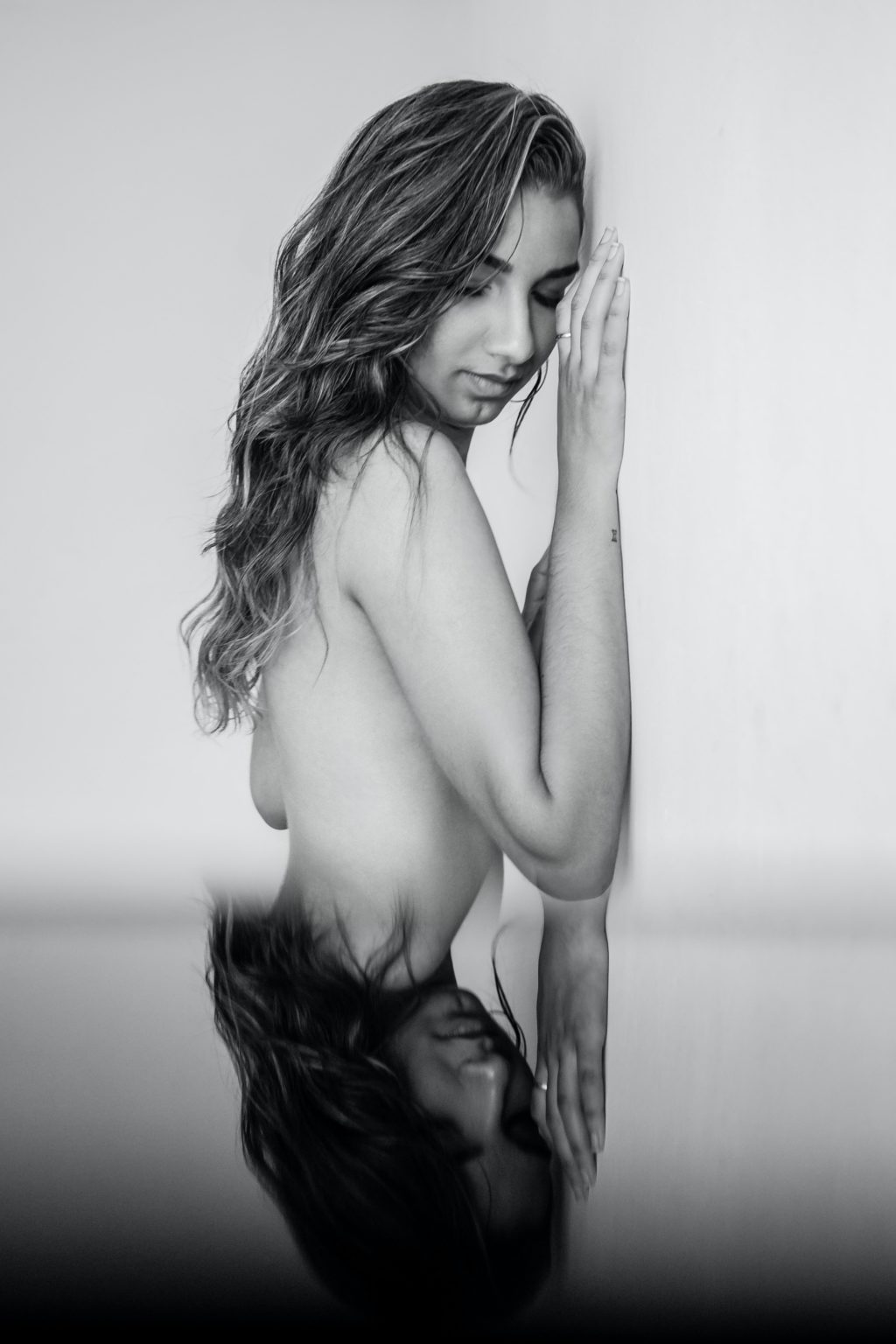 Excellent Pose: Playing With The Bra
This is a perfect pose if you want something that looks natural or candid. It's great to have a couple of candid-looking shots in your boudoir session.
This type of shot will look even more attractive if you shoot your model while she's playing with the bra in front of the mirror.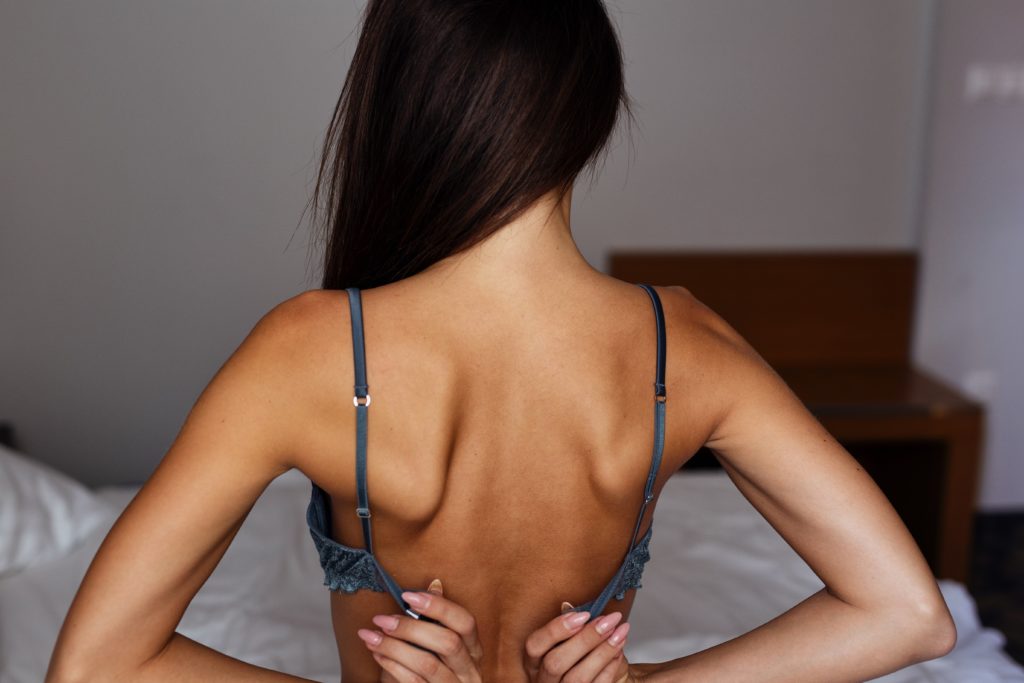 Lean Forward: Hips Back
Who doesn't find the so-called hourglass shape totally mesmerizing? It makes the female body appear attractive, healthy, and well-balanced.
When you're photographing a female model from the front, one of the best ways to create an hourglass shape is for your subject to push their hips back. This strategy creates a slimming yet curvy effect. Don't forget to try it out – your model will love it too!
Draw Attention: Arms Away From The Body
What should your model do with her arms?
The arms can be difficult to pose, not only in boudoir photography but in portraiture in general. Your model should move the arms away from the body to avoid the stiff, awkward look. She can also hold something in her hands, such as a book, flower, hairbrush, and so on.
With the arms away from the body, your subject will look slimmer too.
Casual Style Boudoir Poses: Let Your Model Decide
The boudoir photo shoot should include a couple of totally casual photos. It can be anything that your model finds cool and comfortable.
For example, she can curl up in a chair or on a couch. Maybe she'd like a couple of relaxed shots taken outdoors, in front of your studio. Shoot such photographs at the very beginning or the end of your boudoir session.
Curvy Boudoir Photography Ideas
How about curvy and plus-size models, are there any specific poses that are best suited for them? Even though you can use any of the poses we mentioned for your curvy clients, check out the following curvy boudoir photography ideas that will make your clients look absolutely fabulous!
Capture Curves From Above
Photographing from above is a great way to capture the beauty of a curvy model. In this way, you can enhance her bust while making the tummy less prominent. There are two options – your model can sit or lie on a sofa or bed. This is one of the most versatile curvy boudoir photography ideas that you can modify easily.
Focus On The Back
Great plus-size boudoir photography can be very subtle and not overly revealing. If your model likes this kind of approach, you can photograph her from behind and accentuate the curve of her back and her beauty. This will result in a sensual yet very refined shot.
Flattering Full Body Shot
A dramatic and bold way to highlight curves is to shoot a full-body photo against a plain background. In this way, your model's curves will be the absolute start of the photo and everything will be equally important – face, bust, arms, hips, legs. Use side lighting to add more dimension to this type of boudoir photography.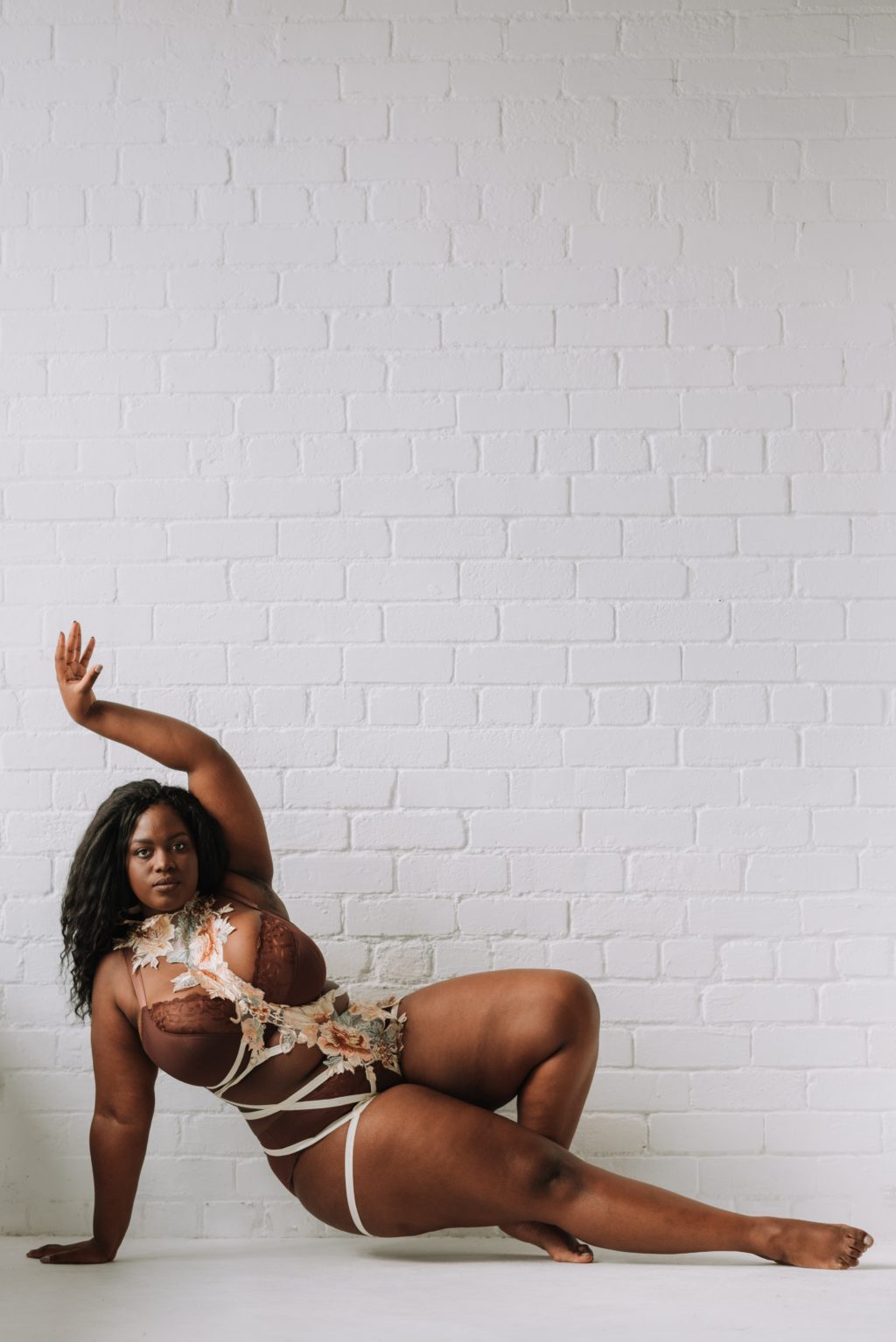 Conclusion: The Importance Of Boudoir Poses
A boudoir photo shoot doesn't have to be such a huge challenge – you can incorporate these posing tips and make them even more powerful by introducing your own creative ideas. Even your model can help you and suggest excellent boudoir poses that you maybe don't know.
Boudoir photography should be an enjoyable experience both for you and your model, and that's the main thing that you need to have on your mind at all times. Boudoir poses should also match your client's personality and taste in visual arts – never impose your own taste, only give friendly suggestions that your model can easily accept or refuse.
Boudoir photos make a wonderful memory that many women and their partners cherish a lot, so it's extremely important that you accommodate the needs of your client.
I hope your boudoir sessions will become much more effortless in the future!
Good luck!
Further Resources: