Personally, When It Comes To Choosing A Camera Bag I Look For 3 Things
In this camera bag buying guide we're going to look at those things are:
Protection
Quality
Comfort
This is by no means a rant, but there's an old popular saying that seems very apt to the photographic world:
"Buy Cheap, Buy Twice."
Whilst the price of a decent DSLR or Mirrorless camera (along with lenses) is always going to be the big ticket purchase, often we try to scrimp and save on the peripherals. This in my opinion is a mistake.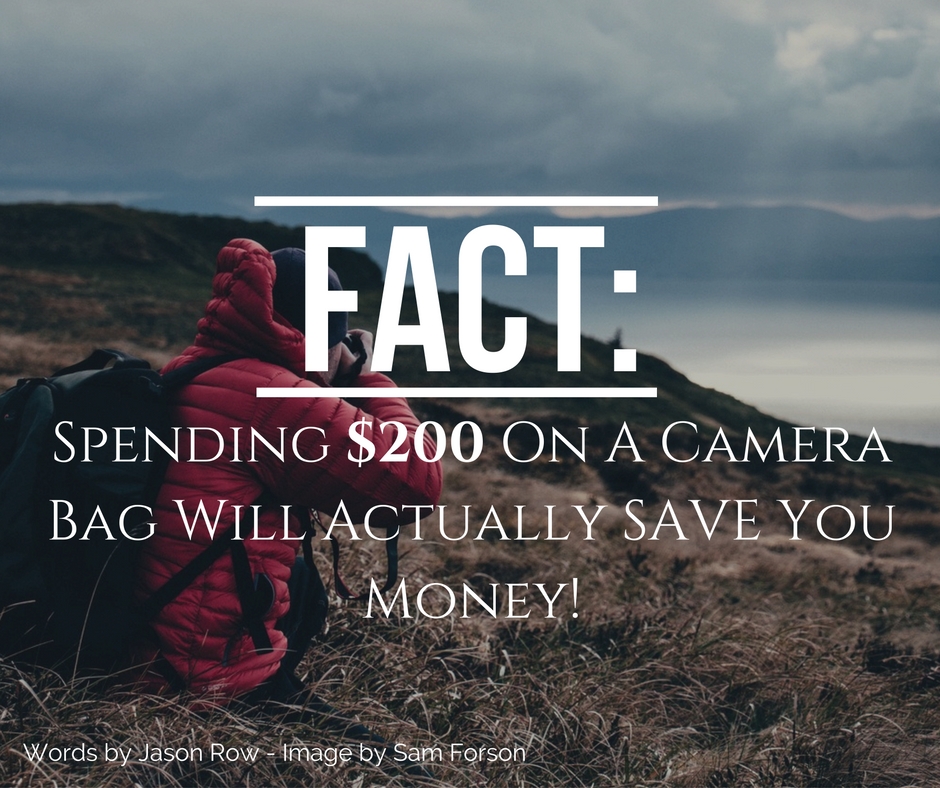 What Are We Trying To Save Money On?
Well, memory cards are a prime example. Buying cheap often means buying fake and fakes will tend to fail at the most inopportune moment. Hence the need to buy twice.
There is one piece of kit though where buying cheap might not only lead to buying twice but also to spending a whole lot more. I am talking about camera bags.
Camera bags are a fundamental part of our camera kit and should be regarded as so. Today we are going to look at why spending $200 on a camera bag may well save you money.
1. Protection
Straight off, this is the big, obvious reason for spending good money on a quality bag. Yet many of us don't.
Some of us spend $3000-4000 on intricate high-tech equipment then stuff it all in a $40 camera bag.
Does that make sense??
The primary reason some camera bags are more expensive than others are that they use high-quality components and materials to ensure your camera has the best protection.
This ranges from the obvious, like strong, reinforced outer shells and thick well-padded inner dividers to less obvious items such as the clips that attach the camera strap to the bag. If one of these fails whilst you are on location, you risk losing all your gear.
Waterproofing is another form of protection more often found on higher priced bags. You would be surprised how little protection from rain some cheaper bags will give you. Even a light drizzle can find it's way inside the bag and of course onto your precious equipment.
Top Tip!
If you bag isn't waterproof, at least grab yourself a good detachable waterproof cover.
[url=https://flic.kr/p/bwpXuc][img]https://c8.staticflickr.com/8/7181/6907736791_3946510991_z.jpg[/img][/url]
You spend a lot of money on gear. Don't scrimp on protection. By Ed Kwon
2. Quality
As well as protecting your equipment, a good quality bag will last a long time. A simple fact, right?
Think of the difference between a cheap pair of shoes and an expensive pair of shoes. The expensive shoes will still be keeping your feet warm and dry long after the cheap ones have become landfill. Perhaps this is over-simplistic, but you understand the principle.
As photographers, we take out camera bags to remote inhospitable locations and subject them to all sorts of punishment. The mere act of opening and closing the bag puts wear and tear on zips, the bags straps can fray and get caught too.
The more you spend on a bag, the higher quality the materials will be and the longer they will last. This encapsulates the buy cheap buy twice saying at the top. A cheap camera bag might last only a year or two.
Another factor that makes buying a good bag important is the extras they often provide. Things like tripod pouches and straps, rain covers and multiple dividers allowing you to deeply customize your bag's layout, useful if you want to carry different loads to different shoots.
A quality bag could last your entire photographic career. If you do decide to upgrade, you will find its depreciation is significantly lower than cheaper bags giving you more cash to spend on your next quality bag.
[url=https://flic.kr/p/6E9EcQ][img]https://c7.staticflickr.com/3/2549/3713500102_a00f25ed3f_z.jpg[/img][/url]
Good camera bags will last many years of hard use. By hammercem
3. Comfort
Lastly, we come to an equally as important point, how comfortable your new camera bag is.
You are lugging several kilograms of high-tech equipment for many hours a day. Your bag most definitely needs to be comfortable!
Cheap bags save money by using cheap material and have less ability to adjust the weight distribution. A good quality bag will have soft padding in the shoulder strap – which after a long day, makes such a huge difference! Believe me.
If it is a backpack it may well have a cross strap allowing you to pull the two shoulder straps together over your chest, spreading weight distribution and improving comfort.
A good quality backpack-style bag will also have a well-padded waist band strap to pull it snugly into your body – this also massively improves weight distribution.
Although the materials will be stronger, they will often be lighter too. An important consideration if you are carrying heavy loads for several hours per day.
[url=https://flic.kr/p/jbD7eE][img]https://c1.staticflickr.com/8/7343/11934826904_eb4e8e2c13_z.jpg[/img][/url]
High-quality material will give more comfort throughout the day. By mattiaswinbladh
Summary
There might be elements of your photographic equipment where you can save money. But, camera bags really should not be one of them.
Whether photography is your livelihood or your pastime, investing $200 in a camera bag will not only help protect your valuable gear but also allow you to move from location to location in comfort.
Next time you are in the market for a new camera bag, try to invest as much as you can afford, the piece of mind you will get cannot be measured. Lastly, you've bought nice gear – whether new or second hand, and you want to protect it, no matter what…
---
Camera Bag Buying Guide – Top Takeaways
The first point we touched on was protection and ensuring you've got your gear shielded from not only the weather but being lugged around – say if you're traveling to a location.
The details. Next came the quality. You can (often) always tell a high-quality camera bag from a cheaper one – look at the stitching, the padding, the finish, the straps and they'll all show if the bag "feels" like it's going to last.
And lastly, comfort. If you're planning on choosing a bag that's not particularly comfortable to carry around (because it's a "bargain") my advice is quite simply, don't buy it. If you're gonna be miserable, it's really not worth it and you could end up actually injuring yourself!?
Further Resources
Further Learning
Using Lightroom? Photoshop? Photoshop Elements?

Learn a ton of highly valuable pro post processing tips to make your time at the computer more enjoyable.
This amazing eBook guide will help you discover what you can do to make your photos shine!
"Learn The Fundamental Editing Steps From A Pro, That Will Change Your Photography Forever!"