Resources for Perfecting Your Portrait and People Photography
Among the most popular of all photography is getting better shots of people. Whether it's your friends, family or clients, capturing times that people will remember can be tricky. We have put together these resources for you so that you can get up to speed on getting better people shots as quickly as possible.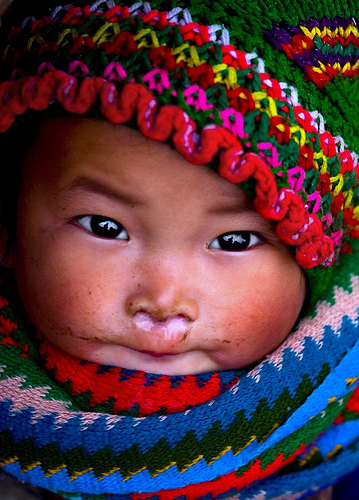 H'Mong babygirl – mũ mèo nhỏ
by
linh.ngan
, on Flickr
How to Shoot Great Portraits with Your Kit Lens – Shooting portraits is always one of the most popular topics discussed on Light Stalking. Everyone wants to get that professional look, but many feel they are hamstrung by their gear. While a cheap lens can be a slightly limiting factor, it should be seen more as a challenge than a game changer because there are many techniques the photographer can use to get a cheaper lens to produce great portraits. Let's take a look at a few.
Ten Tips for Shooting Studio Portraits – Studio work is nearly the exact opposite from location shooting, especially for portraits. With location portrait shoots, the focus is easily on the person posing, but the surrounding elements also contribute to the final product. Also, the studio presents some more challenging lighting situations, as the photographer needs to create the light, rather than modify what the sun is providing.
An Introduction to Rembrandt Lighting For Portrait Photographers – If you're a beginning photographer, chances are you're still in the process of building up your arsenal of studio lighting. Being able to get the most out of a small lighting setup can be crucial to your photography. For those working with a one or two light setup, Rembrandt lighting can help you achieve professional quality portraits with a minimal amount of equipment. Named for its frequent appearance in Rembrandt paintings, Rembrandt lighting is a method of studio lighting in which the subjects face is well lit on one side with only a small triangle of light appearing on the opposite cheek, such as in the photograph here.
Xue Haowen Headshots
by
Jonathan Kos-Read
, on Flickr
A Beginner's Guide to Outdoor Portraits – If you're new to portrait photography, starting your work outdoors is an inexpensive and simple way to experiment with your camera. There's no need to construct a studio environment, and learning how to manipulate natural lighting is a great skill to acquire. Below are a few introductory-level tips for those who want to see an improvement in their outdoor portraits immediately.
How to Photograph Senior Portraits That Will Take Pride of Place on the Mantlepiece – Bravo! You've got that nice camera and a great lens, why not put it to good use? You can have some fun, and perhaps, maybe even save a few bucks along the way. However, here is a secret you may not know. It's not as easy as it looks. It doesn't take a whole trunk-load of gear to get great results. What it does take is a little time, a small investment in materials, a good sense of humor, and a willingness to work with your subject.
10 Online Photoshop Lessons for Portraits Worth Reading – Photoshop is almost every digital photographer's friend, but shockingly few know how to use it properly to create professional images with style. There is so much more that can be done than simply playing with curves and levels. These 10 Photoshop lessons will teach you just a few ways you can use the program to boost each and every portrait.
A Portrait Photographer's Guide To Coaching Clients – Some people are born with the ability to be completely relaxed and act naturally during a portrait session. Unfortunately, those types are few and far between. The reality is most people need a little instruction and confidence building before they warm up to the idea of being in front of a camera.