Instagram is synonymous with photography these days, but these stats are wild. It has gone from a niche app to a cultural phenomenon faster than almost any other web property. Let's jump in and take a look at how.
Instagram was initially a photo-sharing app that later also supported sharing videos and incorporated various other features like carousel posts, stories, reels, live, ads, shopping, etc.
Some Wild User Statistics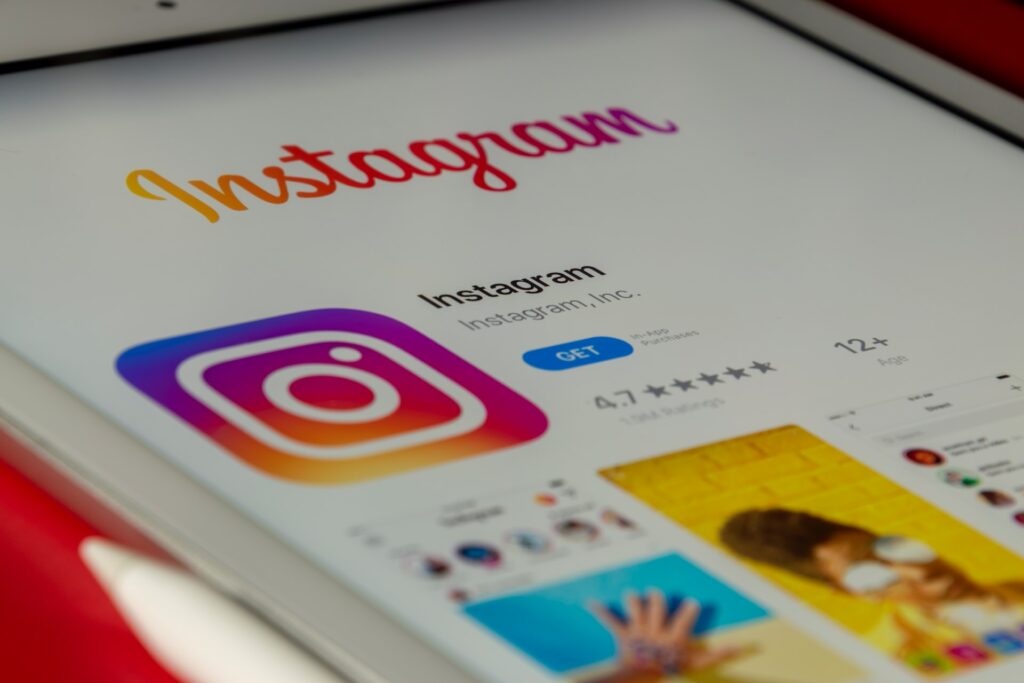 This app, since its launch, very soon became one of the top 5 social media platforms used worldwide. Almost a quarter of global internet users use Instagram for some reason, like media sharing, inspiration, exploring travel destinations, and other related, connecting with people, businesses, ads, product purchases, etc. Instagram will soon be 13 years old.
Instagram initially allowed its users to upload media that can be edited within the app using various filters and then posted along with hashtags. Instagram later introduced the geotagging feature so users could browse through images and videos based on hashtags or locations.
Instagram, since its release in 2010 for iOS and then later in 2012 for Android, introduced a lot of features and went through changes in user experience over the years. The initial square format was later changed to accommodate other aspect ratios when posting images through the app.
Later Instagram launched the messaging feature IGTV, and then the ability to include multiple images and videos in a post. Instagram also introduced the stories feature that is available in the user's profile for 24 hours, and the most recent feature is reels which is a short-form video similar to Tik-Tok.
The Instagram app gained popularity quite quickly soon after its release because of the instant photo-sharing feature and had over one million registered users on the app in the first two months, ten million users in a year, and a billion users by 2018.
Instagram User Statistics
Instagram, with over 2 billion users worldwide, has a lot of users who use the app daily. Some users use it for a few hours every day for either business or entertainment reasons, and here are some data on monthly and daily active Instagram users.
Monthly Active Instagram Users
Globally, the number of Instagram monthly active users in 2023 have gone up to more than 2 billion monthly active users, which is roughly a quarter of the world's population. These are registered users who log into the app within a 30-day period.
Here is a brief timeline of monthly average Instagram users since its release in October 20102:
2 months – 1 million
1 year – 10 million
February 2013 – 100 million
June 2016 – 500 million
June 2018 – 1 billion
June 2020 – over 1.5 billion
By 2023 – Over 2 billion
Daily Active Users
Instagram has over 500 million daily active users, which is a good percentage of the world's population, and they interact with various media on the app like photos, videos, Instagram ads, etc., make use of the messaging feature and also buy products through links in the ads. These are registered users who are logged in and use the app every day.
With the introduction of stories, reels, messages, live, etc., the app has more than a billion daily users, and an average of about 1.39 billion people use Instagram daily.
Features That Help With Growth On Instagram
Instagram has a cool bunch of features that allow users to do multiple things than just sharing images on the platform. With the introduction of new features, there has been a lot of growth, more than predicted on Instagram. Here are the features and some of the stats: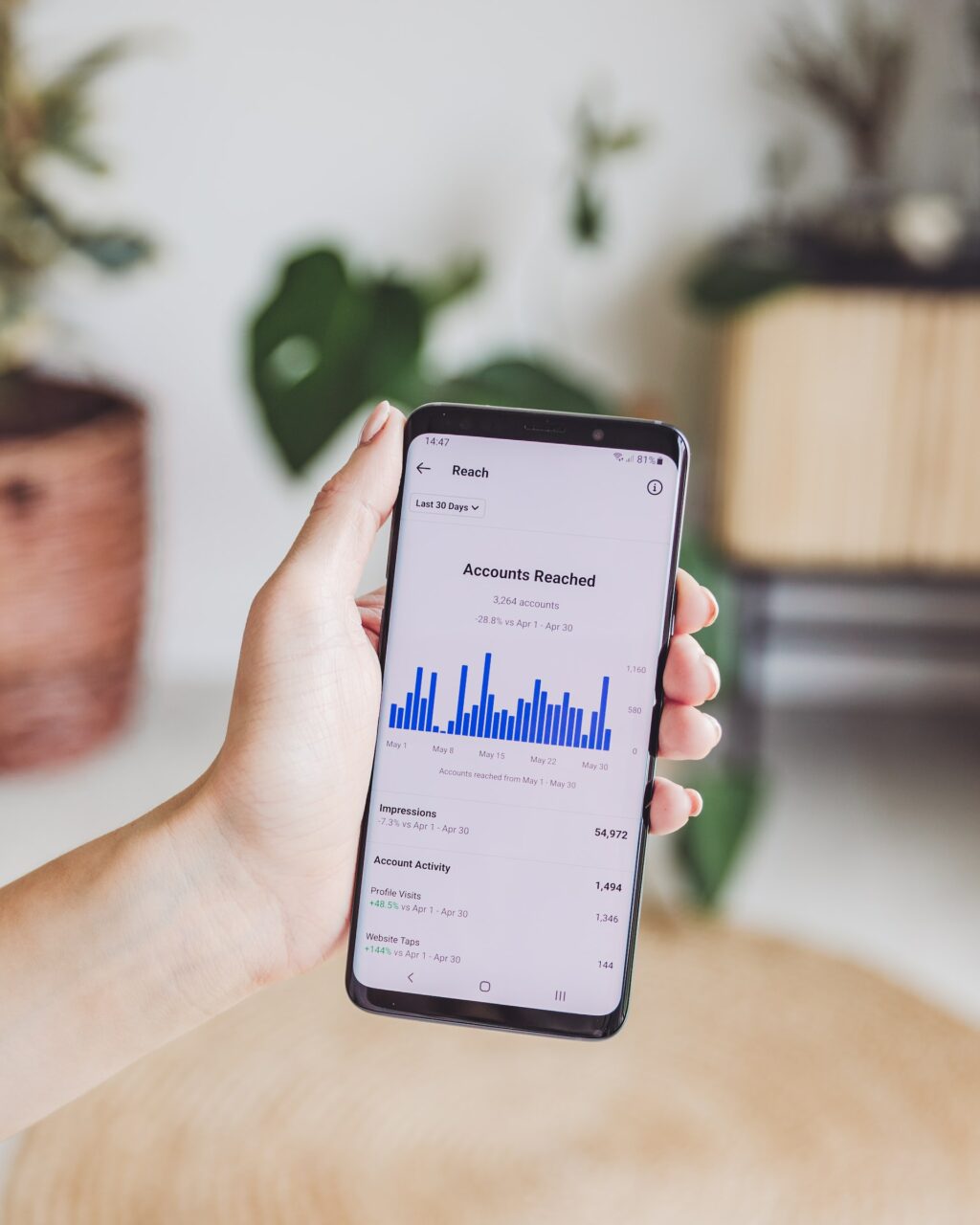 Stories – stories make up for about 25% of all content on Instagram and have over 500 million active accounts daily, and are becoming increasingly popular. Instagram Story ads can reach up to 996 million3
Live video – more than 1 million users watch Instagram live videos every day
Reels – with reels taking up 30% of the user time on Instagram, the ad audience for reels is about 758.5 million users4.
Posting Media on feed – smaller and medium accounts post about 3 posts per week, whereas mid-range accounts post about 5 posts per week. Instagram suggests posting a couple of weekly posts and a couple of stories each day5.
Growth And Business
With more features being added to the app, the user growth rate for Instagram keeps increasing globally. The stories and reel features on Instagram help with a massive increase in user growth and interaction. A study estimates that over 30% of users on instagram6 are aged between 25 and 34.
70% of users7 look for shopping suggestions and products on Instagram
One-third of the most viewed stories are business related
Most Instagram User Statistics
Instagram demographics can vary worldwide by region, age, and other factors. Here are some Instagram user statistics worldwide by region, age, and population.
Instagram Users Worldwide
When it comes to popularity, India has the most number of Instagram users8, followed by the United States, Brazil, Indonesia, and then Russia.
India – 230 million users
United States – 159 million users
Brazil – 119 million users
Indonesia – 99 million users
Russia – 63 million users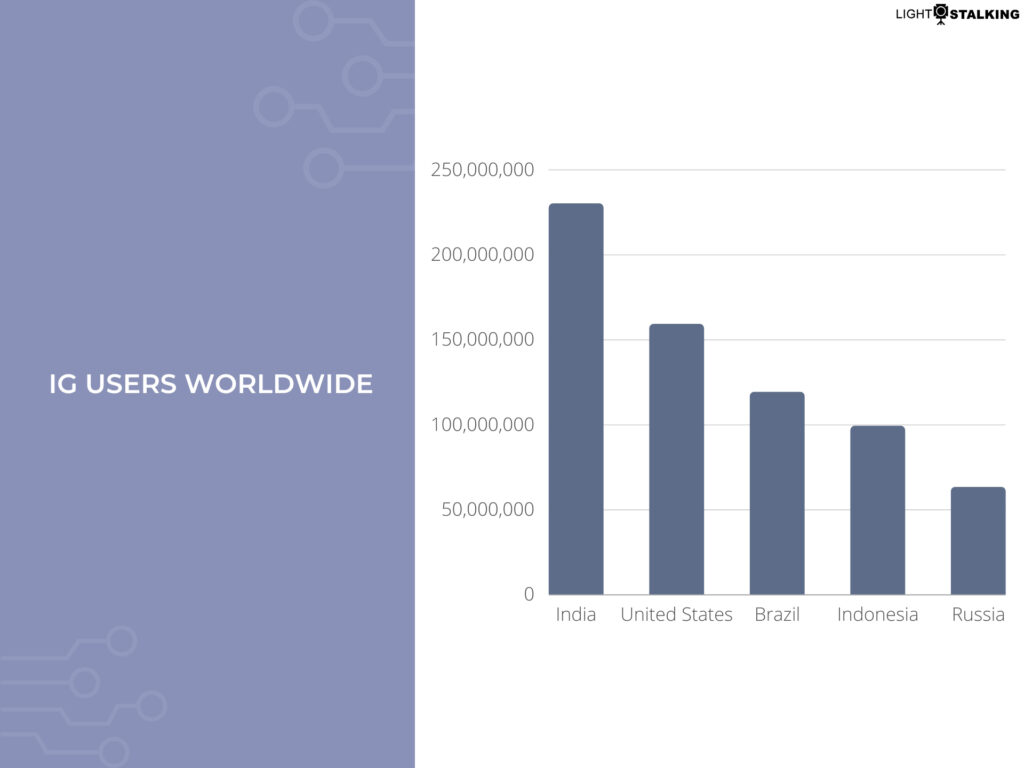 Instagram Users By Region
With a massive number of Instagram users worldwide, it is found that almost half of its users are from the Asia-Pacific region9, followed by Europe. As seen from the data above, India and Indonesia have the most users from the Asia-Pacific region. Here are some Instagram user statistics by region:
Asia-Pacific region – 893 million
Europe – 338 million
South America – 289 million
North America – 222 million
Middle East – 112 million
Africa – 96 million
Australia – 22 million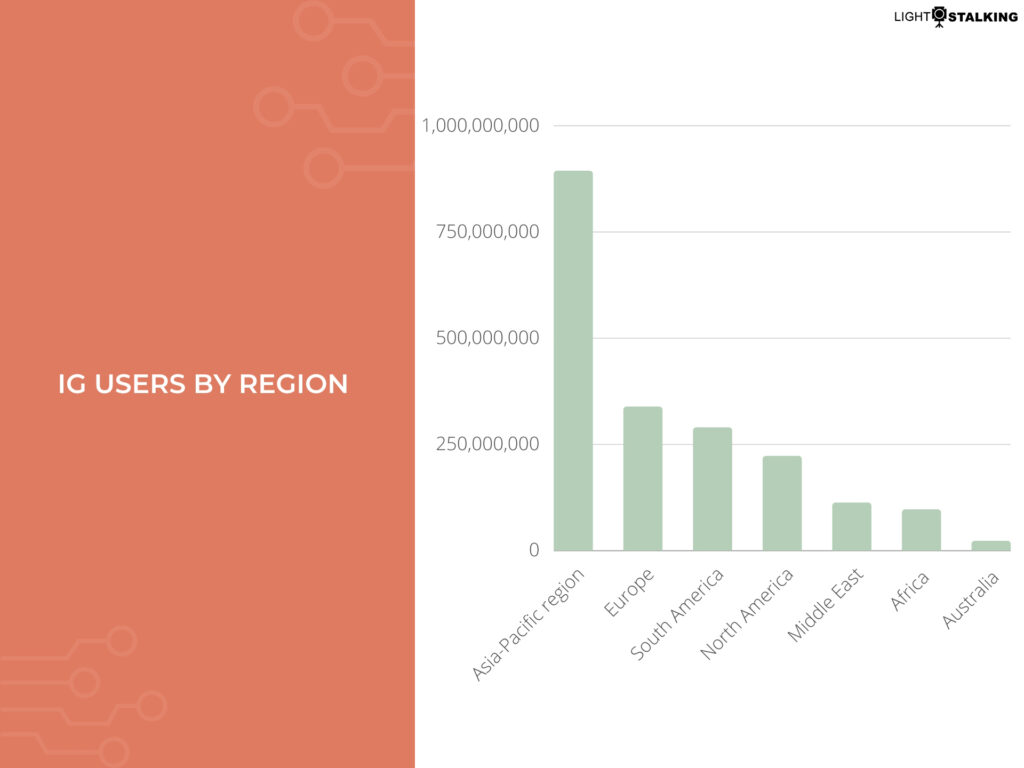 Instagram Users By Age
Instagram is more popular among users aged 18 to 34, followed by 35 to 44 years old. An Instagram user is likely aged between 18 and 29, as about 70% of Instagram's audience or users fall into this age group. Here is some data on Instagram platform users by age10.
7% of users are between 13 to 17 years of age
30% of its users are between 18 to 24 years of age
33% of users are between 25 to 34 years of age
16% of users are between 35 and 44 years of age
8% of users are between 45 and 54 years of age
4% of users are between 55 and 64 years of age
And 2% of users are above 65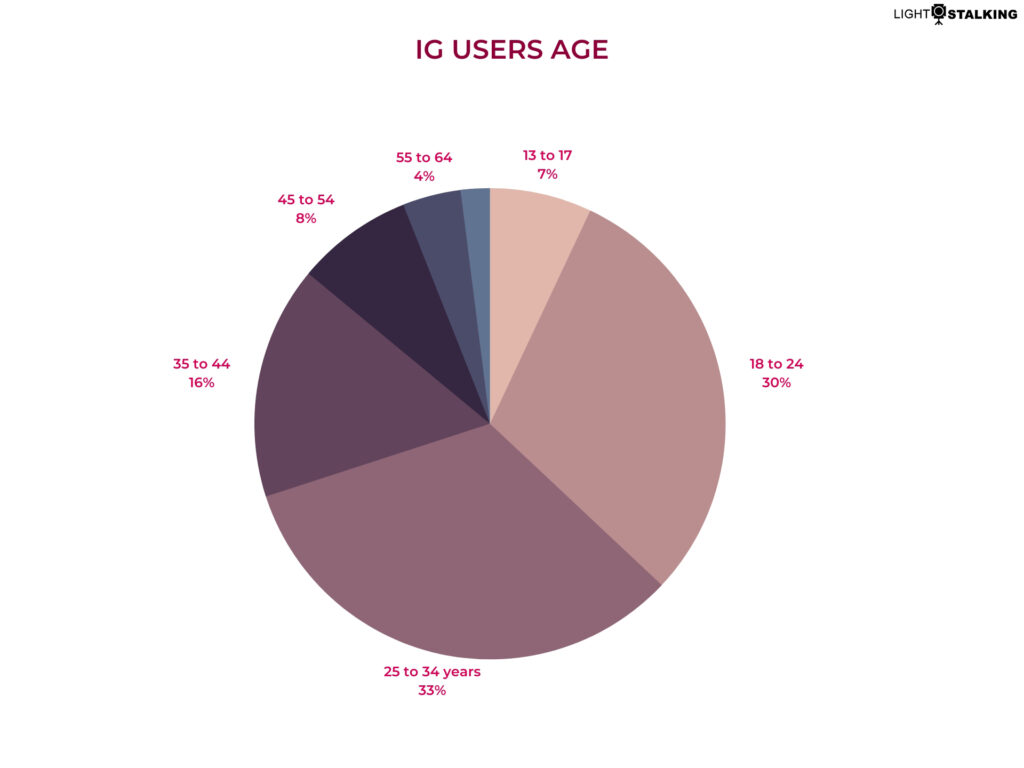 Instagram Users By Population Percentage
Although there are countries that have a huge number of Instagram users and rank top, it could be a small number compared to the total population of the country. Here is data for the largest percentage of the population using instagram11.
Brunei – 89% of its population uses Instagram
Kazakhstan – 82.7%
Turkey – 76.5%
Cyprus – 75.7%
Cayman Islands – 75.5%
Average Time Spent On Instagram
Globally, Instagram users spend roughly about 30 minutes each day12 on Instagram. Users under 25 years old spend slightly more time on average compared to users aged above 25.
The increase in the amount of time spent on Instagram is due to the introduction of features like stories and reels on this social media sharing platform. The user time only keeps growing, roughly by about 10% each year, and the more time people spend on Instagram, the more likely they are to come across content that interests them.
Stories – Instagram stories are viewed by about 500 million users daily 13, and the reach rate for stories is lower than for posts. The average time spent by users under 25 years old watching stories is about 32 minutes14 and users older than that spend an average of 24 minutes.
Reels – reels are one of the latest features on Instagram that have gained huge popularity. Around 2 billion active users around the world interact with reels every month. It is estimated that reels are used mostly by users aged between 18 to 34 and have a 22% higher chance of engaging users compared to standard video posts15. Users spend 30% of their time on Instagram reels.
Daily average user time – people spend about 29 minutes a day16 on Instagram, while on average, a user spends 2 hours and 31 minutes17 on social media.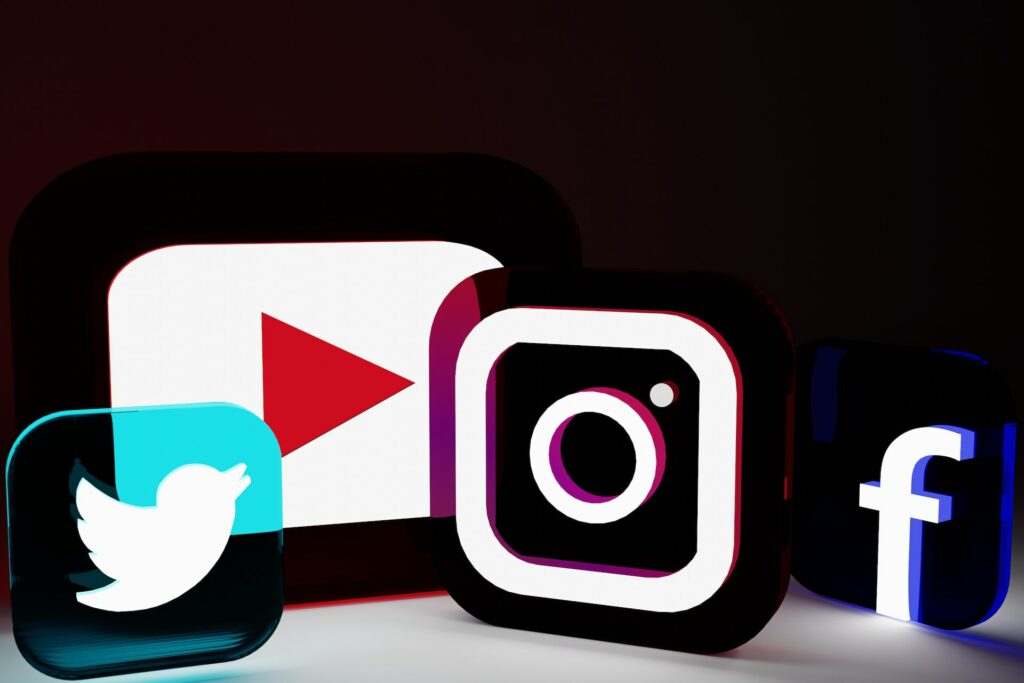 The monthly average user time is about 11.7 hours on Instagram
Users below the age of 25 spend more than 8 days a year on Instagram18 , and users aged over 25 spend more than 6 days a year on Instagram.
Peak Usage And Engagement Time
The peak usage time for Instagram is between 10 am and 3 pm on most weekdays and slightly lesser during the weekends. Instagram users engage primarily between 11 am and 12 noon during weekdays and at about 10 am during the weekends. The best times to post on Instagram are Wednesday at about 11 am and Friday between 10 and 11 am so you'll get your content seen by most users and followers19.
In general, the best time to post photos is between 6 am and 9 am, 12 pm to 2 pm, and 5 pm to 6 pm on weekdays and 9 am to 2 pm on weekends20.
The best time to post reels depends on audience, industry, and location, and it can vary greatly from early morning to afternoon or late in the evening.
Stories, although they do not have a specific time for posting, are a great Instagram marketing strategy and will do well for businesses if they post between 11 am and 2 pm.
Please note times may vary for regions and countries, and also depending on the business and audience. Your insights are the best place to know the best time to post.
Instagram Stats By Followers Count
Research suggests that a majority of Instagram users have less than 1000 followers. It is found that brands usually prefer to choose influencers with more than 100K followers to promote their products. The stats below show the percentage of Instagram users with a certain number of followers21.
Less than 1000 followers – 53.62%
1001 to 10K followers – 38%
Above 10K to 50K followers – 6.2%
Above 50K to 100K followers – 0.94%
Above 100K to 500K followers – 0.94%
Above 500K followers – 0.27%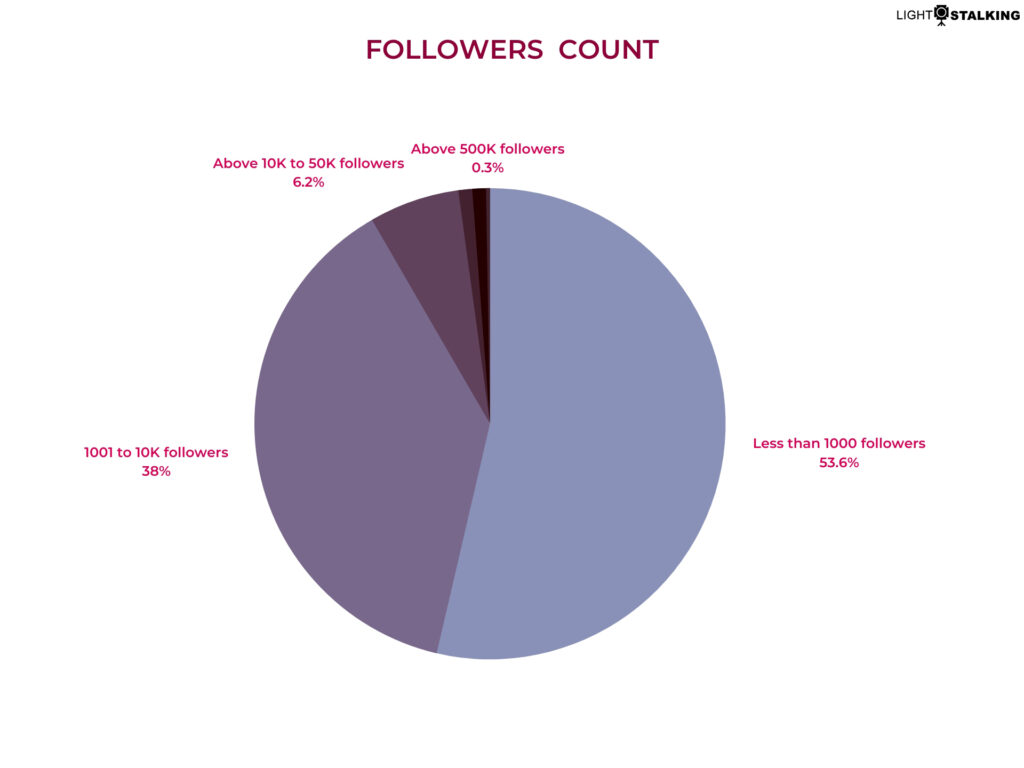 Instagram Statistics For Photography
Instagram was initially launched as only a photo-sharing platform, and it still continues to be used by many for that purpose. Here are some stats relating to photography for Instagram.
Since the app was launched, over 50 billion photos22 have been shared according to stats by Omnicore Agency
According to stats by Dataprot, around 95 million photos23 are shared daily as posts, stories or via messaging services.
Over 1,100 photos are uploaded to Instagram every second.
The most liked photo on Instagram is of Lionel Messi celebrating the FIFA world cup win, followed by a photo of an egg.
Users By Device
It is reported that 28.5% of smartphone owners have installed the Instagram app. In statistics from Spain, most Instagram users log into their accounts using a smartphone, while a smaller 20% of the users access the app on a computer24.
Reasons Why People Use Instagram
With a vast number of users on its platform, the reasons why people use Instagram is varied from entertainment and inspiration to businesses and purchases. Instagram is mainly used for entertainment, but its messaging and e-commerce features are already very famous and used by many.
Roughly 81% of people25 use Instagram for product research, company research, services, and similar, with around 15 to 25% of people clicking through shoppable posts or swiping up for the links26 in branded stories.
Almost 50% of people who click through to websites via Instagram have purchased a product or service.
Business profiles on Instagram are visited by almost 200 million users daily.
Around 500 million people27 use Instagram stories feature daily. Around 86.6% of users post stories, and 70% of users watch them. 36% of businesses use Instagram stories to promote their products.
Over 2 million advertisers28 actively use Instagram.
Types Of Instagram Accounts
There are options to have various accounts on Instagram based on the user's needs, like personal Instagram account, business account, creator account, etc. Here are some stats:
Professional Account Users or Business Accounts – it is reported that there are over 200 million business profiles on Instagram29.
Influencer accounts – There are more than 500,000 active influencers30 on Instagram, and Cristiano Ronaldo has the influencer account with the most followers. Roughly 34% of monthly Instagram users follow him.
Bot accounts – It is believed that about 9.5% of the total Instagram users31 could be fake Instagram bot accounts, and these can cost brands a considerable amount of money. It also costs Instagram approximately $500 million in ad fraud.
Popular Hashtags On Instagram
Instagram's hashtag feature makes exploring things, locations, and other information easy, and some hashtags are more popular or used more often than others. An average Instagram user post has about 11 hashtags. Here are some popular hashtags on Instagram32.
#love is the most popular hashtag on Instagram that has been used more than 1.8 billion times
It is followed by #instagood used more than 1.14 billion times
#fashion used more than 807 million times
#photooftheday used more than 792 million times
#beautiful used more than 657 million times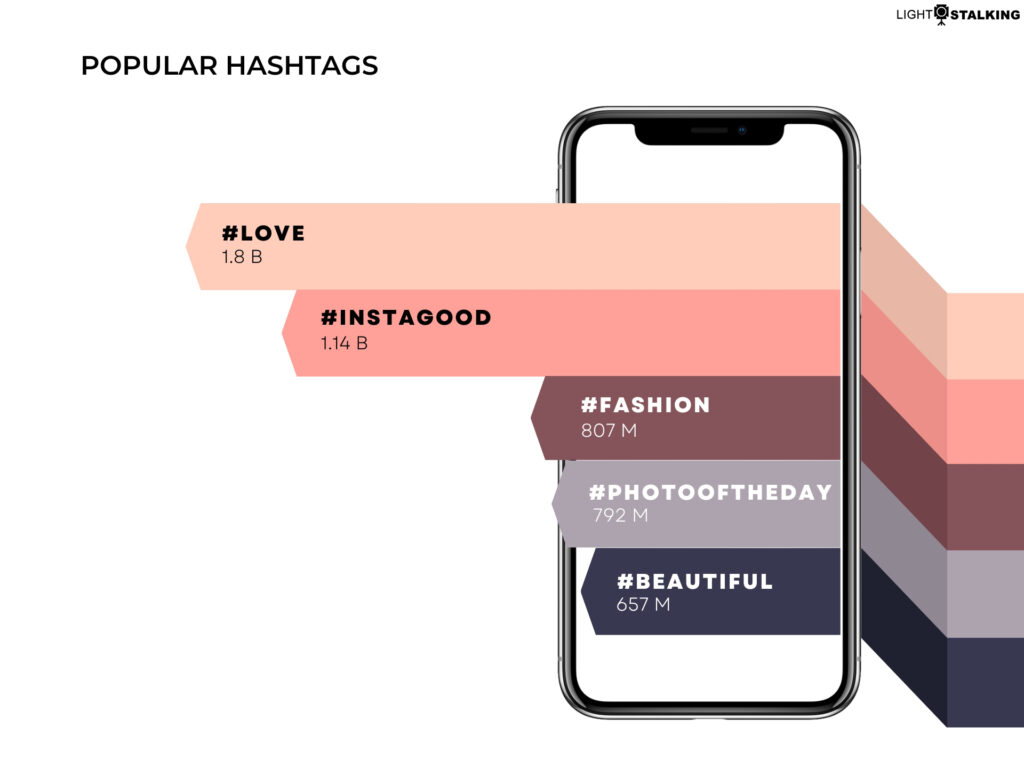 Some General Instagram Stats
As of 2023, Instagram is among the top 5 most used social media networks33.
Instagram is one of the most downloaded apps in the world and the fourth most-used mobile app.
Instagram has a slightly more female audience than male.
A higher percentage of adults in the United States use Instagram.
The highest number of Instagram users is from India.
About 99% of Instagram users also use other social networking sites or apps.
Instagram story is a great place for ads and to attract clients for a business. It is the number one social media platform for connecting with brands.
About 90% of Instagram users follow a business.
About 71% companies34 use instagram.
Instagram is one of the top 10 most visited sites and one of the top 10 searched terms in Google.
Instagram reels constitute 30% of the total time users spend on Instagram.
Instagram is one of GenZ's and Millennials' favourite apps.
25% of smartphone users use instagram.
59% of users log into instagram daily and 21% users log into the app weekly35.
Posts with geo-location get nearly 80% more instagram engagement rates than the other posts.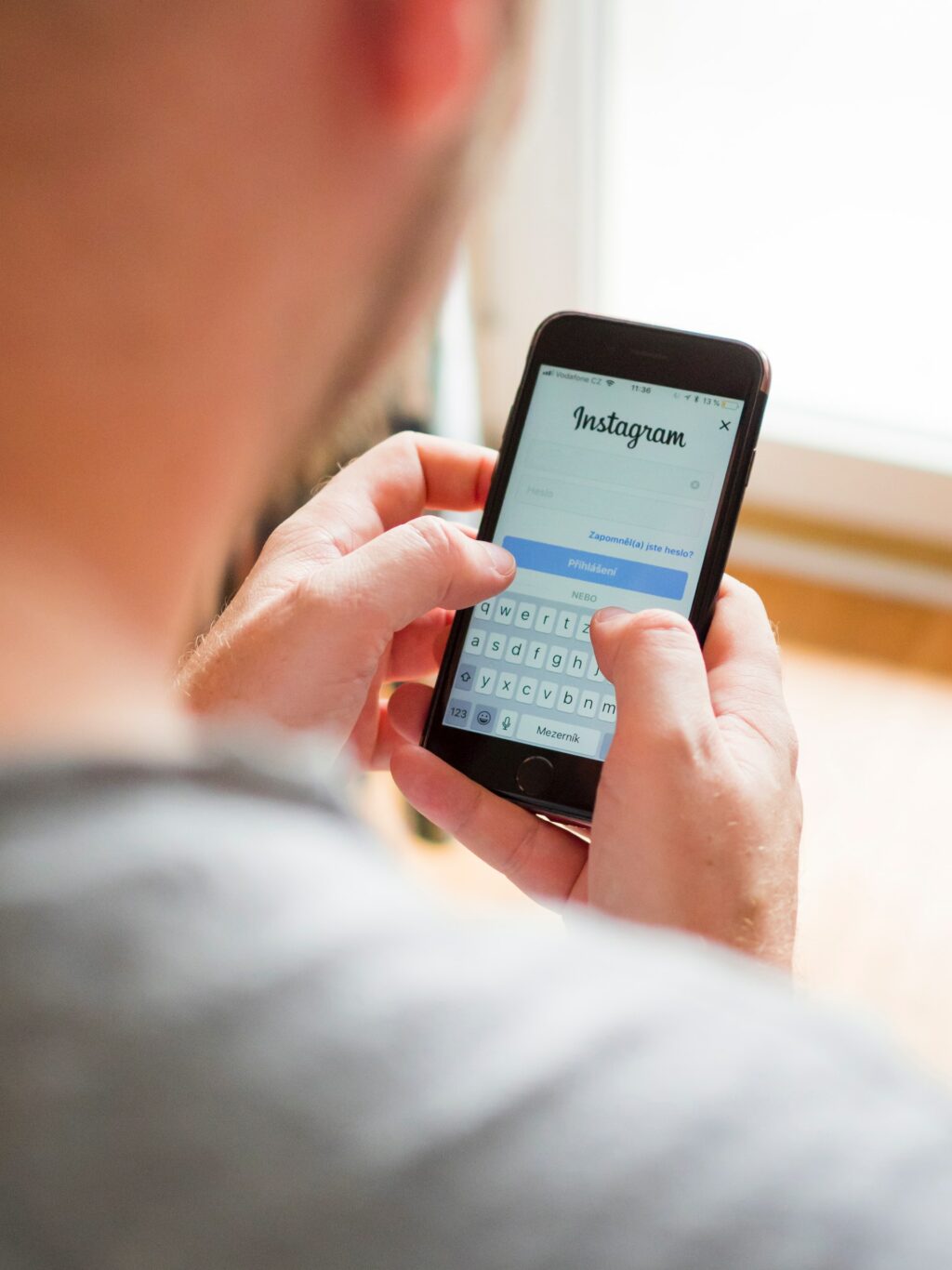 References:
1, 9, 10 – businessofapps.com/data/instagram-statistics
2, 8, 11, 15, 18, 21 – demandsage.com/instagram-statistics
3, 4, 33 – blog.hootsuite.com/instagram-statistics
5 – later.com/blog/how-often-post-to-instagram
6, 26, 34 – techjury.net/blog/instagram-stories-statistics
7, 30 – omnicoreagency.com/instagram-statistics
9, 10 – businessofapps.com/data/instagram-statistics
12, 19, 25, 27 – thesmallbusinessblog.net/instagram-statistics
13 – embedsocial.com/blog/instagram-stories-analytics
14 – 99firms.com/blog/instagram-stories-statistics
16 – www.broadbandsearch.net/blog/average-daily-time-on-social-media
17 – techjury.net/blog/time-spent-on-social-media
20 – socialpilot.co/blog/best-time-to-post-on-instagram
22, 23 – dataprot.net/statistics/instagram-statistics
24 – statista.com/statistics/772084/users-from-instagram-according-he-device-from-access-in-spain
28 – business.instagram.com/blog/welcoming-two-million-advertisers
29 – wordstream.com/blog/ws/2017/04/20/instagram-statistics
31 – basicthinking.com/bots-instagram-accounts-fake
32 – influencermarketinghub.com/most-popular-instagram-hashtags
35 – websiterating.com/research/instagram-statistics