Most of us photographers love to be mobile, but we also desire the utmost in quality, so we often run up against one problem, the tripod. Carrying a tripod is counterintuitive to being a mobile free roaming photographer. 
They are heavy, cumbersome, and many of us would rather leave them at home. Their weight often doubles with the addition of a good quality head and their length is always just a little too long for the side of your camera bag. However, in recent years, there have been some exciting developments.
The Travel Tripod Concept
Two things have happened in recent years.
The first is the advent of the mirrorless camera. Smaller and lighter than their DSLR peers, mirrorless cameras, by their very nature do not need such heavy duty tripods.
The other critical development is some innovative thinking by tripod engineers. There is a recent trend towards tripods that are both smaller when folded and lighter, yet still given ample height and stability. These pods can fit inside camera bags rather than dangling outside and can be set up and ready faster than more traditional versions.
Many of the more prominent tripod companies now include travel ranges, including Benro, Three Legged Friend, and Manfrotto.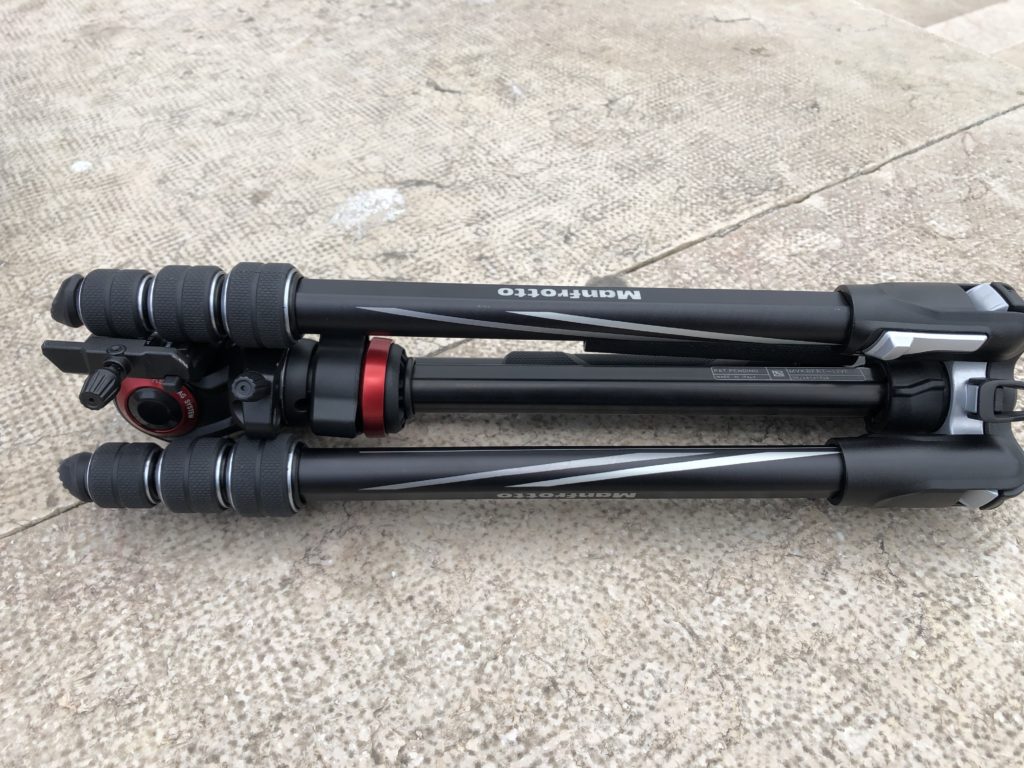 My Need For Lightness.
As a travelling photographer/videographer, I have a keen need for a lightweight tripod. Until recently this has been a set of Manfrotto C055 Carbon Fibre legs matched with either a good quality video or stills head.
However, despite their lightness, at around 1.8kg, the legs were still awkwardly long when folded. Adding in the head could also add over 1kg in weight, pretty much negating the use of carbon fibre.
As I often carry several lenses and a gimbal, my move to mirrorless was in danger of becoming heavier than a pro DSLR with a holy trinity of lenses.
The Manfrotto BeFree Range
Manfrotto builds a number of specially designed travel tripods in what they call the BeFree range. Within this range, they have tripods dedicated to stills and to video.
It is possible to get a stills version and a separate video head, but as I shoot more video, I opted for the video version, the BeFree Live. All of the tripods in the range come with the option of twist or click-lock legs, and I opted for the twist leg version.
First Impressions.
On getting it out of the box, the size is the thing you notice. Then the design. Unlike traditional tripods where the legs fold inwards, and the head sticks out of the top, the BeFree has a different approach. When folded, the legs are revered over the centre column and head making for a much shorter overall form factor.
This takes a little getting too used to at first both unfolding and refolding the tripod; however, once you train your mind away from the more traditional ways, it soon becomes second nature.
The other main impression you get is how light it is. Weighing in at 1.8kg it is the same weight as my C055 Carbon Fibre without its head. That's light, and for those with a little extra cash, you can go even lighter with a carbon fibre version. That weighs in at around 1.3kg.
So, does the inherent lightness of this travel tripod cause any stability issues? Well yes and no. We will look a little more at that in the next section.
Using The BeFree Live
As a videographer, one of the most important tools you can have in a travel tripod is a bowl head mount. If you use regular tripod sticks with a fluid video head, you do not get this.
A bowl head allows you to level the tripod's video head simply by loosening a large nut, moving the head around the bowl until the spirit bubble is in the middle then locking it off.
Anyone who has battled with changing tripod leg lengths to get a camera level will testify to the usefulness of this. The BeFree Live, I am pleased to say, does feature this built into the centre column. It works very well with little to no movement when locking off the head.
Let's get on to the head, and it is quite small and yet is a fluid motion head. It takes the larger Manfrotto quick release plates which look overly large on the small head.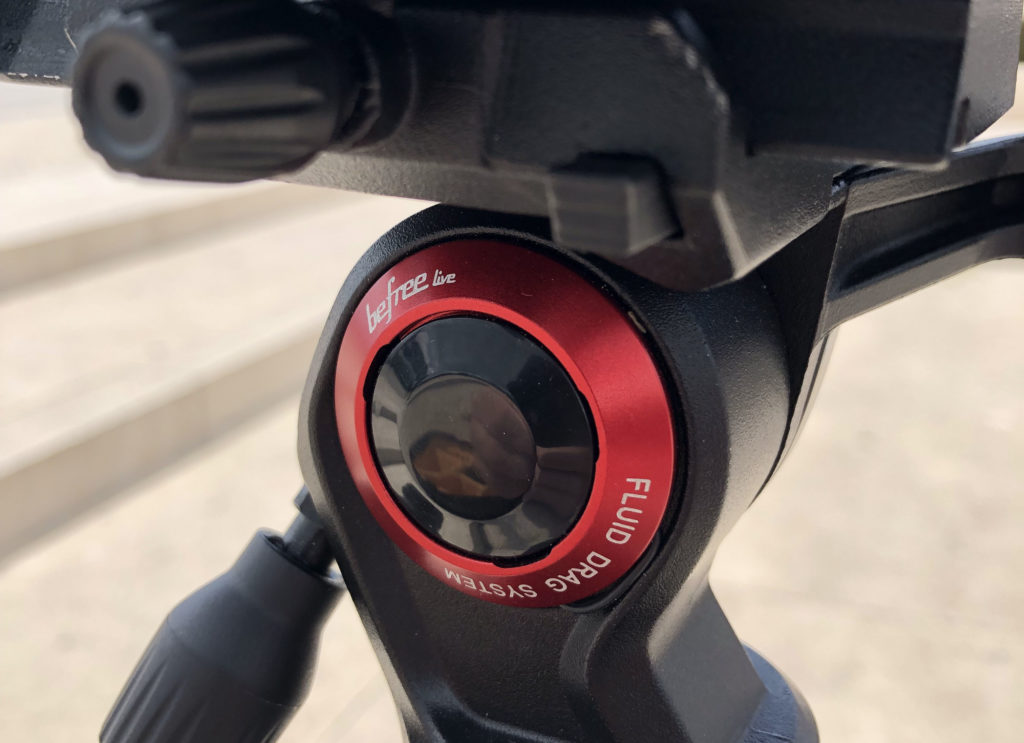 There is no great accuracy in controlling the fluidity of pans and tilts. Both are locked using knurled knobs; The tilt control is at the front of the head, the pan to the left side. You can try to half screw either of the knobs to give a tighter fluid motion but this is very hit and miss. It tends to be either full, loose fluid or locked.
The legs of the tripod are very thin and in four sections. They rise to a height of 151cm (59.9 in) which is pretty respectable. In reasonable conditions, the tripod is remarkably stable with a mirrorless camera and large lens attached.
However, if the wind picks up, only a few km/h, then you can see some sway when using longer lenses. This can be countered by hanging a camera bag underneath to reasonable effect.
The legs can lock into three angled positions using specially designed switched on the top of each leg. Again this can be tricky to get used to at first. These three positions allow the legs to be splayed further out, lowering the overall height. At the third setting, it's possible to get the camera pretty close to the ground, the base of the camera perhaps 30-40cm above the ground. This can be very useful for low-level shots.
Pros And Cons of the Manfrotto BeFree Live Travel Tripod
Pros
Light and compact
Bowl head mount
Fluid video head
Expands to a decent size
Cons
Not much control in fluid head
Can be unstable in high wind
Final Thoughts
As a travel tripod, the BeFree Live works well if you are prepared to accept it's lightness may be an issue in less than ideal conditions.
The fact that it can fit inside my camera bag, only adds 1.8kg in weight and can be extended to a good height, all make it very usable.
For more planned, less time restrained video or stills shoots a more traditional tripod is going to be a better option.
However, for run and gun, documentary, travel and vlogging, using mirrorless cameras, the BeFree Live is ideal.
Do you have a favourite travel tripod? Let us know in the comment below
Further Reading