I won't go so far as saying photo albums (you know, those binder-like contraptions with sticky, clear film laden pages) are obsolete…but they kind of are.
Yes, you can still find photo albums in stores and you can order them on the web, but these days the Web itself serves essentially as the world's photo album. So let's look into some photo sharing sites.
When you hear people talk about the ways in which the Internet has democratized the world, this is but one example of what they mean, as professionals and casual snap shooters alike use the Web to store and share their images.
Cloud storage is now the name of the game and it offers photographers some distinct advantages over the old way of doing things, particularly when it comes to "offsite" storage.
Photo by
JD Hancock
What Does Offsite Storage Mean?
Your photos don't have to physically be with you in order for you to have access to them. One can't understate the importance of the role such a feature would play if there were ever a fire or flood at your home or studio — events that photo albums and hard drives wouldn't survive.
With cloud storage, you have remote access to your images, via Web or mobile app, no matter where you are.
Your bookshelves and hard drives will be available for other uses; all your photos can go into your cloud account.
As with just about everything else related to modern photography, there is a wealth of options available for those looking for a cloud-based photo sharing/storage service.
Most services are more alike than they are different, but the differences that do exist across the various services may be enough to sway your decision one way or another.
While it really isn't feasible to provide a comprehensive look at every photo sharing/storage service out there, this look at a few of the big names in the business should help give you an idea of what these services are all about and how they might benefit you.
Established in 2004, Flickr remains a top brand in the photo sharing market despite some of the changes that have occurred since its acquisition by Yahoo! Generally, Flickr is a flexible, easy to use service.
While it bills itself primarily as a photo sharing community, Flickr does provide useful options for those seeking to use the site to store images (you can organize photos into sets and collections). Editing features such as cropping, tonal adjustments and red-eye removal are built into the platform; you also have the ability to geotag photos, join groups and create print projects.
Perhaps the most impressive thing is you get 1TB of free storage; that's about 500,000 photos. Yep, you can store half a million photos for free. Furthermore, the maximum size of each photo you upload is a whopping 200MB (videos can be up to 1GB or 3 minutes long). Images can also be downloaded and uploaded in their native resolution.
Flickr does offer two paid plans. The $6USD per month/$50USD per year plan simply removes all ads from the free plan. The $500USD plan gives you 2TB of storage.
Bottom Line: If you want to engage with a socially active photo sharing community and want to a good degree of flexibility for organizing the files you upload, Flickr is the place for you.
When it comes to photo sharing, gorgeous portraits of your kids (or friend's kids) is a wonderful thing to be able to share socially. That's where this fully comprehensive guide on Photographing Kids Naturally really comes into it's own.
Learn how to create stunning natural-looking images and also turn this into a professional business.
Google took its Google+ platform, shook it up a little bit and out came Google Photos. Google Photos revolves around a website and a mobile app (available for Android and iOS) to make uploading your images and videos a breeze.
The app will automatically upload any new photo or video you take with your device; you can use the website to drag and drop files or use the Google Photos Backup desktop app to automatically upload files from any folder you designate.
Google Photos then takes your uploads and gives them the royal treatment, magically creating stylized photos, slideshows, GIFs, albums based on a particular location or event (and other cool works of automated art).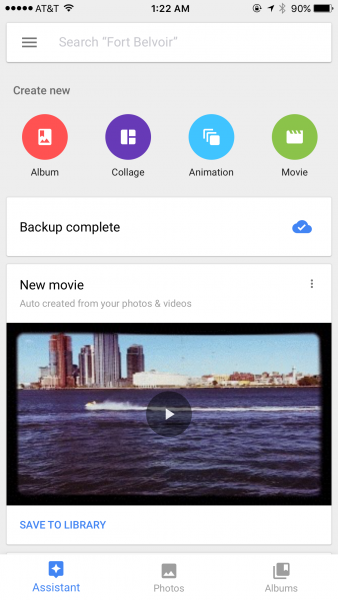 Simply sign up for a Google account and all these features are yours for free. But — of course there is a but — if you upload photos with resolution greater than 16 megapixels, Google Photos is going to compress those files.
This may not matter to some users, but if you don't want Google to compress your images there is an option to upload original resolution images using the 15GB of storage that is included with your basic Google account. If you need more space $1.99USD per month will get you 100GB, while $9.99USD per month will get you 1TB.
Bottom Line: If you crave automation — from uploading/backups to stylization to organization, there's no better solution than Google Photos.
If you're an Amazon Prime member, you've already got access to Amazon Prime Photos; the service provides users with free unlimited photo storage and 5GB of storage that can be used for other kinds of files such as videos and documents.
There's an app for iOS, Android, Mac and Windows that allows you upload and view your images (something that can also be done via Amazon's website once you're logged into your cloud account).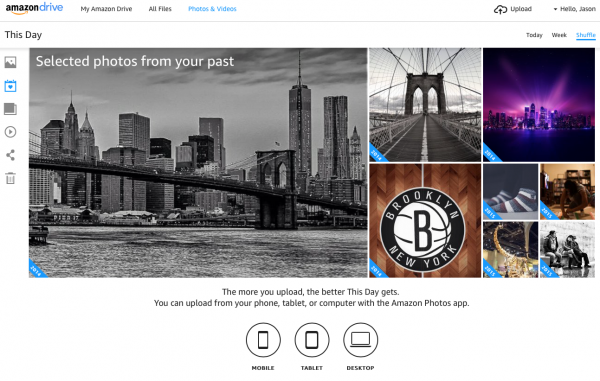 Once your photos are uploaded to the service, you can download them or share them via email or Facebook. You can also group photos into albums and share entire albums via email, link or social media. Amazon also allows you to connect your image library to select third-party apps so that you can edit photos and order prints.
If you aren't an Amazon Prime subscriber, you can get access to the Unlimited Photos plan for $12USD per year. In Australia and the UK, you will have to pay for additional storage above the 5GB included with the Cloud Drive service.
Bottom Line: Amazon Prime Photos is easy to use and isn't heavy on features, but this may be ideal for someone who simply wants to backup a lot of photos.
Apple's iCloud Photo Library has experienced a few hiccups since its inception, but over its relatively short existence it has smoothed out many of those issues and become a worthy competitor. It doesn't have universal appeal (par for the course with Apple), but anyone with an iDevice and a Mac should find iCloud Photo Library quite useful.
Any photo or video you take with your iPhone or iPad will automatically be uploaded to your iCloud Photos account and appear in the Photos app on your Mac.
The Photos app on both your iOS device and your Mac organizes photos and videos by date, time and location (files are automatically geotagged so long as you've got location services enabled).
You can even "zoom out" to browse your images by year and then jump to month. If you click on a location, Photos will plot out all the photos for that location on a map.
iCloud Photo Library is not a social platform in the way Flickr is, though you can create shared albums which will allow multiple users to view, share and comment on photos. The Photos app on the Mac and iOS devices also lets you make basic edits; the desktop version of the app lets you create print projects.
If you've got an iCloud account, you're already getting 5GB of storage for free. For most people reading this, 5GB probably isn't going to cut it; you can jump up to 50GB for $0.99USD per month, 200GB for $2.99USD per month or 1TB for $9.99USD per month.
Bottom Line: If you use Apple devices you couldn't ask for an easier-to-use platform, as iCloud Photo Library is built into the larger ecosystem. Windows users aren't left completely out of the loop — there is an iCloud app available or you can manage your photos via the Web (icloud.com).
500px was for a long time Flickr's stiffest competition. Based on a similar blueprint as Flickr, 500px bills itself as "a photo community for discovering, sharing, buying and selling inspiring photography powered by creative people worldwide."
500px does offer plenty of groups where members can interact with one another, though group participation doesn't appear to be as robust as Flickr. There are apps for iOS and Android that let you conveniently upload images, or you can upload via the website (a simple drag-and-drop process that facilitates batch uploads of 10 files at a time).
Additionally, you can import photos from other services like Flickr, Google and Dropbox or use a plugin to upload images directly from Lightroom. All photos are initially placed in your Library.
One of the standout features of 500px is its Portfolios; they are beautifully designed and offer numerous customization options (though you will need a paid subscription to take full advantage of the personalized portfolio).
500px's basic plan is free and allows 20 uploads a week. The Plus plan gives you unlimited uploads for $25USD per year. The Awesome plan, which gives you access to a personalized portfolio in addition to unlimited uploads, will cost you $75USD per year.
For $165USD per year, you can get the Awesome + Adobe plan, which includes everything in the Awesome plan plus a subscription to the Adobe Creative Cloud Photography plan (Photoshop CC, Lightroom, Lightroom Mobile).
Bottom Line: 500px users tend to share only their very best work; it is far more portfolio-oriented than Flickr. If you're looking for an elegantly designed platform to showcase (and possibly monetize) your work, 500px is for you.
Photobucket may not be the first name to come to mind when thinking of photo sharing sites, but there must be a good reason the site is host to more than 10 billion photos. Perhaps the chief reason Photobucket is so popular is because it's sort of a do-it-all service.
Uploading to the site can be done in bulk; there's a desktop app to which you can assign a folder for automatic backups. There are mobile apps for Android and iOS. And social media sharing is a snap.
Photobucket is especially useful if you run a blog or do any type of work that requires you to share images online, as the service can generate URLs for embedding or linking to photos.
Photobucket also features a built-in editing suite for basic adjustments like cropping and sharpening, along with fun effects like frames and filters. To round out its impressive feature set, Photobucket provides the means to create photo gifts (books, calendars, etc.) and prints.
The free plan provides you with 2GB of storage and 10GB of bandwidth usage per month; you can get an additional 8GB of storage on the free plan by downloading the Photobucket app. Still need more space? You can purchase anywhere from 20 to 500 additional GB for as low as $29.99USD per year up to $399.99 per year.
Bottom Line: Need a cloud service that is social-centric, offers diverse features and is easy to use? Go with Photobucket.
My Final Thoughts On These Photo Sharing Sites
Obviously there are other options out there (SmugMug, Zenfolio, Photoshelter); if none of the above fit the bill, a little research will surely help you discover the service that is most closely aligned with your needs.
If you're looking for a cloud service to store/backup photos and don't care about sharing/social features, there are services like Dropbox, Google Drive and Microsoft OneDrive; while not photo-specific, any of these will get the job done.
Do yourself a favor and read the fine print associated with any cloud service you're considering subscribing to. It's easy to be lulled into the idea that online photo sharing/storage has all the proper safeguards in place and the companies behind these services have your best interests at heart.
It's quite possible you'll never encounter a problem, but it's good to know things like how/if a company can use the images you upload to their service; what happens to your images if the service shuts down; what kind of protection against copyright violation does the service provide.
Even though we've focused on cloud storage as a backup method, it's important to keep in mind that if you're serious about backing up your photos you shouldn't rely on a single method.
In addition to a backup in the cloud, consider backing up to physical media like CDs or DVDs or hard drives, all of which can also be kept offsite. Your photos are precious — go the extra mile to preserve your work.
When it comes to photo sharing, gorgeous portraits of your kids (or friend's kids) is a wonderful thing to be able to share socially. That's where this fully comprehensive guide on Photographing Kids Naturally really comes into it's own.
Learn how to create stunning natural-looking images and also turn this into a professional business.
Further Resources