It's not easy to come up with new portrait photography ideas, even if you're a seasoned portraitist. You often need to think about different lighting setups, backdrops, posing for male and female models as well as locations if you're an outdoor photographer. There are many factors to consider, which can be confusing and actually hinder your creativity instead of making it flourish.
Fortunately, careful planning usually helps and makes you do your best once you grab the camera and start shooting. We compiled a list of useful creative tips that can help you get out of a rut if your portrait sessions are starting to be dull and repetitive.
Read on to learn tips and tricks about 7 different types of portraiture. We guarantee you'll find some really awesome portrait photography ideas you can easily apply and customize!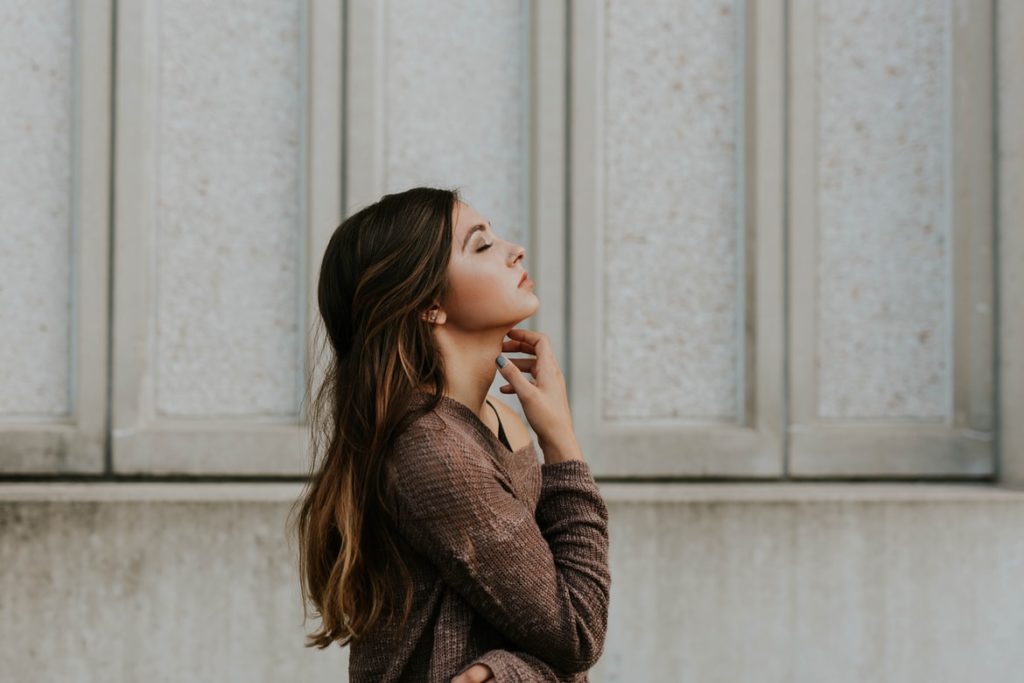 Get Creative With Black And White Portrait Photography
Black and white portraits are classy and timeless. Even if they're not your niche, you should learn how to get creative with this type of portraiture. You can experiment with natural light or perhaps learn more about studio lighting setups. Backgrounds also matter a lot!
On The Importance Of Negative Space
Black and white portraits usually look better if you emphasize simplicity and make your subject stand out by surrounding it with lots of negative space. To put it simply, you can make the image all about the subject with the proper use of negative space.
The next time you're shooting in black and white, remember to apply this portrait idea.
For instance, you can use a blank background – it can be any color from white to black – and surround your model with negative space. You will be surprised how powerful b&w portraits can be when they are minimal.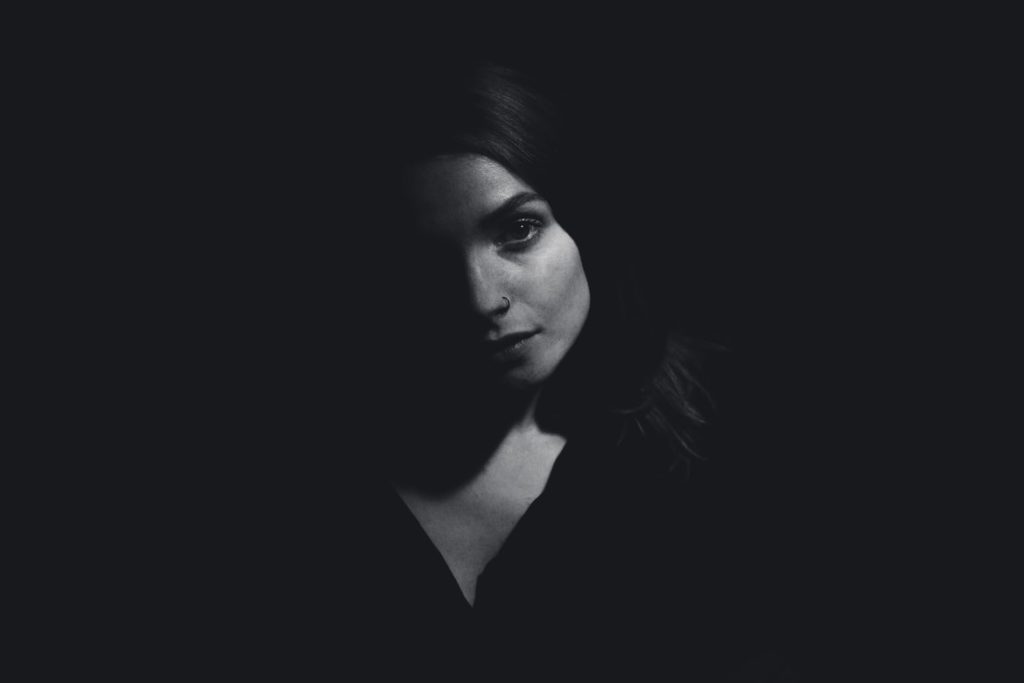 Try A Boudoir Portrait Photo
Boudoir photography along with maternity photography is one of the most sought-after genres these days. Female beauty is one of those things which are always in vogue. 
If you want to specialize in boudoir photography, you should focus on learning many flattering poses for female models. You should also know a lot about effective color combinations as well as lighting and proper angles. You might need to work with a stylist if you want to master high-end boudoir photography.
The great thing is that you can shoot boudoir photography even if you don't have studio lighting. Natural light, such as window light, can be totally enough and it can result in breathtaking, creative portraits.
Use The Versatility Of Window Light
The great thing about using window light in boudoir photography isn't only because it's convenient and it doesn't cost anything. You can use this type of light to experiment with various portrait ideas. By moving your subject around, you can have the window in front, to the side, or behind them. This means that one type of lighting can yield images with a totally different atmosphere. Side lighting, front lighting, and backlighting will also help you emphasize different features of your model, which matters a lot in boudoir photography.
If the window light is too weak, you could supplement it with continuous LED lighting or something more subtle, like candlelight.
Set Up A Self Portrait Photograph
Self-portrait photography is probably most present on Instagram, and nowadays it's not just plain headshots. Many young photographers have made proper art out of self-portrait ideas because they have invested lots of their creativity into this type of portraiture. You should treat your self-portraits just like regular portraits and be mindful of lighting, composition, posing, and so on. 
Self-portrait ideas are the easiest ones to experiment with because you don't need anyone to help you. You're in front of the camera as well as behind it. 
Self-portraits will also make you a better portraitist in general – you will learn so many strategies you can use to capture a creative portrait.
Hiding Behind Objects
This is a great way to create a memorable and mysterious self-portrait. Partially hiding your face can make for a gorgeous self-portrait with an eye-catching focal point. There's plenty of options in terms of which object to hide behind, depending on the location. Use vases, curtains, branches, scarves, furniture, etc for your self-portrait photography. You can also use your hands to cover parts of your face.
Self-portrait photography can be fun once you realize it is a useful exercise in creativity. For great self-portraits, check out IG or 500px profiles of photographers who specialize in this subgenre of portraiture. I recommend Taya Iv's self-portrait portfolio.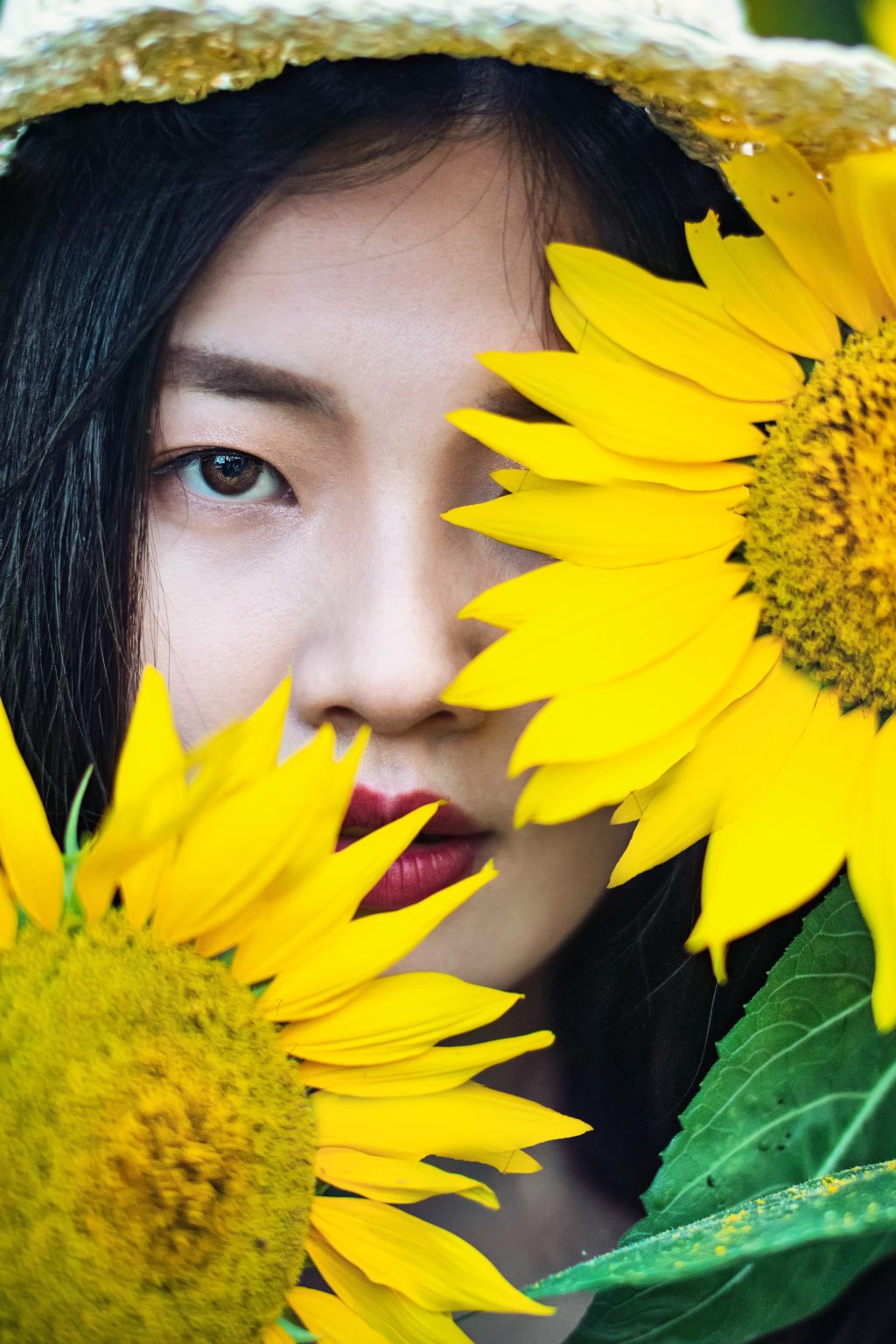 Time For A Senior Photo?
This is a subgenre of portrait photography that is tremendously important. It is somewhere in between casual and formal, and it should be impeccable because senior portraits make truly valuable memories.
Traditionally, these portraits are captured indoors, with studio lighting. It's usually soft lighting in combination with neutral backgrounds. However, you don't have to stick to this idea. You can shoot senior portraits outdoors or experiment with lighting to create something interesting and unexpected. It all depends on your model – senior portraits should capture the personality of the subject, just like any other portrait.
Daydreaming Or Semi-Candid Shots
To make senior portrait photos less formal and more cheerful, in line with your subject's age, you can avoid posed portrait photography ideas and focus on capturing your subject while they are relaxed. For instance, a late afternoon walk is the perfect timing to capture creative and nonchalant photographs of a senior. Paired with the golden hour lighting, such portraits can look spectacular.
For instance, a very pleasing pose for a senior photo session is looking up to the sky or somewhere on the horizon. It depicts the idea of the future that lays ahead and the possibility of fulfilling all their dreams.
The way you'll capture a senior should also depend on whether it's a girl or a boy. Make sure not to pose everyone in the same way. What looks flattering for a girl might look awkward if you're photographing a boy.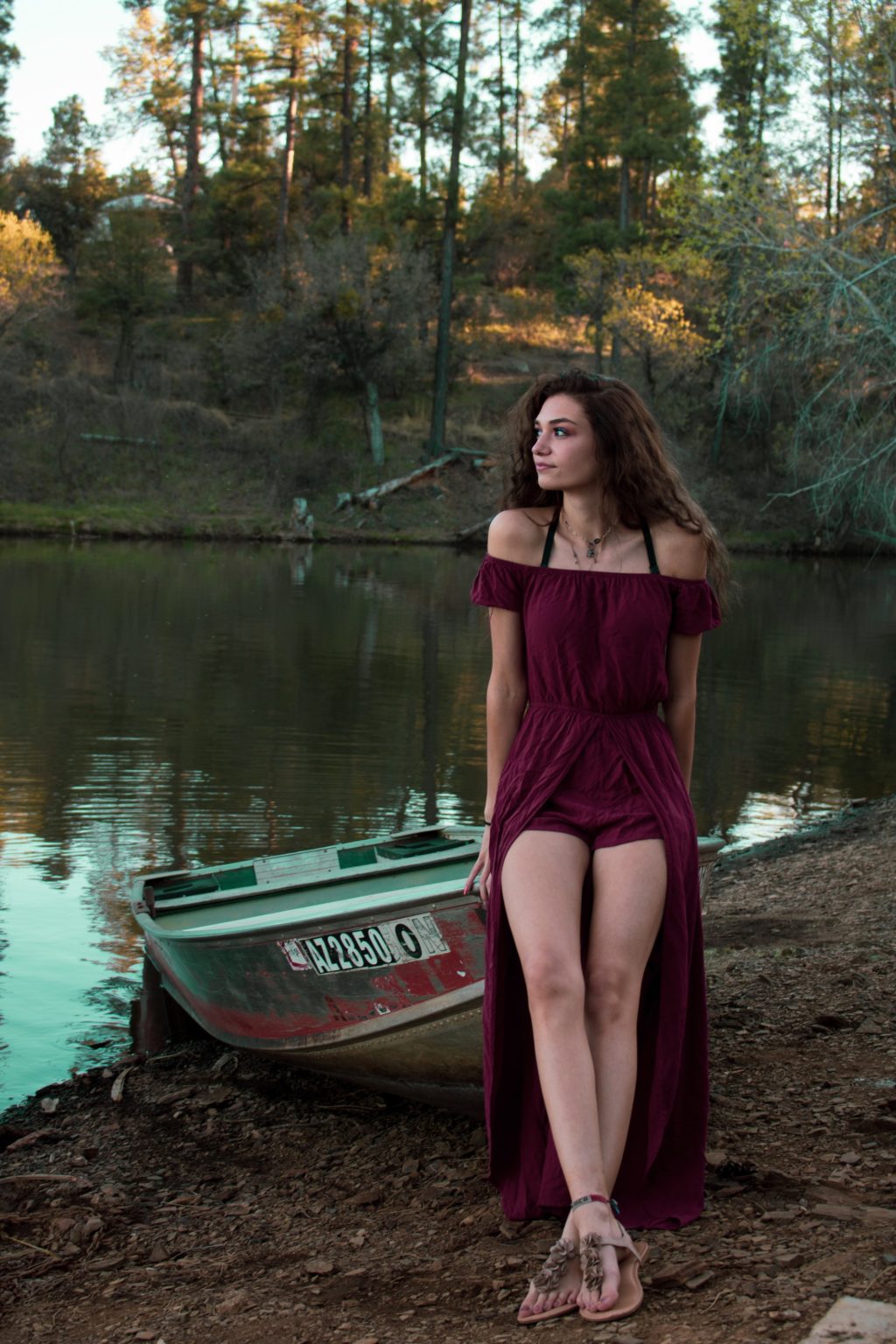 Photograph Your Children
Children are the best models! They are playful, fun, spontaneous, and always beautiful, no matter what they do. Children photography shouldn't be problematic when it comes to portrait ideas because kids themselves are a wonderful source of inspiration. Even if you don't know how to pose them, they will certainly do something that looks adorable. Shy children can also make wonderful models. 
It's usually better to use natural light in children photography, but feel free to experiment with studio lights in case you want to create something more polished.
Include Interesting Props
Don't forget to use various props to get the best out of children photography!
Props are a wonderful tool for improving any kind of photography, but they are particularly useful when it comes to photographing children. Props add visual interest to your photos, they help you tell a story, and they keep older babies and children entertained during the photoshoot.
When photographing newborns, you'll need props for posing the baby. It could be a bowl, a basket, or a cushion covered with a soft blanket. Make sure to use appropriate colors! For older babies and children, there are so many different props that you could use.
Great examples include toys, teddy bears, balloons, cakes, lanterns, flowers, interesting chairs, and stools.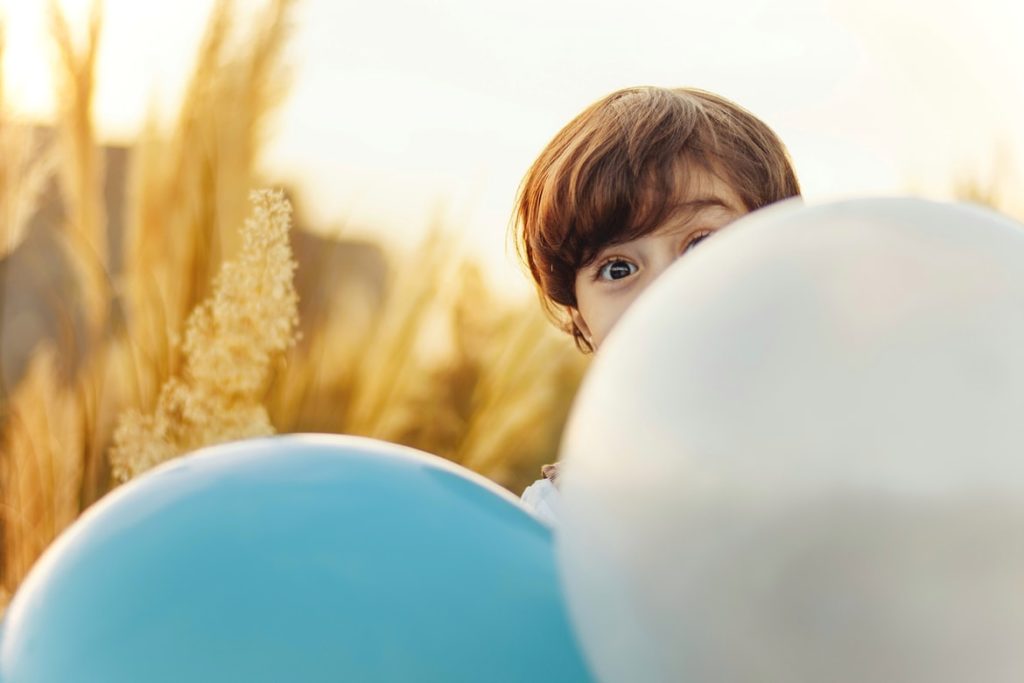 Outdoor Portrait Photography Ideas
Outdoor portraits are incredibly versatile. Thanks to endless options in terms of environment, you can easily create different moods. Weather conditions will also affect the mood in your outdoor portraits, so make sure to shoot your models in good and bad weather. Rainy, windy and snowy portraits can be memorable if you know the proper camera settings for such conditions.
It's easy to capture creative portraits outdoors because the environment itself will help you with storytelling, backgrounds, and colors.
Think About Storytelling
Outdoor portrait photos usually include more elements than indoor portrait photos and because of that, they are ideal for storytelling. It doesn't have to be anything elaborate. To put it simply, just think about the tale you want to tell to your viewer. Having a story behind the image always makes the viewer more interested in the photograph.
Photo series are more likely to achieve this storytelling effect than single images. Your photoshoot, if you're doing a series, should feature various perspectives and focal lengths in order to engage the viewer.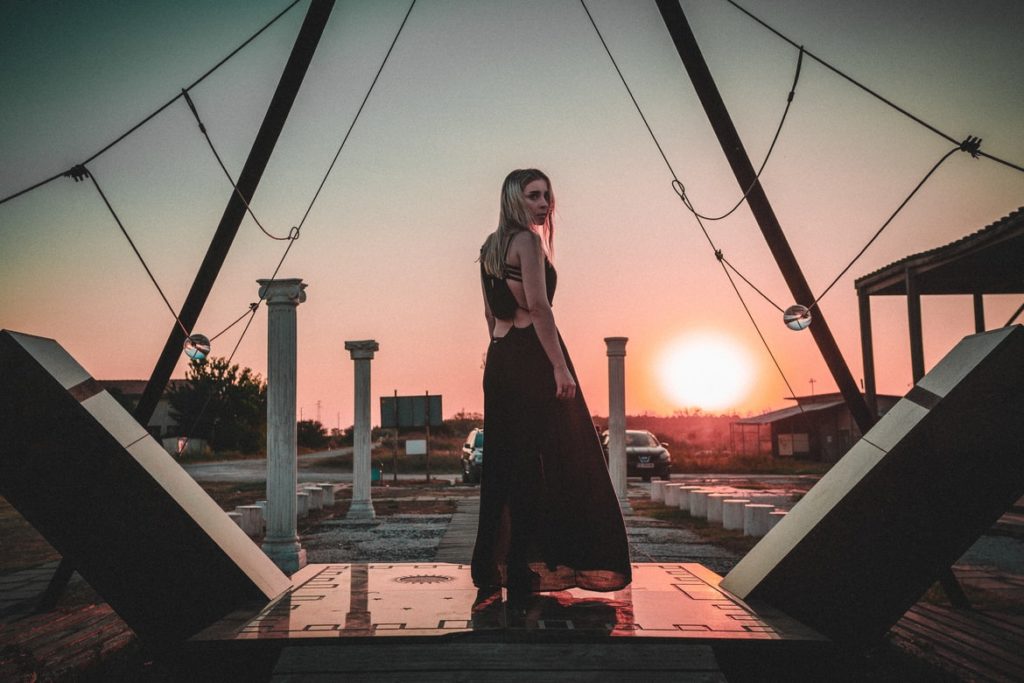 Try A Headshot
What's the first thing that comes to your mind when someone mentions headshot photography? Formal, boring, and overly posed? Well, it doesn't have to be like that. These days headshots are getting more and more creative, just like self-portraits. You don't have to shoot them indoors and use a predictable lighting setup such as butterfly lighting.
One thing you need to have in mind is the profession of the person you're shooting. You shouldn't photograph a creative director and a scientist in the same way! The choice of colors, props, and lighting should emphasize your client's vocation, interests, and character.
Consider Different Locations
If you have enough time and your client wants to try something different, it's advisable to shoot headshots both indoors and outdoors, in-studio and on location, and in the end, cull the best photos. Photographers tend to focus on shooting headshots in a studio, under controlled lighting, and while this might work for some clients, it's not always the best solution.
These are great locations for headshots:
Outdoors in a public park
Office setting
In a street, in front of buildings
In a doorway
At your client's home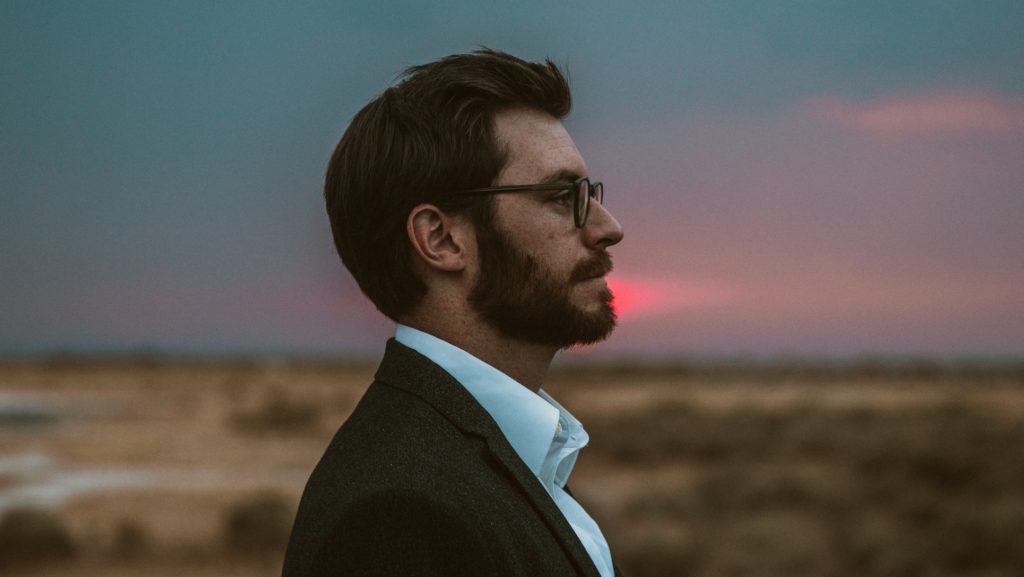 Headshots can actually be split into several main categories – entertainment, modeling, corporate, and branded. Make sure that you thoroughly understand the needs and expectations of your client.