HDR Made Easy? Yes Please – Aurora HDR 2017, Reviewed
Let's begin with my overall assessment of this piece of software and then below I'll simply explain my reasoning behind these scores.
Interface/Ease of Use: 10
Fulfillment of Promise: 9
Photo Editing Quality: 9
Photo Management Quality: 0
Community: 6
Overall: 6.8
In late 2016 Macphun introduced Luminar, a well crafted, comprehensive and powerful all-in-one photo editing suite.
This was not, however, the company's first foray into image editing software, having already established themselves with more specialized applications like Snapheal (for removing unwanted objects and fixing skin imperfections) and Aurora HDR (for HDR processing), the latter of which has been updated and is the focus of this review.
First Up – the User Interface
Ease of use is, once again, the order of the day; Aurora HDR provides users of all skill levels with an intuitive, user-friendly, spacious setup.
Aurora HDR 2017 can be used as a standalone application or as a plug-in for Photoshop, Photoshop Elements, Lightroom, Aperture and Photos. No matter how you choose to launch it, you have the option of working with a single image or a series of bracketed exposures.
Simply select the image or images you wish to edit and Aurora HDR will import them into the workspace.
Once your image is loaded, you'll find the overall look of the interface is rather familiar. Along the top of the screen, you will see basic exif info, a crop tool and display options. The right side of the interface is where all the goodies reside.
The top right corner houses an ever-present histogram; all the adjustment sliders that you will need to enhance your image are available just beneath the histogram along the right side of the screen.
Along the bottom of the screen, you will find Presets. Aurora HDR ships with 9 different preset categories (Basic, Realistic HDR, Landscape, etc.) with most categories containing between 9 and 11 individual presets.
You can save your favorites, create and save your own presets or buy more presets from the Macphun website.
In short, everything in Aurora HDR's working environment is logically arranged, comfortably spaced and easily accessible. So some extent, there's not really a price you can pay for these?
Tools of the Trade
In addition to basic image adjustments (exposure, contrast, color temperature, clarity, etc.), users are treated to a host of HDR-specific tools designed to help you fine-tune your work. Here are just a few of the highlights.
Polarizing Filter – Yes, this tool seeks to function just like the filter you would screw onto a lens. It's a great idea that works decently for some images and poorly for others.For instance, the filter has a tendency to posterize blue skies, though in my experience this mostly applied to bracketed images. Posterization was less problematic when working with a single image. There is great potential here, but your mileage may vary.
HDR Tone Mapping – Tone mapping is a process of manipulating tonal values (converting them from a high range to a lower range) and presenting them in a way that looks good on screen or on paper. This technique creates an HDR "look."In Aurora HDR 2017, the Tone Mapping tools allow you to make adjustments specifically to a set of merged images. Keeping the "HDR Look" slider set to zero produces the most natural looking HDR image possible.
Top & Bottom Adjustment – Aurora HDR 2017 features Gradient and Radial Gradient masks, each of which functions much like what you'll find in Lightroom. Top & Bottom Adjustment gives users ultimate control over exposure, contrast, vibrance and warmth within each section (top or bottom) of the chosen gradient mask.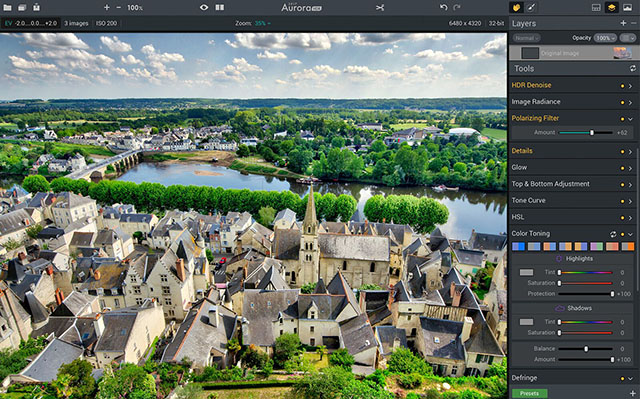 Using Layers
Directly beneath the histogram resides the Layers panel, where you can add or remove an adjustment layer or texture layer; you can also merge additional images from a bracketed exposure series.
Furthermore, you can assign individual masks to each layer. In addition to the Gradient Mask and Radial Gradient Mask, you can also apply a Luminosity Mask. Luminosity Masking in Aurora HDR is modeled after the zone system commonly associated with the work of Ansel Adams.
This powerful feature creates 11 different brightness zones within an image; you then select a zone to mask, which allows for highly selective edits within only that zone (you can select multiple zones if you wish).
Luminosity Masking is, in my opinion, the defining feature of this application — not because it is a concept unique to Aurora HDR, but because Aurora HDR is resoundingly successful at making the process both easy and effective.
Batch Processing – How Does Aurora Cope?
Batch processing is a feature that many users look for in prospective photo editing software. Fortunately, it's present in Aurora HDR 2017. Batch processing appears on the startup screen and gives you the option of selecting individual images or folders containing bracketed exposures.
The main drawback with batch processing in Aurora HDR 2017 is that your editing options are limited to applying presets and a handful of other checkboxes on the processing screen. It's a proficient but underwhelming way to process images, as batch processing means users miss out on truly powerful editing features.
Editing Quality and Speed
Whether one enjoys the HDR look is entirely subjective. Individual tastes aside, Aurora HDR presets generally avoid looking garish; if you encounter a look that doesn't suit you, it can be toned down via the strength slider built into each preset. Lightroom's equivalent plugin would be The Fader, by Capture Monkey.
Of course, all editing adjustments also apply to presets, which can then be saved as custom presets.
General Summary
Overall, Aurora HDR 2017 performed speedily. Loading a single JPG takes under 10 seconds (Aurora HDR supports JPG, JPEG, PNG, TIFF and raw files); naturally, this timeframe varies in relation to the number of images and file type you import.
During editing, image previews load almost instantly.
Processing and exporting are the lengthiest activities — again, how long will depend on how many files you're working with and what settings you've applied (images can be exported as JPEG, GIF, JPEG-2000,TIF, PSD, PDF), but of the few images I exported, none took more than approximately one minute.
Macphun's Community
Macphun offers a number of helpful resources, including a series of video tutorials hosted by Trey Radcliffe, a free 10-lesson HDR webinar, and online user guides.
Availability and Pricing
Aurora HDR 2017 is, as of this review, is only available for Macs running OS X 10.10.5 or newer. Retina displays are supported.
A Windows version is in the works for spring 2017.
First-time buyers can purchase Aurora HDR 2017 for $99USD. Those upgrading from Aurora HDR Pro or Aurora HDR Standard will pay $49USD or $69USD respectively.
My Final Thoughts
Lightroom and Photoshop, of course, are capable of producing HDR images. Aurora HDR 2017, however, makes the whole process easier and faster without cutting corners, and produces results that are at least as good as, if not better than any other products out there.
Whether you're new to HDR and don't want the hassle of a steep learning curve, or an experienced photographer looking to save some time and minimize your workflow, Macphun's Aurora HDR 2017 is well worth your consideration.
Grab the Program Here
Aurora HDR by Macphun