While some photographers were less than pleased with Adobe's move to a subscription service for Photoshop, there are some bonuses to it.
Firstly, of course, you now get two flavours of Lightroom thrown in, you also get space in Adobe Cloud and you have an account with Behance, the creative social network as well. There is, however, one element of the subscription plan that often gets omitted or forgotten and that is Adobe Portfolio.
Portfolio is a free, easy to use gallery site for your photographs. Much in the vein of Smugmug or Zenfolio, you can display your images to the world in a custom designed template and using your own domain name.
While the Portfolio does not have e-commerce capabilities and lacks some of the advanced features of paid gallery sites, it is a useful and powerful tool for those just wanting to display their shots.
Today we are going to have a brief look at Adobe Portfolio's capabilities.
How Do I Get It?
To access your portfolio site you need to go to www.myportfolio.com and sign in to your Adobe account. At the top of the page, you can see Layouts, Photography and Examples:
Layouts: is where you can choose the template that you wish to work with. You can try each layout or preview it as a live site to see how it looks and works. You can change your layout at any time.
Photography: is a guide to what you can achieve with Adobe Portfolio with samples and advice.
Examples: will show you some real world Adobe Portfolio examples.
Getting Started
To start setting up your set you need to click Edit your Portfolio on the Overview page. This will take you to the editing screen. On the left of screen are the content tools used for adding and managing content, applying settings and changing layouts.
The Add Content icon allows you to add a page. This can be a photo or a text based page such as About Me. Lightroom album allows you to import albums from your Lightroom CC direct to a specific location on your Portfolio page. Gallery allows you you to import an entire selection of multiple images and lay them out in various ways. Link allows linking to external pages such as your blog.
The Manage Content section allows you to edit or change the information you have already created on all your individual pages.
The most important icon on this side is the settings. Here we can set up our analytics to monitor visitors, assign our domain name to the site – this will need to be purchased separately or you can use a generic Adobe provided address. You can carry out SEO, search engine optimisation, protect your images and manage your account.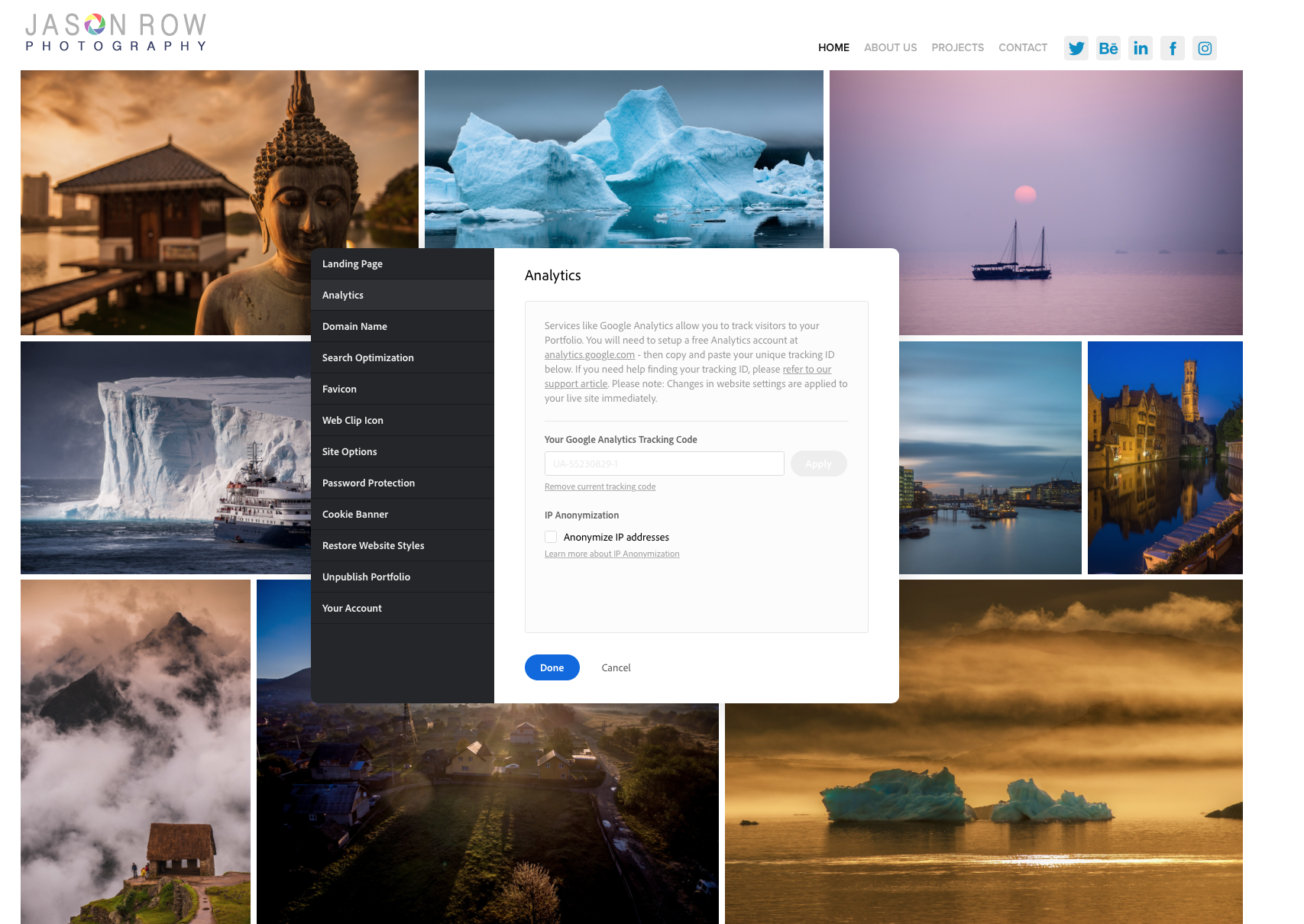 On the right of each page in the Editor are various options to modify the way each page looks. You can upload images, add text, embed media such as video add forms and link to the Creative Cloud. You can carry out this options on an individual page or access the entire site.
Some Hints And Tips
Adobe Portfolio allows you to create a very good looking portfolio style website. If you already have a logo, try experimenting with different layouts that work well with that logo. Take a look at different colour backgrounds to suit your own style of photography. I chose white but some styles look much better out of a darker background.
Getting your own domain name is highly recommended. It gives your website a professional feel, even if you are just an enthusiast. It also removes any Adobe reference making it look as it your site is a bespoke design.
Organise your image galleries logically and make sure your images include metadata such as captions, descriptions and keywords. This will greatly aid the search engines and get people visiting your site. Its well worth setting up an account with Google Analytics as this will allow you to get deep insights as to how people interact with your site.
Don't forget to add social media buttons to your site to allow visitors to share images and to like your social media pages such as Facebook and Youtube. Even if you are not a business, a contact page is useful. Its better to create a contact form rather than display your email, as this will reduce the chance of your email being spammed.
Adobe Portfolio is somewhat of a hidden gem in the Photographer's subscription. As part of a package that includes Lightroom and Photoshop it represents extremely good value when compared to other similar paid options.
While it is not designed to be an e-commerce site, for photographers that wish to raise their profile with a simple but elegant looking gallery site, it is an ideal option.