Oh boy, another extremely fun week at Light Stalking! This has been one of the busiest weeks so far for our community, and we want to welcome the newest 200 Light Stalkers!
We are sure you'll have a blast in our beloved forums, and don't forget to say hi over here!
Last week we had a pretty luminous weekend photography challenge with a lot of beautiful photographs posted by all of you. Sit back and relax, and enjoy everything that you shouldn't be missing from your community.
Photo Of The Week – December 10, 2018
Kent was feeling a little nostalgic this week – and here is what he had to say about his choice of photo of the week!
"Tis the Season"
Some weeks, there are so many great pictures uploaded here on Light Stalking that it becomes almost impossible to make a decision. It's at these times that I typically look to other criteria than simply how masterfully a photograph was created.
One of the criteria that I often use, at these moments, is to look for somebody new. Someone who hasn't won the POTW (to my knowledge), or who hasn't won it often or recently. I narrowed my selection this week down to four images. Three of the photographers fell into the category that I just mentioned.
However, I was still having a tough time narrowing it down to a single shot.
It was at this point that I thought… "We are in the Holiday Season, I'll choose a photograph that reflects that (quite literally). I found Dave's photograph of the antique glass Christmas Tree quite intriguing. The subject isn't particularly new or amazing, but his treatment of it is quite wonderful.
Dave's photograph has beautiful bokeh, and it makes an exquisite use of color. Both of these elements really do nurture up feelings of warmth and nostalgia about the coming holidays.
Congratulations to Dave Watkins on his win for the POTW.
Kent also posted some runners-up this week, so make sure to take a look. Thanks, Kent and a very big congratulations to Dave on a wonderfully festive photo of the week
So What Have We All Been Up To?
The weeks' Weekend Challenge was definitely illuminating! #411 of the Weekend Photography Challenge was Lights!
See what Federico had to say about these wonderful photos from the community
An absolutely stunning photograph that speaks "light" from every single corner that you see it. The city just looks magical.
The light in this photograph is extremely soothing, and the complementary colors give the image a great sense of soft yet obvious contrast.
Odd findings are always interesting to photograph, and sometimes all you need to see reality from a different perspective is a camera in your hands. Thanks Bobbie, this is such an interesting shot.
The light here is fantastic, it really tells a story. While the horses are calm and tranquil, the bright white of the sun is really the opposite of calm, in fact, it is very harsh. There is amazing contrast in this composition.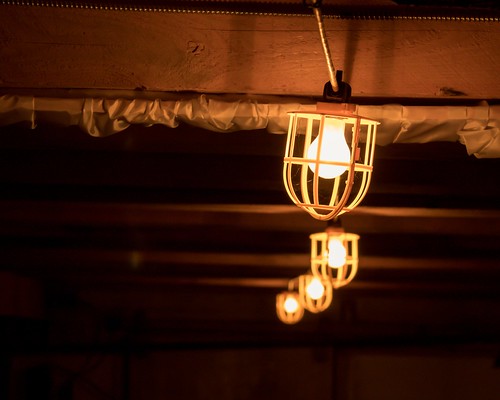 Rhythm is always interesting in photography. Lovely composition and an interesting capture
Here Are Just Some Of The Topics The Community Is Talking About This Week
Tobie shared with us a pretty interesting photo sequence that narrates a curious behavior from the Diederick Cuckoos. You can see all the photos at this post. They are definitely worth your time.
Who knew that geese could cause so much trouble during their migrating season. Just recently Bruce shared with us a photograph and a brief narration upon the migration of some Canadian geese. He says that they fill the lakes and ponds and cause some real mayhem during that time.
Dave shared with us a photograph of the aftermath after the Army Corps of Engineers decided to open up one spillway of Fern Ridge dam near Eugene Oregon after a heavy rainy season. It was basically a ringing dinner bell for dozens of seagulls nearby.
Remember low key photography? Well, Robert Apple (without stating it) shared a photograph that fits perfectly under the low-key technique. The photograph depicts a statue near a National Wildlife Art Museum in a mountain. The low light decision makes it look like the figures are almost alive. We love this image, it is just so magical.
Let's help Kent out, he is trying to buy a camera the Nikon D750 is flirting with his wallet. A lot of Light Stalkers have been encouraging him to do it, it is an extremely nice camera and we are sure he'll love it, but, will he hear all the opinions? Stay tuned!
Chris is heading home on Thursday for Christmas eve, and he shared with us some photos of his team.
Last but not least, a beautiful sunrise!
As Always, We'd Love To Hear Your Thoughts
There are no shortcuts in the act of becoming a better photographer, and as time passes by, it gets even more difficult to improve.
One of the best alternatives to keep pushing your craft further is by receiving (and also giving) critique. Try it out, and you'll see how much power it has.
We have a place on our forums called the Shark Tank, and it has been developed exclusively for photography enhancement via critique.
Please feel free to give your opinion on any (or all) of the photos posted above. They all have some really nice potential, and some of them are already very well executed in terms of composition and exposure but still can be improved.
Also if you have a photo that is making you proud or nervous right now, please share it with us at the Tank!
Please feel free to join to our friendly photography community if you haven't done so already, also please check out the latest Weekend Photography Challenge, depicting color White, remember to check on your white balance for this one!
Following The Trail
Today we will leave you with an enticing shot by Pamela Winter. She posted this as part of the Mobile Monday Challenge – don't forget to post your smartphone pictures to this weekly challenge.
Thanks again to everyone who makes the Light Stalking Community a great one. We will see you all again next week!
If there is anything else you'd like to see in this weekly wrap up, then please tell us in the comments below.