We have previously discussed the main reason that long-exposure photography is so appealing – because of how it presents the world in front of us, but in ways which are impossible to see with the naked eye.
In this new article, we'll see the work of five photographers who have been working with long exposures in a unique way. The following work is also important in the world of contemporary fine art photography. Don't forget to take a look at our famous landscape photographers post too.
When he was very young (fifteen years old precisely), Alexey became involved not just with photography, but with the photographic discipline by becoming the youngest member of the independent Zerkalo photo club. His style was influenced not just by artists like Alexander Rodchenko and Kazimir Malevich, but also by the social context of the final days of the Soviet Union. People were struggling with the end of an era, and Alexey was there to capture it with the available photographic tools he had in his hands.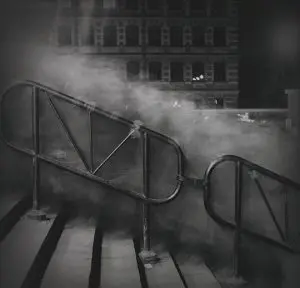 During these complex days during and after the dissolution of the USSR in 1991, his most iconic work became to light. These images were taken at simple urban spots where it was common for people to gather in. City of Shadows is a photographic work that revolves around people's interaction with the public transportation system. He captured this social reality with a unique and poetic aesthetic. He turned crowds into shadows by shooting with long exposure settings and intentional camera movement as well. He has been working around social documentation with this style until recently.
The images of City of Shadows (and other recent works) result in a peculiar yet recognizable mass moving in the scene. We know those shadows are people, because the nature of humankind is obvious and visible. Small details, like a still hand grasping a metal bar, or a lonely pair of shoes, lend a gloomy sense of decay and weight to the images.
If you are familiar with my articles, you'll know that I have a strong thing for books and photobooks. Hopefully one day I'll get myself a copy of "The City is a Novel", which includes the work from "City of Shadows", and more work from other cities like Havana and Venice.
You can see his work here, and here, and you can see the man talking here.
The work of Chris McCaw is almost surreal, something totally unique, yet simple to understand. He is largely known for his series called "Sunburn" in which he shoots his camera loaded with photographic paper and solarizes it with the light. These images are unique because the long exposure (some of them have lasted more than 24 hours) literally burn the paper in some points. The result is a beautiful trace of the sun.
McCaw is definitely pushing the limits of photography, and even though we might think that everything has been done already, he states a different thing by innovating with a physically manipulated image.
Photography has been criticized as "minor" art due to its reproducibility – but with the work of Chris McCaw, every image is unique.
You can see his work here.
Darren Moore
With a deep passion for long exposures, Darren Moore delights us with utterly unseen magical worlds that we will never get to meet. With a true mastery of exposure maneuvers (from settings to ND filters), the resulting images of this fine art photographer are always slow-paced and hauntingly subtle.
Recently he has been working with color, which adds a whole new level of complexity to his compositions. The image's message must compete, in most cases, with the imposing presence of color; that's why the message delivery is more efficient when a photograph is presented in monochrome.
You can see more of his work on his website. And this is my all-time favorite from Moore.
Hiroshi Sugimoto (1948 – )
The work of Hiroshi Sugimoto is an indulgence for the eyes. He came to photography very young, at the age of 12. He first started his academic training in politics and sociology at the Rikkyō University, but after some time he retrained himself as an artist and received his Bachelor in Fine Art at the Art Center College of Design in Pasadena, California.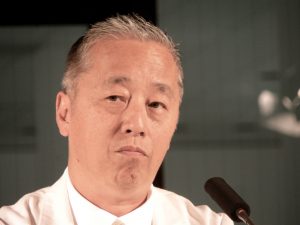 His career as an artist has been unique indeed, with constant challenges. One of his first works focused around Conceptual Forms and Mathematical Models. After that he did a delightful series of photographs that attempted to give a richer nature to taxidermic figures at museums of natural history.
Even though Sugimoto's works are interesting, the ones that I enjoy the most are those that are obviously long-exposure photography. One of them is "Seascapes", where he portrays the thin boundary between water and air on the ocean. One of his pieces was the front cover of U2's album "No Line on the Horizon". And the other series that I love like nothing else is the one that boldly personifies the character of cinema. This series is called "Theaters". Here he shoots a frame that holds the entire architecture of movie theaters (or at least where the movies come to life), with a exposure that lasts the entire length of the movie. This results in a dimly lit architecture, and a pure white rectangle in the middle of the frame. This pure white nature happens due to the light the movie deploys.
While doing some research, I stumbled onto Jay Vulture. Even though he is not yet as famous as some of the other photographers listed in this article, his images are worth checking out.
He treats his images with a subtle nature and a rich aesthetic quality. His compositions are not serendipitous, which efficiently illustrates the fact that great things result from practice, hard work, patience and a constant pursuit of the sublime.
If you would like to explore long exposure photography for yourself and take your skill set that extra step, then you should take a look at Kent Dufault's excellent guide to long exposure which is on special for Light Stalking readers this week. Grab it here.