Landscape photography is the art of encapsulating the intimate bonding between the photographer and nature. As one of the most popular genres of photography in existence, landscape photography stands out due to its portrayal of nature.
It mainly deals with nature and landscapes, but at times it also captures the man-made elements that contaminate or accentuate the beauty of nature.
In any case, landscape photographers are looking to capture the beauty of nature in many ways, by experimenting with various approaches. Some of the most famous landscape photographers were known to shoot exclusively in black and white, while others prefer color landscape photography. Similarly, many landscape photographers enjoy shooting wide-angle scenes and they love to experiment with drone photography, while others prefer to focus on interesting details in nature.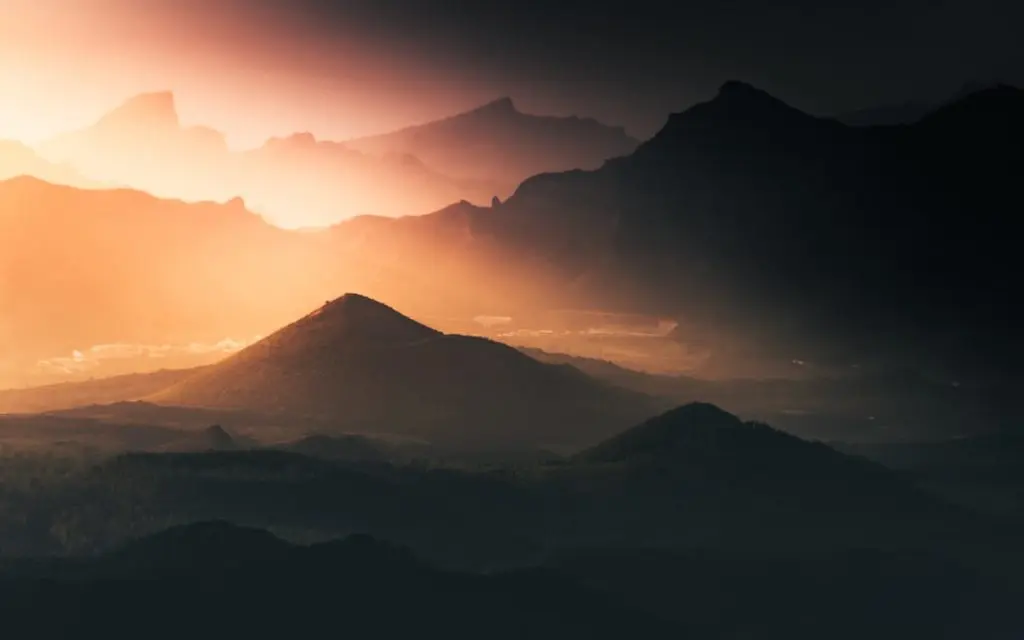 The works of these famous landscape photographers might be just the push you need. You may not become another Ansel Adams, but your landscape photos can surely improve if you follow certain guidelines and draw inspiration from these famous landscape photographers. Besides reading about them in this article, make sure to check out their portfolios because all of them are true masters of landscape photography.
Famous Landscape Photographers:
1. Daniel Kordan – Entire World Is His Home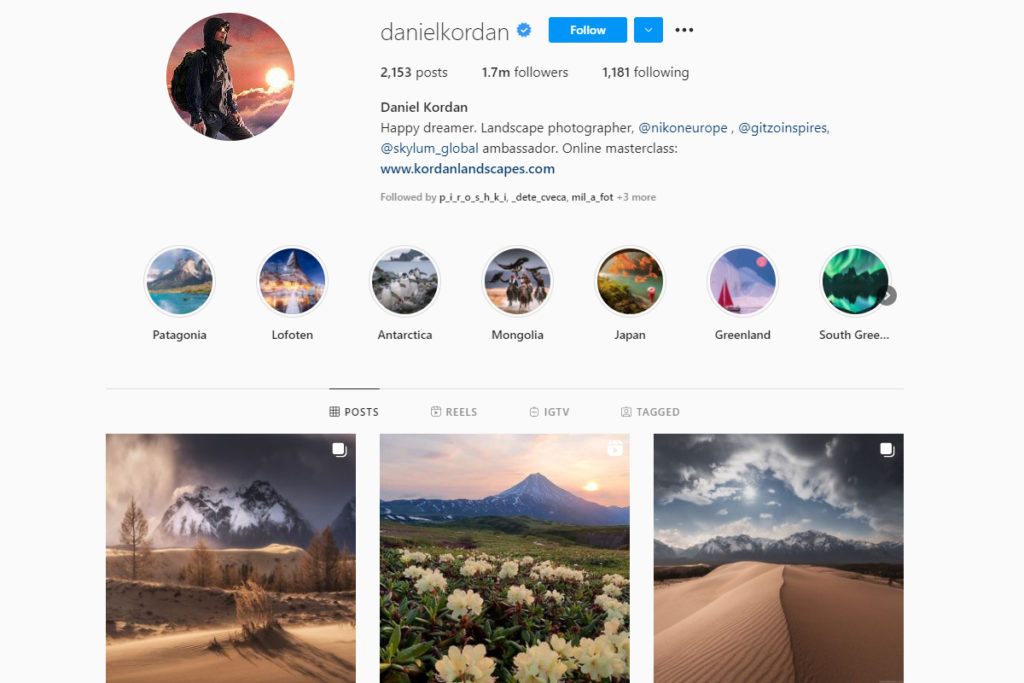 Growing up in the wondrous city of Moscow, Daniel got to experience the raw beauty of nature from a very young age. He is fond of his childhood and the love he has for nature – for he wandered through the woods and explored the lake near his childhood home.
Even though Daniel majored in physics at his university, he never stopped learning and relearning nature. His outstanding style and flawless techniques produce passionate shots that make you feel thousands of emotions at once.
Soon, he became experienced in hiking and guiding tourists. Later, he signed as a guide in a photo workshop and soon became the chief editor of "Continent Expedition." Daniel has bagged a myriad of awards and achievements, including the Golden Turtle's 13 Nature nomination winner, the Trierenberg Super Circuit award for the best landscape photographer, and numerous others.
His pieces have been published in various prominent magazines like Photography Week, National Geography, Discovery, and Digital SLR Magazine UK.
With over 1 million followers on Instagram, Daniel's works of landscapes tug at your heartstrings. Be it the icy mountains or the burning volcanoes, Daniel captures them all. Some of his famous works are Meteor Over a Volcano, 2020 Madeira, 2019 Japan Fireflies, and Aurora of South Greenland.
Daniel is spending most of his time in Norway at Lofoten islands and in Tuscany, guiding groups from Europe, UK, US, Asia, and Russia. He is an official Nikon, Gitzo, and Lucroit ambassador.
2. Ansel Adams – The Legend Among Landscape Photographers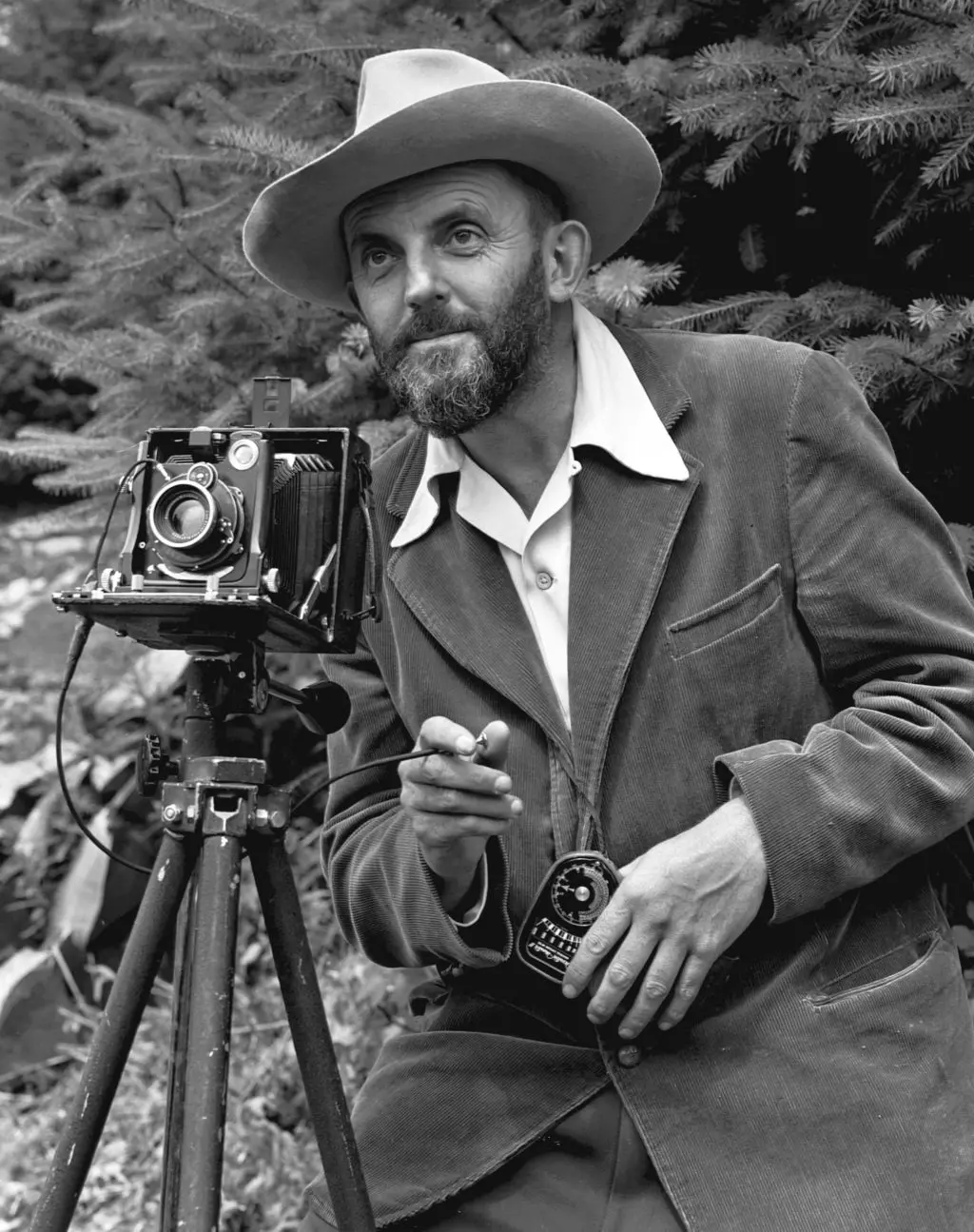 A photographer and environmentalist, Ansel Adams was known as the King of Landscape Photography and is widely regarded as one of the best landscape photographers to ever live, if not the best. A solitary childhood let Ansel discover his deep adoration for nature. He made several trips every day, and his love for nature was nurtured by the trips he took to the Golden Gate.
Yosemite Sierra transformed Ansel forever. There, he explored his photography skills and deeply immersed himself in the hands of nature. Transfixed by the Yosemite range, he volunteered for hiking camps and then settled there for a long time. Ansel's contribution to the field of photography is endless. The author of several books on his life and photography, Ansel's style stood apart from everyone's in the shades of black and white. With their clarity and crispness, Ansel's photographs were never just photographs. They are untold stories, unsung poetries, captured by a man who shared an intimate connection with Mother Earth.
Ansel received countless awards, and it is notable that several awards and places have been named after him. As a keen enthusiast of nature, Ansel always worried about the fate of America's wildlife and nature and how industrialization was tearing apart the natural resources. He has also helped found Group f/64, an association of photographers advocating "pure" photography which favored sharp focus and the use of the full tonal range.
Even after all these years, Ansel still remains to be one of the greatest inspirations for every landscape photographer. A few of his acclaimed photographs are Lodgepole Pines, Rose and Driftwood, Moonrise, Winter Sunrise, and The Tetons and The Snake River.
Adams was a key advisor in establishing the photography department at the Museum of Modern Art in New York, an important landmark in securing photography's institutional legitimacy. He helped found the photography magazine Aperture, and co-founded the Center for Creative Photography at the University of Arizona.
3. Michael Frye – Landscape Photographer, Educator And Writer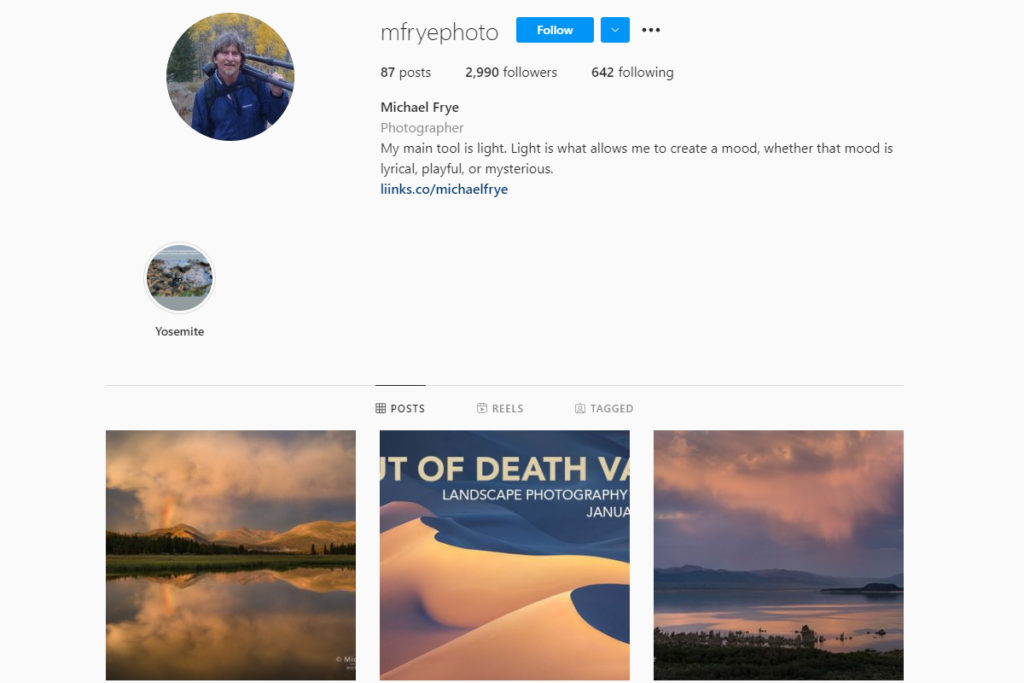 Michael's family shifted to the Willamette Valley of Oregon when he was young, and he grew up in the amazing Pacific Northwest. Scaling Cascade Mountains to the east, mesmerizing Oregon Coast to the west, Michael's life is filled with splendid landscapes. He has interests in many fields, and photography is one of them. From graphic design to photography to semiconductor physics to painting, he never hesitates to step into the field that intrigues him.
Michael Frye has authored five books and three ebooks on photography; he has been working on improving his skills in this field for over 30 years.
Michael believes that photography is not just about capturing an object. For him, it is also about the "radiant energy" that comes from the photographer when they interact with their subject. He dabbles in different styles, for he doesn't wish to restrict his style to a uniform way.
Michael's collection Night Work stands to be one of his best works with the sensation of the mystery of the dark surrounding these shots. In this range, Michael exposes the serenity and chaos of night flawlessly.
His images have been published in over thirty countries around the world, including the magazines National Wildlife, Outdoor Photographer, American Photo, Sunset, Texas Highways, and many others.
4. Charlie Waite – From Theater To Landscape Photography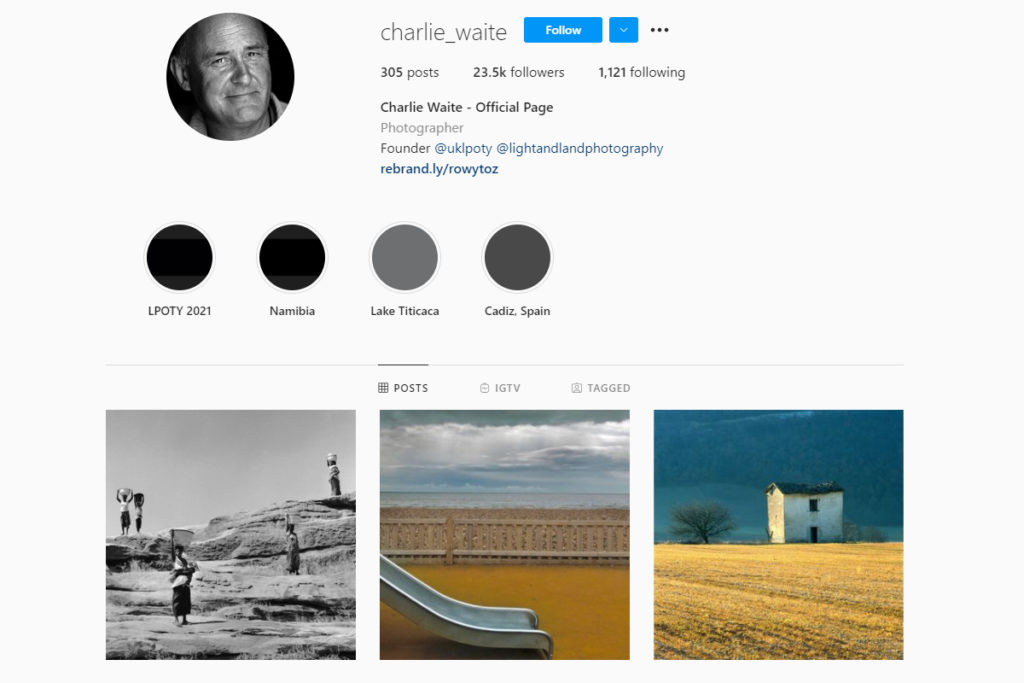 Now recognized as one of the prominent landscape photographers in the world, Charlie began his professional life by working in the British Theatre and Television for a decade. Charlie was intrigued with the lighting and designs of theatre, so he slowly started capturing landscapes. His specialization lies in the "painterly" approach he takes toward landscape photography. Playing with lights and shadows, Charlie has created a unique style of photography that has garnered him immense fame and reputation across the globe.
His photographs are powerful and lively; he manages to deliver both serenity and power in a single shot. With their ability to garner anyone's attention, these pictures arouse in every viewer a swell of emotion for the landscape and the beauty of nature. He is noted for his square format images using a 6×6 Hasselblad.
Having conducted over 30 solo exhibitions worldwide, Charlie has been the recipient of several honorable awards. In 2007, he received the Amateur Photography's Power of Photography award.
Charlie has written for several magazines and newspapers over the decades. He has presented numerous lectures on landscape photography and has also hosted various photography shows on famous television channels. Manipulating the lighting according to his needs and an eye for a distinct style has served as the specialty of Charlie's photographs. His experience in theatre acted as a big positive for him when he stepped into the field of landscape photography.
It's also important to mention that Charlie is the owner and founder of Light and Land, Europe's leading photographic workshop and tour company. Light & Land has been running photographic tours, courses, and workshops worldwide for over 25 years that are dedicated to inspiring photographers and improving their photography.
5. Max Rive – True Adventurer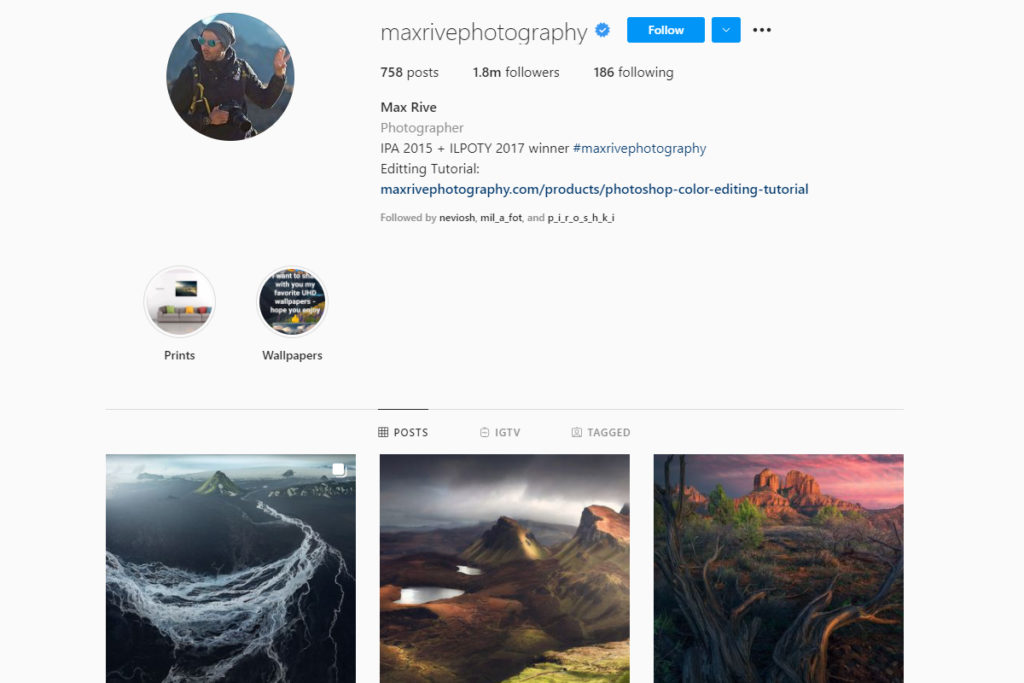 When Max saw the high mountains of Switzerland for the first time at the age of 5, he deep down knew that he would come to share a fiery passion for the highlands and landscapes. It took him many years to return to that passion, and when he once started, he couldn't let it go. Landscape photography is a lifestyle for Max – it allows him to see the world and it gives him the challenge and purpose that he needs to stay excited.
The number of times Max Rive has almost lost his life is alarming – from hiking accidents to plane crashes, Max has been on the brink of death many times. But, all this has only added to his motivation and desire to discover the hidden gems of our Earth and explore its beauties thoroughly. Max Rive was named the International Landscape Photographer of the year 2017 for his marvelous stills of several breathtaking landscapes.
Also known for his incredible editing skills, Max's editing plays a major role in transforming his pictures into masterpieces. He aims for a moody yet vibrant style, which stands out beautifully among the general landscape shots.
Max has traveled to numerous places – Chile, Argentina, Nepal, New Zealand – and he keeps finding new adventures in every place he goes. His portfolio consists of several collections from all the mountain ranges he has visited, from the Swiss Alps to the Himalayas; Max has managed to capture the magnificence of the mighty hills with his skilled hands.
6. Caroline Foster – Ethereal Sense Of Nature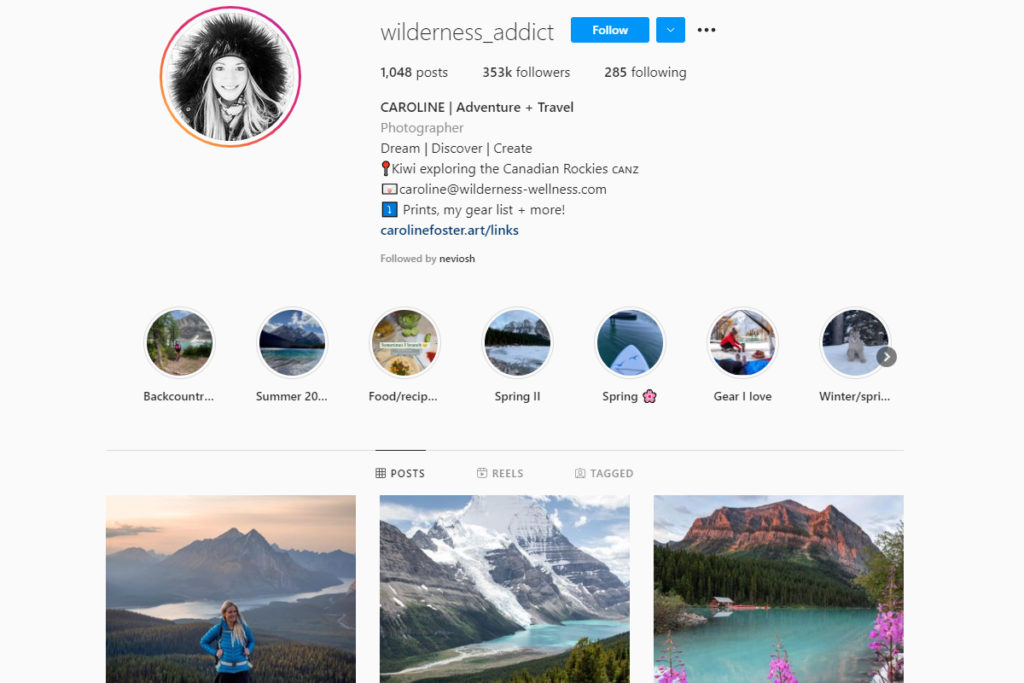 Famously known as the Wilderness Addict, Caroline is a New Zealand-born and raised freelance landscape photographer who has adored nature for as long as she remembers. As her traveling addiction intensified, her passion for photography also rose. Although she completed her Masters in Clinical Nutrition, after working as a professional for a few years, Caroline made photography her full-time business and started to pursue it seriously. In March 2009, Caroline moved to Los Angeles and spent the next 10 years traveling, living, and working in several different US states.
Now, Caroline works as a full-time freelance photographer and social media influencer, living in the picturesque Canadian Rocky mountains. She mostly dabbles in self-portraiture and adventure photography, along with landscape photography.
Finding pleasure in the mundane yet mystical scenes, Caroline cares about the journey of her life and not the destination. With her quest for exploring and thirst for adventure, Caroline manages to seize the right moment everywhere she goes. She is certainly one of the most famous landscape photographers when it comes to women.
Her portfolio is enchanting and it delivers the ethereal sense of nature. Concentrating mostly on the grandiose of mountains, lakes, and the cozy cabins adjoining them, Caroline's shots take you right to the mountains themselves.
7. Marco Grassi – Monumental Landscapes
A self-taught artist, Marco was born and brought up in northwest Italy. Marco discovered his passion for photography when he laid his eyes on the breathtaking landscapes of New Zealand. Lifting a camera on his hands during a gap year, Marco never put it down.
Marco's distinctiveness in landscape photography relies on his ability to capture monumental landscapes with a touch of peace. The tones and colors of his images stand out, making it a vivid and unforgettable experience for the viewer. He is one of the most famous contemporary landscape photographers who specialize in color photography. The vividness of his landscapes is simply breathtaking.
His photos generally focus on emphasizing the vastness of a landscape – be it a mighty mountain range or a vast desert region; his photos make us realize how insignificant we are when compared to nature and its magnificent landscapes.
Now, Marco focuses on exploring all around the globe for pristine lands and extraordinary landscapes. He also leads several photography workshops and aims to share his knowledge and experience with the camera and nature with others. As a true travel addict, Marco doesn't let rugged weather and unprecedented conditions stop him from jumping into the next adventure.
His best works have been published in a wide array of media outlets, including The Telegraph, CNN, BBC. He won the Outdoor Photographer of the Year award in 2015 and was presented with honors at the Magnum Photo Awards in 2016.
8. Michael Shainblum – Night-Time Landscapes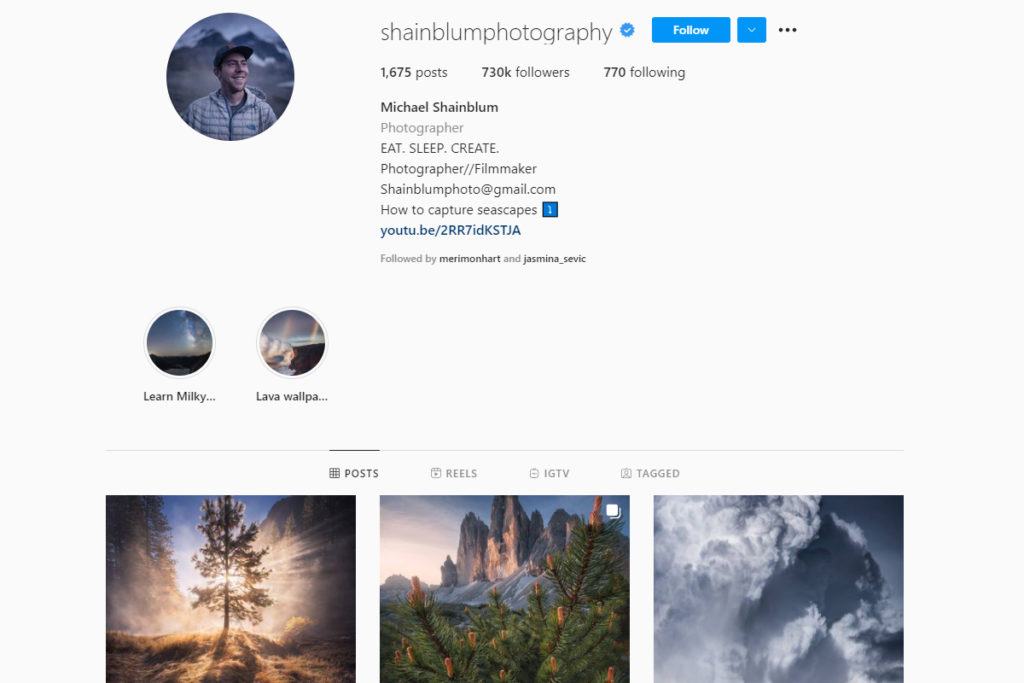 Michael Shainblum specializes in landscape, aerial, timelapse, and astrophotography.
With over 700,000 followers on Instagram, Michael is one of the famous landscape photographers known for his lighting and night-time photography. Born and brought up in San Diego, Michael's family later relocated to San Francisco. Interested in art from a very young age, he has been involved both as a filmmaker and photographer since he was 16. This experience has made it possible for him to understand the nuances of the art of landscape photography.
Michael studied photography at college and has a firm background in the field of commercial photography. He is celebrated for his peculiar angles! He aims to explore different techniques without having to constrain his style.
Pushing the limits of his creativity and challenging the traditional style have helped him create a niche for himself. Michael's specialty lies in his astounding time-lapse pieces. This mesmerizing range of work leaves anyone speechless with its intricate detailing.
His dynamic photography has earned him publications in several media outlets such as National Geographic, The Weather Channel, and The Wired. He also partners with mega-brands like Nike, BMW, Samsung, Apple, and many more. His official website showcases all of his enigmatic creations.
9. Mandy Lea – Mountain Photography
Mandy Lea is an American photographer who was fond of her days of camping in Colorado when she was younger. As a person who has always been impressed by nature, Mandy slowly learned to capture its sensational beauty. Nowadays, Mandy specializes in mountain photography and has grown to a deserved spot among other famous landscape photographers.
After working seventeen years in photography stores, she decided to take her knowledge of photo editing, camera equipment, and photo education on the road. Giving up her long-standing professional photography career was tough for her, but the risk was worth it. She quit her job, brought a teardrop camper, and headed for the woods.
Nowadays, she runs a blog where she releases updates on camping, life on the road, and mountain photography.
Her works are frequently published in several magazines, both online and offline. Mandy is a brand ambassador for several products that she uses, such as nüCamp RV, Princess Craft RV, 3 Legged Thing, and many others.
10. Michael Kenna – Dreamy Long Exposures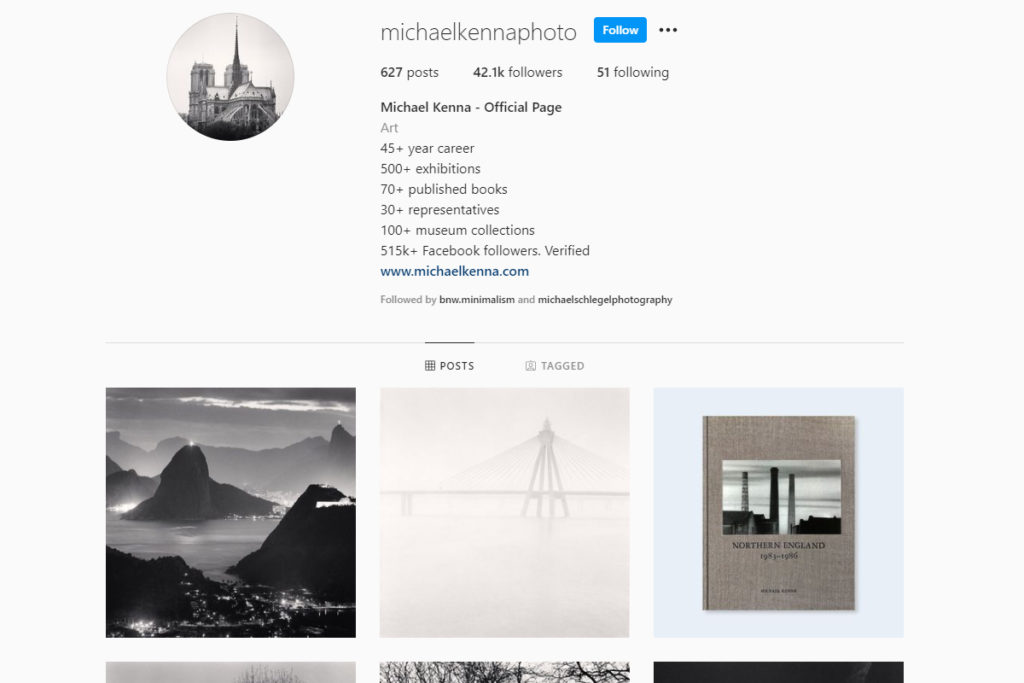 Born in Lancashire, England, Michael's photography technique focuses on long exposures. When he was young, Michael wanted to enter the priesthood. But, as he grew, his interest shifted to art and photography. His passion for long exposure made him one of the most famous landscape photographers with dreamy, silky-looking imagery. His landscape photos are very poetic and he photographs in black and white only.
He usually photographs at dawn or at night with exposures of up to 10 hours. In addition to that, he shoots on traditional mediums and has grown very comfortable with it. Micheal never felt the need to start working in the digital medium, so he never did.
Often shot at dawn or in the middle of the night, Michael's images of stunning landscapes capture the elements that are often hidden or looked over by a viewer.
In his forty-six-year photography career, Michael has achieved several milestones. His photographs have been exhibited in over four hundred museum exhibits. As a genre of its own, Michael's style concentrates mainly on natural landscapes and their interaction with man-made structures.
Featuring ethereal lighting and shadows, his photographs are shot with exposures of up to 10 hours. Michael won the Chevalier of the Order of Arts and Letters in the year 2000. Other than that, he also won the Golden Saffron Award in 1996, the Special Photographer Award in 2016, and numerous others.
His famous works include Kussharo Lake Tree, Seven Posts in Snow, Huangshan Mountains, Shellfish Walls, and Bassin De Latine.
Final Words
There is no one way to design or create art, and the same goes for shooting landscapes. We have only listed a very few of the ever-growing list of talented and famous landscape photographers past and emerging.
Each of the above-listed artists is specialized in their distinct ways, and that's how they all stand unique and successful. Develop your style, seek nature's infinite beauties, and you can excel in landscape photography too! Again, make sure to check out portfolios of these famous landscape photographers – I have listed them in the links below!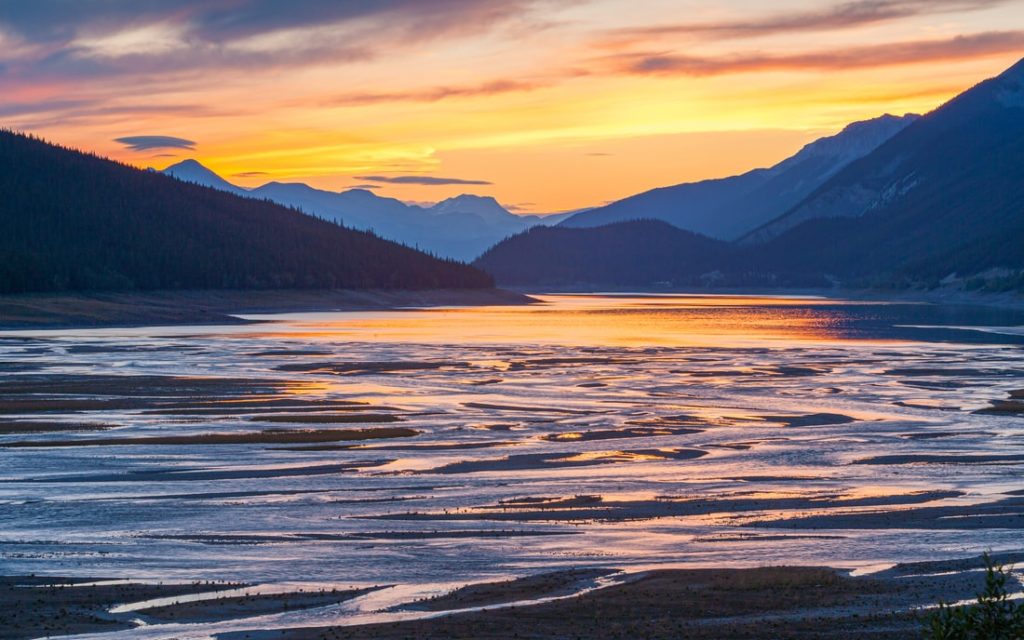 Photo Collections Of Famous Landscape Photographers
The Ansel Adams Gallery offers the best collection of photographs of this legendary photographer.
Daniel Cordan is another famous landscape photographer with a great online presentation you can check out here.
Trey Ratcliff has many of his famous landscapes in his Flickr gallery with over 6000 images! You should definitely take a look at them here.
The list of famous landscape photographers wouldn't be complete without this stunning portfolio of Michael Kenna.
If you enjoy mountain photography, don't forget to bookmark Mandy Lea's blog.
In case night time photography and astrophotography appeals to you the most, Michael Shainblum has an outstanding portfolio.
Marco Grassi also has a wonderful online presentation of his monumental landscapes.
Of course, this is by no means a comprehensive list of famous landscape photographers! We could (and may in future) add such visionaries as Dorothea Lange, Edward Weston, Hiroshi Sugimoto, William Henry Jackson or Imogen Cunningham among many others. We hope you enjoyed our list of resources on famous landscape photographers. Feel free to share your comments with us, as well as your own favorite landscape photographers.