The lens is the most important part of the camera that aids in achieving clean sharp images and it is important that great care is taken to protect the glass from the weather and other wear and tear. Dirty glass means, poor image quality and there are proper methods that you need to follow to clean your lens without causing any damage to its glasses and other parts.
Cleaning your lenses is not like your normal day to day cleaning of other items that you use and there are various things that you need to follow and avoid when it comes to cleaning lenses.
Remember, cleaning your glass when they need a clean will avoid damage to the lens and save you from spending more time and money on lenses. Do not forget to make use of the lens hood and lens cap whenever possible to avoid damage due to dust, dirt and other accidents.
Image by Snapwire
Note: If you were out in the sand, especially by the beach or in the sand dunes or in places where the wind carried sand (for example dust storm), be very careful how you clean the lens and the only method recommended would be to use the blower and then to carefully use a very soft brush for the edges.
Clean your lens only if needed: Lens glass is not just ordinary glass, but it comes with advanced coatings that aid in transmitting more light to the sensor (to avoid reflections) and to avoid ghosting and unwanted flares. Repeatedly cleaning your lenses can cause damage to these coatings – so clean the glass only when necessary. Try to avoid touching the lenses to avoid fingerprints and other greasy smudges settling on the lens and catching the dust around.
Possible areas where smudges need to be looked at are the rear elements where any dust or smudges may have a serious impact on the image quality. If handled well, dust and smudges in rear elements can be completely avoided.
Image by Free-Photos
Here are some of the safest ways that you can follow to clean your lens, depending on the type and amount of dirt.
1. Blow Or Brush The Dust: As much as possible, use a blower or a brush with very soft bristles (brushes with camel hair are recommended) to remove dust from the lens. Do not touch the brush with your hand or fingers as oil or dirt from your hands can stick to the bristles. Blow a few blows away from the lens before blowing on the lens to avoid dust from blower settling on the lens.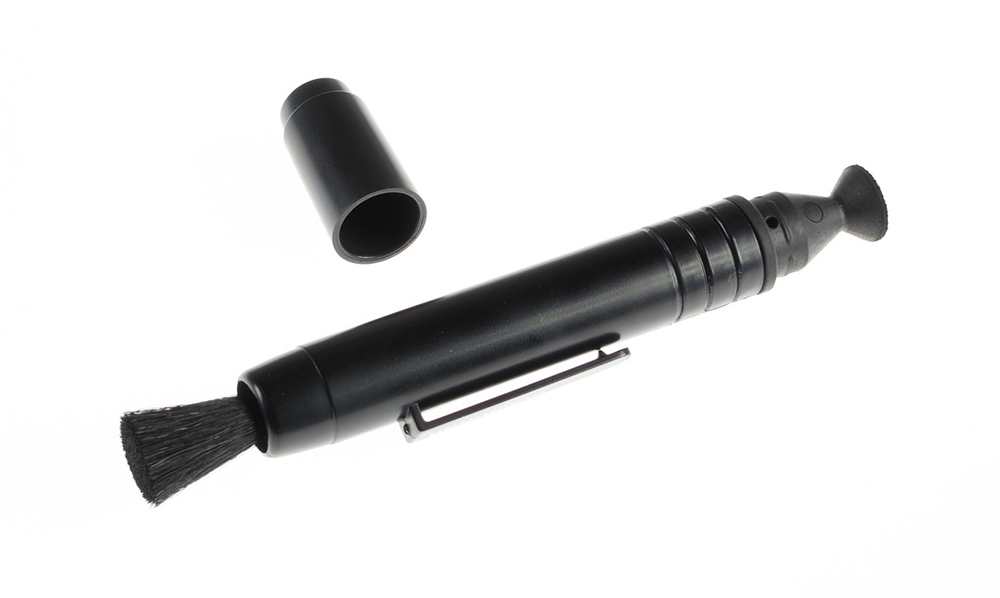 Image by J0e
2. Use Lens Cleaning Solutions When Necessary: In cases where there are smudges, use lens cleaning solutions on lens cleaning tissues and gently clean the glass to remove fingerprints or smudges due to sweat or oil. Be careful to have removed any dust beforehand using blowers or soft-bristled brushes, as this can lead to scratches on the front element when wiping with tissues.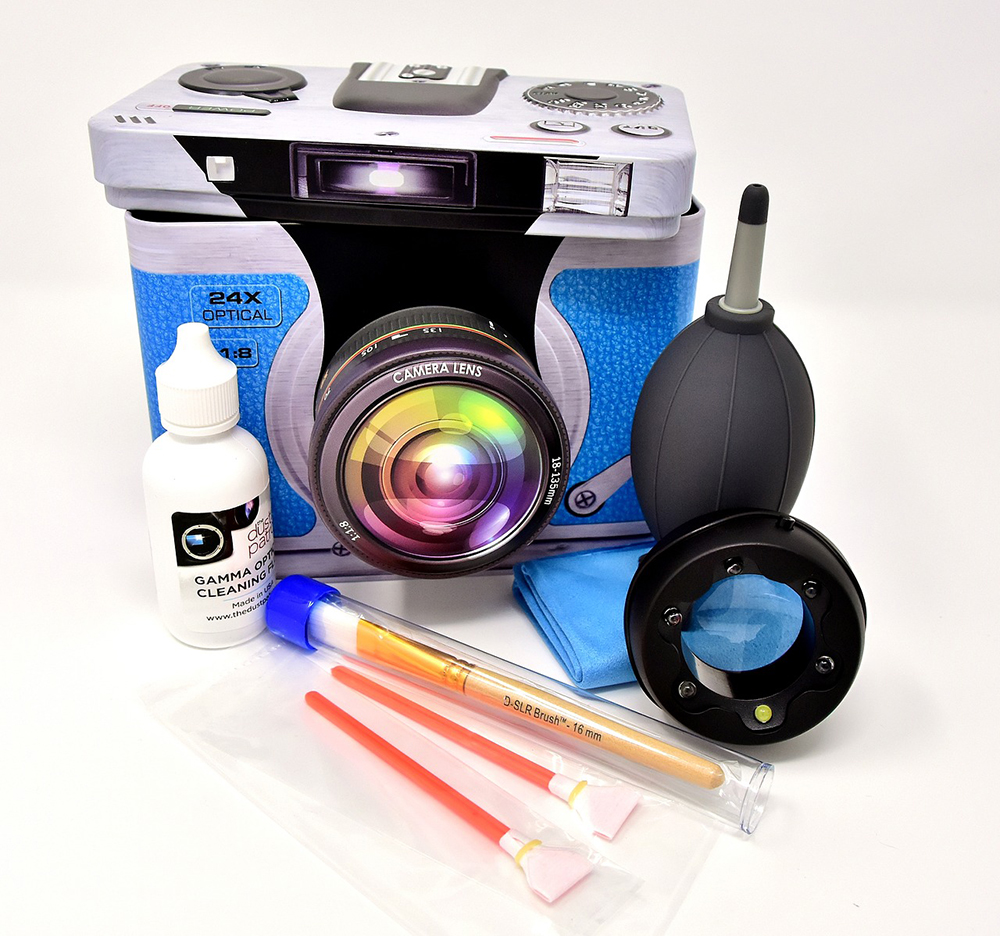 Image by Alexas_Fotos
3. Microfibre Cloths Are Friendly In Removing Minor Specks And Smudges: The most popular cleaning materials are microfibre cloths that can be used to clean greasy specks and fingerprints. When using these cloths, you need to make sure that the cloths are dust free as these are multiple use and that can cause scratches on the glass and damage the coating if cleaned along with dust. These can be used with or without lens cleaning solutions depending on the type of dirt you wish to remove. Storing them in plastic bags will prevent dust from accumulating in the microfibre.
Image by Annca
4. Use Cotton Swabs For Grooves: For cleaning the grooves on the body of the lens, you can use cotton swabs dipped in lens cleaning solution. As much as possible, use cleaning solutions that are recommended by lens manufacturers as they will be safe with optical coatings. Look for one in an experienced camera store if possible.
Image by StockSnap
5. Work In Concentric Circles: When cleaning the lenses, rather than wiping across, working in concentric circles starting from the center will help avoid streaks across the lens.
6. Your UV Filter Can Handle All The Damage: Having a good quality UV filter on the lens can protect your lens from scratches, dust, dirt and even accidental breakage. So you will be cleaning the filter instead of the lens and if anything happens like scratches or damage to the coating, you can replace the filter for a lot cheaper price than the lens.
Photo by FilterGrade on Unsplash
If you are very nervous about cleaning sensitive parts of your lens, leave it to the pros and stay in peace.
Some Don'ts To Safeguard Your Lens:
Do not use your mouth to blow on the lens as this may leave dirt and saliva from your mouth on the lens.
Do not use facial wipes as they may contain moisturiser and other abrasives that may damage the coating on your lens, scratch and/or leave more smudges.
Do not clean the lens if there was just a speck or two of dust as it will not kill image quality, but be careful to keep your camera bag and storage area for lenses free of dust and dirt so it does not collect in the lenses. The reason is, repeated cleaning can damage any coating and create scratches on the glass.
Do not use your cotton t-shirt to clean the lens as the material is not recommended and again, your shirt can have dust and other oily residues that can damage the lens or make it dirtier.
Make sure that you do not have the lens cleaning solution running to the edges of the lens as they can enter the lens body and cause damage by being in there for a longer period of time.
Do not apply too much pressure while cleaning with tissues – a gentle wipe is enough.
When using microfibre cloths, do not use the same cloth for glass and body as dust from the body sticking to the cloth can damage your lens coating. Also, do not wash micro fibre cloths with fabric softener as the chemicals they leave behind can scratch the glass.
Do not use toothbrushes (however soft the bristles may be) as some recommend as these when used repeatedly can damage the coating on the lens.
Do not use anything to clean the lens contacts in case you get lens errors as any solutions or other cleaning material may cause serious damage to the sensitive metal, rather just leave them alone and if necessary, use a very soft brush or leave it with a pro.
Do you have any tips on looking after the lenses? If so, please feel free to share them in the comments section below.
If you are just starting your photography journey then you should check out "The Photo Ebook by Richard Schneider" that has over 250 pages of insider tips & techniques to take better photos in any lighting conditions.
Further Resources: