While you've most likely heard of the golden hours – that time right after sunrise or before sunset where the outdoors turn into a golden paradise – the blue hours are also a fantastic time to photograph under dramatic lighting.
Chances are you've seen examples of blue hour photography but didn't realize that they were anything more than well-timed night shots. To get that blue/purple quality to your images, there's a specific window of opportunity during the twilight times (just before sunrise and after sunset) where your image is flooded with a stunning overcast light, illuminating your scene in an otherworldly fashion.
Often – especially with longer exposures – what you see in real life isn't always what you see on your LCD screen. The camera has the ability to pick up tones and colors that you don't normally see – nature's way of creative lighting.
So now that you know what the blue hours are, the more important question remains:
How do you capture blue hour photos?
Choosing a Subject
While the basic guidelines and principles of photography apply to blue hour photography, there are still common subjects that seem to work very well under this light – three are the most prominent in my mind.
Cityscapes – Photos of urban areas – especially skylines – benefit greatly from the blue hour. As opposed to night shots where the sky is darkened, the blue hour provides much interest in the backdrop in addition to bathing your scene with that fantastic blue/purple hue. Combine this with lighting from artificial sources (windows, streetlamps, bridge lights, etc.) and you can have a truly outstanding image.
Portraits – Another popular subject to capture during the blue hours is portraits. The soft lighting of the sky (not to mention the incredible color) creates a surreal environment for truly exceptional portraits – the perfect setting to get creative.
Landscapes – Whether you're photographing the rocky coastline or the middle of the desert, the twilight hours are an exceptional, unique way to capture a landscape.
Judging Your Exposure
A huge concern with photographing the blue hours is your exposure time since you're working with limited light. This translates to longer than normal shutter speeds, meaning motion blur and camera shake come into play.
While you're not working in complete darkness, there is a substantially lower amount of light to work with – slow enough to blur your image. With this in mind, a tripod is absolutely necessary to not only stabilize your camera, but to help you frame your image more accurately.
This is especially true when photographing cityscapes as you'll be using a shallow aperture (f/11 -f/16 range) to get great depth of field and detail – it wouldn't be out of the question to have a shutter speed of 1 full second or more while working in this aperture range.
Smaller apertures also give that starburst quality to light sources – another reason why it works so well for cityscapes.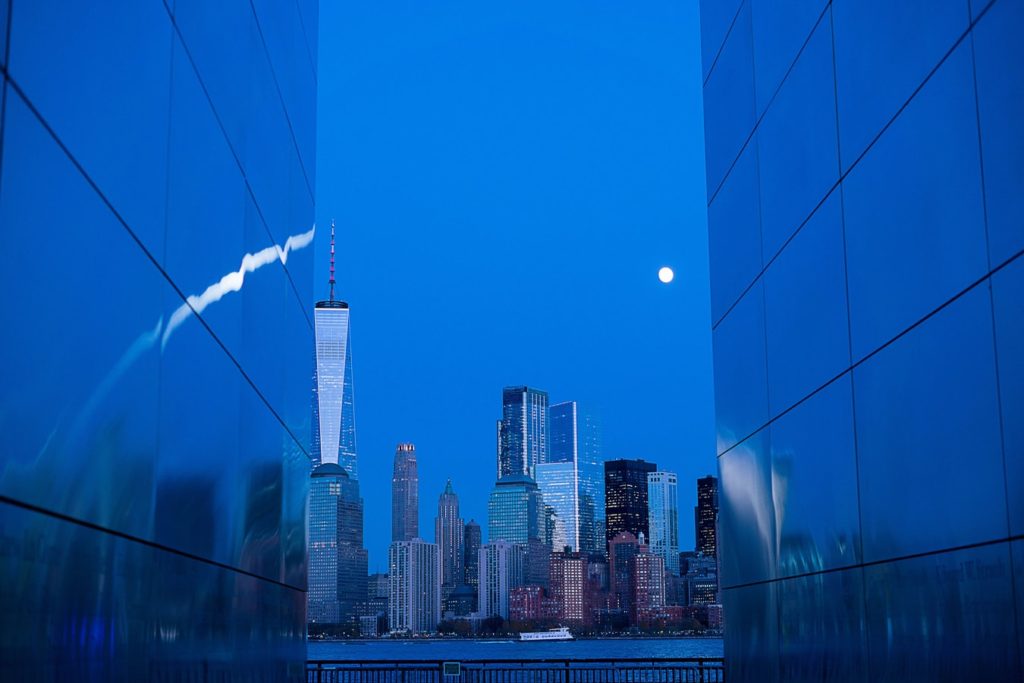 When working with a tripod, make sure to shut off any image stabilization/vibration reduction for your lens – this can actually be counterproductive when your camera is mounted properly.
If you're working with a wider aperture, you may not need a tripod for stabilization (depending on your focal length) since wider apertures = faster shutter speeds – this method works well for portraits taken during the blue hours since you need some kind of flexibility with your movement that the tripod doesn't provide.
A common technique with blue hour portraits is to compose your image where the skyline is your backdrop – whether it be a city or coastal scene – and use a gentle fill light for your model's face (as seen in the portrait above). When you combine this with a wide aperture, your portraits can be a stunning show of colors – with fantastic bokeh as well.
Your fill light can be anything from a remote strobe to an adjacent street lamp – as long as some light source is hitting your model's face, you can create a stunning portrait.
The best way to judge your exposure is to take test shots – making sure to read your histogram to check for distracting blown highlights or blocked shadows (over and/or underexposed areas of your photo).
If you're close enough to a stable shutter speed, you may be able to turn on your IS/VR (if that's an option) to salvage a photo – this is a good idea only when handheld is preferable, such as with portraits. Landscapes, cityscapes, and other photos where you have a stationary subject should always be done with a tripod.
Another reason to use a tripod would be to autobracket (also known as HDR, exposure blending, or tone mapping). While you would generally autobracket during sunsets and sunrises for the great disparity in sky/ground exposures, it's a bit different for the blue hours. Generally your light will be overcast providing an even exposure all around – except for light sources such as lamps and windows. When these are blown, they can be very distracting – autobracketing will allow you to blend two different exposures in order to recover the overexposed areas. For this to be a seamless blend, you'll need a tripod to make sure all your shots are uniform in composition.
Planning Your Blue Hour Shoot
Much like the golden hour, the blue hour is a small window of opportunity – perhaps even shorter. In order to plan properly, you can visit bluehoursite.com where they have a handy calculator, allowing you to figure out exactly when the blue hour will occur – this works for both morning and evening twilight.
Another smart idea would be to scout your location before the blue hour starts, paying attention to compositions and perspectives. Since the blue hour is a very short time, anything you can do beforehand to make your shoot go smoother would be ideal.