Wedding photos are the memories of a lifetime set to film, and brides and grooms often stress out over finding the right photographer for the job. Equally as important as finding the right photographer is establishing the right setting, mood, and general direction for the wedding's portraits.
Imagine, then, that a photo that starts out as a cheeky gag ends up getting you and future couples banned from a wedding venue.
Pretty epic wedding shoot, eh?
That's the story of one British couple, Matthew and Carly Lunn of Birmingham. The couple chose the monastery of Saint Paul on Rhodes, an island of Greece.
The coveted wedding reservation afforded the couple, their friends, and families a chance to be a part of the Lunns' big day in one of Europe's most popular foreign wedding destinations, beloved for its scenery and local character.
After getting married, the couple ventured to the beach in front of the monastery of Saint Paul. There, in full wedding garb, the couple simulated oral sex with the bride kneeling down before the groom.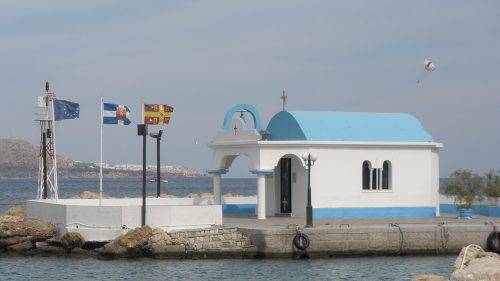 Simulation or not, the local bishop, Kyrillos of Rhodes, did not find it humorous and has since forbidden all foreign weddings at the monastery of Saint Paul on Rhodes.
Giorgos Eleftheriou, a Lindos community leader, told The Times that Greeks respect their religious traditions and holy sites. Such an act would be interpreted as disparaging these traditions and would be upsetting to local Greeks.
"We are Greek and we cherish our traditions and the sanctity of our religious sites. We cannot allow this disgusting behavior to prevail."
According to The Daily Mail, Matthew Lunn's grandfather agrees with some Greek locals, telling the British paper: "I'm disgusted."
The bishop's ban has resulted in the cancellation of hundreds of weddings according to Eleftheriou, with many couples distraught that a "tacky" gag photo could have such far-reaching consequences for other foreign couples planning on getting married on the island.
The Daily Mail interviewed soon-to-be-married couple Suzanne Sparkles of Chorley in Lancashire and her fiance Steve Arnold. The couple planned on a wedding at the monastery of Saint Paul on the island of Rhodes in May 2018, having scheduled the wedding and made reservations for it over two years ago.
Suzanne told The Daily Mail "I'm absolutely devastated that these idiots have spoilt my dream wedding. We have 52 guests coming from the UK for it and have booked to stay for a week. We have spent around £40,000 on this wedding. It was booked two years ago when we got engaged two-and-a-half years ago. We were originally thinking of getting married in Cyprus but then when I saw the chapel I knew I wanted it there. I've been to Rhodes a few times so I know how nice it is there."
For her part, the bride in the viral photo, Carly Lunns, confirms to the The Daily Mail that the photo was always planned and was a total gag, albeit one with an entirely unintended viral reach.
"It was something we said we'd do for a joke. We expected a lot of laughs and jokes from people but didn't expect it to be as popular as it was. People back in England were commenting on it, the whole thing went mad."
It is unclear whether Bishop Kyrillos' ban is temporary or more long term.
What do you think? Was this photo worth banning all foreign weddings?