Christmas is one of the best times of the year for photographing lights and to create images using beautiful bokeh as background.
You are never going to run short on lights for bokeh as you can find them everywhere – in your own house, streets, shop windows, cafes, even churches.
There are so many things that you can do creatively when it comes to photographing subjects using Christmas lights bokeh, but before jumping into the creative part, let us look at some of the basics like gear, and camera settings that you need to know so you can start creating beautiful images.
So let's start with Christmas bokeh.
So, What Is Bokeh?
Bokeh is really nothing but the out of focus areas in a photograph – Boke means blur in Japanese – it helps with creating visual appeal in your photographs and really makes the subject stand out.
The type of bokeh you achieve really depends on the type of lens and the aperture value that you will be using.
There are some things that need to be taken care of before you start creating images using Christmas lights bokeh and here they are:
What Camera is the Best to Photograph Christmas Bokeh?
When photographing images under the Christmas lights, you will be dealing with the ambient light from the Christmas lights themselves.
You want to have the real feeling of Christmas in your images and this is best achieved when you shoot images with just the lights available where you are instead of using artificial lights to illuminate your subject. In order to achieve this, you will need a camera that performs well in low light and high iso.
Most cameras these days perform very well in low light and they produce clean images up to iso 3200. Use a DSLR or mirrorless of your choice, but if you have an old camera, that should not stop you from getting out to shoot as most post-processing applications are very good at noise reduction.
Note: If you are struggling with ambient light, make use of faint lights or reflectors to illuminate your subject, but make sure it looks natural so the Christmas mood is preserved.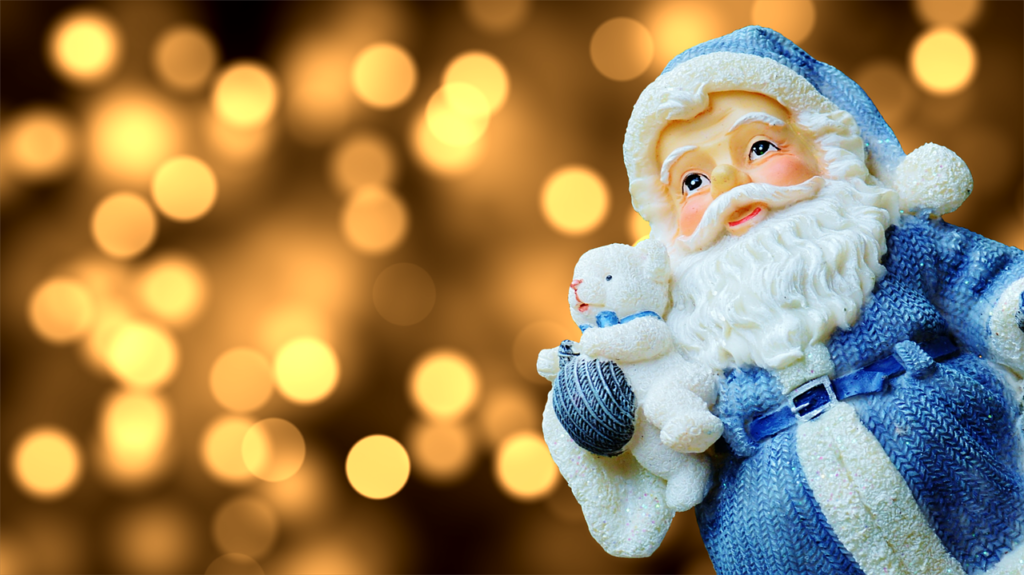 Can Smartphones Be Used To Photograph Christmas Bokeh?
If you only have an iPhone or a smartphone to shoot images, don't worry. The smartphones these days have good cameras and are good performers under low light conditions.
Some of the smartphones even come with a feature called "night sight," making photographing at night an easy task. And moreover, smartphones are capable of producing creative bokeh of their own style and the portrait mode in most smartphones produce natural-looking images with beautiful bokeh that look somewhat similar to those created using a camera.
Best Lens For Photographing Christmas Bokeh
Since our focus here is to create images that have beautiful bokeh, it is best to have lenses that have aperture values ranging from f/1.2 to f/2.8. These are the aperture values that can create high-quality, stunning bokeh.
Since it is advisable to have wider apertures of at least f/2.8, it doesn't mean that the other lenses with narrow apertures like f/3.5 or f/4 should not be used. You can create bokeh with these lenses by carefully choosing the distance between you and the subject and the subject and the background. All lenses create bokeh that is characteristic of their build.
One of the best and most affordable lenses for creative bokeh is the 50mm f/1.8 lens as this lens is fast, produces sharp images and can produce stunning bokeh. This lens can be used to photograph almost anything like Christmas decorations, portraits, still life, etc.
Besides this, if you are looking to photograph tiny figurines and other macro Christmas details, you can use a macro lens if you have one. These lenses create amazing images with great details and beautiful bokeh.
The Best Camera Settings For Christmas Lights Bokeh
When it comes to camera settings, it is always advisable to shoot in manual mode. Set the lens aperture to the widest (this is different for each lens). For example, for the 50mm f/1.8 lens, set the aperture value to f/1.8. Shooting at the widest aperture helps with a few things like creative bokeh, letting more light in so you can use a lower iso and faster shutter speeds.
Since you will be shooting in low light and handheld, it is better to have a shutter speed faster than 1/250 of a second. But, if you are struggling for light and need to increase the iso quite a lot to compensate for the low light, then use the 1/focal length or 1/(2 x focal length) rule for shutter speed.
Make sure you take into account the crop factor while calculating shutter speed and use the image stabilisation features if any.
Depending on the aperture and shutter speed that you have chosen, adjust the iso to get the exposure right. A good knowledge of the exposure triangle will help you get the exposure settings right. Do not forget to also keep an eye on the histogram if your camera has that option, so you can make sure that you have not blown out highlights or lost details in darker regions.
Set the white balance to auto or depending on the light you can choose tungsten or incandescent. If you do not get it right, you can make adjustments during post-processing. Just remember, always make sure that you shoot raw.
Dealing With Low Light
While photographing images using the light from Christmas lights alone, you will be struggling with exposure and focus most of the time. Make sure that you choose a wiser iso value to compensate for the low light and in situations where your camera struggles to focus because the light is too low, try manual focus.
While shooting indoors, you should not have much of a problem, as the ambient light will be ample and you can even shoot with your camera on a tripod. But when outdoors, play around with iso and shutter speed to get the desired exposure.
When making portraits, make sure your subject is illuminated by the ambient light so you get a moody but festive portrait with Christmas bokeh in the background.
When shooting other objects like Christmas ornaments or figurines, make sure that they have some light that illuminates them so that they are visible in the image. When making silhouettes, place the subject in the dark with their background illuminated by the Christmas lights.
Noise Reduction
Noise in low light images is quite common and they become more evident when you start shooting above ISO 1600 or 3200. You could use the low light noise reduction or high iso noise reduction features in the camera. If you still feel that there is evident noise in the image, you can reduce it while post-processing with your favourite application.
Keep in mind, if you really want to bump up the iso to get an image, do not hesitate – go ahead and do it. It is best to have a noisy image that is in focus than having a noiseless image that is blurry.
Moreover, some noise can look good if you are going for the film feel in your images.
How To Shoot For The Bokeh?
In order to get decent bokeh of the Christmas lights, make sure that you maintain a decent distance between you and the subject and between the subject and the background.
If you are too close to the subject, the bokeh may become too creamy without defined features of the Christmas lights, similarly, if the subject is too close to the background which is the Christmas lights in our case, then there will not be the desired amount of bokeh.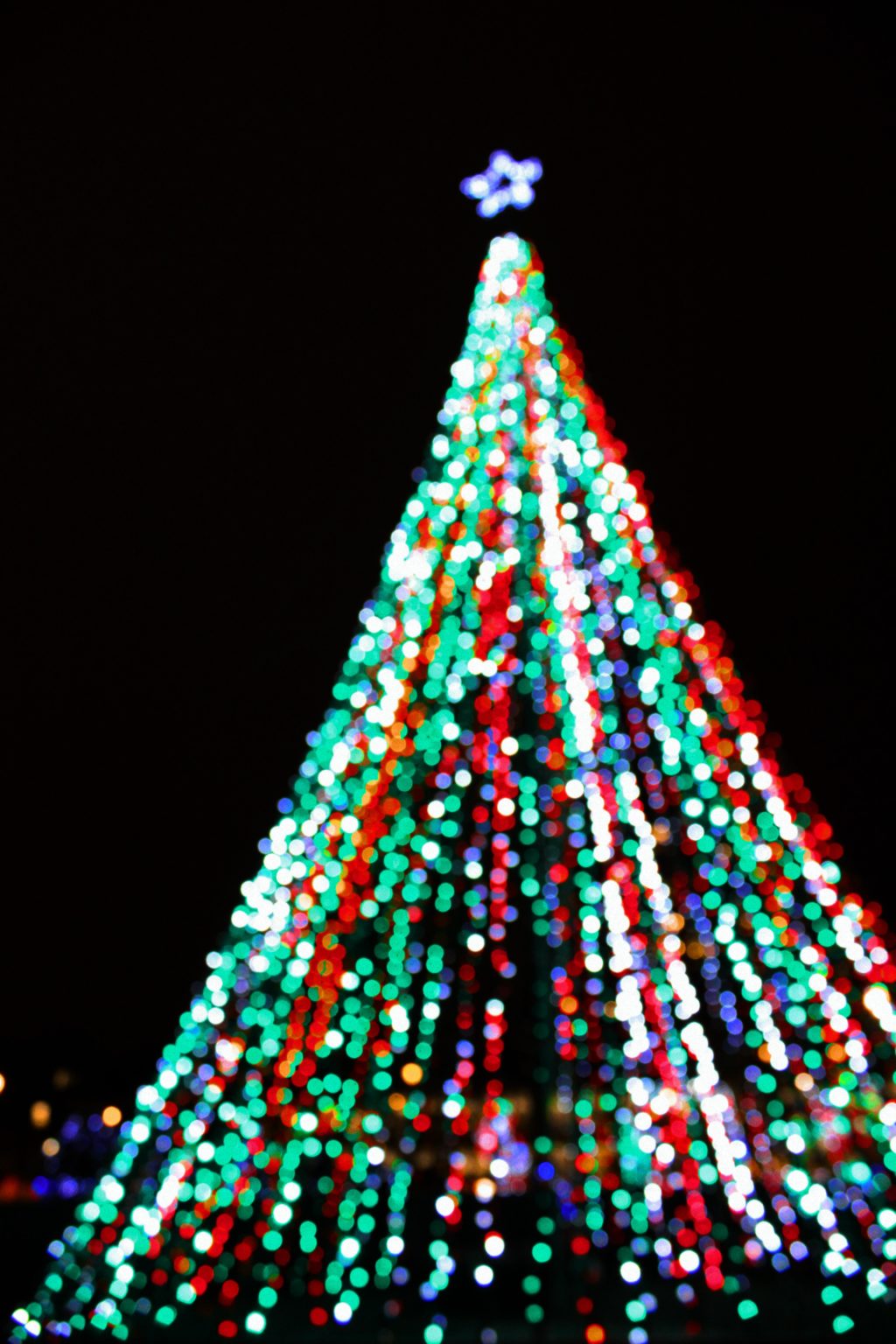 What If You Want Different Shaped Bokeh?…DIY Time!!!
Like hearts, snowflakes, stars or a tree?
The solution is pretty simple and there is a quick DIY that I use for creative bokeh. I take a thick piece of paper and draw an outline of the lens I will be using. I cut out this circle, fold it into half and cut out the shape I need.
This way I know that the shape is symmetrical on both sides and this helps with cutting out the shape easily as well.
I use blue-tack around the rim of the cut out circular paper and stick it to the front of the lens. I have tried this on my 50mm f/1.8G lens and it has given great results.
The only restriction with this method is, adding a piece of paper with a tiny shape cut out will stop a huge amount of light from entering the lens.
Now that we have got the preliminaries right, let us dive in to see how to use Christmas bokeh creatively to make striking images during the holiday season.
These images are shared here so you get some inspiration and pick up ideas to create your own Christmas bokeh images. We have shared here a huge bunch of images, so you get a ton of inspiration and motivation to get your camera out and shoot.
Creative Christmas Bokeh Compositions
Frame Within A Frame
Frame a Christmas image within a Christmas image. You do not have to stick with using a mobile phone to do that, it could be even you or someone holding a Christmas card or anything that depicts this theme or composition.
Photograph The Christmas Tree Bokeh
Watch out for frames and structures where you can photograph just the bokeh of the Christmas tree, but still can show the image in the frame. For example in the images below, although the photographer has just photographed the bokeh, they do not look like a random bunch of bokeh, but they depict the Christmas Tree.
Create Bokeh In The Foreground
Look to photograph Christmas subjects through other elements in the foreground, thereby creating bokeh in the foreground instead of the background.
Or, frame your bokeh as a detailed subject in the background. For example in the image below, you know that the bokeh is from a Christmas Tree.
Photograph Christmas Presents
Christmas presents can be photographed with the Christmas bokeh in the background. These photographs can be preserved as memories for years to come.
Photograph Just The Bokeh
Watch out for frames and structures where you can photograph just the bokeh, but still have the meaning of the image in the frame. In the images below, the photographer has just photographed the bokeh, and they still show the viewer what the photographer wanted to create.
Photography Anything Around
Watch out for anything around you for a photo opportunity. Socks, hand warmers, stockings, anything that you think can be photographed – just keep your eyes open!
Photograph The Ornaments
Christmas ornaments are great subjects to photograph as they are colourful and cheerful to look at. Photographing these around your house and in places you visit can be another great way of preserving memories.
Photograph Reflections
When photographing Christmas ornaments or anything Christmassy, look for the tiniest of details. Reflections are a creative way to photograph Christmas images along with beautiful bokeh. In the images below, you can see that the reflections of Christmas elements have been photographed in the Christmas ornaments themselves.
Photograph Candles
Candles are amazing subjects to be photographed during the holiday season and they are one of the most important elements found around during the Christmas season. Photograph candles with beautiful and meaningful bokeh as background.
Don't Forget To Photograph Your Pets
Our pets are around and always with us as part of our family. Do not leave them out of your photography schedule. Make portraits of your pets during the holiday season with beautiful Christmas bokeh as background.
Capture Portraits Of Children:
Christmas time is one of the best times to photograph children as they are very joyful and cheerful during the season. You can photograph them under the Christmas tree or at church with the Christmas lights or in any location where you have plenty of Christmas lights to produce a beautiful background bokeh.
Make Portraits Of Adults Too
During the Christmas season, depending on the traditions where you live, make use of every opportunity to photograph adults as well during the Christmas season. For example, you can photograph Santa, couples or make other portraits either indoors, outdoors or in cafes, etc.
Photograph Food And Drinks
Use the beautiful Christmas light bokeh to photograph food and drinks that you enjoy during the holiday season or photograph your Christmas dinner before family and friends sit down for dinner.
Photograph The Streets
During the Christmas season, the streets are bustling with activities, celebrations and fairs with almost everyone out enjoying the season. While out in the streets and in the main squares, watch out for ornaments, people and other subjects that you can photograph with Christmas lights bokeh as the background. Do not forget the shop windows as they will have some pretty amazing lights and decorations.
Photograph Toys and Christmas Figurines
If you enjoy doing still life photographs and love to stay indoors, you can find things around your house like toys and Christmas figurines that you can set up to create a Christmas Story. Make use of Christmas lights in the background to create beautiful bokeh.
Photograph Silhouettes
In areas where there are plenty of Christmas lights, you can frame subjects that are in the dark to create beautiful silhouettes. Make sure that not much light falls on your subjects so that they get recorded as dark silhouettes against the bright Christmas bokeh background.
Other things that you can photograph are
Fairy lights – these are great subjects to photograph during the holiday season.
Cafes – these are great places to photograph your treats and other interior Christmas decorations
Sparklers – if you enjoy firing sparklers during the Christmas season, try photographing them against the Christmas lights as background.
So these are some technical and creative ideas to give you a kickstart to photographing the holiday season creatively. If you have any tips that you would like to share, feel free to share them in the comments section below. We would like to see what you create – feel free to share them with our community here at Light Stalking.
Enjoy photographing Christmas Lights bokeh and Happy Holidays! 🙂
[thrive_text_block color="note" headline=""]
Further Learning
If you love all the lights of Christmas, then you should definitely check out The Secrets Of Light Painting Pack. This pack will teach you everything you've ever wanted to know about Light Painting.
You not only get a comprehensive guide that teaches you all the techniques, camera settings and gear that you'll need to capture your creative vision, but you'll also get 18 downloadable cards that you can take with you. Yep, you can stop reading and get out there and just do it – actually this really is the best way to learn.
If you are interested, this pack will teach you everything you need to know about Light Painting to get the images you want. Click here now to check it out.[/thrive_text_block]
Further Resources: