Smartphones are Mindblowing But They're Not Flawless…Yet
Smartphones – amazing devices. They're always in our hands. Are you reading this article on yours now?
They've become so sophisticated that we almost forget that they can all be used as "phones" to speak to others. With around 70% of US adults owning one, they're still on the rise…
If you own a smartphone (welcome to 2017, nice to have you here) you've probably snapped several hundred photos so far, at least.
And in those photos, you've probably encountered several issues or technicalities which have bothered you, right? Unfortunately, as awesome as smartphones are, they're still not as "manual" as we'd like, therefore as photographers, digital technology has to present the calculated guesswork of digital photography.
However, most of those problems can be fixed if you use the camera properly, others, however, can't be fixed simply due to hardware limitations.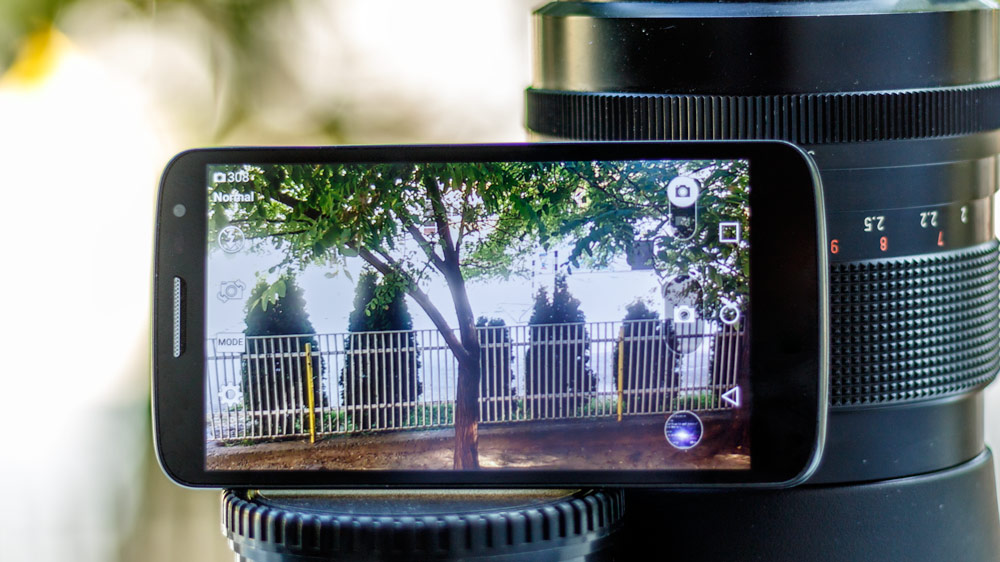 It is imperative to understand the camera a little. To do that you need to understand the application that runs it too.
1. The Simple Science of Understanding Your Smartphone's Camera Sensor
The less light – the grainier the picture. That's it, explained in just a few words.
This applies to smartphones as well as other cameras – and with phones, it's about the amount of light and your sensor's capabilities. However, due to the small sensor and really small pixels, the noise is really visible when the amount of light goes down when it comes to smartphones.
You need to be careful about this – only a certain number of your camera phone shots will have justice done to them by utilizing this noise.
The phone camera will boost the signal by increasing the sensitivity (i.e. ISO, thus increasing noise), but that can only go so far and after that, it will need longer time to expose the picture in order to retain visible light levels.
Longer exposure time means that your unsteady hands will make the picture blurry. To overcome this you could consider a tripod and smartphone grip – perhaps this Gorillapod Combo might interest you?
2. Getting the White Balance Right
If your picture is biased towards the blue or the orange tones, the white balance isn't set properly. You can do so by entering the manual settings mode in your smartphone, look for the white balance icon, and then change it according to the scenario you are photographing in.
Note:
The image below is for (Samsung) Android users. Some of these tips would vary across brands and whether you're using iOS or Google's Android.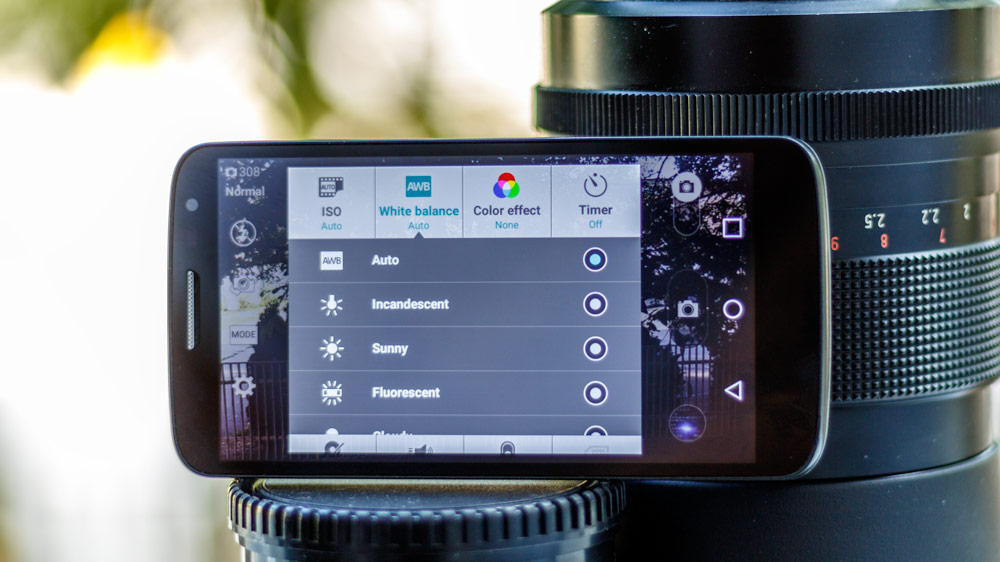 If the picture is already taken, you can easily correct that with some image editing apps or desktop software.
3. The Bane of Mobile Photography – Incorrect Metering
Exposure on phones can be an issue – I'm sure you've all experienced this, probably today already. But, is it down to user error?
Your smartphone has to meter the light in order to be able to determine the proper exposure. Now you might think that your smartphone often measures light improperly, making your images appear underexposed or overexposed.
In reality, this is rarely true, and usually, it is user error. If you choose the proper metering, and if you know where the phone is taking measures from, then the image will always be properly exposed.
I tend to tap the screen for focus in a different area to enable better metering, like experimenting until you've nailed it. This won't work if you're doing something close up as the metering will turn out great while your subject is not in sharp focus.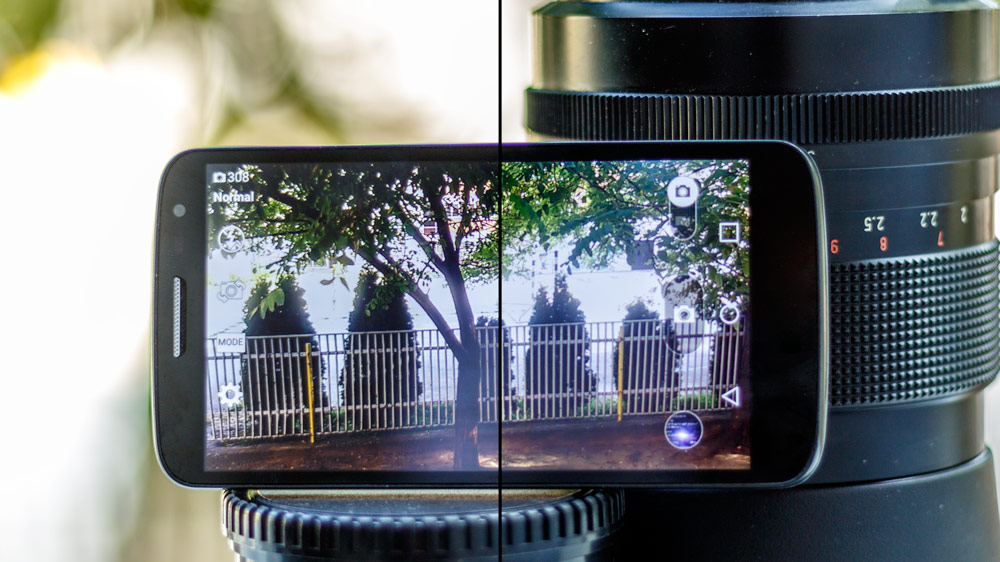 Now, have in mind that you can't always achieve blue sky with the subject properly exposed in bright sunlight due to the sensor limitations. In more complex terms, the sensor is lacking dynamic range and sadly, there isn't much to be done in that area.
4. Flash Damage – Yes, it's a Real Issue
No matter what you do, the flash from the smartphone will look bad. Sorry to point this out. Unless you're looking to replicate a cool fad happening in photography right now of deliberate "harsh light and shadows", the results will be less than pleasing.
This is due to a small light source being present combined with plenty of power, therefore creating harsh and ugly shadows with no depth to the image. Usually, the flash slightly highlights the blue tones making the skin have strange tones.
You can try using a corner of a white napkin as a diffuser for the flash. It will soften the shadows a tad with the cost of some light (but the phone will probably adjust for it with the preflash measurement). You'll need both hands for this so consider using the phone's self-timer function too.
5. Does a Smartphone Even Have Proper Focusing?
Some camera phones can't focus (or they do but there is little visible change), and an increasing number have a wide enough aperture for the focus to have some visible effect.
Often times when using touch focus the camera needs more time to focus (due to the shifting circumstances) the knock-on effect, you guessed it, it needs more time to take the photo.
To avoid this, turn off touch focus (if you can), let it focus the old fashioned way (auto), this way it will focus on the closest object and it will be faster.
6. We Know, There are Limitations to a Camera Phone
The optics and the sensor in the smartphone cameras are of lower quality when compared to DSLR's or modern mirrorless systems, thus the image quality is lower.
In fact, most smartphones do not have a dedicated camera processor, thus the processor that does everything else in the camera processes the signal of the camera, thus resulting in worse noise performance. This just means your phone works extra hard to produce images.
Additionally, since the phones don't have a viewfinder (which isolates you from the environment) you probably won't use it in the same manner you would a viewfinder camera.
This will affect your capability to frame the shot, the timing you need to take the shot (usually smartphones have a higher amount of lag since you need to touch the shutter button), and your hands will shake more due to bad ergonomics – compare this to a traditional handheld camera!
Summary
The best camera is the one that's with you. That quote really is true. No matter how bad or uncontrollable the camera on your smartphone is, you can always use it if you don't have anything else. Let's be honest, technology today has already produced stunning smartphone cameras!
If you are like me, and dragging the bulky DSLR everywhere all the time, this article probably doesn't apply to you. However, it is great to know how to manage a smartphone camera, just in case. Yes, I know a mirrorless camera would probably serve me better.
However, if you use it on a daily basis, it is even more imperative to learn it's functions. Understand the limitations, understand how it behaves in certain situations, and get the settings which "don't work properly" into your own control and you'll start taking better pictures immediately.
---
Smartphone Photography Issues – Top Takeaways
Get used to the controls, play with your smartphone camera more than you normally would. I don't mean snapping some photos and flooding your Instagram feed, but genuinely getting to know it's capabilities.
Metering is the one to get right. Unlike digital cameras where you can manually control Exposure and select various metering modes, smartphones need a little more attention to detail here.
Keep your phone with you, always. It should be instinctive as a photographer to reach for your camera phone whenever you witness an opportunity to photograph. And in 2017, who doesn't have their phone on them 99% of the time?
Further Resources
Further Learning
This fantastic guide by Photzy, could really enhance your smartphone photography somewhat by teaching you the fundamentals of Understanding Composition which can really take any image from good to WOW!