The Perfect Pocket Camera?
Another article on iPhones? Please…cut to it and save me the bother.
Did this thought come whizzing through your head at 100mph?
Well, Smartphones are becoming very sophisticated these days…and their cameras too. We all know this.
I know, I know, smartphones are often belittled by certain photographers because they're not a "proper" camera, but you've gotta hear me out on this one – I've got some truth and some real value in store for you today. Promise!
Ok, there's a certain amount of snobbery against phone photography.
Maybe it's because the unwashed masses of nonphotographers can take some very good pictures on them, maybe it's because we recoil at the idea of small sensors, tiny lenses and oversaturated JPEGs.
But, the fact is, though, any camera is a tool and in the right hands, it can take a great picture.
A good workman never blames his tools…sorry, had to slip that in, but it holds an element of truth with this topic.
What Happened With Me
Recently I upgraded my rapidly-aging iPhone 4S to a new iPhone SE. The upgrade had nothing to do with photography, however, after just ten days with this device I am beginning to realize what a great little camera it is.
Today I am going to detail some of my thoughts as to why the iPhone SE makes a great second camera.
It's Truly Compact
There were some raised eyebrows when Apple announced the SE. After all, for the previous two or three years, the trend was to make smartphones bigger.
Apple then returned to the 4" phone, based on a 3-year-old iPhone 5 design. What were they thinking? Huh?!
Anyway, the fact is, the compact size makes it perfect for just slipping in your pocket. It also makes it discrete, a major boon for street and candid photographers.
Apple's interface allows you to slide from the bottom left in lock screen to directly access the camera making it as quick as switching on a compact camera (probably quicker, in fact).
The 4" screen is hardly revolutionary but as a digital viewfinder, it is bigger than that found on most dedicated cameras (i.e. mirrorless models). It is also reasonably bright, good enough for all but the brightest daylight.
[url=https://flic.kr/p/ebxXXq][img]https://c3.staticflickr.com/9/8258/8652039650_8e42a58cd4_z.jpg[/img][/url]
The SE is a very nice size as a camera. By Stiftelsen
It's An iPhone 6s
Whilst the exterior of the SE might herald from a few years back, the beating heart is from it's bigger sibling, the iPhone 6s.
The CPU/GPU and most of the internals are exactly the same as the 6s, making this little phone very very fast. For photographers, that's a good thing, apps open quickly, images are processed quickly. Neat!
It also enables the camera to use some of the more powerful features I will detail next. The things that are missing compared the 6s are not really things we photographers would miss. Unless you are into selfies that is, as the front facing camera is a mere 1.2mp.
It's A Great Camera
Of course, any camera is only as good as its sensor and lens (and the carbon-based life-form behind it of course).
The iPhone SE's camera system is also the same as the iPhone 6s. It's a 12-megapixel sensor with a 29mm equivalent f2.2 lens. You can also shoot RAW files if you use a third party app such as ProCamera.
For stills, you can shoot the regular rectangular format, square format, auto HDR and 63mp panoramics. You also have the slightly gimmicky Live Photos.
This shoots a series of stills just before and after the main picture and creates a very short animation. It's fun but there is no real practical use for them.
On top of that, the SE will shoot 4K video and 240fps slow motion at 720p.
When shooting you can have full manual control over both focus and exposure simply by touching and sliding your finger on the screen.
What's It Like In Practice?
Fun is a word that springs immediately to mind. It really is great fun just to whip the phone out when you see something you like and to shoot away. Because it's discrete, because it's just a smartphone, you blend into the background.
You are no longer a photographer, just another tourist with an iPhone. That, for me is a good thing, I hate drawing attention to myself when shooting.
I particularly enjoy shooting in the HDR mode. This does not produce the garish images often associated with HDR, rather, is does what it should do, extend the dynamic range to something similar to what the eye sees.
For a phone, the image quality is great. The 12mp sensor combined with a decent lens gives very natural looking images. Apple has veered away from making shots look over saturated, handing back control to the photographer.
Using one of the many apps such as Lightroom, you can now create stunning looking images, just on your iPhone.
The camera was also impressive in low light. Camera shake is an issue as stabilisation is digital not optical, but even in very dark conditions, the iPhone impressed me.
To be fair, you are not going to get 16"x20" prints in low light but for uploading to social media and sharing with friends, it's way more than adequate.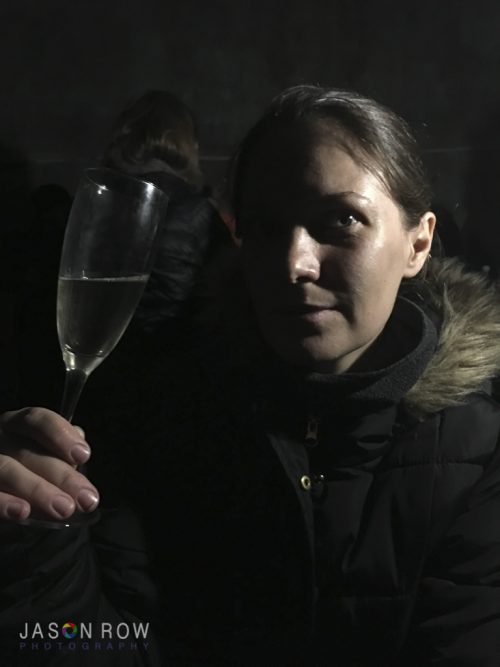 Summary
For me, the iPhone SE has been a true revelation. It's a little like when I bought the Fuji X100s, it put the fun and excitement back into photography and in a discrete compact form to boot.
Of the two size options, I went for the 64gb version. The 16gb really would not suffice as a photographer's tool. Overall I am having a great time shooting with the iPhone SE and that is really what photography is all about.
---
Further Resources
Further Learning
This fantastic guide by Photzy, could really enhance your street photography somewhat by teaching you the fundamentals of Understanding Composition which can really take any image from good to wow!