Thinking of Investing in Some Airborne Photography Gear?
Drone photography was one of the big growing trends of 2016 and may well become a mainstream photographer's tool in 2017. The ability to get up high and out over water have allowed drone photographers to record the world from a unique perspective.
The drone market is massive but choosing the right one for you can be a challenge. Like buying a camera, there are drones to suit all different needs. These range in price from a few hundred dollars to many many thousands.
Today we are going to look at some of the most suitable drones for photography and how different ones will be suitable for different photographers.
As you read you will see that the article is DJI centric. The simple reason for this is that as of now, DJI are by far the market leaders in photographic drones for the consumer/prosumer market.
Starting Out – Budget Level Drones
The best options here can be found in the DJI Phantom 3 range. Much of this range has now been discontinued but can still be found new for pretty good prices.
The Phantom 3 Standard is still available from DJI for $499. It features a 12mp camera that can also capture 2.7K video. As with all DJI drones, the camera is mounted on a gimbal that gives precise non-destructive stabilization when in the air.
The sensor size is pretty small so in low light and the image quality can be poor. It does, however, have the option to capture RAW files in Adobe's DNG format. This gives you more control over the image. Disadvantages are poor range and expensive batteries.
Although long in the tooth now, the Phantom 3S is a highly capable budget drone.
As an alternative, there's the Parrot BeBop 2. This is a small lightweight drone that features a 14mp camera and can capture video in HD. They retail at around the $600 mark.
Its limitations include only a built in 8GB memory and digital stabilization rather than a dedicated gimbal. This will reduce both video quality and image quality in anything other than still air.
Drones Suitable for the Traveler
The current king of the travel drones is the DI Mavic. It was released late last year and supply is only just catching up with demand. It features a similar camera to other DJI prosumer models, shooting 12mp RAW DNG and 4K at up to 30fps.
It is packed with safety devices that include obstacle detection both forward and rear and a highly accurate return to home feature. This engages if the Mavic looses contact with the controller and will return the drone and land it within an inch of its original take-off point!
It features a 27 minute flight time and a 7km range. It can live feed HD video over that full 7km. The disadvantages are few but limited supply and some concerns about 4K video quality are amongst them.
Its tiny footprint and weight of just 743g (around 1.6lb) make it a perfect tool for traveling photographers. Mavic's retail price is $999.
The DJI Mavic has become an instant hit amongst travel photographers.
The alternative is the updated Go Pro Karma. The original Karma was released to great fanfare a week before the DJI Mavic. However in soon became apparent that Karma's were literally dropping out of the sky and the product was soon recalled.
An updated model has been released but as of today, reviews have been mixed. Its selling point is that you can buy it with or without a camera, it has a gimbal that is designed to mount GoPro's Hero range of cameras, ideal if you already own one.
Price is $799 without camera and $1099 with camera.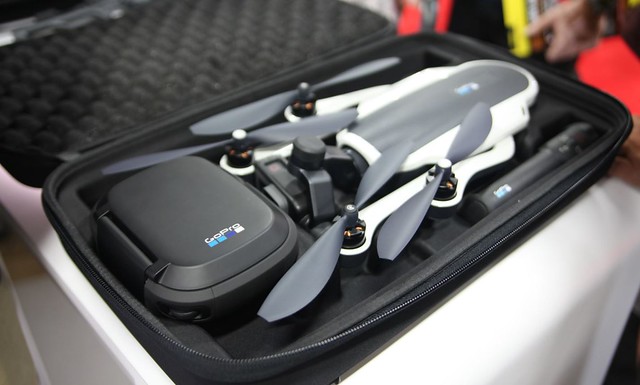 The original Karma had serious issues but an updated model is now available.
The Serious Gear – Prosumer/Higher End Drones
The competition in this area of the market is between the DJI Phantom 4 Pro and the Yuneec Typhoon H 4K.
The Phantom 4 Pro has a much-improved camera over previous models. It's 1-inch sensor feature 20mp stills and 4K video at 60fps. The video bitrate is also improved giving a more stable and editable video image.
Like the Mavic, it has immense range and a battery life of 30 minutes. On the downside, it is significantly more expensive than other prosumer DJI models and batteries are also expensive. The base price for the Phantom 4 Pro is $1499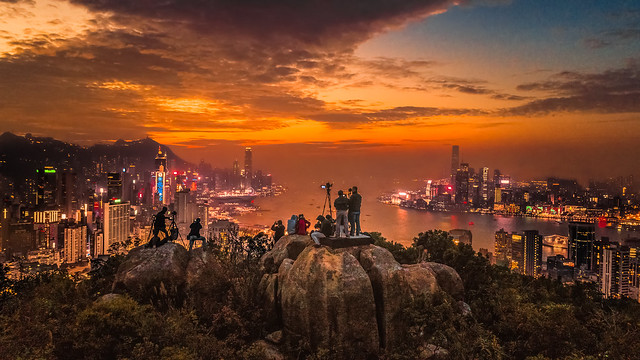 The Phantom 4 Pro has a much better sensor that similar-priced drones.
Yuneec are a well-respected drone manufacturer and their Typhoon H 4K is cheaper than the Phantom 4 Pro. It is a hexacopter as opposed to the other mentioned here which are quadcopters.
It features a full 360-degree rotating camera which produces 4K at 30 fps and 12.8MP stills. Like the DJI products, it features sensors to prevent collisions.
Disadvantages are poor image quality and stabilization according to some reports, and they have also been some reported fly aways. The Typhoon is priced at $1299.
Using Drones for Photography – Final Thoughts
Drones are not only excellent tools for photographers but great fun too. There is always a certain amount of nervousness flying a $1000 tool but many modern drones have a wealth of safety features to give you confidence.
Image quality is not going to be DSLR standard but better models are capable of excellent results with the right conditions and a little tuning.
If you are in the market for a drone, the models mentioned above are a good start. There are many great reviews for each and every model on Youtube. As with buying any other camera equipment, set out your requirements and budget and check out the reviews.
---
Further Resources
Further Learning
How's your eye for Composition? You could well have all the basics down to a T, but for those who are looking to up their game with some more advanced learning, we have the ideal guide for you "Advanced Composition" by Pro Photographer and Author Kent DuFault.