If not essential, then drones are certainly an important part of any photographer's tool kit. The freedom afforded by aerial photography allows us to move our cameras in three planes and a significant distance from our positions, all whilst still monitoring a live feed.
A camera drone can allow us to shoot both amazing stills and cinematic video that, just a few short years ago, would have been the preserve of expensive helicopter trips. These days we can be both the pilot and the camera operator all in one.
Best
Professional

Photographers' Drone
DJI Mavic Pro 3 Classic
Best
Mid-Range

Photographers' Drone
DJI Air 2S Drone
Best Budget

Photographers' Drone
DJI Mini SE Drone
What Drone To Buy
There are many considerations to buying your first drone or even upgrading your current one. Not least of these are local regulations. These are different from country to country, and many authorities now require registration and even qualifications. You need to check with your country's own aviation authority to understand what the rules are.
Factors that we as photographers can decide on include:
Camera resolution
Battery life
Smart flight modes
Obstacle avoidance
Drone pilots will all have specific individual needs, so it's worth taking some time to consider what you need from your drone.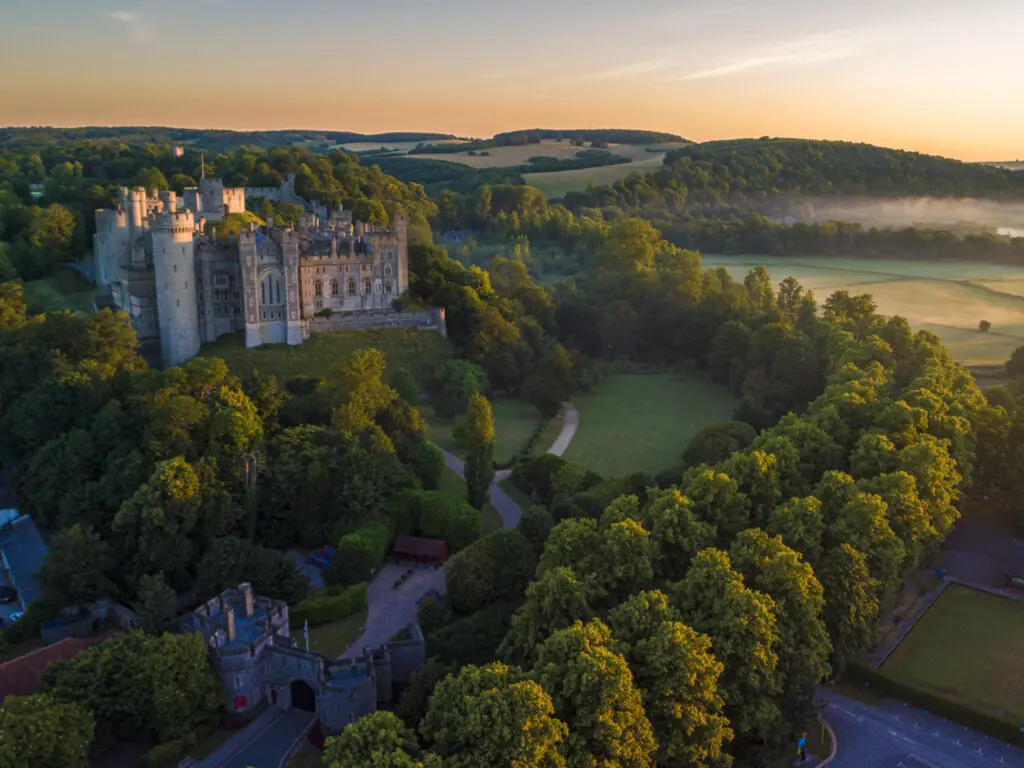 Types Of Drones
There are many types of drones on the market. These include huge commercial-level octocopters that can lift DSLR-level cameras. However, most of us will be using quadcopters. In this article, we will break our recommendations down into five sections.
Professional Level Drones
Mid-Range Photographers' Drones
Sub 250g Camera Drones
FPV Drones
Budget Drones
In each of these sections, we will list what we think are the best drones. As you might expect, many of these are DJI drones; however, two other companies also make a list, one of which Autel is making major inroads into the DJI drone market. Autel feature in 3 of the 5 sections.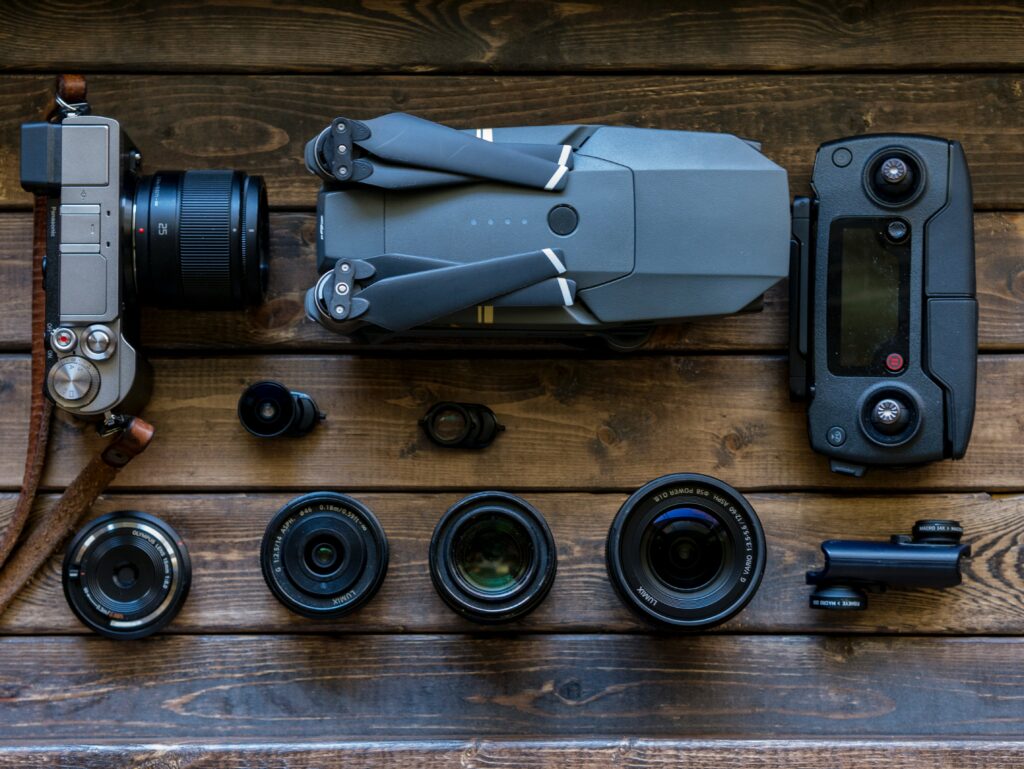 Professional Level Drones
The ultimate machines for drone photography are the pro-level quadcopters. These modern drones feature long flight times through excellent battery life, larger sensors, and more collision sensors, often with side sensors and advanced automated flight modes.
Price-wise, they range from $1500 to as much as $4000 for full-blown cinematic versions. The median price point would be around $2000. However, most of most drones at all levels offer addon packs that include extra batteries, propellers, and in some cases, smart controllers. This will often work out cheaper than buying.
Smart controllers are a useful bit of drone technology to own as they negate the need to use smartphones. They feature brighter, more consistent screens with the flying software built in. This makes it much easier for the drone operator to shoot video and stills in brighter light.
If you are an aspiring aerial photographer, they are well worth the investment.
Mid-Level Drones
These are drones predominately aimed at the prosumer section of the market. DJI drones have traditionally dominated this section of the market, the DJI Air 2S being its current flagship.
Now, however, they face stiff competition from Autel, who are making some excellent drone models in this section of the market.
Mid-level models often pack similar technology as the pro model but at the expense of fewer collision sensors and smaller drone camera sensors.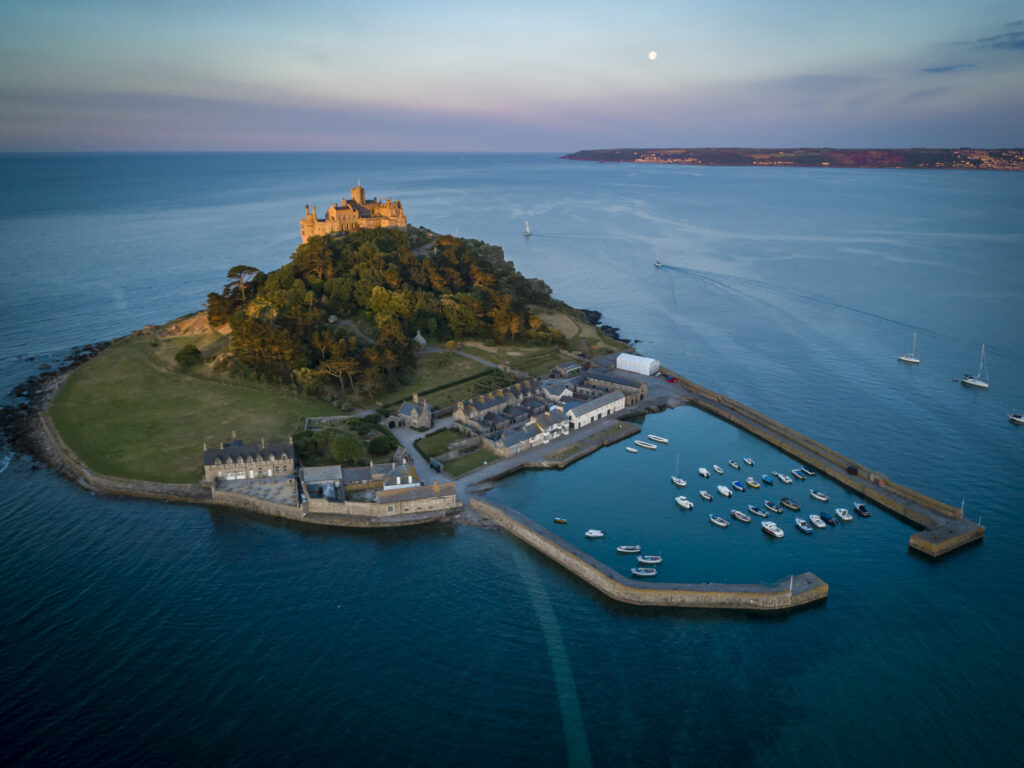 Sub 250g Drones
To the uninitiated, sub 250g might seem like toys. However, they are increasingly becoming an important part of the drone market, not just for enthusiasts but at a professional level too. The reason for this is drone regulations.
Organizations such as the FAA – Federal Aviation Administration in the US and the CAA – Civil Aviation Authority in the UK, allow sub 250g drones to fly without the need for registration or qualification. In many cases, these small drones are exempt from prohibitions about flying over or close to people or flying in built-in areas. This makes them ideal for professionals working in busy urban environments.
Whilst they are still very sophisticated flying cameras, they do have further limitations compared to their more expensive alternatives. The most common is a significantly smaller sensor size for the camera. In turn, this gives lower image quality in low light. They will still have excellent image quality in good light.
They will have only basic obstacle avoidance sensors, smaller batteries, and fewer camera settings such as RAW and LOG formats.
FPV Drones
FPV stands for first-person view. Whilst FPV drones are not new, they are beginning to make inroads into the camera drone market. Traditionally FPVs were a type of flying camera used for drone racing. The pilots wear headsets that are wirelessly linked to the drone's camera. This allows the pilot to fly the drone as if he or she were sitting in it.
A few years ago, DJI Drones released their own FPV model. Like other DJI drones, It was clearly aimed at photography and cinematic video rather than pure racing. Although a relatively small section of the market, it is growing. The DJI FPV drones are hampered by the need for the pilot to have an observer checking the surrounding airspace.
Budget Drones
If you are looking to fly drones without a large capital outlay, there are some budget options. These are either fairly cut-down drones with lower specifications and limited image abilities or older models that are still being sold if not entirely supported with firmware updates.
Cheap drones are a useful way into aerial photography, but you may soon find yourself limited by their capabilities.
Professional Level Drones:
Mavic Pro 3 Classic
The DJI Mavic Pro series has been amongst the very best camera drones since its original release. There are currently three incarnations of the Mavic 3. The original DJI Mavic 3, the Mavic 3 Cine designed for cinematic footage, and the Mavic 3 Classic.
I have picked the Classic for this list as it currently represents the very best value for a high-end drone. It dispenses with the original DJI Mavic 3's dual camera system with a separate telephoto lens but maintains the superb m4/3 sensor that gives it superlative image quality and dynamic range at this level.
Its battery life is a class-leading 46 minutes, enabling long, uninterrupted flights. The m4/3 sensor has a variable aperture lens negating the need to change ND filters when the light changes. 5K footage in h265 Log and the camera resolution gives 20mp images in Abobe DNG are the headline capture specs.
Safety-wise it features a 360-degree obstacle avoidance system and an advanced return-to-home system. It has a video transmission range of 15km (9.3 miles).
Drone Rating
Camera resolution 5/5
Battery life 5/5
Smart flight modes 5/5
Obstacle avoidance 5/5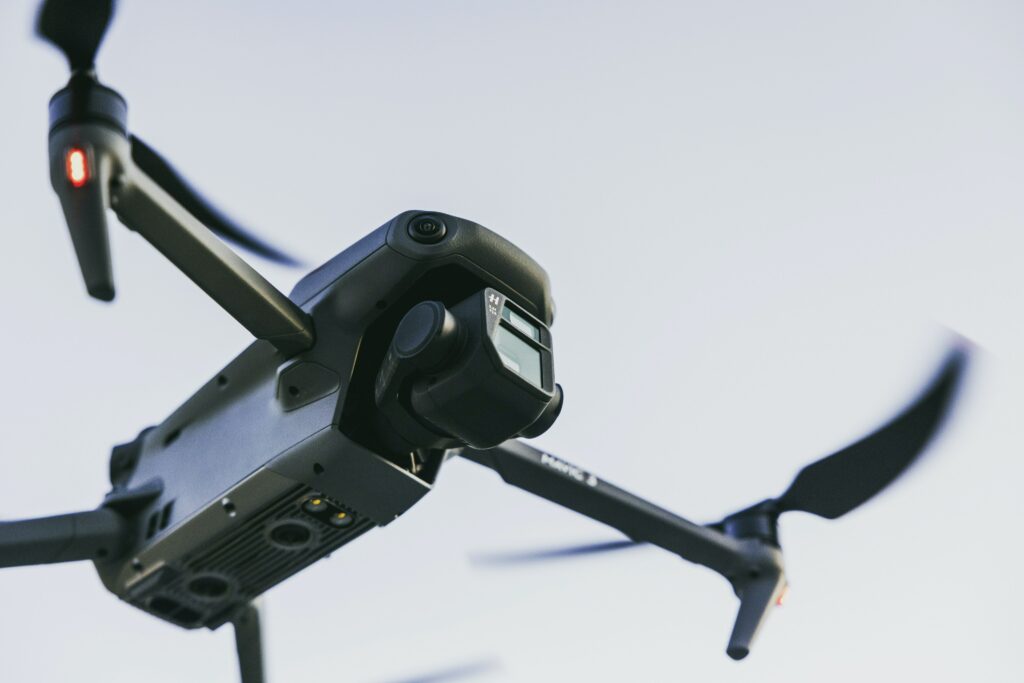 Autel Evo II Pro
Like the Mavic 3, the Autel Evo Pro comes in several guises. The spec that is most similar to the Maci 3 Classic is the Evo II Pro. It follows the familiar design language of modern quadcopters, with a small body, front-mounted gimbal and foldable propellor arms.
Like other Autel drones, it is a bright orange color, which makes it much easier to spot in the sky compared to the drab grey of DJI drones. The sensor is a smaller 1" variety, so dynamic range and low light capability will be slightly lower than the Mavic 3. It does pack a camera resolution of 20mp onto that sensor and can shoot Adobe DNG RAW, giving excellent image quality. It also features a lossless 3x digital zoom.
For video, it shoots 6K video in 10 Bit Log as well as 4K in HDR. You can also shoot a 6k hyper-lapse. Like the Mavic Classic, it has a variable aperture.
Like DJI drones, it features intelligent flight modes. These allow you to preprogram a set move, such as spinning around a landmark or tracking a moving subject. There is also 360-degree collision avoidance to protect the drone when in those automated modes. The battery life is an impressive 40 minutes if flown in zero wind. This is one of the best camera drones for those not wanting to buy into the DJI ecosphere.
Drone Rating
Camera resolution 4/5
Battery life 5/5
Smart flight modes 4/5
Obstacle avoidance 5/5
Mid-Range Photographer's Drones
DJI Air 2S
The DJI Air 2S is regarded as one of the best value and capable drones available. It was quite a specification hike from the original Air 2, the standout feature being the addition of a 1" sensor. Unlike the Mavic 3 series, the camera does not feature a variable aperture, so filmmakers will need to land the drone and change ND filters if the light changes.
It features 5.4k log video from that 1" sensor, plus the ability to shoot 120fps in 1080p, ideal for those slow-motion aerial clips. For photography, the 1" sensor provides excellent image quality again with the ability to shoot Adobe DNG Raw files as well as HDR and auto bracketing.
The Air 2s has fewer obstacle sensors than the Mavic, lacking side protection. However, there are still front/rear and upper and lower sensors. These are locked into the DJI APAS IV automatic avoidance system. All of this is controlled via the DJI Fly app.
The battery life is generous, giving 31 minutes of flight time, and because it uses the batteries from the older DJI Air 2, these are cheaper and easily available. For its compact size, the DJI Air 2S is a powerful drone for the money. Indeed it may well be the best DJI drone.
Drone Rating
Camera resolution 4/5
Battery life 4/5
Smart flight modes 3/5
Obstacle avoidance 3/5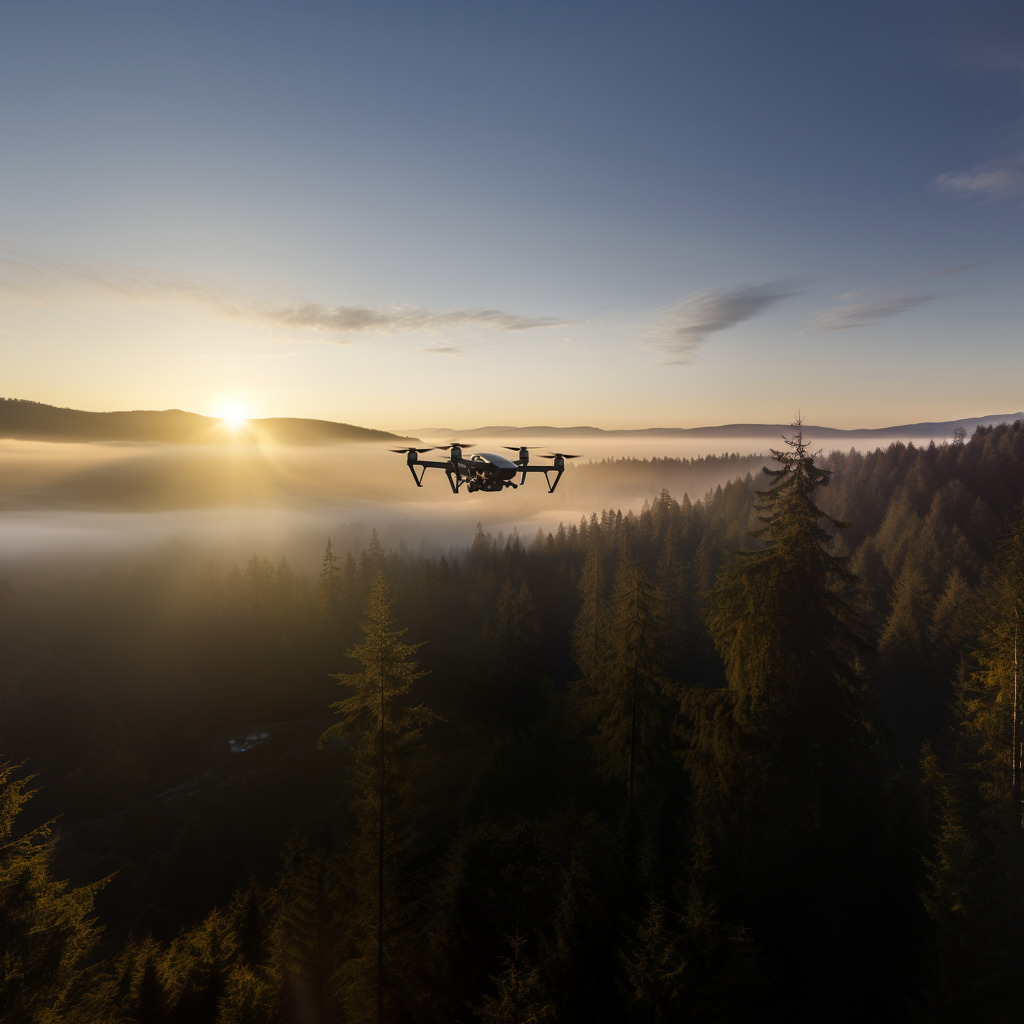 Autel Evo Lite +
The Autel Evo Lite series is, by Autel's own definition, their own competition to the DJI Air 2S and Mavic series. The Lite + is designed as a direct competitor to the Air 2S in the powerful yet small drone market.
The distinct advantage that the Evo Lite + has over the Air 2S is a variable aperture. This, as discussed, is very useful to videographers. The attached camera sports a 1" sensor and can shoot 6k video at 30p, with a camera resolution of 20mp RAW stills, and has an aperture from f/2.8 to f/11. Like the Air 2S, it sports both auto bracket modes and HDR shooting. Its image quality is highly regarded.
As a compact foldable drone, it is a very serious rival to the Air 2S and, in some cases, close to the DJI Mavic 3. Its estimated flight time is 40 minutes, which is some 9 minutes per battery longer than the Air 2S
Drone Rating
Camera resolution 4/5
Battery life 5/5
Smart flight modes 4/5
Obstacle avoidance 3/5
Sub 250g Catagory
DJI Mini 3 Pro
The DJI Mini 3 Pro is somewhat of a game-changer in the industry. Whilst it remains a relatively tiny drone, it packs incredible capabilities within its small body. However, all that technology comes at a price; the Mini 3 Pro can no longer be regarded as a budget drone; at the upper end, it is pushing close to the Air 2S.
It features a 1/1.3" sensor, giving a camera resolution of 12mp. Because of the relatively low pixel density and the wide aperture of f/1.7, the Mini 3 Pro performs better in low light compared to its predecessors and rivals. Video resolution is 4K 60fps giving the possibility of cinematic footage.
It has multiple smart flight modes and three-axis obstacle avoidance sensors, similar to the Air 2S. Like the Air 2S, it uses the DJI Fly app. Flight time is an excellent 34 minutes. This can be extended to 47 minutes using the Intelligent Flight Battery Plus. This, however, tips the DJI Mini 3 Pro over the 250g limit and as such, is not available to buy in some countries.
Despite its small dimensions, it is very stable when flying manually. For a mini drone, it is a very powerful tool and is regarded as the right drone for working in complex urban environments.
Drone Rating
Camera resolution 4/5
Battery life 3/5
Smart flight modes 3/5
Obstacle avoidance 3/5
Autel Evo Nano+
Like in other sectors of the market, Autel has a serious rival to DJI's compact drone. It features a 1/1.28" sensor that packs in a camera resolution of 50mp. Despite that, its low-light capabilities are well regarded. You can shoot video at 4K 30p, a slight reduction to the 4K 60p of the DJI Mini 3 Pro. Like its rivals, it shoots HDR and auto brackets with RAW capabilities.
As with its rival, it has multiple intelligent flight modes and three-axis obstacle avoidance sensors. Also, like the DJI Mini 3 Pro and Air 2S, it lacks side sensors. Drone flight time is slightly less than the DJI Mini 3 Pro at 28 minutes, so you may need to purchase spare batteries.
For a small drone, it is a serious rival to its DJI equivalents and a very useful tool in the sub 250g category.
Drone Rating
Camera resolution 3/5
Battery life 3/5
Smart flight modes 3/5
Obstacle avoidance 3/5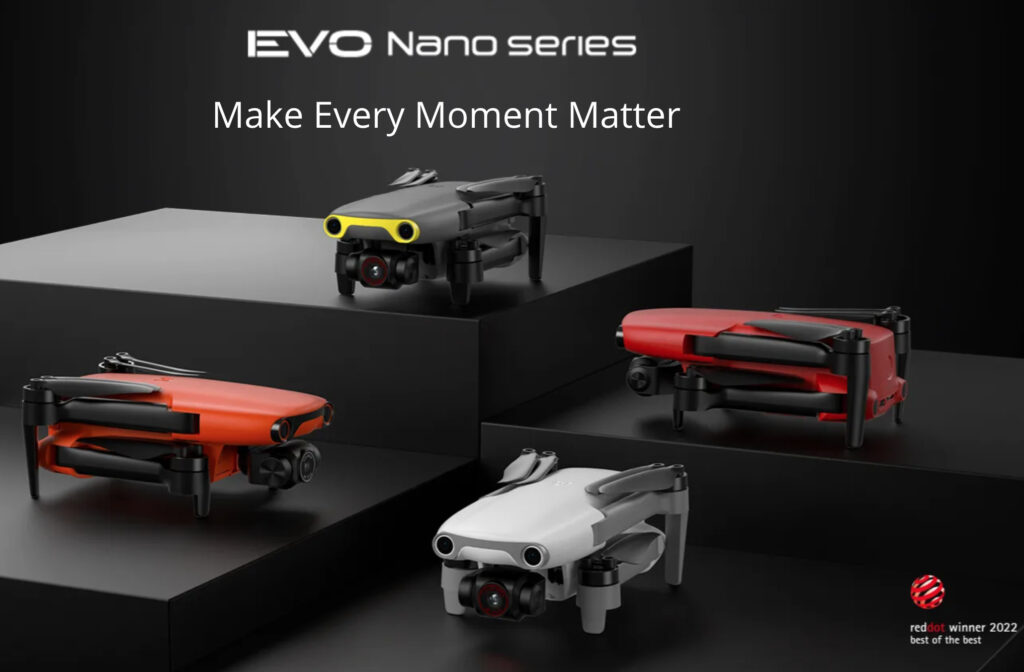 FPV Drone
DJI Avata
FPV drones take a slightly different approach to more traditional quadcopters. Instead of having a controller with a screen, you wear a set of goggles, similar to a VR headset. This allows you to "fly" the drone as if you were sitting in it. Although originally designed for racing, there is an emerging market of FPV camera drones that allow users to film first-person style, cinematic footage. The DJI PFV was their first foray into the market.
The DJI Avata, DJI's current offering, is the market leader in this category. It sports a 1/1.7" sensor with an image resolution of 48mp, giving excellent image quality. It can shoot 4K 60p video, but as an FPV drone, it lacks items such as intelligent flight modes, advanced photography modes, and LOG footage.
It can be combined with the DJI Motion Controller to give a joystick-style feel to the drone pilot. This, however, is an additional extra. Flight time is limited to 18 minutes maximum so that spare batteries will be required. For the FPV drone pilot, the DJI Avata is one of the best drones on the market.
Drone Rating
Camera resolution 4/5
Battery life 2/5
Smart flight modes 2/5
Obstacle avoidance 3/5
Best Value
DJI Mini SE
If you are looking to test drones as a way to add more creativity to your photography, then a cheap drone is the way to go. The DJI Mini SE is, effectively, the original DJI Mini in the Mini 2 body. Like all of DJI's drones, it is well made, well supported, and packs in a lot of features for the price.
It features a 1 /2.3" sensor with a 12mp camera resolution. Video resolution is limited to 2.7k at 30fps, and there is no LOG recording. The drone does, however, feature an excellent flight time of 30 minutes, high compared to other models in the budget category. It is the best drone to test the waters of this type of photography.
Drone Rating
Camera resolution 3/5
Battery life 3/5
Smart flight modes 3/5
Obstacle avoidance 2/5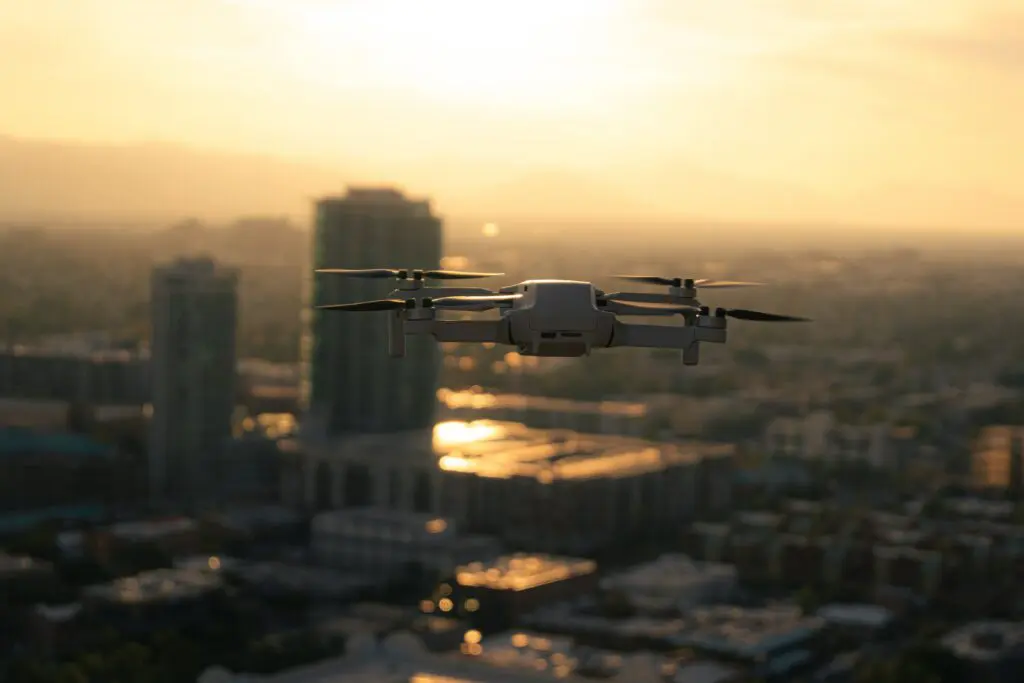 Ryze Tech Tello
Originally sold in partnership with DJI, the Ryze Tech Tello is a tiny, "toy" drone that packs some impressive features. Its battery life is 13 minutes with limited range and height yet it has a sensor with a camera resolution of 5mp and 720p video. Whilst this is not going to set the world alight these days, its comparatively low cost makes it a low-entry gadget.
Drone Rating
Camera resolution 1/5
Battery life. 2/5
Smart flight modes 1/5
Obstacle avoidance. 1/5
In Summary
So that wraps up our review of the best drone in each segment of the prosumer and consumer market. Most drones available these days are incredibly powerful tools packed with excellent optics and abundant safety features.
There are several factors you have to consider when choosing a new drone. Amongst them will be camera quality, video resolution, flight time, safety, and price (and of course, your own licence or ability to acquire one). Lower battery life can be augmented by purchasing extra batteries at the expense of needing to land your drone more often. Both DJI and Autel offer package deals that give extra batteries and more for a respectable price.
While DJI is still the market leader, other drones are available, particularly those from Autel. For the very best in quadcopter camera drones, the DJI Mavic drones are hard to beat. Other drones that are highly suited to photographers and at keener prices include the DJI Air 2S, the Autel Evo Lite series, and the superb DJI Mini 3 Pro. The latter is the best drone in the sub-250 g category.
The world of drone photography and filmmaking is exciting, creative, and ever-expanding. The best drone for you will depend on many factors, but hopefully, this list will help point you in the right direction.