Drones or UAVs – Unmanned Aircraft Systems have become a huge industry in the last decade. This is not only for photographers, many other professions now require drone pilots for their day-to-day operations.
No Time? These Are Our Picks for a Part 107 Practice Test:
Peltier FAA Part 107 Practice Test
King Schools Part 107 Practice Test
In the early days of small remotely controlled aircraft, there were often reports that a remote pilot had illegally flown into controlled airspace. There were even videos on Youtube showing small unmanned aircraft flying dangerously close to manned aircraft in class e airspace. It was clear that there was going to be a need for additional regulation of the country's national airspace system.
In the United States that regulation was laid down by the FAA or Federal Aviation Administration.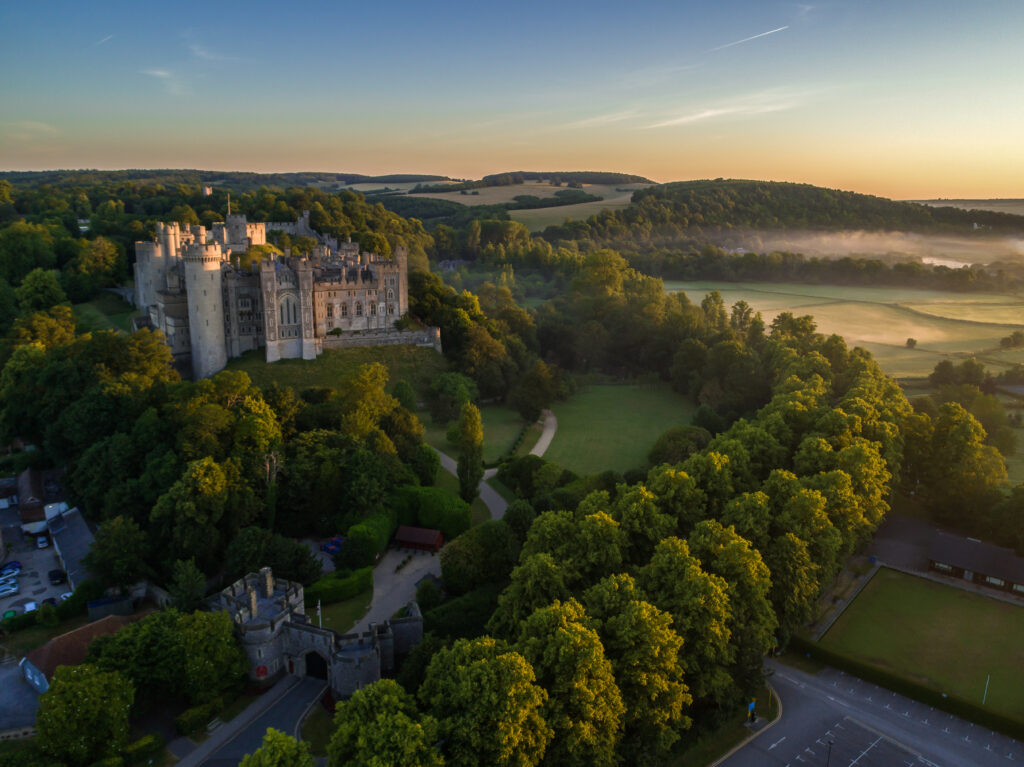 A Brief History of the FAA Part 107
Amongst the earliest drivers of FAA regulations were the large media companies that wished to use drones to film major events. They applied to the National Transportation Safety Board in 2014. By December 2015, the FAA had introduced a registration scheme for all drone pilots flying small unmanned aircraft over 250g.
By 2016 the government had introduced the FAA Part 107 remote pilot test. It was designed to give any drone pilot working in a commercial environment a grounding in aircraft operations, airspace classification, emergency procedures, risk management plus much more. It would allow the pilot to operate a small remote aircraft in class e airspace as well as uncontrolled airspace.
As it stands today, every remote pilot flying a drone over 250g is required to register with the FAA. Anyone who wishes to fly a drone commercially must take the FAA Part 107 Remote Pilot Certificate.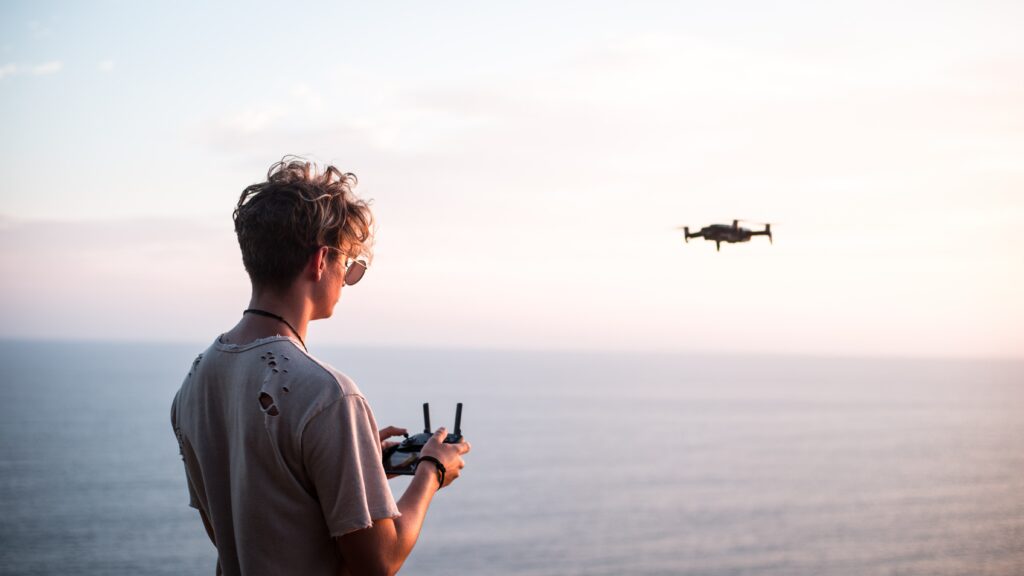 What Does The FAA Part 107 Test Cover?
The remote pilot certificate covers any remote pilot flying an unmanned aircraft with a maximum allowable operating weight of over 250g and under 25kg wishing to fly for commercial gain. It is a comprehensive remote pilot test that covers operating an unmanned aircraft in both controlled airspace, in particular class e airspace and uncontrolled airspace.
It requires that you understand the operation limits of your remote aeroplane, have a good knowledge of your responsibilities as a remote pilot, know how to maintain your drone in an airworthy condition and can demonstrate an understanding of meteorological conditions such as unstable air mass.
The test itself has sixty multiple choice questions and to pass you need to correctly answer 70% or more or at least 42 correct answers.
The test itself can only be taken at an FAA-approved test centre and at the time of writing the cost was $175.
This is a significant outlay and due to the complexity of the subject matter, it is well worth either taking a dedicated FAA Part 107 course or self-studying and taking online practice tests.
So should we look out for in an FAA Part 107 online test?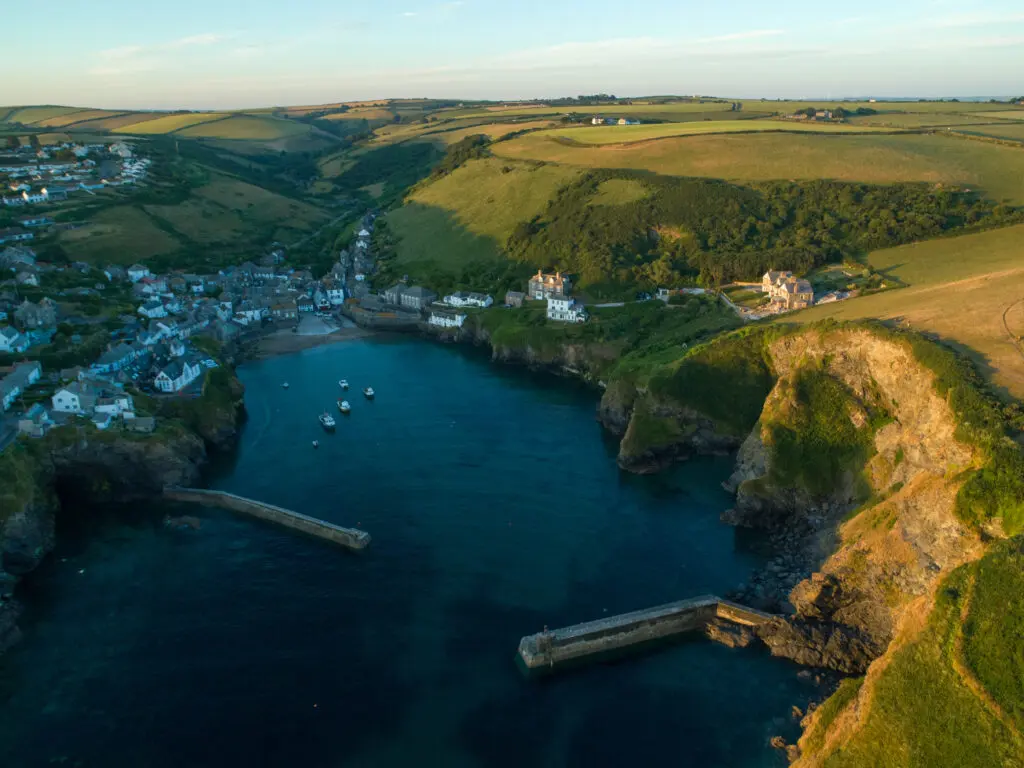 WHAT TO LOOK FOR IN A TEST
The first thing to be aware of is that there are a lot of practice tests out there. It's pretty easy to set up a website and create a paid online test. Not all of these tests are going to be accurate to the current FAA Part 107 questions. You need to sort the chaff from the wheat and hopefully, this article will help you with that.
One of the main criteria might well be cost. Whilst there are some free online tests out there, they are less likely to be up-to-date or as comprehensive as the paid versions. That said there are some good free courses and we will list our favourites later in the article. However if you want to make sure that you get the most up-to-date questions, possibly with feedback on your mistakes, it's well worth going for one of the paid courses.
Avoid rote memorization, this is where you constantly retake the test and commit the answers to memory. Whilst you might pass the FAA Part 107 test, there is also a good chance that you may not get the questions that you have memorised.
In short, you are looking for an online test that fits the following criteria:
Reputable and knowledgeable provider.
Uses a current FAA Part 107 practice test.
Simulates the FAA Part 107 test environment
Acceptable price and value for money.
High pass rates.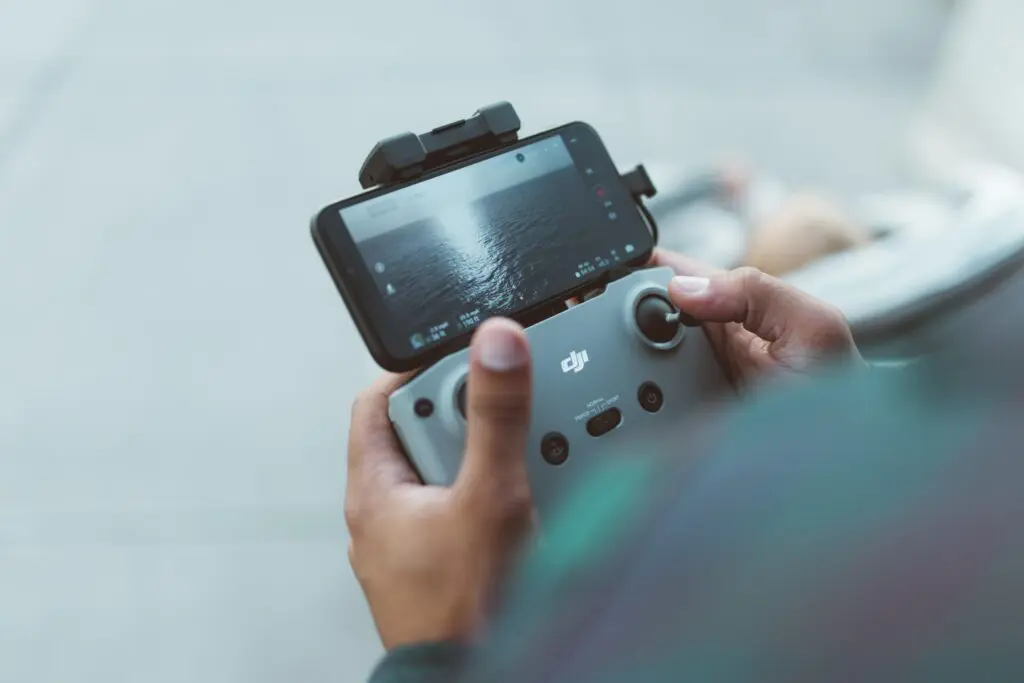 The Best Paid and Free Part 107 Practice Test
The following are our recommendations for the best, paid and free FAA Part 107 practice exams. Please check the website to make sure the test is suited to you. Some of these practice tests are only available through purchasing a Part 107 remote pilot test course. We have reviewed the best of these here.
Peltier FAA Part 107 Practice Test.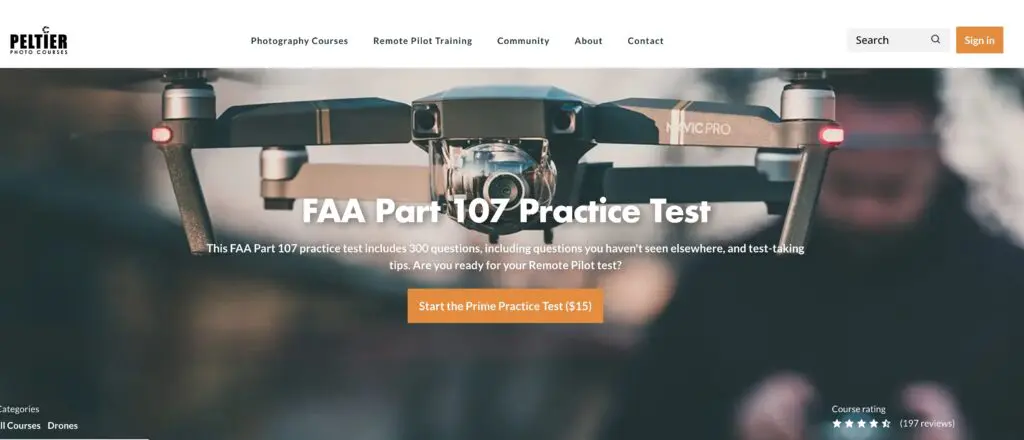 John Peltier has an excellent reputation within the small unmanned aircraft training community. We have reviewed his excellent full part 107 course here. He is a former military pilot and award-winning photographer. Obviously, his military aviation training gives him immense knowledge of the FAA regulations such as class B airspace, air traffic control, and of course, remote pilot operating.
The Peltier online test contains not only online the FAA questions you are likely to encounter but also a number of questions that John has devised himself. This is useful as it really tests your knowledge of remote pilot certification rather than using a rote memorization technique.
There are two versions of the Peltier FAA Part 107 practice exam. A paid version costs $15 and a free version. The paid version has over 300 current test questions. Many questions about aviation charts dealing with subjects such as class e airspace, class c airspace and air traffic control. Perhaps the most important to the remote pilot is an understanding of class e airspace.
For the $15 you get an FAA Part 107 test-taking tip video, two months of access in which to practice and a different test every time you start. The free version dispenses with the video and different tests.
Practice Test Rating
Reputation 5/5
Up To Date 5/5
Value 5/5
Dronegenuity Online Questions and Answers.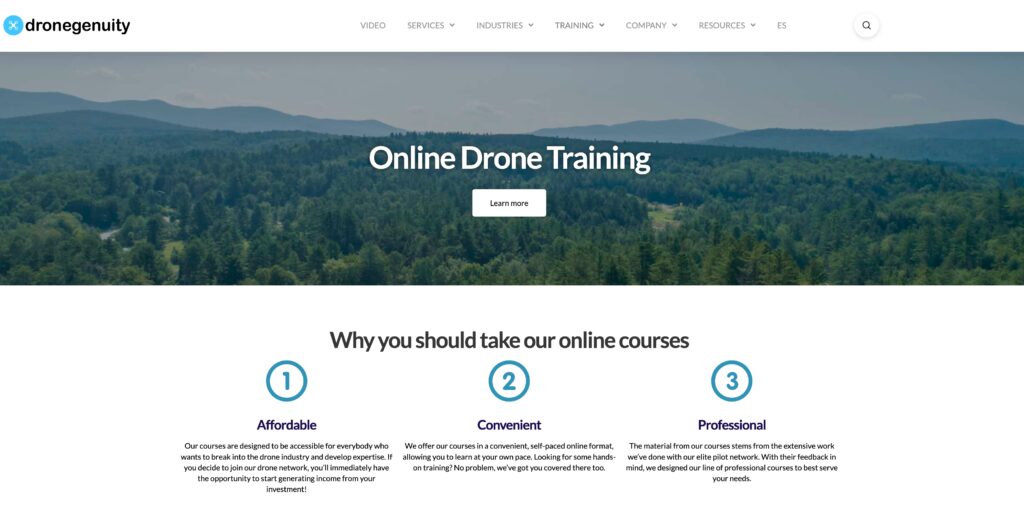 Dronegenuity is a dedicated and experienced drone operations and training company based in Philadelphia. They provide aerial imaging and data services as well as in-person and online drone training.
Dronegenuity has a free basic Part 107 practice test that consists of 10 questions complete with answers and explanations to those answers. Questions range from the floor of class c airspace through to operating an unmanned aircraft system in class d airspace and understanding low-density altitude in drone flight.
It is a fixed test with the answers given directly underneath and no interactivity, however, it does give you a grounding in the types of questions that the FAA will ask.
It is designed to be a lead into their main paid online Part 107 prep course. As well as providing full online part 107 training the prep course contains a much more comprehensive initial interactive knowledge test based around the FAA curriculum.
Practice Test Rating (Paid and Free)
Reputation 4/5
Up To Date 4/5
Value 5/5
King Schools Part 107 Practice Test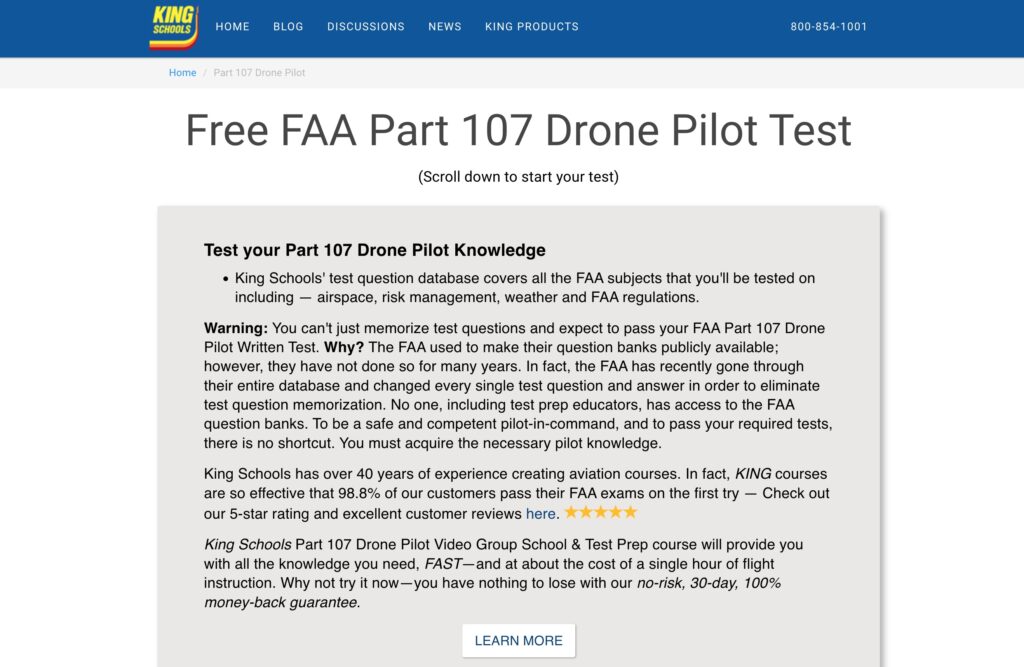 Kings Schools are a well-respected company delivering high-quality training solutions for both manned and remotely controlled airplanes. In the remote pilot community, they are highly recommended for their online part 107 practice exam.
The company is run by John and Martha King, both highly experienced and respected manned aircraft pilots. They have been in the aviation training business for over 40 years. Both have served on the board of directors of the San Diego Air and Space Museum. As well as an extensive catalogue of real world aviation training courses they also provide remote pilot courses and a free online Part 107 Practice Exam.
The test itself simulates the actual FAA Part 107 test with 60 multiple-choice questions and a 120 minute time limit on the webpage. You are not given the correct answer to each question until you submit the exam.
Questions cover the full range of small unmanned aircraft system operations. These include a questions on controlled airspace such as class c controlled airspace and understanding class e airspace. Meteorological questions include dew point, cumulonimbus clouds and icing on airplane structure.
The online course is free and can be taken as many times as you need with feedback in the form of results.
Practice Test Rating
Reputation 5/5
Up To Date 4/5
Value 5/5
Gold Seal Remote Pilot Ground School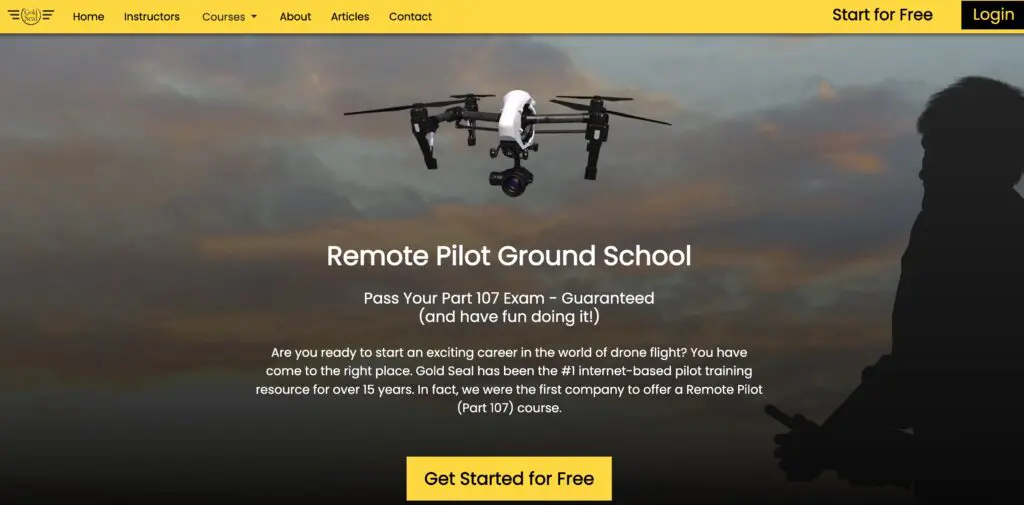 Gold Seal is the world's first online Internet ground school, founded in 2003. Gold Seal is owned and staffed by a number of highly skilled and experienced pilots and is based in Atlanta Georgia. They full a full FAA Part 107 ground school that is in part free and part paid.
There is also a free limited Part 107 practice test, that requires you to sign up on their website. For this, you will need your name, address, telephone number and email. The test will show you the correct answer for each question.
If you elect to take the fully paid Part 107 Ground School you will get access to a much more comprehensive Part 107 practice exam. This consists of a pool of 400 current FAA questions on subjects ranging from controlled airspace, small unmanned aircraft planning, required flight visibility and risk management.
Practice Test Rating (Paid and Free)
Reputation 5/5
Up To Date 5/5
Value 4/5
Drone Coach Free FAA Part 107 Remote Drone Pilot Practice Exam Test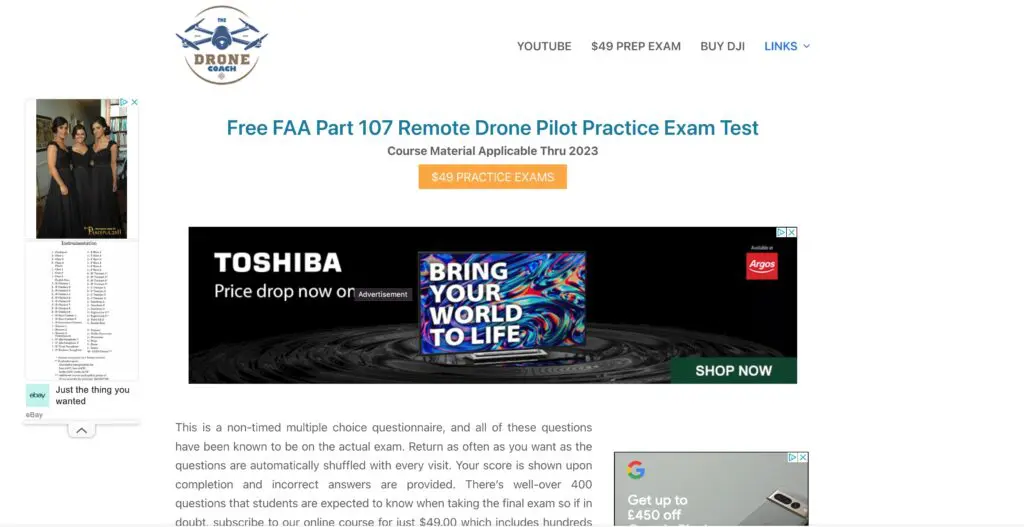 Drone coach is an online interactive drone training company. There is not much information about them other than their Part 107 practice test for remote pilots is available as a basic version for free and as a more detailed paid version. The website is recommended by Propeller Aero, a highly regarded provider of software solutions to the drone industry.
They provide a series of 12 online training videos that cover all aspects of the part 107 including class b airspace, class c airspace and class d airspace. Also included are modules on meteorology, airport operations and air traffic controllers, and all other aspects of the Part 107 exam. Within the course, there is a series of exam questions, each section based on one module.
If you are looking for a free tes, this is provided in the form of a question by question exam. You select your multiple-choice answer and the webpage will tell you if you have the correct answer.
You can also choose to take a more comprehensive exam for $49.
Practice Test Rating
Reputation 3/5
Up To Date 3/5
Value 4/5
Pilot Institute Part 107 Practice Test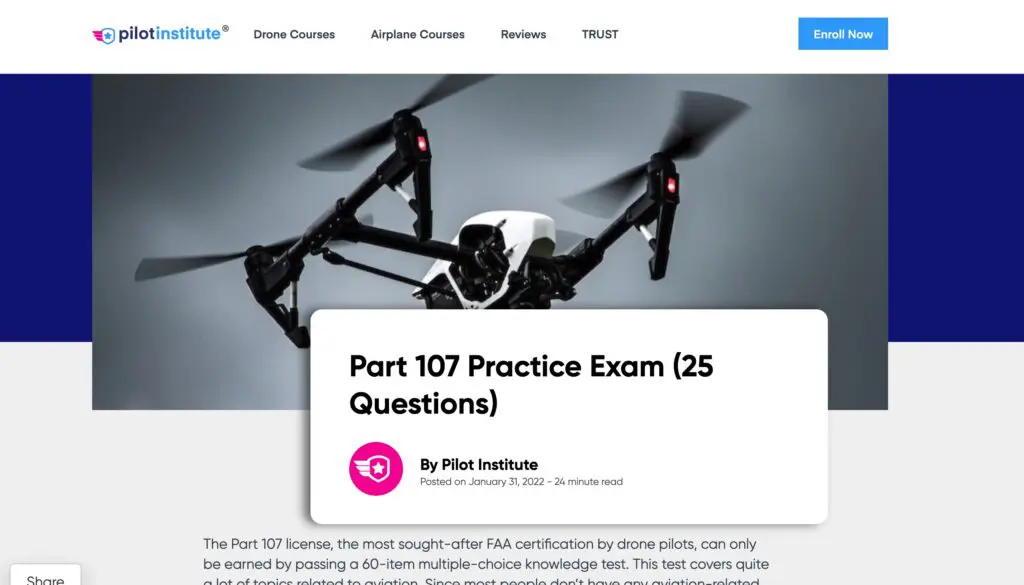 The pilot institute is another well-regarded full-spectrum aviation training company. Based in Arizona they have taught over 100,000 students with a pass rate of 99% for both manned and unmanned FAA aviation exams. The company owners have many years of experience in many forms of flight including remote pilot in command operations.
Pilot Institute have numerous courses in drone flight including drone-specific model training, training in drone video and drone photography and a Part 107 commercial drone pilot course.
They provide a free part 107 practice test on their website. It is a fixed, limited test that gives you the correct answer after each question. It covers class c airspace, class d airspace, class e airspace, weather such as propellor efficiency in low-density altitude and wind direction and intensity. It also covers factors affecting the human body and loading and performance. Overall there are 25 questions.
Practice Test Rating
Reputation 4/5
Up To Date 4/5
Value 5/5
Summary
Whilst flying a drone may just be a hobby to some, to many it's a profession. Like any profession, it must respect the rules and regulations. In aviation those rules and regulations are extensive. Drone pilots wishing to fly in unmanned aircraft for example class c airspace will need to understand a plethora of aviation laws. They will need to check military training routes, surface airspace, and any restricted airspace perhaps even request airspace authorisation. They may have to contact a given airport to request flying permissions and understand where airspace begins and where airspace extends to.
If you have some aviation experience, then you might try a part 107 initial test to check your knowledge. However, even an experienced pilot in the real world may not know the regulations around unmanned aircraft. Perhaps the best combination is to try an initial knowledge test for the Part 107, then take a Part 107 Test Prep course. The paid courses included in this article will have a practice test section that closely simulates the FAA's own exam.
Whatever way you prep for your part 107, a pass will open the doors to a rapidly expanding industry with huge potential earnings. For that reason alone, it's well worth taking the FAA Part 107 exam.
Peltier FAA Part 107 Practice Test
King Schools Part 107 Practice Test