Recently I wrote a photographer's guide to Prague, based on my own experiences visiting there this summer. On my itinerary during that trip was another city, Dresden, a two-hour train ride north.
Perhaps less known than Prague, Dresden is a compact yet immensely photogenic city. It lies in the Saxony region of south-west Germany. The city was extensively destroyed in a highly controversial bombing campaign by US and British air forces in World War Two.
However, much of the historic centre was faithfully rebuilt by the German Democratic Republic. Dresden also played a key role in the downfall of the Iron Curtain.
Some Practical Tips For Travel:
Getting There And About
Dresden possesses a mid-sized airport served from numerous other German airports and a number of other European destinations. Getting there from other continents will mostly involve a connection via one of the many main European hubs.
Dresden is also well served by trains, mainly arriving at the Hauptbahnhof in the city centre. As mentioned, it is two hours north of Prague, and on lines that connect to Berlin, Frankfurt, Munich and Hamburg.
The local public transport is excellent, consisting of a modern tram and bus network.  That said, many of the photogenic subjects are based in the city center. These are all within easy walking distance of each other.
When To Visit Dresden
Unlike Prague, Dresden is not a party city. Even at the height of summer, the tourists are much less prevalent and somewhat more sophisticated. This makes walking around and shooting the city a much more pleasurable experience at any time of day.
Like Prague, in the height of summer the hours of daylight are long, so expect early starts and late finishes. Spring and Autumn offer shorter days and cooler weather whilst winters can be cold with significant snow.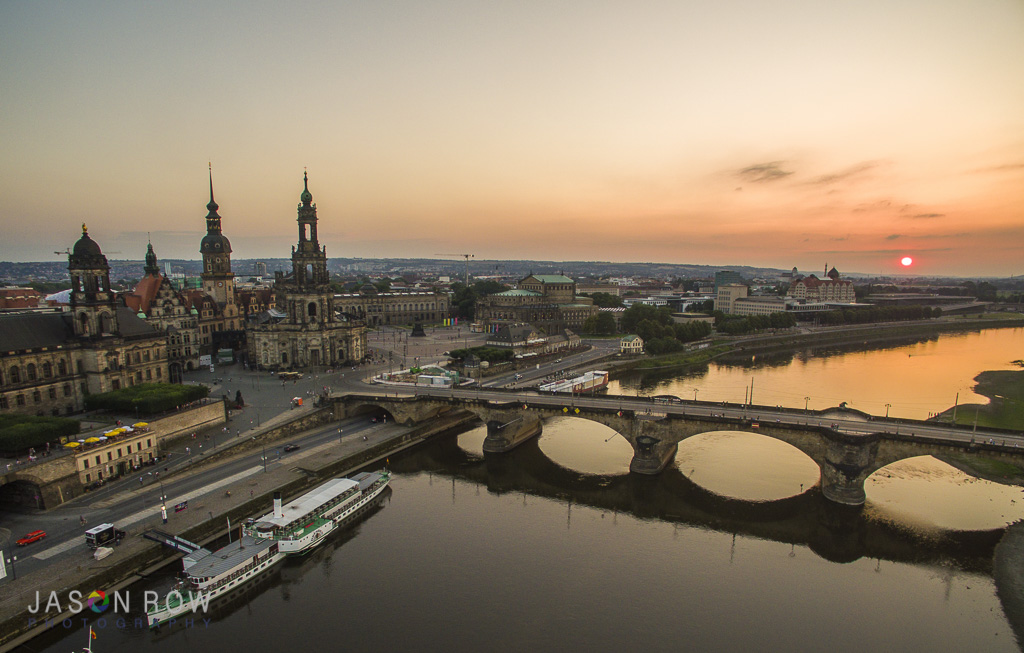 What To Photograph In Dresden
The city center is very compact, situated on the southern bank of a large sweep of the Elbe River. Zwinger Palace, is the western end of the old city, a fantastically baroque and photogenic palace with fountains and great architecture.
I found it possible to walk through the grounds of Zwinger at any time of day. This made golden hour shots a great possibility, although the fountains are not switched on until later in the day.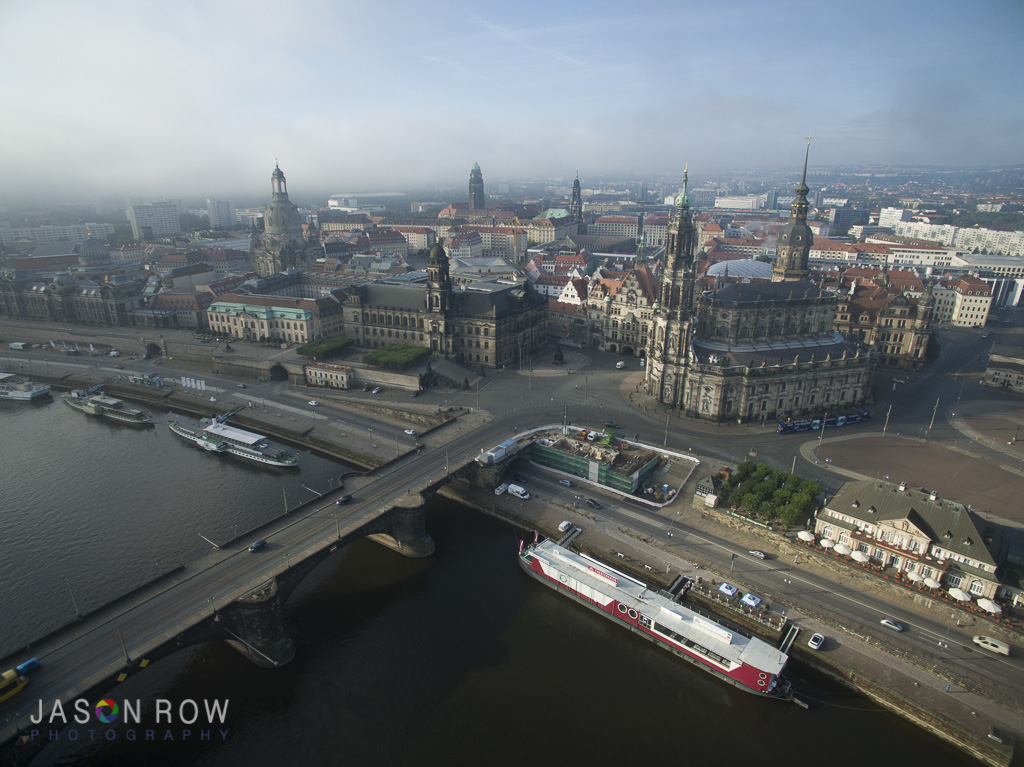 Just to the north east edge of Zwinger, is Theatreplatz. This pretty open square is framed on one side by the Semperoper, a beautiful opera house and theater and on the other by the Hofkirche.
Hofkirche is a Catholic cathedral of Dresden and another splendid photographic subject. It is also well lit at night for evening shots. A short walk away and also in the historic old city, called Altstadt is the Frauenkirche.
This is another of Dresden's reconstructed historic buildings situated on the large open square, Neumarkt. This gives great open views of the church, negating the need to point the camera upwards and correct the converging parallel in post.
To ensure you're getting the most from your Cityscape images, consider this course by pro photographer Jimmy McIntyre "The Art Of Cityscapes" – It's Time For Your Cityscapes To Stand Out!
The north side of the Elbe river is surprising. Unlike many other major river based cities, this side of the river has not been developed into luxury apartments.
It has been left as a wide open public space affording great views of the city skyline both at dawn and dusk. It is best accessed by crossing the Augustus bridge.
The river bank is a major cycle route and affords several very photogenic viewpoints of the city. It was also a very good location for safely launching a drone for spectacular views of the city with no risk to people or property.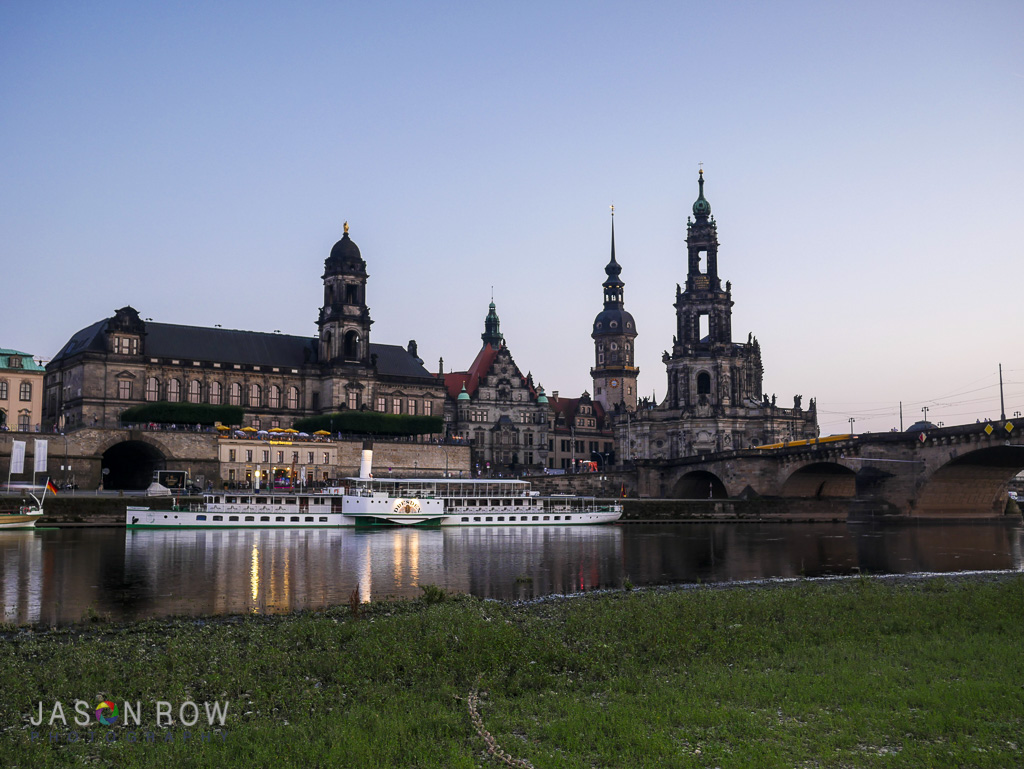 Although I did not get time to visit, one other beautiful trip to take for photographer's is a boat journey through the Elbe Valley. This is a very photogenic landscape of soft mountains, castles and historic towns.
There are several trips available through the day although an early evening trip during the golden hour might be the best option for photographers.
Although I did not make the trip, I was lucky enough to view it from the train both to and from Prague and it certainly looked spectacular.
Summary
Dresden is a relatively unexplored destination outside of Germany. It is a relaxing, ornate and very photogenic location that deserves more recognition than perhaps it receives.
For photographer's a couple of days would be enough to shoot much of the city and perhaps take a visit to the Elbe valley as well. It should certainly be considered by any photographer making a longer tour of this particularly pretty corner of central Europe.
To ensure you're getting the most from your Cityscape images, consider this course by pro photographer Jimmy McIntyre "The Art Of Cityscapes" – It's Time For Your Cityscapes To Stand Out!
Further Resources