Love them or hate them, one of the benefits of low-cost airlines to photographers is that they have opened a multitude of photogenic and relatively unknown cities. This is particularly so in Eastern Europe where cities such as Tallinn, Riga, Krakow, and many others are now easily accessible.
The latest and relatively undiscovered photographer's playground is Lviv in North Western Ukraine. Until recently, getting to Lviv required flying into Kiev and taking an 8-hour train journey. Now Ryanair has started services from several Western European airports, including London Stansted to Lviv.
Today we are going to give you a photographer's guide to this beautiful city.
Getting There, Getting Around
Lviv is situated in the far Northwest of Ukraine close to the Polish border. As well as direct flights with Ryanair you can also connect via Kiev with domestic flights or using the modern Intercity train services. There are also overnight sleeper trains from Odessa in Southern Ukraine.
Lviv has excellent public transport although you may need a working knowledge of Ukrainian to negotiate it. There is also excellent and cheap taxi services including Uber and Uklon, a Ukrainian version of Uber. Both are very cheap by European standards, a 4-5 mile journey should cost no more than $3-4.
Shooting In The City Centre.
The true centre of the city is Rynok Ploschad, or Market Square. This is a small but very photogenic square full of colorful old houses and where old Soviet trams still rumble along the streets. The centrepiece of the square is the imposing town hall. Relatively modern compared to its surroundings, it features a 65m high tower that affords very photogenic views of the city and surrounding hills.
Take both a wide angle and telephoto to pick out the city's details but be aware, an elevator goes part of the way, but you will still need to walk up several flights of narrow stairs to reach the top.
The square is the centre of the old town, which is full of old cobbled streets, courtyards and hidden passages. Early morning in the golden hour is the best time to capture these beautiful locations before the locals and tourists descend on the centre.
It's also worth checking out one of the rooftop tours. These take you up onto the roofs of some of the centre's most iconic buildings with fantastic views of the old town.
Bordering the western edge of the old city is the imposing Svobody Avenue. The two sides of the road are split by a wide pedestrian avenue featuring monuments to Ukrainian heroes, fountains and at the northern end, the very photogenic Lviv Opera Theatre.
This is a must visit for any photographer and can be captured from many angles. It is also beautifully lit for evening photography.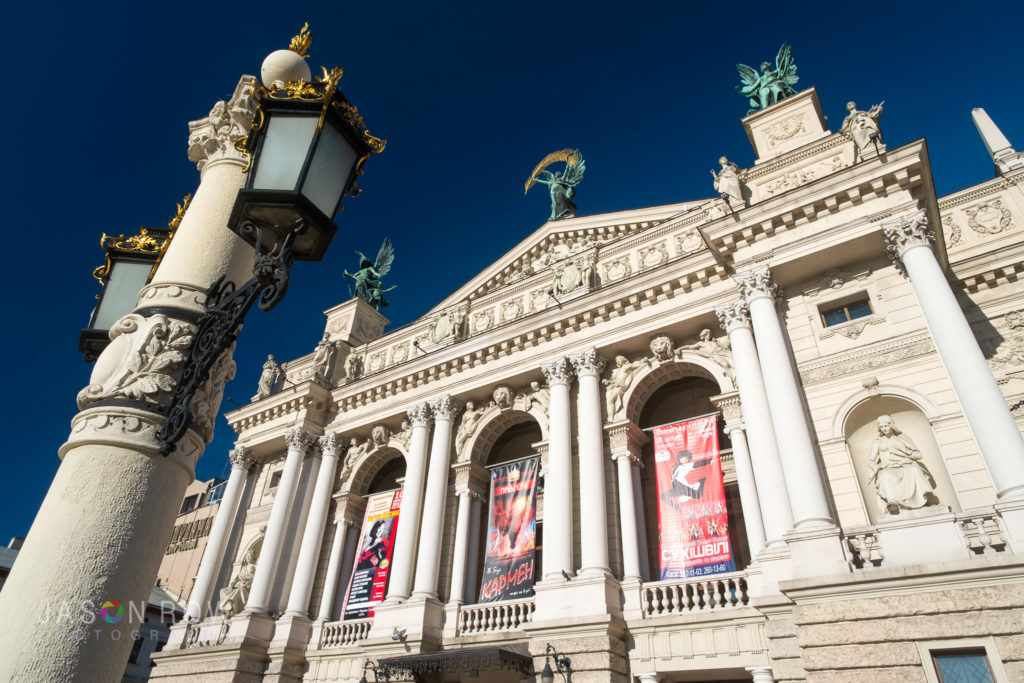 Shooting Away From The Centre
A couple of hundred meters further west are the imposing Ivan Franko University and the very photogenic Ivan Franko Park. Both worth a visit. Walking there from Svobody Avenue be sure to take in the House of Scientists. It features a stunningly beautiful interior with an amazing staircase. To photograph the interior you need to pay a small fee of around $1.
Just northeast of the old town is High Castle Hill. Its a little bit of an upwards hike and there is no castle at the end but it has spectacular views looking west over the city centre. This makes it a particularly good place to capture the sunset and also blue hour shots of the cityscape.
Cemeteries in Eastern Europe are often very beautiful places and perhaps one of the most photogenic is the Lychakiv Cemetery. A brisk walk or short taxi ride from the centre, this beautiful cemetery is full of ornate mausoleums sheltered by towering trees.
It's a perfect place just to relax for a couple of hours with your camera in hand.
Going Further Afield.
If you have more than a few days in your schedule, it's worth taking a trip into the very photogenic Carpathian mountains, a couple of hours south of Lviv. Soft rolling mountains and meandering rivers, there is an outside chance of encountering bears and wolves. Even if you don't it is endlessly beautiful for the landscape photographers among you.
In summary, here of some of the must-see locations in Lviv, photographic wise.
Market Square or Rynok Ploschad
Svobody Avenue and the Lviv Opera House
Ivan Franko University and park.

Lychakiv Cemetery
Castle Hill
Is It Safe?
Let's address the elephant in the room when it comes to travel to Ukraine, safety. The fact is that Ukraine is one of the largest countries in Europe. The well-known problems are isolated to a very small pocket of South Eastern Ukraine, hundreds of kilometres from Kiev and even further from Lviv.
Outside of that small area, which you cannot access anyway, Ukraine is an incredibly safe and inviting country. Lviv, in particular, is one of the fastest growing tourist destinations in Europe and like most Ukrainian cities, it has a very low crime rate.
Although the primary language is Ukrainian, many of the younger generation of Ukrainians are actively learning English and you will find many will happily practice with you.
As a side note, if you are an aficionado of old Soviet film cameras, there is a wonderful camera store called Cyfrovychok. It is found on Nalyvaika Street 16 and has an excellent selection of, among others, Zenits, Kievs, and Zorkas, all for very reasonable prices.
Lviv is a fairly undiscovered photographer's paradise. With it's beautiful and historic architecture, splendid cityscapes and unspoiled surrounding countryside, it's well worth adding to any Eastern European itinerary.
Further Reading