If you're traveling to New York City and you want to avoid the usual tourist traps, yet still come away with some memorable and meaningful vacation photos, I highly recommend making a visit to Roosevelt Island.
Roosevelt Island: Geography And Features
Roosevelt Island is a peculiar place with an equally bizarre history. The approximately 2-mile long island is situated on the East River between Manhattan and Queens and sits beneath the Queensborough Bridge, a bridge that apparently casts such an overwhelming shadow that Roosevelt Island gets lost in it.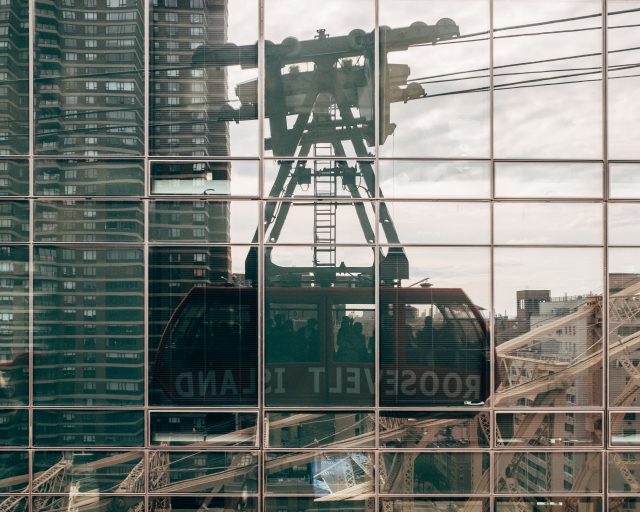 It's not that no one in New York has heard of the quaint little island, but it seems not many people give much thought to it. I know I just referred to Roosevelt Island as "peculiar" and "bizarre" but those weren't lobbed as insults; I actually like the place.
The architecture is generally gloomy. There are, however, very prominent splashes of red accents around the island to provide some color; and the new Cornell Tech campus exudes a rather futuristic style, comprised as it is of so much glass and metal.
Roosevelt Island, due to its location, has always boasted spectacular views of Manhattan. At the southern end of the island, there's the granite-clad Franklin D. Roosevelt Four Freedoms Park where you can take in a spectacular view of the Midtown skyline.
Before reaching the park, though, you have to pass by Renwick Ruin. But let's call it what it really is: a fantastically dilapidated smallpox hospital. Yes, smallpox, or that "loathsome malady" if you prefer 19th-century-speak.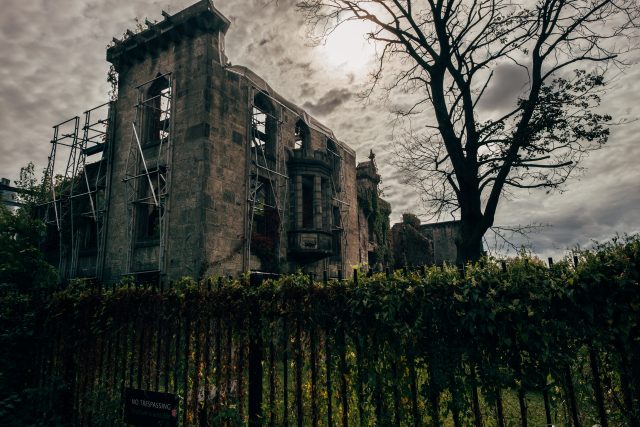 On the northern end, there's a Gothic revival lighthouse that, many years ago, illuminated the nearby New York City Lunatic Asylum. The asylum itself is no longer standing but its distinct octagonal main entrance has been incorporated into the adjacent luxury apartment complex.
Getting There And Getting Around
Given Roosevelt Island's slight geographical stature, it may come as a surprise to some that there's public transportation available, but it's true — those red RIOC (Roosevelt Island Operating Corporation) buses will take you all around the island for free.
From 1991 to 2014 there was a 25-cent fare to ride the bus but RIOC scrapped the fee. Why? Well, fare collection and maintenance was a two-employee endeavor and eliminating the bus fare ended up being a significant money-saving move.
While the Red Bus will take care of your on-island transportation needs (though I highly recommend exploring the island on foot), there are four ways to get to and from Roosevelt Island. The Roosevelt Island Bridge links Roosevelt Island to Queens and is the only route in or out available to motor vehicles and pedestrians.
Luckily the MTA didn't forget about Roosevelt Island; there's one subway station, served by the F-train. A ferry landing opened on the island in 2017 as part of the East River Ferry's Astoria line, which also makes stops in Long Island City and Manhattan.
And then there's the famous Roosevelt Island Tram. Using a Metro Card, you can enter the Tram at 59th Street in Manhattan and glide over the East River to Roosevelt Island. The view is stunning.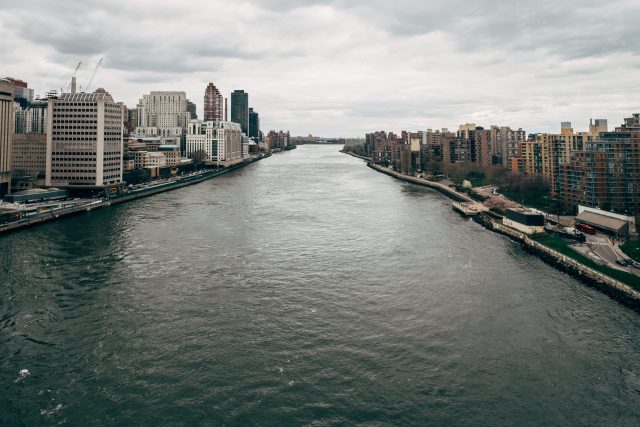 Best of all, Roosevelt Island is never crowded, so it's a good place to get away every now and then. In fact, compared to the rest of NYC it feels deserted. Of course, it's not literally deserted. People do live there. And cats. Because Roosevelt Island also serves as a feral cat colony.
I don't know how you feel about cats (I'm not a fan) but I'm confident that you and your camera would have a fine time on Roosevelt Island.
See more photos of Roosevelt Island here.