If you're a Canon user, you may have recently heard about the fake lens scandal. The short of it is that if you bought a nifty fifty (50mm f/1.8 II) in 2013, there is a decent chance that it is a fake.
Basically, they look the same on the outside (almost), but the internal parts are different.
Bad news for Canon owners!
Well, according to the folks at Canon, there are a couple of small differences they are seeing in the lenses that are getting sent to them for repair.
This means you can tell if your lens is a fake!
It appears that on fake lenses, the CANON INC on the mount was rendered with no space.
Fake lenses say CANONINC.
Genuine lenses say CANON INC.
Here are the photos from Canon: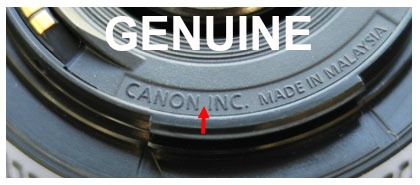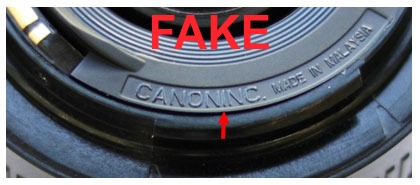 This is one of those reasons that it's always a good idea to buy from a reputable dealer when you're dealing with expensive camera gear. They might be a little more expensive, but it will usually save you from potential problems like this.
You can get more info at the Canon site here