We love a bit of smartphone photography here at Light Stalking. Indeed, I and others here have written a fair bit about the freedom of shooting with a smartphone. One of the other topics I have written extensively about is my love/hate relationship with tripods. I love the low-light images that you can get from mounting a camera on a tripod. However, I hate having to carry a tripod with me, especially on long traipses through a warm city centre.
What if, you could shoot amazing low-light images with a smartphone? I am talking high-quality, long-exposure images, not the computational "night shot" style images. The sort of images that we are used to taking with our DSLRs or CSCs. We would need a tripod designed for a smartphone. One light enough to carry everywhere without being a hindrance, yet sturdy enough to get sharp images even with exposure times of several seconds.
It seems that such a thing does exist. The guys over at Sandmarc have created one, and they have sent it to me to look at. As with all Light Stalking gear reviews, we are free to discuss what we like and what we don't like about a product and this review will not be sent to Sandmarc for approval.
First Impressions On Sandmarc Tripod Pro
As with other Sandmarc products that I have reviewed my first impressions were good. The tripod is surprisingly compact, yet with a suitable heft. The big issue for lightweight tripods is sturdiness, so having a bit of weight behind it, is a good thing. For me, the biggest issue with most tripods is not the weight, it's the size. The Tripod Pro, folded up is very small and comes with an equally compact, canvas carrying case.
Taking the tripod out of the case you would be mistaken that this was a tripod for a regular camera. On top of the tripod's centre column are a small but sturdy ball and socket head. At first, this confused me a little as I wondered how I would attach my iPhone to it. However, a further investigation revealed a small zipped pocket inside the carrying case. Inside this was the smartphone mounting bracket.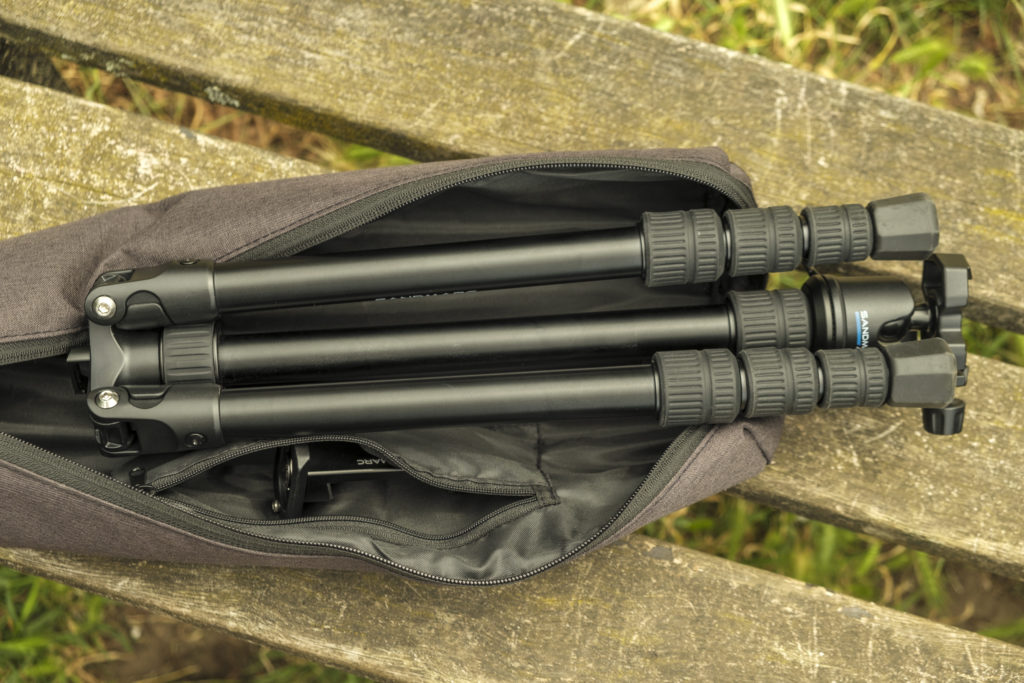 Unlike some manufacturers – I am looking at you, DJI – the smartphone mount is solidly made. It feels like aluminium and is spring-loaded. It features two 1/4 inch holes for mounting to the quick-release plate. One on the base of the mount and one on the end of the spring loading mechanism. The other end of the mechanism is the moving part but also conveniently houses a cold shoe mount for adding accessories.
Features And Build Quality
The Tripod Pro has all the features you might expect in one of its larger peers. The legs are, I believe aluminium and consist of four sections. I generally prefer the lever style of leg locks, but the rotating locks on the Tripod Pro are very smooth in action and easy to unlock. Locking the legs is reassuring, the knob twists to a nice firm finish, reassuring you that it is in fact locked. At the top of each leg is a lever that allows you to push the leg out as far as it will go. In practice, this is way beyond 90 degrees so getting the tripod down super low is not a problem. The upper leg levers are not spring loaded so you need to make sure you push them back when you return the tripod to a normal mode.
The centre column is unique, in terms of tripods that I have used. The reason being is that it is also two sections. A rotating knob similar to that on the legs, allows you to extend the centre column much higher than first appearances would suggest. Given that this is a tripod designed for iPhones, this should not comprise stability as much as if you were using a full-sized camera.
The centre column also features a hook at the bottom, allowing you to add weight, and hence further stability to the tripod. You can remove this hook allowing you to reverse the centre column for low-level shots.
Atop the centre column is a small but sturdy ball and socket head. It locks off well and features a quick release plate and a spirit level incorporated into the locking nut. The smartphone mounting plate screws into the quick-release plate allowing you to quickly mount and remove your smartphone.
Sandmark Tripod Pro In Action
In order to fully test the tripod in the real world, I took it up to London with just my iPhone as the main camera. The tripod was easy and light to carry, especially as I only had to carry the tripod case rather than my full kit. In terms of weight, it felt a little lighter than my Manfrotto BeFree Live and significantly lighter than my Manfrotto C190 Carbon Fibre, even without its head.
Setting up on location was quick and easy. The legs slide quickly and do not stick. The twist locks positively.
I did not use the double-length centre column in action, partly because I did not really need it and partly because as it was a windy day, I did not feel confident that I would be gaining any stability advantage whilst using it.
The low-level mode is useful if you are pointing down towards, for example, some flowers. However being a gentleman of certain years, using the phone on the tripod at pavement level would have required the indignity of me lying on the pavement to line the shot up. This highlights one of the problems of using a smartphone on a tripod, the fact that you do not, in effect, have a swivel screen. I can, at a push, use my Apple Watch to compose, by using a live feed from my iPhone however this is far from an ideal scenario.
However, for shots at or around the eye to chest level, the tripod worked well. It's worth using a remote shutter, such as an Apple Watch to fire the shutter. This would help prevent any movement, especially in low light or when shooting video clips. Alternatively, you could use the self-timer.
All the while I was testing the Sandmarc Tripod Pro, there was one thought in my mind. This would be excellent as a video tripod. As a stills tripod it's good but real-world use is probably going to be limited to longer exposures and perhaps more considered shots such as landscapes. However many of us want good locked-off video clips, something a gimbal can rarely achieve.
I reached out to Sandmarc about the possibility of a video head for the tripod and the good news is that they have one in development. They could not give me a release date yet, but this tripod plus a fluid video head could hit a sweet spot for smartphone videographers.
Overall the Sandmarc Tripod Pro is a solid product for smartphone creators. In my opinion, its uses are relatively limited for stills photography, with longer exposures perhaps in combination with Sandmarc's own filters, being the more obvious use. However paired with a fluid video head, the tripod will really come into its own. It will allow smartphone creators to get much more professional-looking, locked-off footage from their devices.
For the smartphone creator looking to improve the technical quality of both stills and soon, video, the Sandmarc Tripod Pro is definitely recommended. It is currently available for preorder on their website.
Further Reading: