Welcome to Beaver Island, Michigan. Beaver Island is filled with beautiful sunscapes and cerulean water colors that rival the Caribbean. "America's Emerald Isle" is the largest of 30,000 islands in the Great Lakes region. Yes, that is correct and not a typo. There are 30,000 plus islands in the Great Lakes region.
Photographers of landscapes, flora and fauna will discover many delights on Beaver Island. Rich in biodiversity, all seven habitats found in Michigan exist on this 55 square mile island.
Sunrise and Sunset at Beaver Island
Sunrises and sunsets tempt photographers with vibrant, fiery hues, gentle pastels and hazy grays. With a foreground of Lake Michigan's shades of blue, every sunrise and sunset paints a new perspective.
The sunrise photograph below was taken before sunrise. The sky burned with ever-changing colors and cloud formations. The result was many images to choose from. Captured in RAW and processed in Lightroom 5, only minor, standard adjustments were applied. Lens and settings: 14-24mm, f/11, ISO 125, 1/5 sec.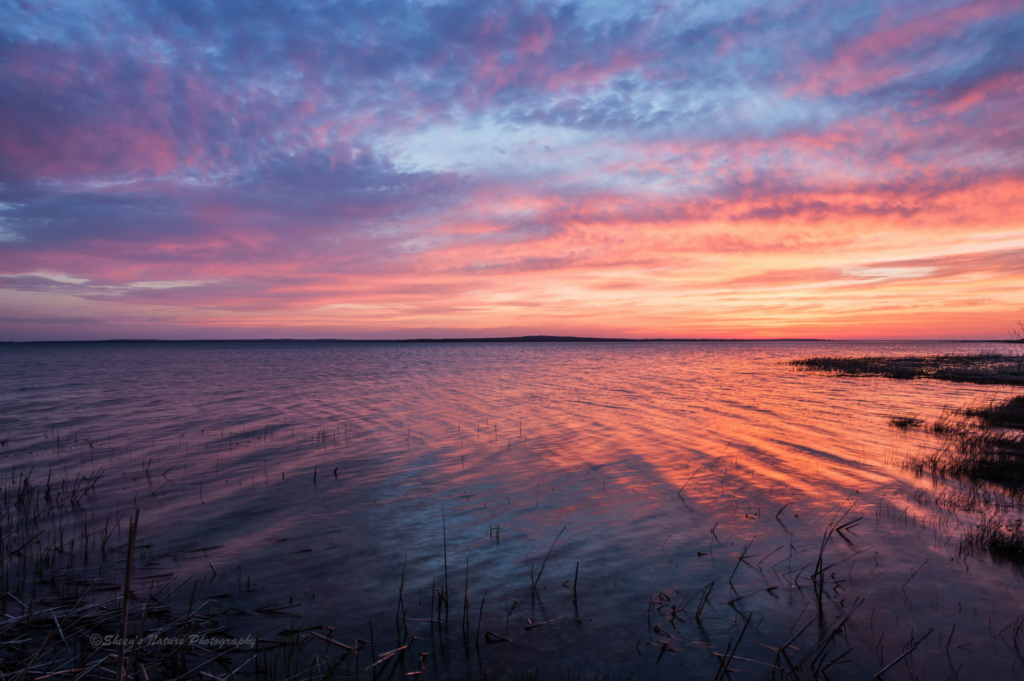 Fire in the Sky on Beaver Island, MI – ©Sheen's Nature Photography
On clear evenings, the milky way dances across the sky. However, be prepared to stay up late. North of the 45th Parallel brings long summer days. Sunsets occur well after 9:00 p.m. and the sun rises before six a.m in the summertime.
The north side of the island has wooded and shoreline views of early morning and late evening color. The east, west and south sides host beautiful, vast open views with lighthouses, meadows and sandy beaches dotted with beach grasses.
Flora and Fauna on Beaver Island
Migratory birds, woodland plants, seven species of non-venomous snakes along with a year-round population of 700 people call Beaver Island home. Beaver Island is a critical stopover site for migratory birds flying to Canada to their breeding grounds. Some birds stay and nest on the island as well.
Trillium, Spring Beauty, Lady Slippers and other woodland and beach flowers offer little gems of color as they push winter aside for spring. Plants, trees and mushrooms of many colors and textures can be found across the island's habitats.
Activities at Beaver Island
May 23 – 25 served as the celebratory grand opening of the Beaver Island Birding Trail (BIBT). The trail includes 35 easy-to-access birding sites across the island's 12,500 acre ecosystems.
Spring Beauty was quite the challenge as the constant winds kept the delicate flowers moving continuously. Using a 105mm macro lens on a tripod, nature's softness created the outcome. Settings: ISO 250, f/5.6 at 1/100 sec.
Saving Birds Thru Habitat, the local Audubon organization, the community, birders and photographers participated in guided tours and events throughout the weekend. Participants explored meadows, woodlands, shorelines and boggy areas. Birds delighted visitors with cheerful songs as they flashed in and out of trees.
There are events and activities throughout the year that are engaging for both the locals and visitors. From bike races, road races, town celebrations and even a Morel mushroom contest, the Island's slow pace doesn't mean boring.
Beaver Island's Culture and History
Once there, it's easy to get captivated by the friendly community and laid back, easy lifestyle. Be prepared to wave when meeting cars while driving along the one blacktop road or exploring the many gravel roads across the island. Even though Beaver Island is remote, hungry photographers and foodies will not be deprived. The Beaver Island Lodge, Dalwhinnies and the Shamrock's cuisine rivals anything found on the mainland.
The islanders willingly share insights of Beaver Island's controversial yet colorful history spanning back to the 1800's. Trapping, fishing and ample forests for the passing steamers provided men with livelihoods. In the mid 1800's, James Strang created America's only kingdom by forming a Mormon colony. A self-proclaimed king with many wives and political clout, he was later assassinated by disgruntled followers. The eight year occupancy of the Mormons turned the island from a wilderness to an island with cleared lands, homes and a road system.
Following Strang's death, the Mormons were driven off Beaver Island by a mob from Mackinac Island. Irish fishermen then moved in and spread the word to their homeland about "America's Emerald Isle." Colorful and intriguing personalities led the island through changes occurring over the course time. Today, it's a nature photographer's delight and if in Michigan, worth a stopping in for a visit.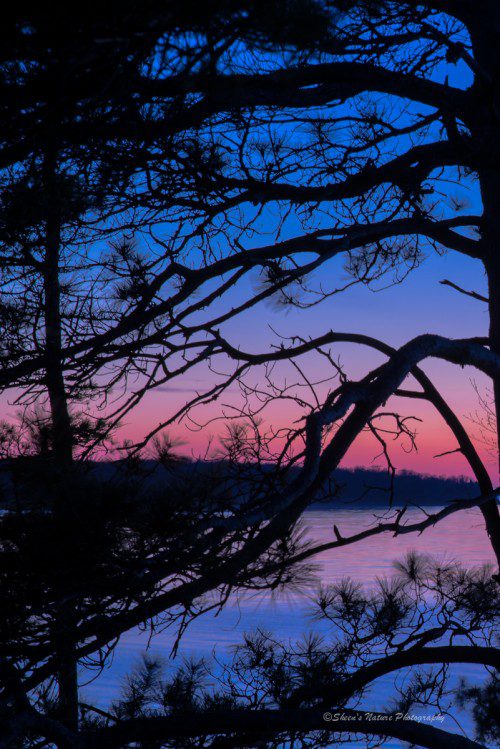 Decorated Sunset on Beaver Island – ©Sheen's Nature Photography
Getting to Beaver Island, Michigan
Getting to Beaver Island is not for the faint of heart or those looking for city action. It is located 32 miles west of Charlevoix, Michigan. Islanders and tourists can get their by a quick 20 minute flight or a 2-hour ferry ride. If you take a car, leave your keys in the ignition and the doors unlocked. If someone borrows your car, don't worry, they'll return it in a few minutes. Beaver Island is a great resting and relaxing spot for birds, families and visitors.