With the cameras in iPhones and other smartphones becoming highly advanced and of great quality, photography with a smartphone is becoming a very popular thing that many photographers who were once using a DSLR or mirrorless camera have started using their smartphones for their day-to-day photography. Although smartphone cameras cannot replace traditional cameras like the DSLR and mirrorless, they can be used for quickly capturing photographs in some locations by staying a bit discreet and without any complicated setups.
In recent years, there are photographers who have started capturing photographs purely with their iPhones and also edit them on the phone itself before sharing them with others or on social media. There are also photographers who start their photography journey using an iPhone and later decide if they need to upgrade to a DSLR or mirrorless. Moreover, smartphone manufacturers are increasingly putting more effort into having better cameras in their devices.
While you can take great photographs with your smartphone, you can take it to the next level if you invest in some photography accessories, so you have the flexibility to explore more genres like macro, capture professional-looking photos, and not stay limited with what the camera on the phone is capable of. In this article, we will have a look at some of the best accessories for iPhone photography. These accessories are also available for other smartphones and when buying these accessories whether for an iPhone or an Android phone, you will need to check to see if it will fit a particular make and model.
1. Tripod Or Gorillapod
You may wonder at times why a tripod for mobile photography! But trust us, there are times when a tripod comes in handy for long exposure and other creative shots which are possible with an iPhone or a smartphone. By tripod, we do not mean that you lug around with a huge tripod that you use for a camera.
There are many flexible, lightweight, and compact tripods designed for mobile devices, especially the one from Manfrotto called the Manfrotto PIXI Mini Tripod, and if you want a taller one, there are lightweight and perfectly compact tripods for mobile devices called the lollipod. If not a mini tripod, there are gorillapods for mobiles, that are lightweight and very compact making them one of the best iPhone photography accessories.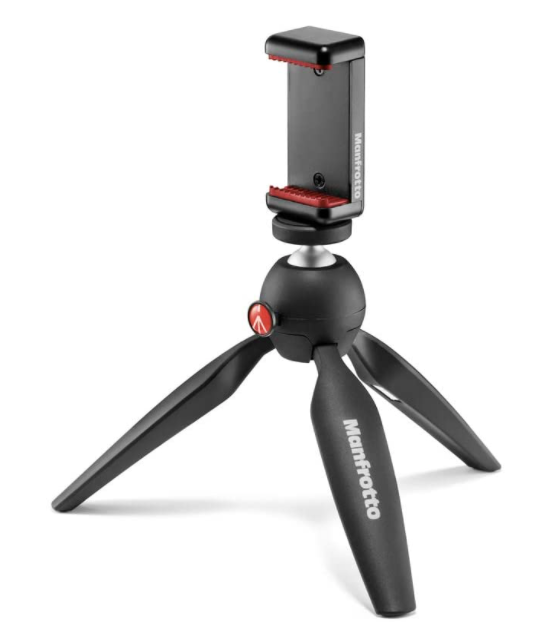 Joby manufactures gorillapods for various photography purposes and for devices of which one is for smartphones called the Joby GripTight ONE GorillaPod. A Joby Griptight Gorillapod is more flexible compared to a tripod because of its flexible legs that can be used to clamp your device anywhere, so you can photograph from some unusual perspectives as well and clamp the smartphones onto most things. These, according to us, are some of the best accessories one can have for creative iPhone or smartphone photography. If you are looking for cheaper options, research well and go for ones with the best build as cheaper ones may have their legs come off easily when bent or clamped around structures.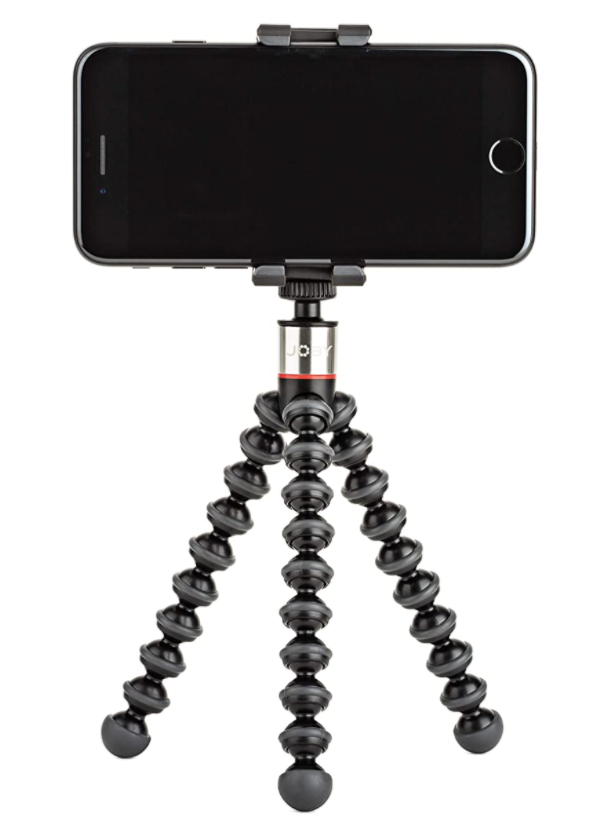 Some situations where you will require a tripod or a gorillapod when photographing with the smartphone are, night sky photography, time-lapse photography, long exposure photography, for example, waterfalls, Intentional Camera Movement, some macros if your hand is not steady, sometimes when using a telephoto lens attachment, etc.
What's more, instead of carrying around a dangerous selfie stick, we recommend you to use a gorillapod or tripod along with a remote shutter release to take photos of yourself and for group photos when out traveling. You will be careful and be cautious of where you stand and not greatly disturb other people around you.
2. Smartphone Holder For Tripod Mount
A tripod mount for smartphones is important to have if you wish to capture long exposure photographs using your smartphone. These accessories come in various sizes and grip types. The one that has adjustable screws to tighten and keep the device secure is highly recommended. These come with tiltable heads so you can position your smartphone either vertically or horizontally depending on how you want to frame the scene.
There are other grip tight mounts and if you are looking for one of these, make sure you buy one from a reputable manufacturer so that the system does not snap and cause damage to your device. Whatever the model, the tripod mount for smartphone devices will come in very handy when you are using a tripod.
3. Shutter Release
A bluetooth remote shutter release is helpful when you want to capture decent photographs of yourself or a group including yourself in a location. Although the iPhone camera and other smartphone cameras come with an inbuilt self-timer option, an external remote control will help you to work flexibly and not rush with the timer. This hands-free device works perfectly via bluetooth, so is a great accessory to have if you frequently photograph yourself in locations.
When you are photographing by being close to your iPhone, you can plug the earpods into your iPhone and use the volume control on your earpods as a shutter release on the iPhone. If you are using another camera app instead of the native camera, make sure that the earpods work with them as well. This can be helpful in situations where you want to take a photo with no camera shake.
4. Lens Attachments
Lens attachments are one of the best iPhone camera accessories one can have in order to explore a few other genres in iPhone photography. While the native camera lens is capable of taking brilliant photographs, one cannot get very close or zoom in on faraway subjects like a macro or telephoto lens. In order to overcome this, there are many third-party manufacturers that manufacture lens attachments for iPhones and smartphones that come with great quality glass. Having a lens kit that covers a good range can be a great addition to your iPhone photography kit.
Here are some lenses that are popular for iPhone and other Smartphone photography and when buying these lenses, make sure you read the description carefully. Even for iPhone, there are different sets to choose from for different models because of the size of the phones and the way the lens is arranged.
Macro Lens
One of the first and most popular macro lenses for iPhones to hit the market was from Olloclip and they still make incredible lenses for all models of iPhones. The glass is incredible and helps you shoot macro images that have great details and resolution.
These lenses are very compact and can be easily attached to the iPhone. They manufacture a range of lenses and also have lens kits like the 2-in-1, 3-in-1, or 4-in-1 lens kit that include macro, telephoto, and fisheye. The macro lenses also come in various magnifications. Olloclip also makes lenses for limited models of Galaxy phones and a Universal lens that may fit most smartphones.
Another manufacturer that produces incredible lenses is Moment. Their lenses are of premium quality with high-grade optics and hence are more expensive compared to the Olloclip lenses. If you are happy to invest some money for quality glass, then Moment lenses are the ones to go for.
Moment lenses also come in a wide range like macro, telephoto, wide, fisheye, superfish and have kits like starter kits and filmmaker kits. The lenses work with Apple, Google, Samsung, and OnePlus devices.
Telephoto Lens
Many iPhones and smartphones come with a particular zoom that you can use besides the normal lens, but there are times when you may wish to go beyond the zoom in the device and capture neat images. Telephoto lens attachments will help you overcome this situation and capture photographs with good details.
As mentioned in the previous sections, Moment and Olloclip make telephoto lenses for smartphones. There is also another popular one called Apexel.
Wide Angle Lens
If your device does not have a wide-angle lens that is wide enough, then you can always go for a lens attachment to capture wide-angle photographs. Some iPhone models and other smartphones have a wide-angle lens, so you may want to check before you invest in a wide-angle lens kit.
Fisheye Lens
Fisheye lenses are fun to work with and they can be a great addition to your lens kit for iPhone if you are into creative photography. There are fisheye and superfish lenses. Check the specifications before you buy one and get the one that suits your requirements and artistic vision. Olloclip and Moment make fisheye lenses for iPhones and various other smartphones.
Besides Moment and Olloclip, there are other manufacturers like Sandmarc, Beastgrip, Apexel, and others that make clip-on lenses for both iPhones and Android phones. Make sure you buy one that has reasonably good optics. Check for reviews or recommendations before you invest in one.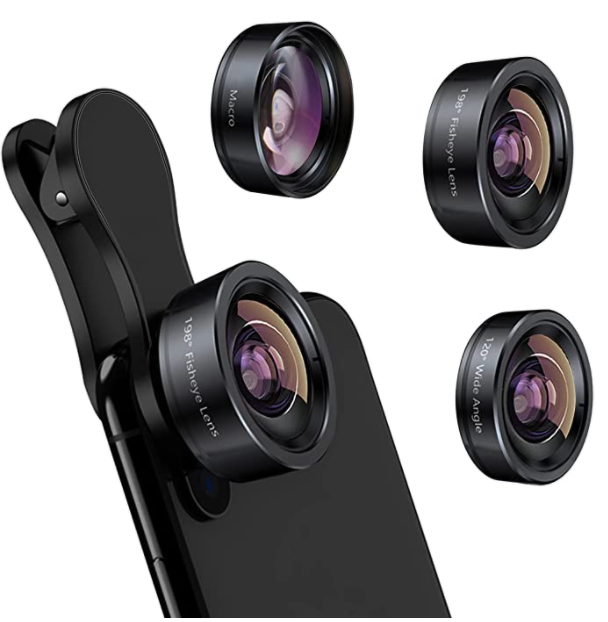 5. ND, Variable ND And Circular Polarising Filters
If your iPhone is the only gear that you use for photography then you will be happy to hear that there are neutral density (ND) and circular polarising filters available for even iPhones and other smartphone cameras. This can be a great addition to your iPhone photography kit if you are more into shooting landscape photographs, but can also be beneficial for other scenarios.
In situations where you want to control the light entering the lens, darken skies, enrich the colors in a scene, or want to eliminate reflections in the scene or frame, there are variable ND filters, ND filters, and circular polarising filters manufactured by some companies. Some of the most popular is the LiteChaser by Polar Pro Filters, Sandmarc, Moment, and others. There are also cheaper ones like the Neewar that come with clip-on filters for smartphones.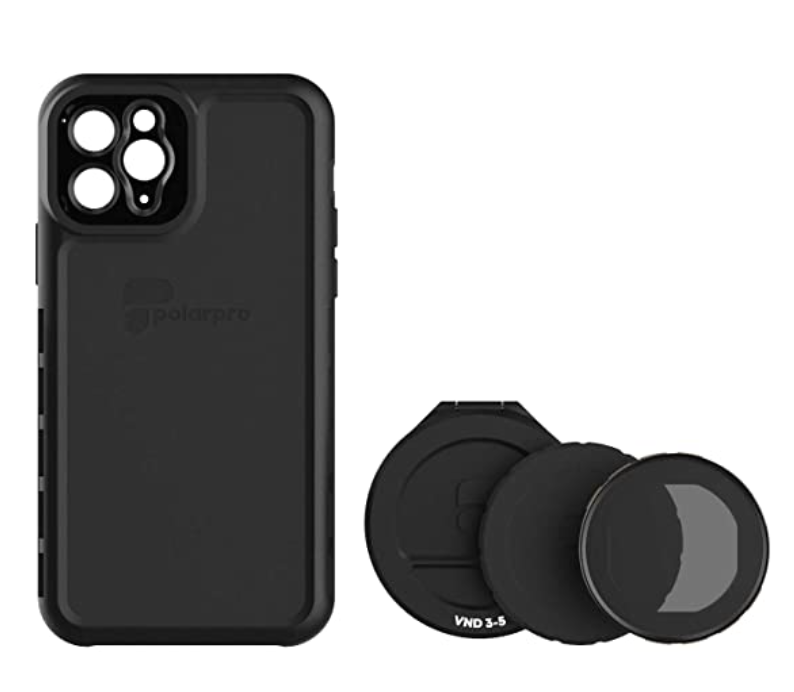 Like most other iPhone accessories, you will need to buy one that suits your make and model of phone. These filters are great for anyone shooting photos and videos on their smartphone.
6. Colored Gels
You may have seen colored gel filters used in front of speedlights to change the color of light and sometimes for color correction. These or similar gel sheets can be purchased in various colors and can be used in front of the iPhone lens for creative iPhone photography. When choosing these filters, make sure you get some that are made of high light transmission material so you do not lose out on light and picture quality.
7. Reflectors
Many iPhone users capture great portraits using their devices and a very important accessory for portraits is a reflector so you can have greater control over the lighting. Although this is not mandatory, it is good to have a foldable small reflector that you can keep in hand if you are mostly into shooting portraits.
Besides portraits, reflectors will be helpful when shooting macro photos as well. You may need some light to be filled in the shadow regions especially on very bright days. Having a reflector will help to remove or reduce the shadows caused by the strong light.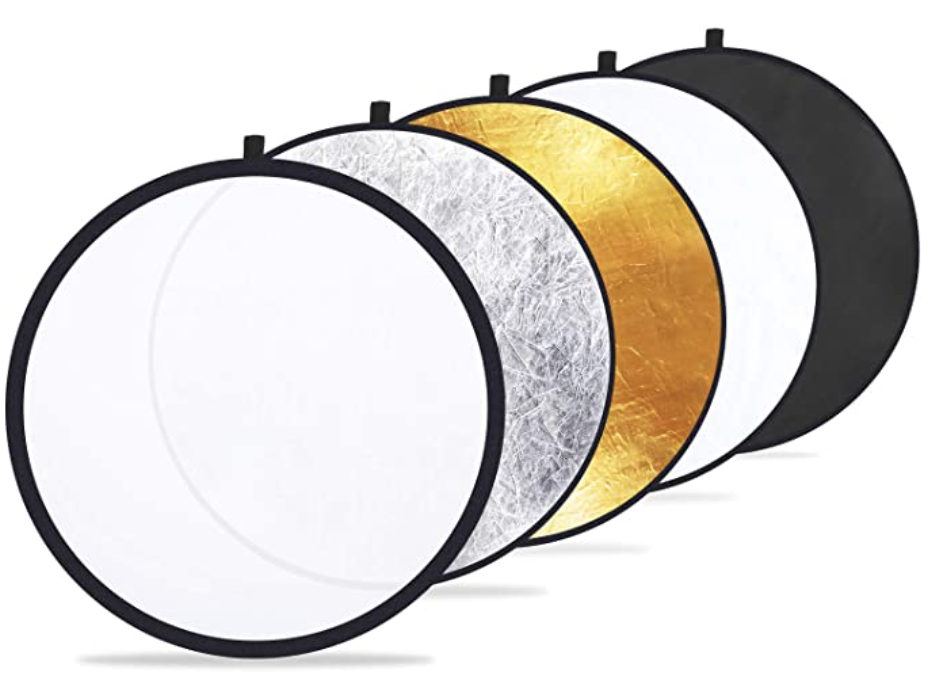 8. External Light Source
When your iPhone or smartphone is your go-to device for photography, in lowlight conditions, or when shooting indoors under low light, you may have to work with a minimal amount of light. There are times when an external light source or two will help with capturing better quality images and give you the flexibility to shoot under low light conditions. The built-in flash will not help in these situations.
Besides, having an external light source or two will help you to control the intensity of light and angle of light falling on your subject, paving the way for creative photography. Some of the well known external light sources for iPhone photography are the following:
Lume Cube
Lume cube manufactures various light products like the RGB panel that allows you to change the colors of light depending on what you wish to shoot. Some models are the Lume cube, ring light, lighting kit for Lume cube, etc. They even have a smartphone clip for lighting. The lights can be placed on top of the device using a mount or at an angle depending on what you are shooting.
The Lume cube specifically comes with a filter kit and diffusers to change the color and intensity of light used.
Manfrotto
Manfrotto has a range of lighting kits like the LED lights that come in different shapes and sizes along with filter kits that can help you change the color of light from the source.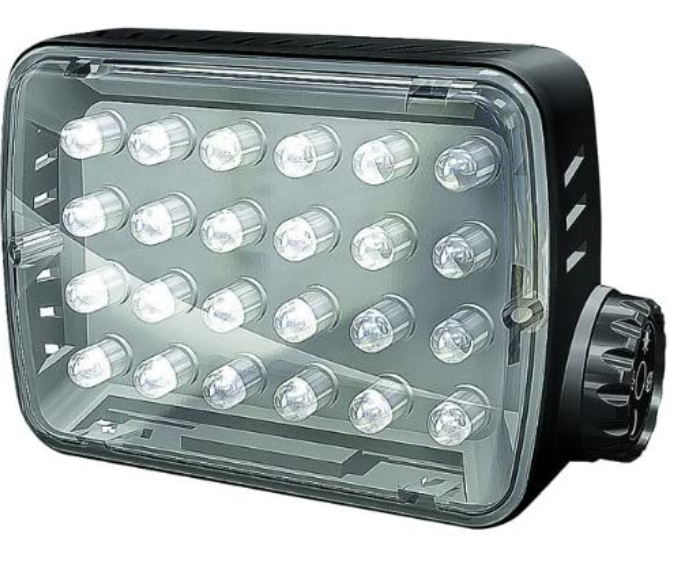 Ulanzi
Ulanzi is another popular manufacturer famous for their lighting kits and they come at a very affordable price. They manufacture rechargeable LED lights, RGB lights, waterproof lights, and many more accessories like tripods, gimbals, and lenses for smartphones.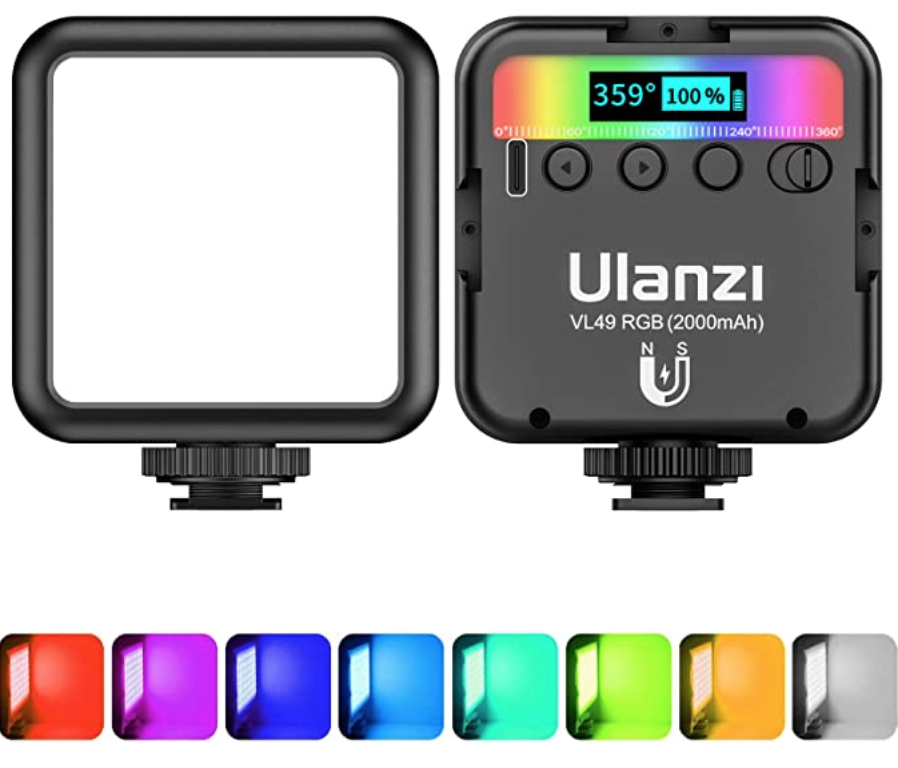 Clip-on Light
There are various manufacturers that make clip-on lights and these are especially useful when you are filming in a dark location and want some extra light to illuminate the subject. These lights can also be used for photography using a smartphone, especially portraits.
The clip-on lights come as ring lights mostly, but also comes in the form of LED panels, have a rechargeable battery, and come with various intensity settings as well. Some of the well-known manufacturers are Bescor, Xuma, Godox, Bower, Auxiwa, etc.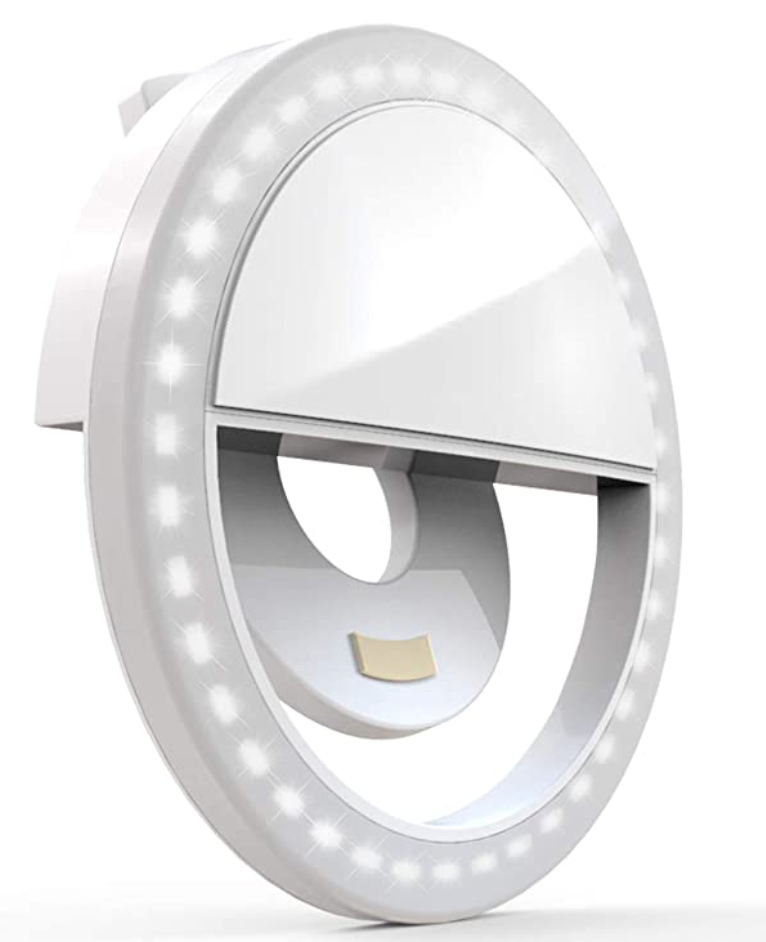 Besides the above, there are V-light, Godox, Aputure, and many others to choose from for all sorts of external light sources for smartphone photography. Just look at the reviews before you decide on a product.
9. Power Bank
When you are constantly photographing or filming with your iPhone or smartphone, chances are that the battery power consumption is relatively high which means you may need to charge your device with an external power source to get you through the shoot or day. You may not always get a chance to find an AC power outlet to charge your devices and when you are out on location, one of the best iPhone accessories to have in hand is a power bank so you can charge your iPhone on the go.
There are so many good brands to choose from when it comes to a power bank, like Anker, Mi, Amazon Basics, etc. I have personally used Anker for about 6 years now and know people who have used Mi power banks that work perfectly fine. Whatever the choice of power banks, look for good reviews and choose the one that suits your budget and requirements as these come in various capacities as well.
10. Smartphone Lanyard
This might seem like a strange accessory to have but if you are someone who uses your smartphone a lot for photography on the go, then this is a must-have accessory. Picking up the camera from your pocket or the bag each time you want to get a shot can be frustrating and can also lead to missing some important moments. So, whether you are on a photo walk or taking photos during your travels, it will be convenient to have your iPhone or smartphone on a lanyard that is detachable and has an adjustable neck strap.
One important thing to keep in mind is, to make sure it is safe where you are to hang the smartphone this way as it can sometimes lead to mishappenings depending on where you live or are traveling.

11. Wrist Strap
Just like how a lanyard is an essential item to flexibly and safely pursue photography using a smartphone, if you do not want the lanyard, then simply use a wrist strap to secure your smartphone from getting dropped accidentally or from being snatched. Go for a good quality strong wrist strap that will last longer and secure the smartphone to your wrist safely.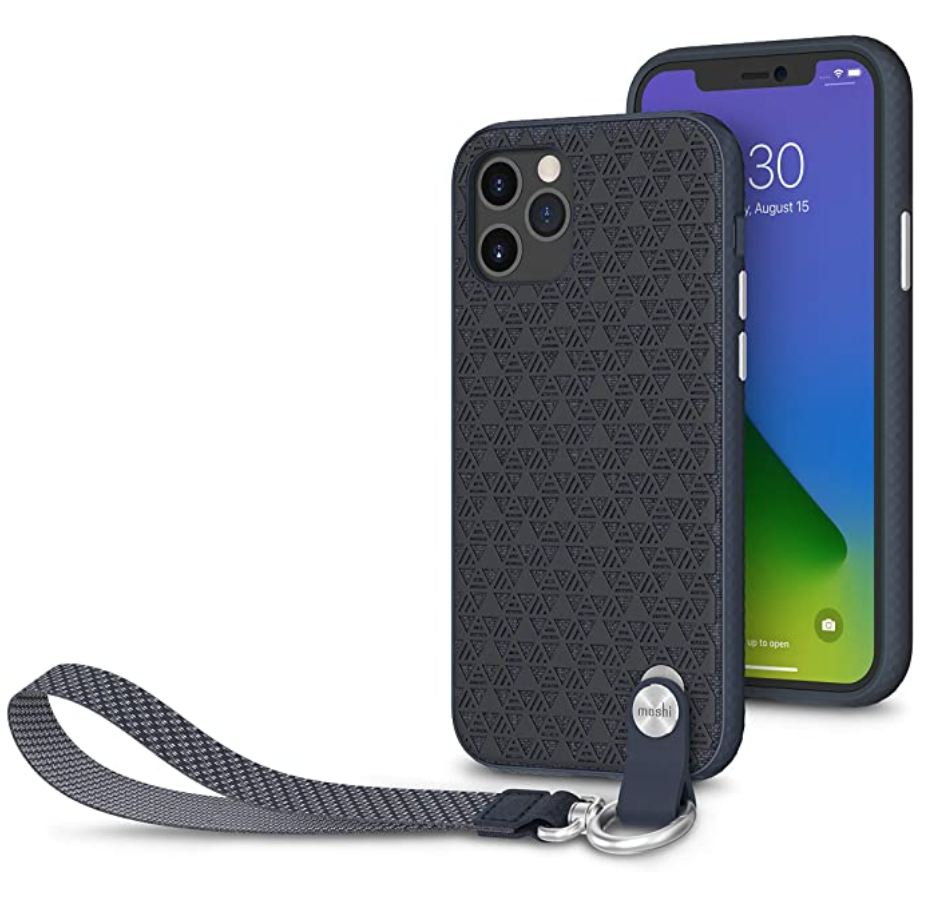 12. Winter Gloves
When photographing out in the winter, it can be challenging to use bare fingers as they can become very numb quickly. One of the solutions to photographing using a smartphone in the winter is by using gloves that allow you to operate the device when wearing them. The acrylic coating will allow you to use your smartphones for photography even in the cold of the winter.
13. Gimbal For Smartphone
If you are someone who creates videos with your iPhone or smartphone, then we recommend you have one of these best iPhone accessories, as it will help with capturing cinematic shots and smooth footage. Any movements due to walking, running, etc., during the shoot, are compensated by the electronic features in the gimbal as long as they are perfectly calibrated.
One of the best gimbals for smartphones out there is the DJI Osmo Mobile. It is foldable and hence ultra-compact and comes with easy-to-use features that are designed for perfect filming on the go!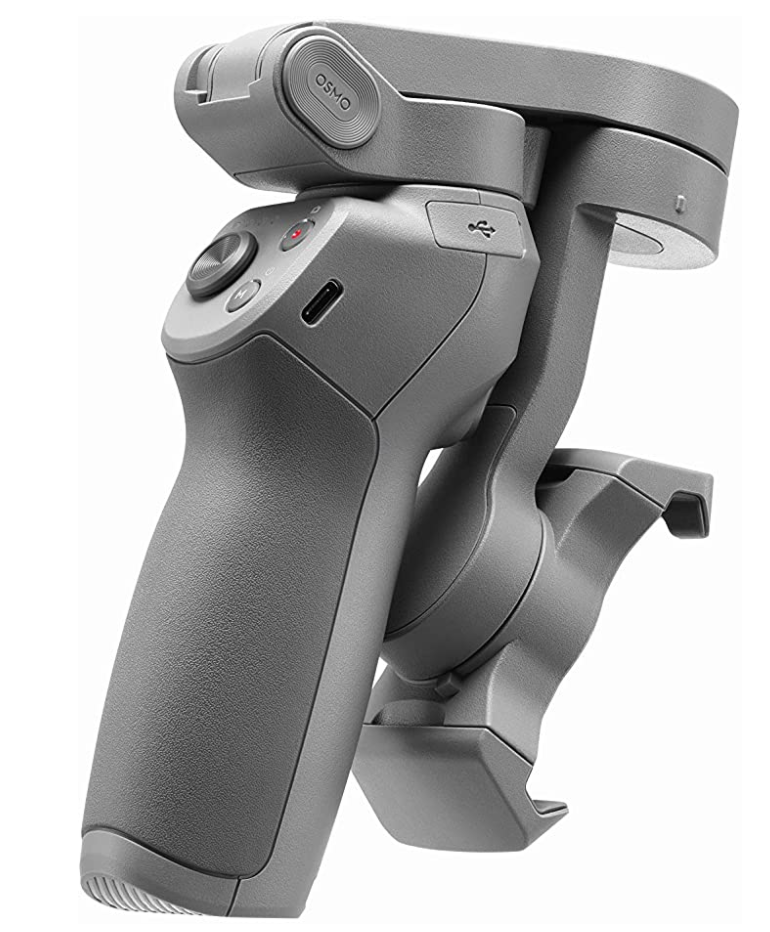 14. Wireless Storage Drive
When you are shooting on the go and maybe even filming side by side, you may sometimes run out of storage space and want to quickly back up data onto a storage device. The best accessory to have in hand during these times is a wireless storage device that is battery-powered and can be used on the go and when traveling. Some of the best-known manufacturers are Seagate, Western Digital, etc.
15. Pocket Printer
A pocket printer for an iPhone is not a necessity, but if you are someone who enjoys printing photos and sharing them with others when traveling, then a printer in your bag is well worth an investment. These printers do not take up much space like the other traditional printers and are battery-powered. You can use print photos on the go via bluetooth.
Some of the popular pocket printers are the ones manufactured by Canon, Kodak, Fujifilm, Polaroid, and HP.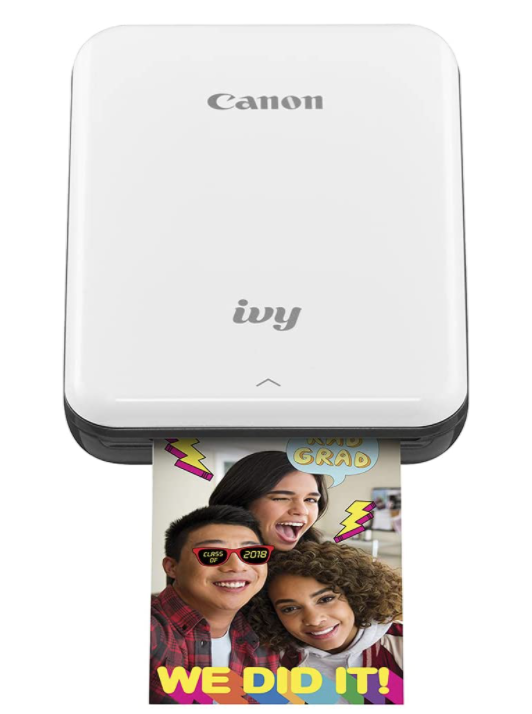 16. Underwater Photo Cover
If you are an underwater photography enthusiast, you can now even take photos underwater by securing your phone in a waterproof underwater housing specifically designed for smartphones. These cases are designed to fit many makes and models of smartphones and are known to work up to 50 feet deep. The cases also come with a grip to hold the device but if you want to attach a tripod or something similar, it comes with a screw option for that as well.
17. Other DIY Materials For Creative Effects
Besides the accessories discussed above, you could have a few DIY accessories in your bag or in hand for creative photography effects using your cell phone. Here are some items that you can have in hand:
18. Camera Bag
If you will be carrying some of the accessories mentioned above, then you will definitely need a camera bag to carry these accessories safely and well organized, because although these accessories are portable, you just cannot carry them in your pocket. A messenger bag, a sling bag, or a small backpack would work perfectly fine for carrying these accessories with you when you are out shooting.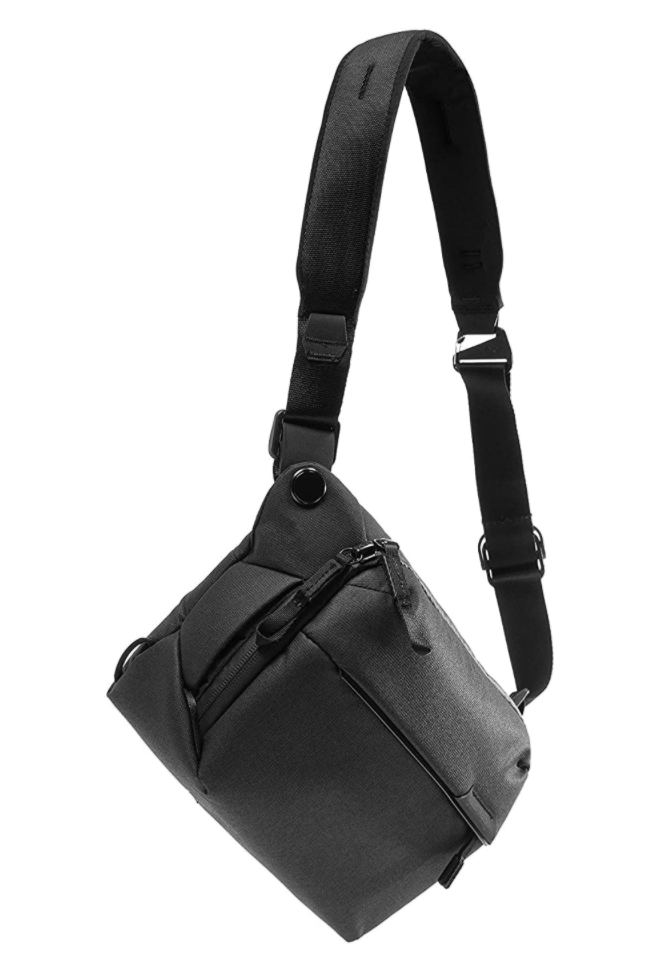 If you already have a DSLR or mirrorless camera and will be carrying your iPhone along for photography, then you can, by all means, squeeze in the accessories along with the other stuff in your camera bag, as long as all the items are safe and easily packed in.
19. Camera Apps
Although the native camera in your iPhone or smartphone can be used for photography, sometimes when you wish to capture long exposures and night sky photography images, you may need to make use of camera apps with manual controls to get the shot that you have visualized. There are a lot of apps there that you can check and download depending on your requirements.
Here are some apps that we think would be helpful for long exposure and night photography:
If you are looking for a creative type of photography, there are some apps for that as well. Check out the following!
These are only a few among the thousands of apps out there. Try various apps and you will end up with a handful that you may love.
20. Editing Apps
Once you are done capturing the images, the next step is editing. There are loads of apps on the App Store for you to pick from and some of the best apps are free. If you are looking for free apps to make edits to your photos, there are powerful apps with amazing features like Lightroom Mobile, Snapseed, VSCo, etc., that will help you to bring out the best from your iPhone images.
If you are looking for creative edits where you can make use of textures, vintage, retro effects, black and white edits in your images, then there are some free and paid apps like Mextures, Distressed FX, 1967, RNI Films, Carbon, etc.
Having accessories for iPhone or smartphone photography depends on your needs and creative vision. Most of them are quite cheap and will help you step up your smartphone photography in many ways.
Like we have been repeatedly reminding you all throughout this article, you need to check reviews and choose the accessories that will be beneficial to your style of photography, and more importantly, make sure you are picking up the accessory that will fit your make and model of phone.
Do you use any accessories for smartphone photography other than the ones mentioned here? If yes, let us know in the comments section below. We would love to know!
Further Resources: