Black and white photography is a beautiful niche that is easier to explore now than ever before.
If you've wanted to start dabbling in black and white but don't want to really spend a ton of time editing and working with your photos, then some of the apps available for Android smartphones might be a great way for you to start.
Here's a round-up of our seven favorite apps for Android that can help you with black and white photography, some of which are general editing apps and some of which are exclusively dedicated to B&W photography. We recommend that you mix and match apps according to your needs and, honestly, each one of them has something good about them that makes it worthy of keeping around on your hard drive if you have space.
One thing about most of these apps that we found while reviewing them is that each one does something better than the others and few of them do everything in a spectacular fashion.
Of course, you've always got Adobe's suite of app options – we could do an entire article about them alone – but, today, we're focusing on the black-and-white-specific apps.
We also found some apps that, though not specifically dedicated to black and white photography, can help you generate some pretty interesting output nonetheless such as a B&W-to-color app, monochrome with a splash of color, and even a conversion of your photo into a hand-drawn sketch style.
Anyway, without any more delay, here are our top 7 Android apps for black and white photography:
This option isn't free, but it is spectacular. Inspired by no less than the work of Ansel Adams, the Dramatic Black and White photography app costs $1.99 and features a range of features targeted towards making better B&W photographs.
In terms of listed styles, the app supports Black & White – Classic, Infrared Photography, and Dramatic Black & White in HD. A range of black-and-white filters, photograph graining, and vignette options are also available. There is also an eclipse spotlight tool that lets you set the light source in a photograph. Other standard editing options are also present and accounted for here.
Ideal for beginners and those just getting started with B&W photography, Dramatic Black and White doesn't really break the mold when it comes to features but it does win huge points when it comes to ease of use and workflow efficiency.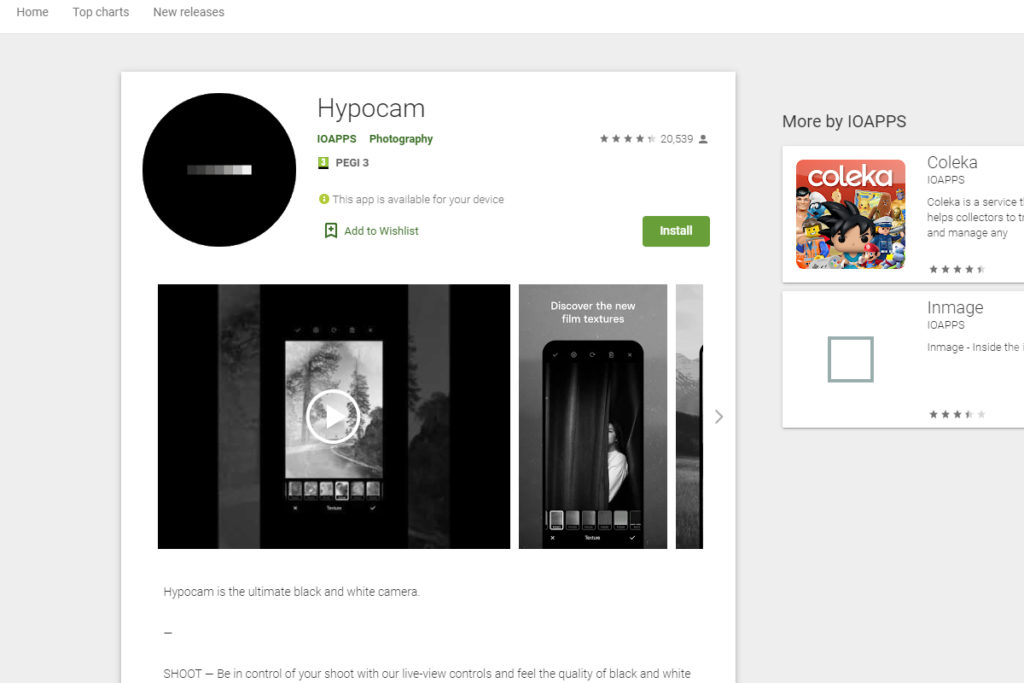 This app has a cult following and for a good reason. Initially, the download is free but there are in-app purchases you will need to make to unlock its full functionality.
Priding itself on being the "first" app dedicated to black and white, Hypocam's editing options range from the standard to the quite specialized. In fact, we would recommend that people who kind of know a thing or two about black and white as the perfect audience for this app.
Beginners are welcome, too, but they may not appreciate the fine details in the differences between the various black-and-white film grain filters that are on offer here. That said, if you're looking for an app that takes black and white photography very seriously, then you can't go wrong with Hypocam. Just don't expect it to work much outside of that niche.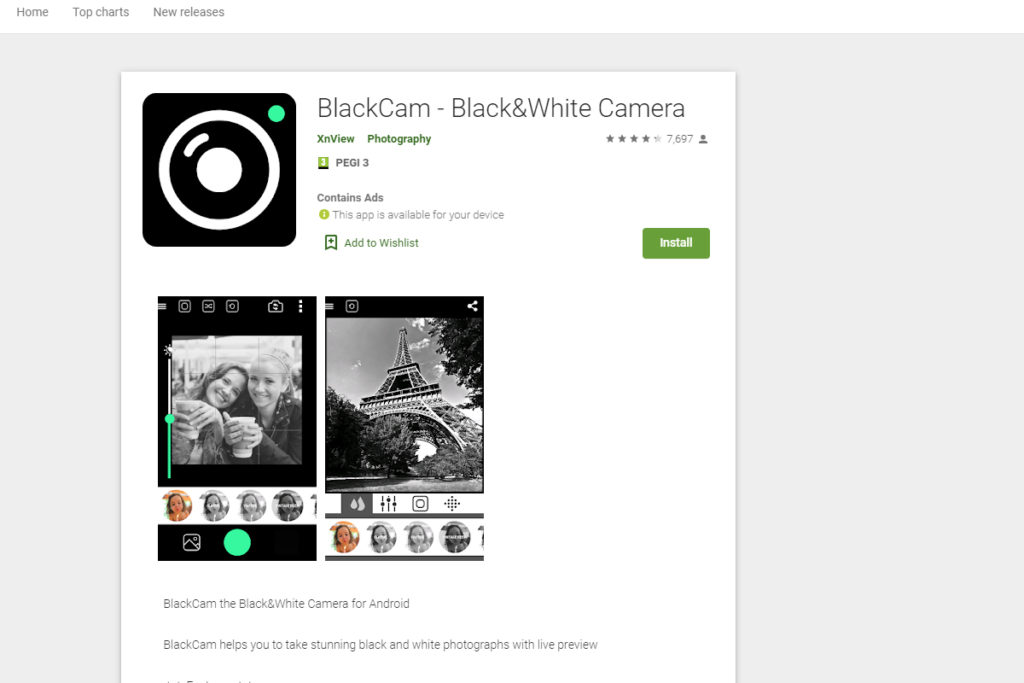 Available in an ad-based "free" version and a Pro iteration for $1.49, BlackCam does more than just B&W photography. As an all-around editor, then, it's not that bad but we're here to talk about the features specifically for the monochrome niche.
You've got your standard range of filters, grains, and vignetting as well as film options. Because it also works with color photos, this is a great option for converting from that format into B&W.
One thing we really love about this app is that it lets you complete your whole workflow in the app. If you're prepping media for social platforms, the export directly to the Internet option for most popular services is a real must-have and we appreciate the developers for including it here.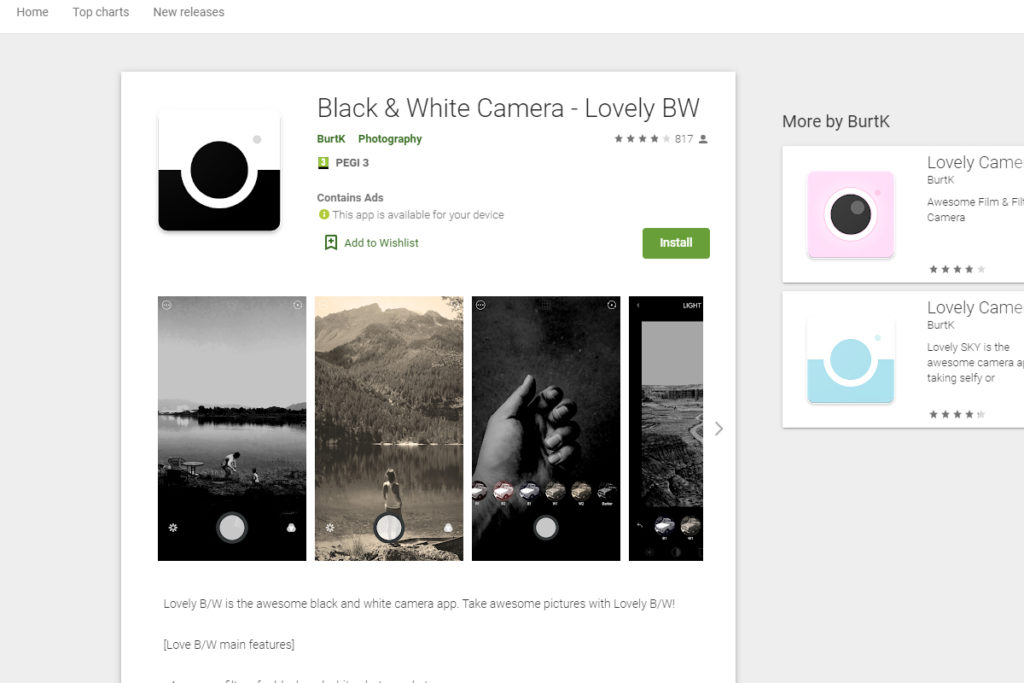 Simple and to the point, Black and White Camera has a ton of editing options and 40 filters to select. Included are an in-app camera with a timer, flash, and selfie mode as well as export options to more services than most of us are ever going to use.
There's a lot to love about this app and for the price of free, not much to complain about.
That said, it's not the most sophisticated app and thus the output isn't the best. In other words, you get what you pay for and if you just want something done with workman-like quality, here you go.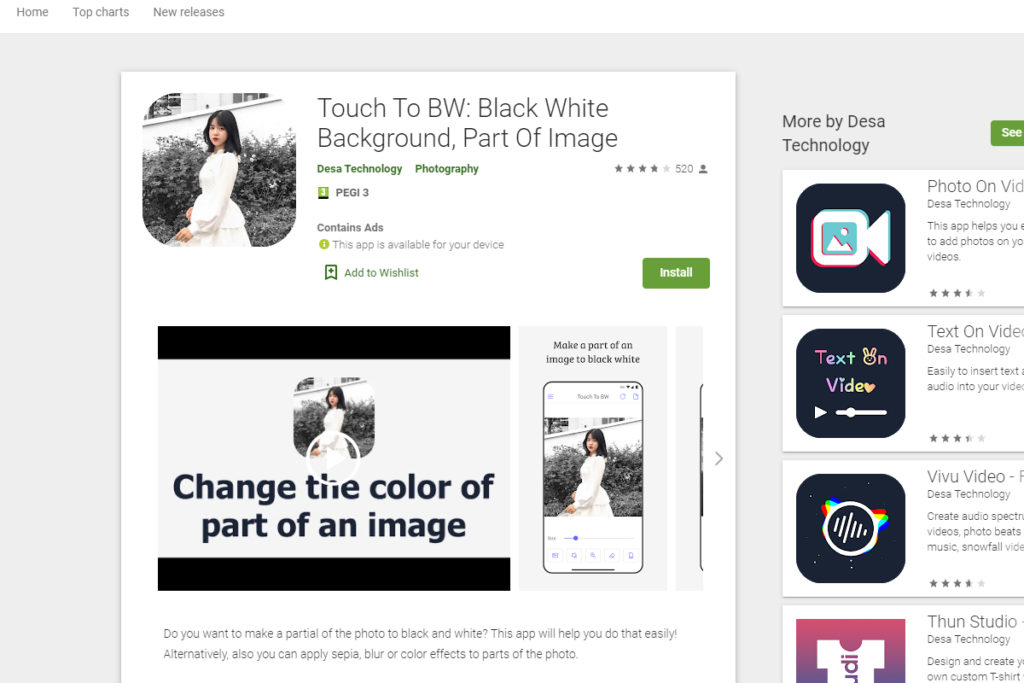 Sometimes you don't want to make the entire image monochrome and, for those instances, you want an app that makes adding or keeping a pop of color as simple as possible. Enter Touch to BW.
This will shift a color photo to black and white while leaving one element in color and all with a few taps.
Aside from black and white effects, there are also options for sepia, blur, and other color-based effects. As with many apps on this list, you can save your output to a high-res file and output it to social media platforms or email it to yourself as an attachment.
Maybe you'd like to go in the opposite direction and add some color to your black and white photos?
Colorize is the perfect app for that. The only downside is that you're limited by a paywall. If you want to get full access to everything the app has to offer, you need to pay for it.
That's pretty standard with these types of apps but it really puts the burden on you to figure out whether or not you're going to use it that much. It is very specialized and, if you need to process a ton of photos in this style, that might make it worth its weight in gold.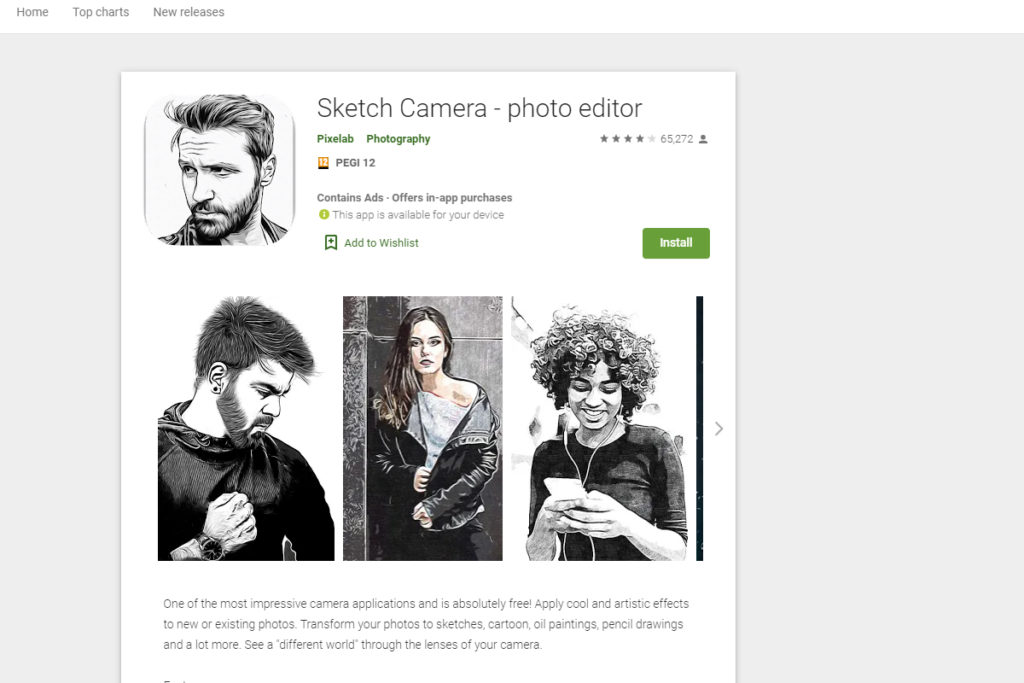 Hear us out on this one: Sure, it's not an app for editing your photograph to make it a better photo but is an artistic option in the black-and-white niche nonetheless.
Sketch Camera is a quick and easy way to convert your picture into a hand-drawn image of some kind.
You've got pencil, charcoal, oil, cartoon, and many other effects on offer here.
Like we said in the review for many of these apps, we like how some of them do one or two things really well.
This is one of those apps. If you want to turn photographs into drawings or paintings of some kind, Sketch Camera really can't be beaten.
Further Reading: