When photographing the night sky, besides a good camera, you will also require a lens that will help to capture the best night sky images. Without good lenses for astrophotography, you will not be able to work efficiently in low-light situations, and the resulting images may be soft or very noisy.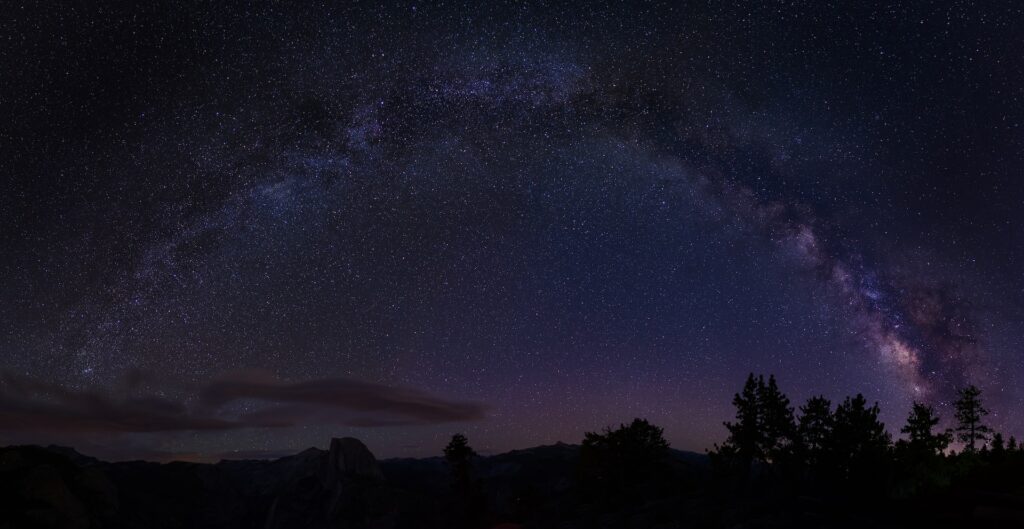 There are certain features to look for in a lens if you wish to get into serious night sky photography. Besides, as you practice photographing the night sky and wish to expand your possibilities, you will need more than one lens in your kit based on what you wish to shoot.
For example,
If you are capturing wide-angle shots of the Milky Way, starry skies, meteor showers, or aurora displays, then you will need a fast, wide-angle lens typically in the range of 14-24mm, so you can use the zoom feature to compose shots of various focal lengths.
When you are looking to capture distant objects like the nebulae, galaxies, star clusters, or even the core of the milky way, then you will need telephoto lenses in the range of 85 to 135mm. The 135mm f/2 is a fantastic lens to capture details on distant nebulae and galaxies.
And, if you wish to capture interesting shots of the moon, you will need a lens in the 150 to 600mm range where you can include some surrounding details at 150mm and close shots at 600mm.
If you wish to have the moon against a good landscape with some details of the moon still visible, the 14-24mm lens is a versatile lens and will help you get perfect shots of moonscapes. A moderate focal length of about 28 to 50mm will help to have a more detailed moon in the landscape or cityscape.
Before purchasing a lens for night sky photography, here are some features you need to focus on that will help with stunning results for night sky photography.
Fast Lens / Wide Aperture To Gather Maximum Amount Of Light
In night sky photography, you are dealing with very low light situations and gathering light from very distant objects that are thousands of miles to light years away from us. So, for the best image quality, you need a lens that will help you to gather as much light as possible in the given exposure time, with reasonable iso values, in order to get a clean image.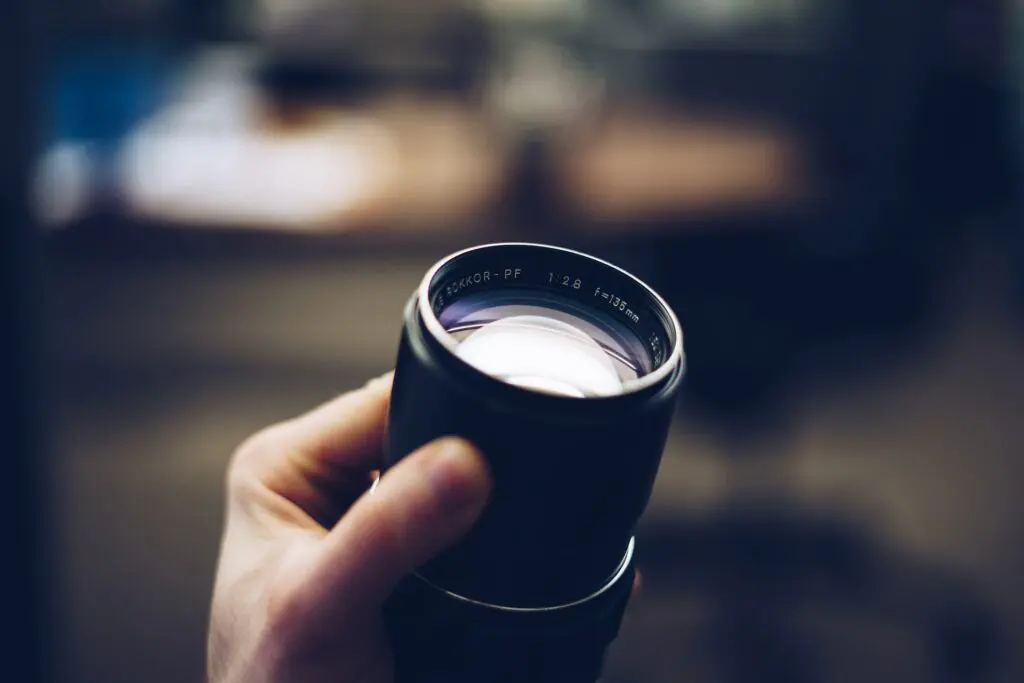 In order to achieve this, you will need a fast lens, which means a lens with wide apertures, wider than f/2.8. If possible, go for an f/1.8 or f/2 astrophotography lens, but a standard aperture value of f/2.8 works great to capture the stars, Milky Way, aurora, etc, if you are using it on a camera with a good sensor.
Wide aperture values will also allow you to choose lower iso values so that you can capture noise-free or less noisy images. Too much noise in night sky photos will render them unusable.
Note: Remember also to keep sharpness in mind. The widest aperture values like f/1.4, f/1.8, and f/2 tend to soften the image slightly. Always take test shots and check results by zooming in at 100%. If you are unhappy with the sharpness, close down the aperture by a stop for better results.
Focal Lengths Based On What You Shoot
If you are just beginning to get serious in night photography, you will mostly be shooting wide-angle shots, and in order to have a good view of the night sky along with some landscape, you should go for wide lenses. Instead of a prime lens, you can go for a zoom lens that will give you a range of focal lengths you can work with. So a focal length range between 12 to 24mm is a good choice depending on the manufacturer and type of camera – crop sensor, full frame, etc.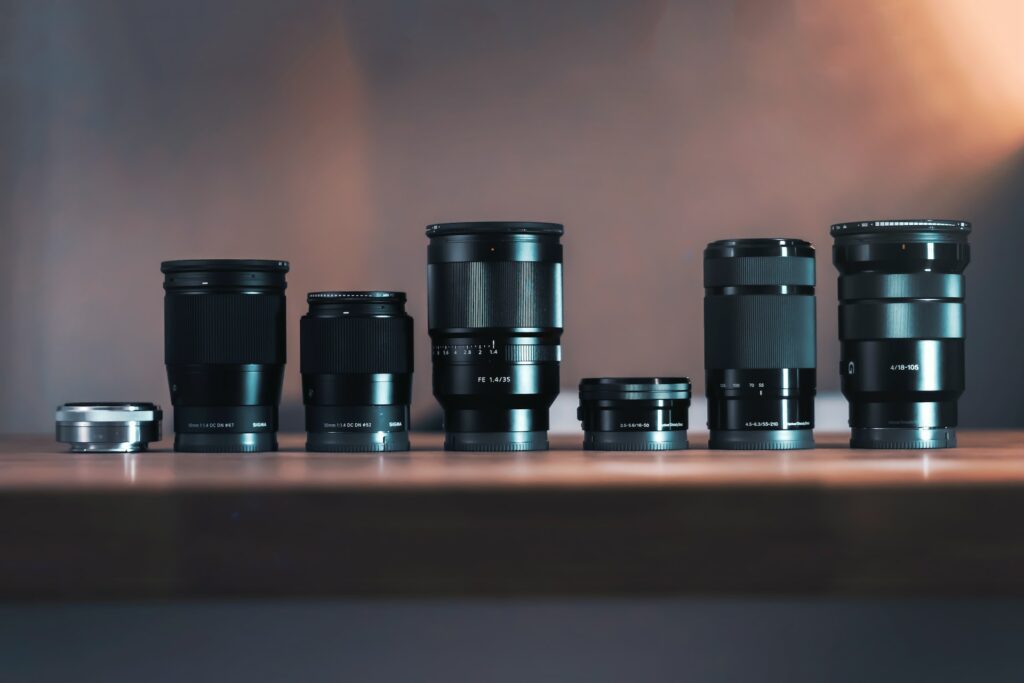 The most common wide-angle zoom lenses are the 14-24mm f/2.8, and most lens manufacturers have a lens around these focal lengths. For crop sensor cameras like APS-C and micro four-thirds cameras, you can go slightly wider, between 7 to 12mm so that the effective focal length will be perfect for wide-angle shots.
You can also go for prime lenses like 14mm f/2.8, 16mm f/2.8, or 18mm f/2.8, etc. The only limitation is that you will have to work with just one focal length and crop the image if you need some narrow shots, which may not always work great. A zoom lens is more convenient and flexible, in our opinion.
If you have some experience and would love to take your astrophotography a bit further into capturing distant nebulae, galaxies and star clusters, or even the core of the milky way galaxy, then you can use a telephoto lens between focal lengths 85 and 135mm. These will let you capture more details on the object you are photographing. You will need to stack a few hundred images to get the best results.
For photographing the moon and the sun (of course, with a solar filter), you will need a longer focal length, like 400 to 600mm, in order to capture some brilliant details. A zoom lens will allow you to capture scenes at various focal lengths.
Focal Length And Exposure Time
You also need to take into account the exposure times when choosing particular focal lengths for astrophotography lenses, as longer exposure times will result in star trails. The longer the focal length, the shorter the exposure time. When exposure times become short, you can only gather less light, and increasing iso beyond a certain limit will make the image look very noisy with no prominent details.
The exposure time is usually calculated based on the 500 rule.
Note: The 500 rule is 500 divided by effective focal length – you need to take the crop factor of the sensor into account.
So for a full-frame camera,
If the focal length is 14mm, then the exposure time is 500/14 = 35.7 = 35 seconds exposure time.
For a focal length of 24mm, exposure time is 500/24 = 20.8 = 20 seconds,
For an 85mm focal length, exposure time is 500/85 = 5.88 = 5 seconds exposure time.
For a 1.5x APS-C camera,
If the focal length is 14mm, then the exposure time is 500/(14 x 1.5) = 23.8 = 23 seconds exposure time.
For a focal length of 24mm, exposure time is 500/(24 x 1.5) = 13.8 = 13 seconds,
And for an 85mm focal length, exposure time is 500/(85 x 1.5) = 3.9 = 3 seconds exposure time.
So when using longer lenses, you will need to increase the iso as the shutter speed will be comparatively faster, and you need to gather the required details in that period of time.
Affordability And Third Party Lenses
Most lens manufacturers have a decent range of lenses, but when you go for faster lenses, the price becomes too high. An alternative would be to go for third-party lens manufacturers, and they make good quality lenses at a slightly lower price. Some of the most popular third-party lens manufacturers are Sigma, Tamron, Samyang, Rokinon, etc. They manufacture lenses of almost all focal length ranges that original manufacturers do and for most camera makes and models.
Here Are Some Lenses That We Think Are The Best For Night Sky Photography
Based on the features discussed above, here are some lenses that can be used to capture stunning night sky photography and the ones we thought were the best lenses for astrophotography.
Wide Angle Lenses
For wider shots, wide lenses of focal lengths 14-24mm for full frame, 10 to 24mm for APS-C sensors, and 7-14mm for micro four-third cameras can be used. Based on the camera that you own or are planning to purchase, you can check out the following lenses. An ultra wide zoom lens can cause unwanted distortions and hence is not advisable for astrophotography.
Believe the hype! This S series lens is everything Nikon said it would be. Its lightweight, fast and sharp. It handles glare and tricky lighting situations better than any other lens I've ever owned, aside from my 2 other S series lenses. I'm a professional photographer and put my gear through some pretty grueling activities, and this lens just takes the beating and keeps on going. It's a little pricy, but once you use it, you'll understand why. I recommend this product to anyone that wants a lens that can deliver in any lighting situation and gives results that rival prime lenses. I'm glad I made this purchase.

5 stars – Outstanding Lens
Love this focal length. I love shooting with wide angle lenses, and this is the perfect one. The distortion isn't too severe even at the 8mm, but perfect for what I need it for. I'm fairly new to the Fuji system (from Canon full frame), and love how compact these lenses are. The autofocus is quick and reliable on my H2s and its an extremely sharp lens. Highly recommend it!

5 stars – Quick autofocus, sharp, and fairly compact
And some third party lenses:
This is an awesome wide-angle lens. Excellent coverage in the night. good manual and auto focus modes. I've shot landscapes, Skylines and astro-photography using this lens. would highly recommend it

5 stars – Amazing Coverage
Moderate / Telephoto Lenses
For moderate shots of deep sky objects, focal lengths between 85 and 135mm are the best. Here are some lenses that you can check out!
Out of all of the lens I own, this will always be my favorite. It took my 24-70 breaking on a trip to force me to use this lens for everything and I walked away loving it more than I ever thought I would be. Portraits, wedding, landscape, wildlife anything. The f2.8 combined with the compression creates stunning up close imagery or powerful landscape images. I've owned this for a few years and it will be my most touched next to my 24-70.

5 stars – Most versatile lens out there
Zoom Lenses
In order to photograph the moon or sun (sunspots, eclipses, and transits) with closeup details, you need a zoom lens of at least 400mm focal length. Here are some lenses that you can check out.
I'm totally amazed with the way this lens shoots, both with the matched Sigma 1.4 Teleconverter and without… The highly rated 1.4 Teleconverter is also worth every penny, and takes 'No' sharpness away, I also believe only adds to it. Auto focus worked perfect also with the TC and is so fast.

I'm using this wonderful lens mounted on my new beloved Nikon Z6 Mk2 full frame Mirrorless camera for both wildlife and astrophotography, including quite a bit of deep-sky work…

5 stars – Fantastic lens for both wildlife and astrophotography…
| Lens Type | Focal Length Range | Purpose |
| --- | --- | --- |
| Widen Angle Lenses | 14-24mm for full frame cameras, 10 to 24mm focal range for APS-C sensors, and 7-14mm for micro four-third sensors | Good view of the night sky along with some landscape |
| Moderate Lenses | 85mm to 135mm | For deep sky astrophotography – capturing distant nebulae, galaxies and star clusters, or even the core of the milky way galaxy with exceptional image quality. |
| Zoom / Telephoto Lenses | At least 400mm | For photographing the moon and the sun with brilliant details |
Overall, the best astrophotography lens would be the wide-angle lens with an equivalent focal length of 14-24mm with a maximum aperture value of at least f/2.8, so you can capture stunning and sharp night sky images with great details. Buying a lens of your choice really depends on your needs, skills, and budget. Check the lens features and choose the one you prefer for your type of night sky photography.
What are your experiences with night sky photography? Do you use and recommend a particular lens? If so, which lens and why? Please share with us in the comments section below.
Further Resources: