Nobody wants to blur pictures on purpose, but a desirable amount of background blur looks great and helps with effective photos in some situations. Smartphones these days are capable of capturing almost professional quality images and so can be used to capture portraits and other closeup images.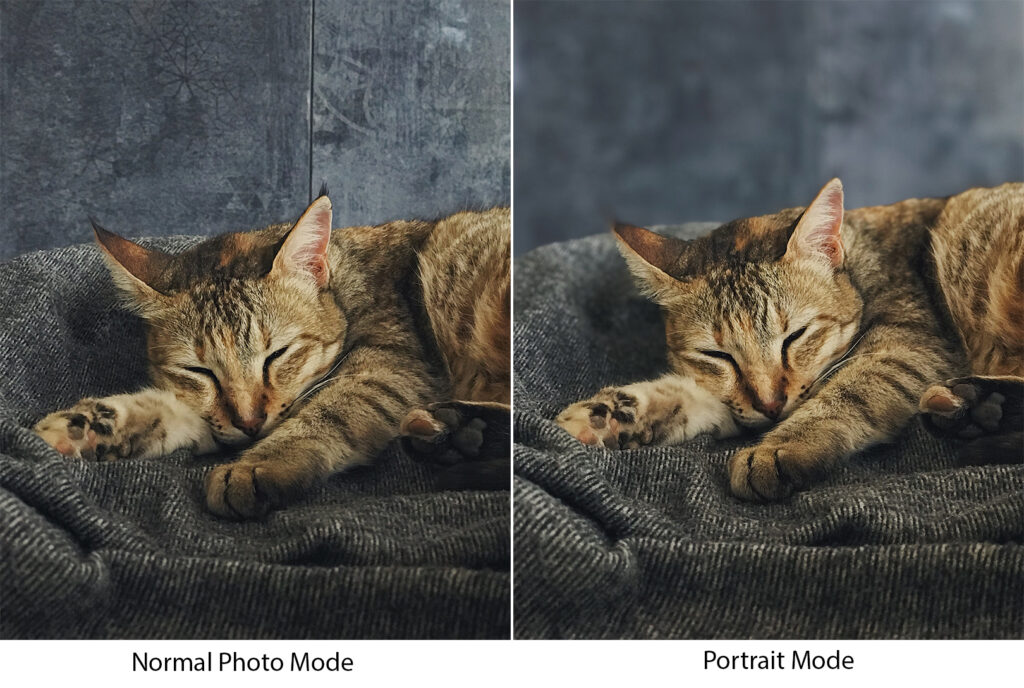 Having a blurry background in these scenarios can make the subject stand out when it comes to photography, and it can be a powerful compositional tool to draw attention to the subject. You can capture images with blurry backgrounds even using a smartphone (an iPhone or an android phone) that you have in hand. It may seem difficult to achieve that effect, but with the right techniques and some creative thinking, it is quite easy.
Read below for some creative ways to blur the background in your images when using a smartphone for photography.
Here Are Some Ways To Blur The Background Using An iPhone Or Android
Getting a blurry background in images takes more effort than just capturing snapshots. The following tips and techniques will help you to capture images that stand out against a blurry background.
Use The Portrait Mode
Most recent iPhones and Android phones come with cameras and camera apps that support portrait mode. Portrait mode uses the depth effect software to blur the background hence the subject remains sharp, and the background is rendered blurry by the app.
This feature can be great for portraits, but can also be used for other subjects, where you want the background blurry or in situations where you wish to eliminate or reduce the effect of distracting backgrounds.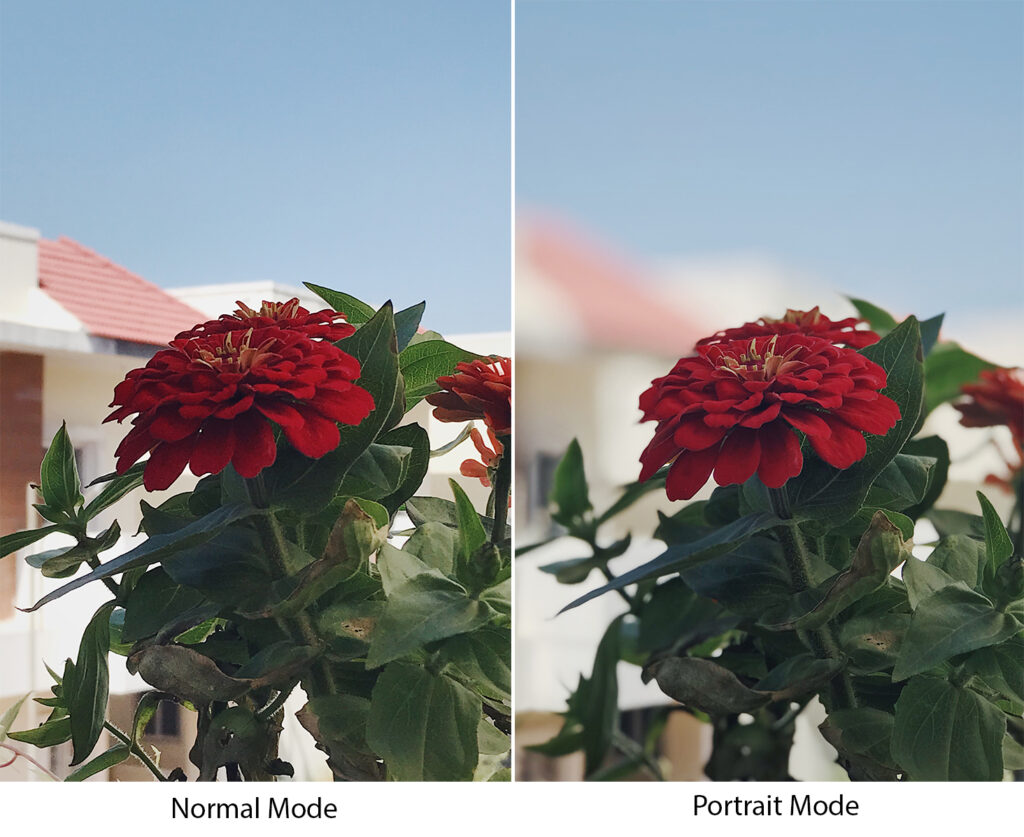 So, here is how to use the portrait mode:
Open the camera app and tap portrait to choose the "Portrait" option or "Portrait" mode. This can vary with devices or mobiles, and the iPhone's Portrait Mode is found at the bottom of the screen when the camera app is opened.
Make sure that the subject is at a distance as recommended by the camera for the depth effect to work effectively, to blur the background effortlessly, or to get the best results. Usually, it is between 2 to 8 feet away from the camera, depending on the subject's size.
Compose the photo and set the focus on the subject or the subject's face in case of portraits.
Adjust the exposure and capture the photograph.
If there is an option to change the aperture when photographing, set the desired aperture value, preferably a wide value like f/2.8, at this stage to get the preferred depth of field, which is a blurry background. This feature is available in a few Android and iPhones.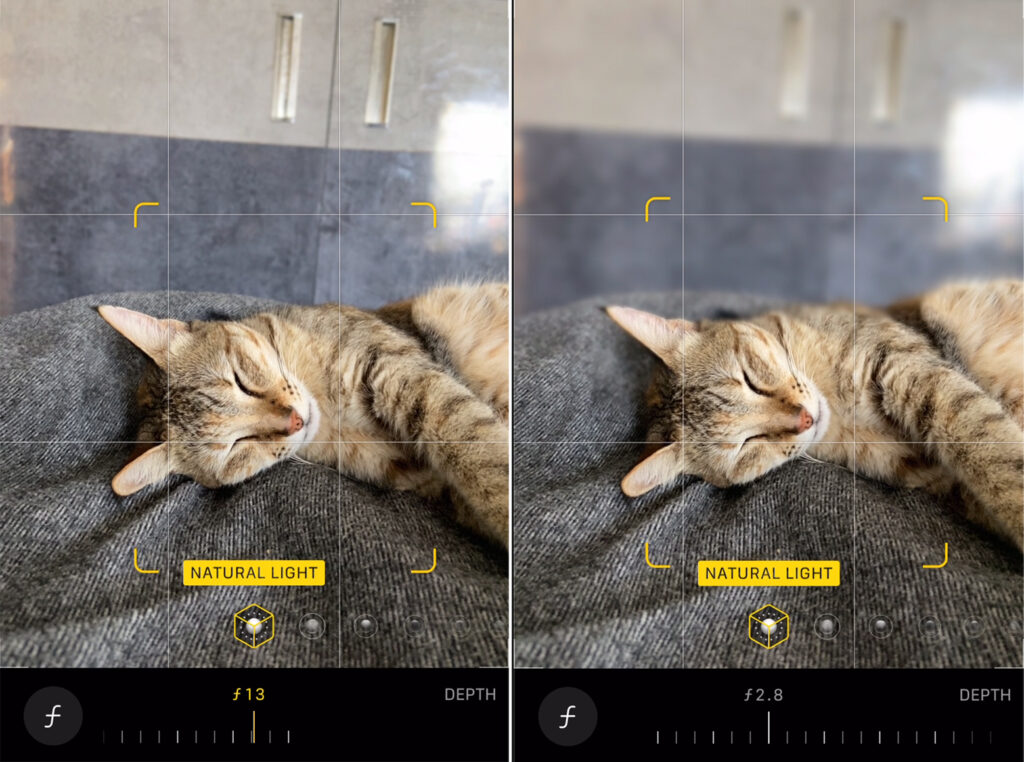 Some smartphones, including the recent iPhones, can adjust how much blur you wish to have in the background when editing. To achieve this, you must have taken the photo in Portrait mode, and your phone should be a fairly new model for this feature to work.

Open the photo in the "Photos" app (for iPhones) and then tap "Edit." Some Android phones have features or names like "Bokeh" to adjust the aperture value.
Tap the f-number value on the top left.

Choose the desired value for the background blur to achieve the desired blur effect. Do not overdo this, as an image with an overly blurred background shot on a smartphone can look very unnatural.
You can also play around with the lighting features available in the iPhones and control the strength to get the desired looks in the final image.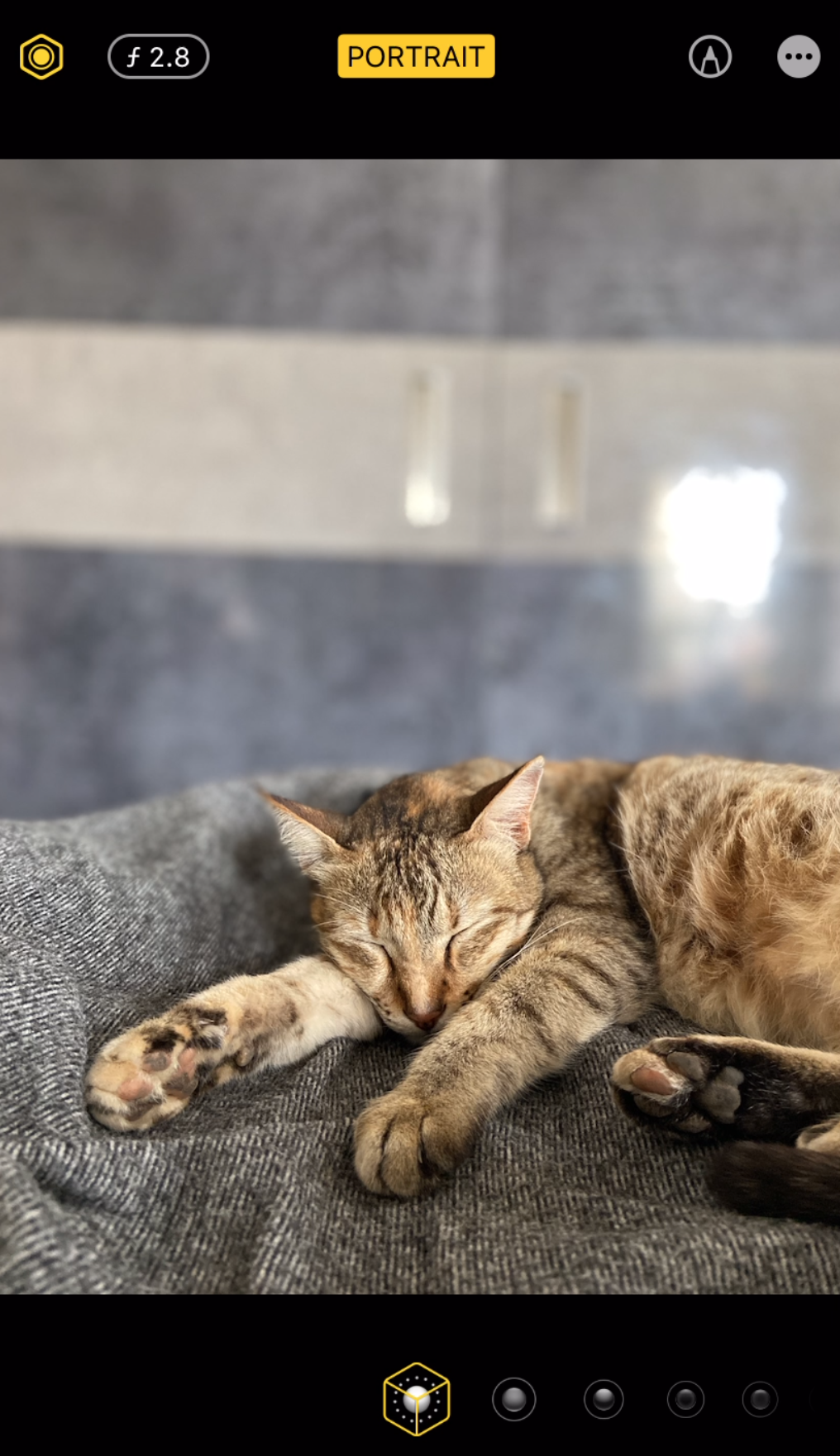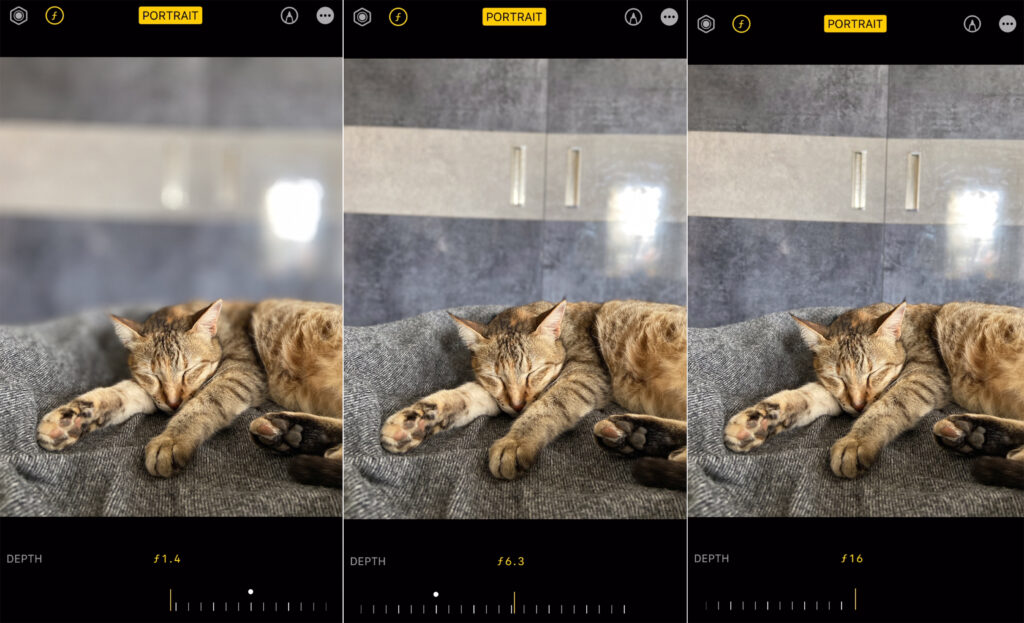 Note: Some iPhone and Android models may not work in portrait mode unless they detect a face. So it will be difficult to capture still-life images using portrait mode. Also, some smartphones will allow you to use the zoom function in portrait mode, while others will not.
Get Closer To The Subject
Just like how you get closer to your subject to get more background blur (shallow depth of field) when using a DSLR or mirrorless camera, you can use the same technique on your iPhone or Android phone to get a more blurry background. You can use this option if you do not have portrait mode on your phone. The closer you get, the blurrier the background.
Make sure that you are within the minimum focusing distance limits because the phone camera cannot focus correctly if you are too close to the subject, and this can render the picture blurry. Always check for sharp focus and adjust the distance between the camera and the subject for accurate and sharp focus.
Use The Optical Zoom Function
Many iPhones and Android phones come with more than a lens that allows the photographer to go wide or zoom into the scene. If you have an option like a 2x zoom lens or more, use that to focus and capture a photograph of your subject. This will help you to capture images with more blurry backgrounds because the zoom function will allow you to get even closer to the subject and hence more background blur.
Choose the above option only if you do not have a portrait mode on your smartphone or if you are not satisfied with the results in portrait mode.
Try Manual Settings
Some smartphones, especially Android phones, come with a camera app that will allow you to use manual settings to capture a photograph. You can set the aperture value, iso, and shutter speed to get the desired exposure. In order to get a blurry background, set the aperture to a broader value, like, for example, f/2.8 depending on your visual interest.
There are also third-party camera apps that will allow you to use manual settings to capture an image. Use one of these apps and choose a wider aperture value, so the resulting image has a pleasing background blur. You can adjust the aperture value according to your visual perception.
Use The Macro Mode If You Have One
Some smartphones may come with a macro mode that will help to achieve a blurry background for closeup images without much effort. This feature may not be helpful when capturing portraits, but it can be useful for capturing macro shots of bugs, flowers, and other objects with good background blur.
Use A Macro Attachment
If you want to capture macro photographs with good magnification but at the same time by blurring photos for the background, then a macro lens attachment is a great tool to consider. There are many lenses in the market that come at affordable prices, and some of them are the Moment, Apexel, Olloclip, etc.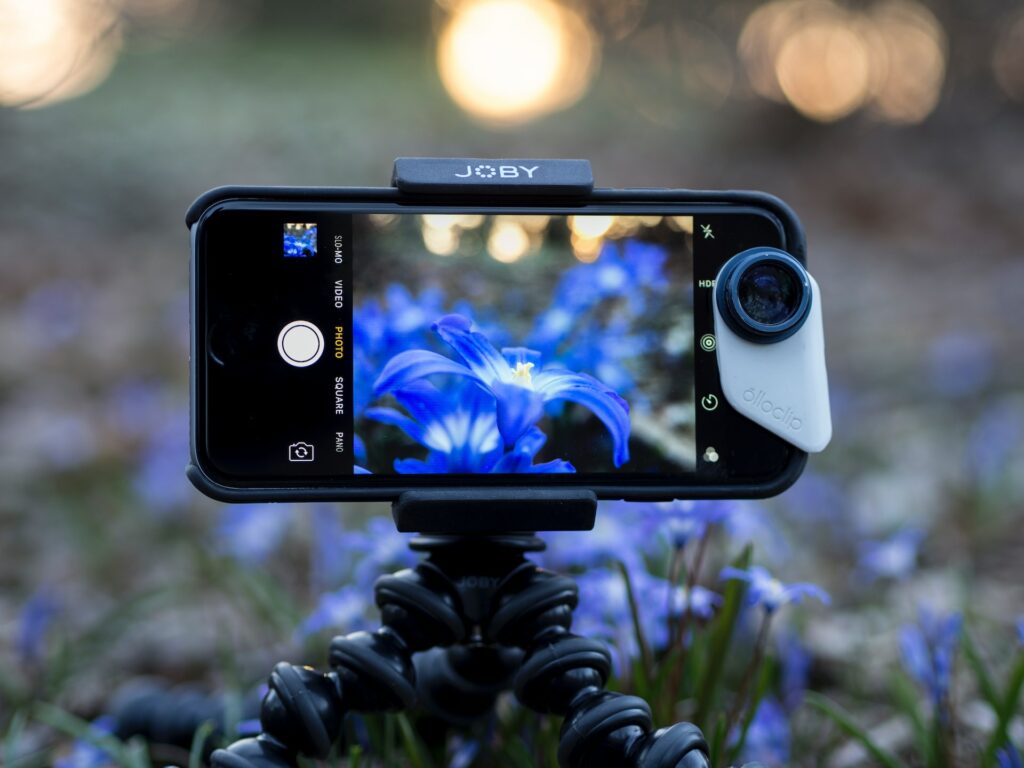 When using macro lens attachments, the focusing part can be tricky as the plane of focus is relatively thin. Make sure that you focus on the right area or point where you want it to be and then capture the image.
Use An App That Will Allow You To Capture Blurry Backgrounds
There are various photography apps on the App store and Play store for iPhones and Android phones, and these apps allow the photographer to capture a blurred background in their images. Most of them come with manual settings, so the photographer has more control over the resulting images.
Some apps that you can check out are Halide Mark II (iOS), Blur Photo Background (iOS), ProShot (iOS, Android), ProCam 8 (iOS), Camera + (iOS), Auto Blur (Android), DSLR Camera Blur Effects (Android), Blur Photo (Android), etc. These camera apps have manual settings and portrait mode (works for dual or more lens smartphones), with some apps that will allow you to focus on the subject manually, giving you full control over the entire photography process.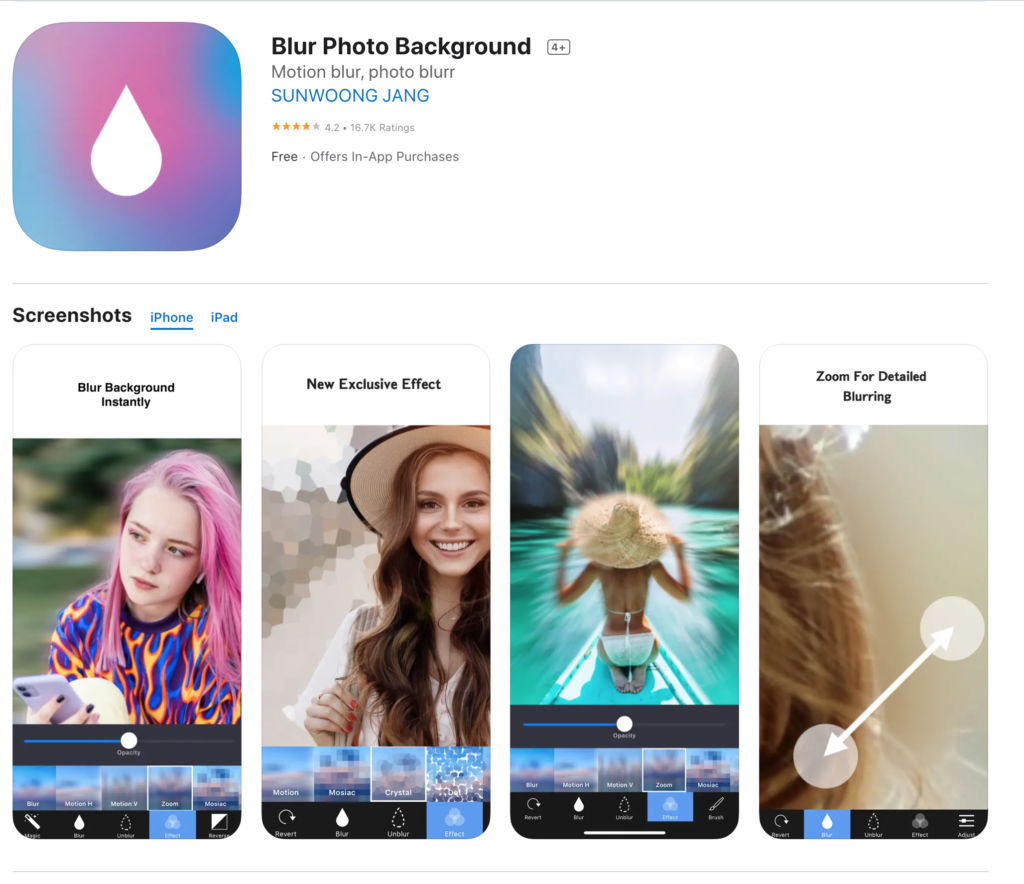 The above list of apps is a combination of free and paid ones, so you can always check the features and settle on a free app if that will be sufficient for your photography and editing needs. Some apps may come with a free version, and you may have to make in-app purchases to access the advanced tools and any new features that may be introduced from time to time.
Besides capturing photos, these apps also come with inbuilt photo editing tools or capabilities. This way, you can capture and edit the images, all within the same app.
Use The Blur Tool When Post Processing
If you were unable to capture a reasonably blurred background in your image or you have an old image in your photo library that requires blurring the background, then there are apps that will help you with that option. Apps work differently in the sense that some apps will allow you to brush the background and blur it or use tools like a polygonal lasso tool to select the subject. In contrast, others may have a radial filter that will help to blur areas out of the circular area.
Choose an app that works for you, and remember that the radial blur option may not always be very natural looking in terms of having background blur.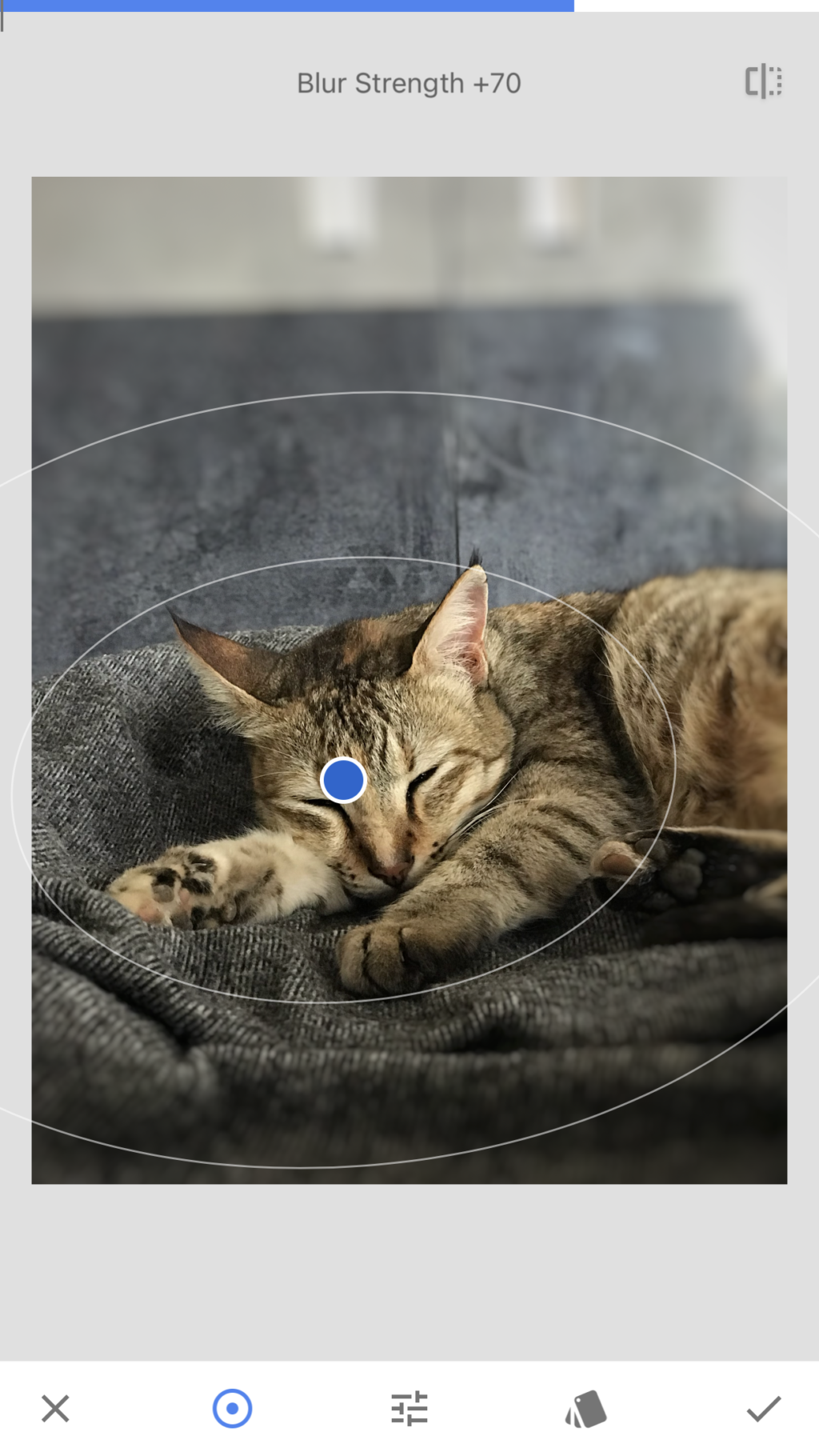 Some apps that will help with blurring the background when post-processing are:
Blur Photo Editor – This is an app for iPhone and iPad that helps to blur parts of images or blur backgrounds in images accurately. It has an extensive collection of blur effects, including circular and band blurs. You can also choose the intensity of the blur effect to suit your liking.
After Focus (iOS and Android) – After focus app allows the photographer to apply blur effects depending on their visual preferences, like lens blur, motion blur, zoom blur, and so on. Just select the focus area by drawing along the boundary of the subject for smart focus area selection, and then choose the type of blur you wish to apply to the photo. You can either capture a photo with these blur effects using the app or edit an old image to blur the background using this app.
Besides the above, there are apps like VSCO, Snapseed, Photoshop Express, etc., that can help to blur photos for the background. Depending on the app that you are using, you may have to choose the Lens blur, blur effect, or paint over the background, etc., and then tap blur to create the blur effect. There will be various kinds of blur to choose from, for example, gaussian blur.
Make sure that you paint with the image zoomed in when you have to manually paint and choose a background in the app that you are using. When choosing radial or linear blur tools, make sure you use the right size so you do not blur images in the wrong areas.
Using the blur feature can also be a way to take away attention from unwanted objects or elements in the background. Just be mindful that you only choose to make the unwanted areas in the pictures blurry and not blur your main subject.
Conclusion
Portrait mode can be a great option to capture background blur in an image using an Android or iPhone. Still, it can sometimes render the image generally soft, with the finer details around the edges quite blurry or smudgy. It can be great for bigger subjects but can also be used with care when capturing smaller subjects. Always take test shots and zoom in to see if the edges have been captured satisfactorily.
Since the smartphone is one we carry in hand most of the time, it can be a great tool to capture images with almost professional-looking results.
Do you use your smartphone to capture images with blurry backgrounds? What are some techniques or settings that you use? Please share with us in the comments section below.
Further Resources: