Photogenic does not necessarily mean pretty or beautiful. In fact, the dictionary definition of photogenic is this: "forming an attractive subject for photography". Some of the most striking images of recent years have come from Urbex photographers. Urbex is urban exploration and deals with visiting and photographing abandoned and decaying locations.
If there is one urbex location that stands head and shoulders above any other, it's Chernobyl. Many born since the fall of the Soviet Union may have only heard of Chernobyl through the recent HBO series. However, those of us who have accumulated more years remember it vividly, especially if you lived in Western Europe at the time. The now deserted city of Pripyat and surrounding villages stand testament to the world's worst nuclear accident. For me, growing up during the Cold War and now living in Ukraine, visiting Chernobyl has been an obsession. An obsession that I recently realized.
Getting To Chernobyl
It's actually not that difficult to get to Chernobyl. However, it has to be done through a registered agency and you go as part of an educational tour, not as a tourist. All tours start from Kyiv, around 150km south of Chernobyl. There are a number of agencies doing tours, all with different packages.
As this was my first trip to Chernobyl and was part of a longer shoot in Kyiv I elected to do just a one day tour. However, there are two and three day tours also available as well as private individual tours. During multiday tours you will stay overnight at the Chernobyl hotel, in the exclusion zone.
In hindsight I would have chosen a two day tour as the one day takes in an awful lot, but does not give you time to be really creative with your shots. My main reason for going this time was to shoot stock video and I felt by the end I had not really shot as much as I had wanted, I also shot very little in the way of still images. To that end, I will return.
The Practicalities And Dangers
So, let's address the elephant in the room first, the radioactive dangers. Of course, you are travelling into one of the most radioactive locations on the Earth. However, it also one of the most studied and mapped locations on the Earth. The locations that you visit are very low risk, the bulk of the radioactive cloud did not actually pass over Pripyat and so the bulk of the city has low levels of radioactivity. In a 12-hour tour of Chernobyl you will receive the same amount of radiation as in a one-hour flight. Most tours allow you to rent Geiger counters to keep tabs on this. Also as you enter the zone you are given a device that measures your accumulated radiation. This is checked when you depart. You also have to pass through a radioactivity scanner when departing.
Getting Into The Exclusion Zone
Your tour will enter the zone through the main border control near Dytyatky. This really feels like an international border crossing. It is manned both by police and the military and you will need to present your passport upon arrival. The information will have been pre-sent by the tour company, so all the details must be exact. Any errors and you will not be allowed in.
You will need to have long trousers, a long sleeved shirt and to have covered yourself in insect repellant. Although you can order lunch on the tour, it does feel like it was made in the Soviet Union in 1986. To that end it's worth taking stuff to snack on and plenty of water. There are obviously no shops in the zone but there are kiosks at the border crossing to buy provisions if you forgot.
For the most part photography is allowed everywhere, however there are some exceptions. At border crossing and checkpoints photography is not allowed. Also there are two modern nuclear waste recycling centres and photography of these is strictly forbidden. Your guide will point out where you can and cannot take photos.
Tripods are allowed, although you might want to cover the tips of the legs to prevent direct contact with the ground. Drones are not allowed unless you gain permissions well in advance of your trip. The tour agency will do this for you, but on a one day tour, you will not have time to put a drone up. Bear in mind there will be no access to power, so make sure you have plenty of fully charged batteries for your camera. Surprisingly, many of the areas you will visit have either 3G or 4G mobile coverage. So if live Instagramming is your thing, it's perfectly possible to do. So where do you go?
Zalissya And The Abandoned Kindergarten
These are both on the road toward Chernobyl and both are haunting and very photogenic. The village of Zalissya has been reclaimed by nature but you can enter the old abandoned wooden houses. The light can be low both inside and out due to the dense forest, so a higher ISO might be necessary.
The abandoned kindergarten is one of the iconic locations. Deserted dormitories with scattered toys and books around make for some very haunting photographs. A decent wide angle is best suited for the indoor shots here.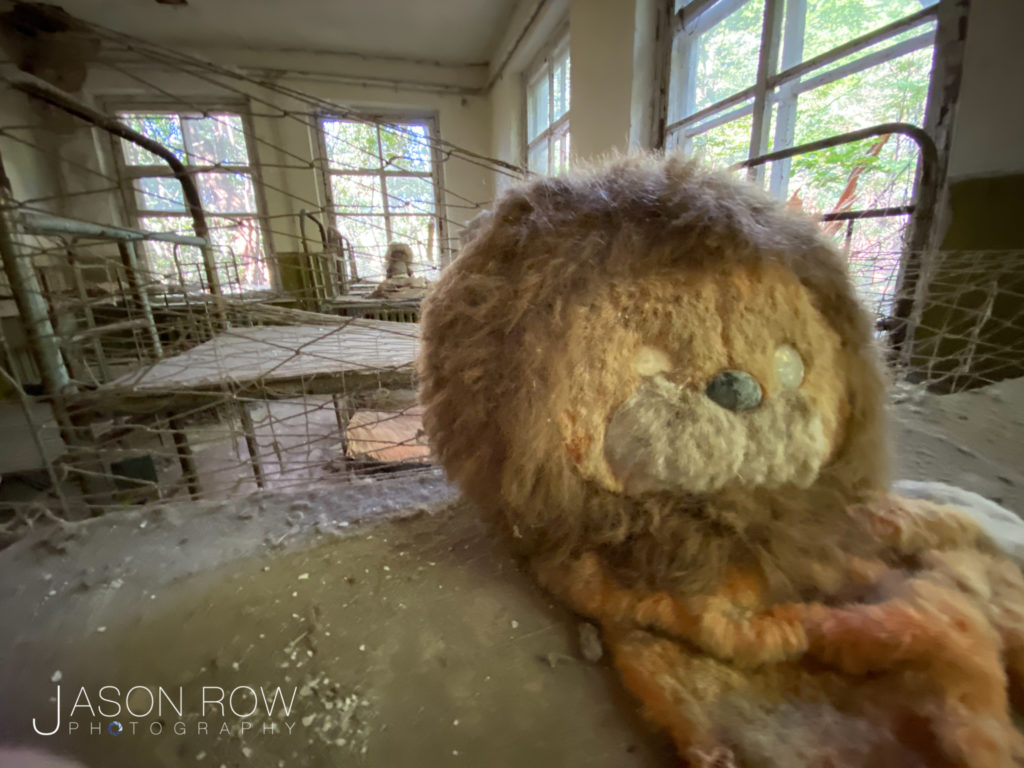 The Russian Woodpecker
In the early 80's a strange sound was heard over various radio frequencies in the west. The sounds was reminiscent of a woodpecker. It was not until after the Chernobyl disaster that the source of these signals was found to be the Duga-1 radar. This was a massive early warning radar and also a massive failure.
Today it is included as part of the Chernobyl tours. As a photographic spectacle it can be hard to shoot. Some tours will also take in a distant view to give it scale, mine however only went close to it.
You can shoot to concentrate of the details of this immense structure, or use an ultra wide to try and give some context to it. You can also go inside the administration buildings although these are not as poignant to shoot as the villages.
Reactor Four Chernobyl
For me, the biggest shock was just how close you get to infamous reactor four. On the approach you will stop around 500m away to get some shots of the power station as a whole. Then you reboard the bus and literally drive around the perimeter road of the complex before stopping at the Chernobyl Observation Deck. At this point you are a mere 170m from reactor four. Or at least 170, from the massive New Safe Confinement structure, installed in 2017.
At the observation deck is the Monument to the Casualties of Chernobyl. This makes a good framing device to reactor four although the direction you can take photographs is limited due to a nearby reprocessing plant.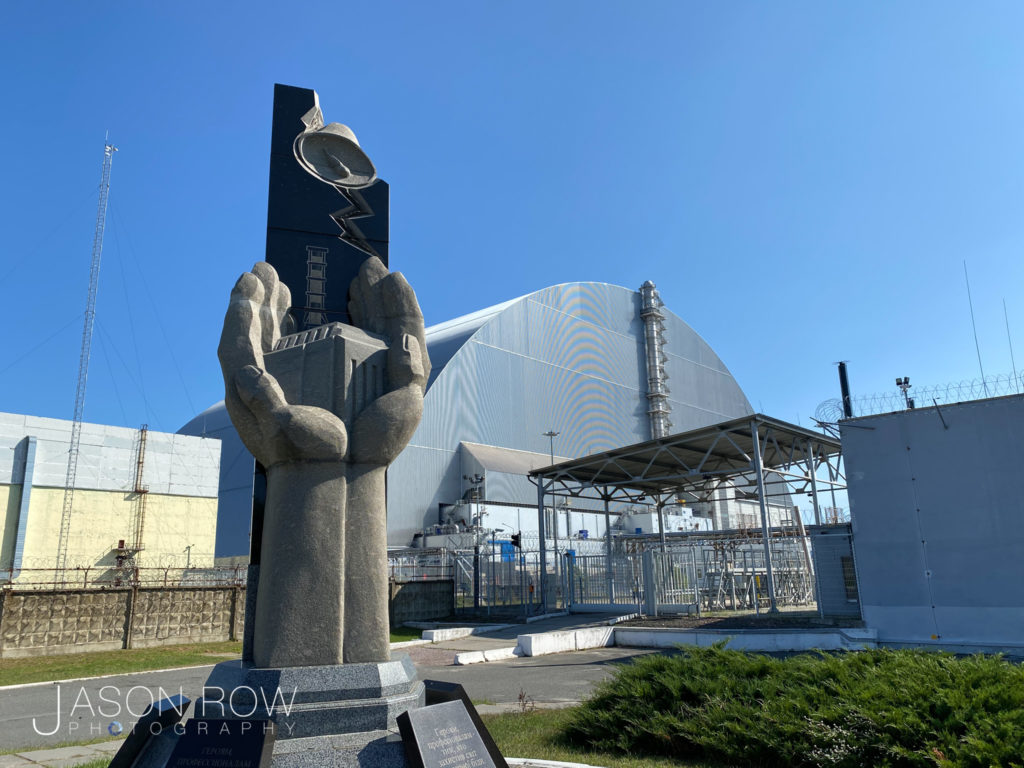 Pripyat
The highlight of the tour and pinnacle of urbex photography is the city of Pripyat. It's located about 4km north of reactor four and the exploration is done entirely on foot. Sadly due to the decaying situation of many of the buildings, it is no longer permitted, legally, to enter them. Legally being the operative word.
However, even if you do not enter the buildings Pripyat is chock full of photographic opportunities, from the main square, through the cafes, bars and hotels to the infamous fairground. The fairground, incidentally, never opened. It was due to open on May 1st, just after the reactor exploded. From my point of view as a photographer this was perhaps the most disappointing. By this time we had already covered around 18km on foot and tiredness was a major issue. Add in the pace of the tour and heat of the day – getting good, creative shots was a struggle!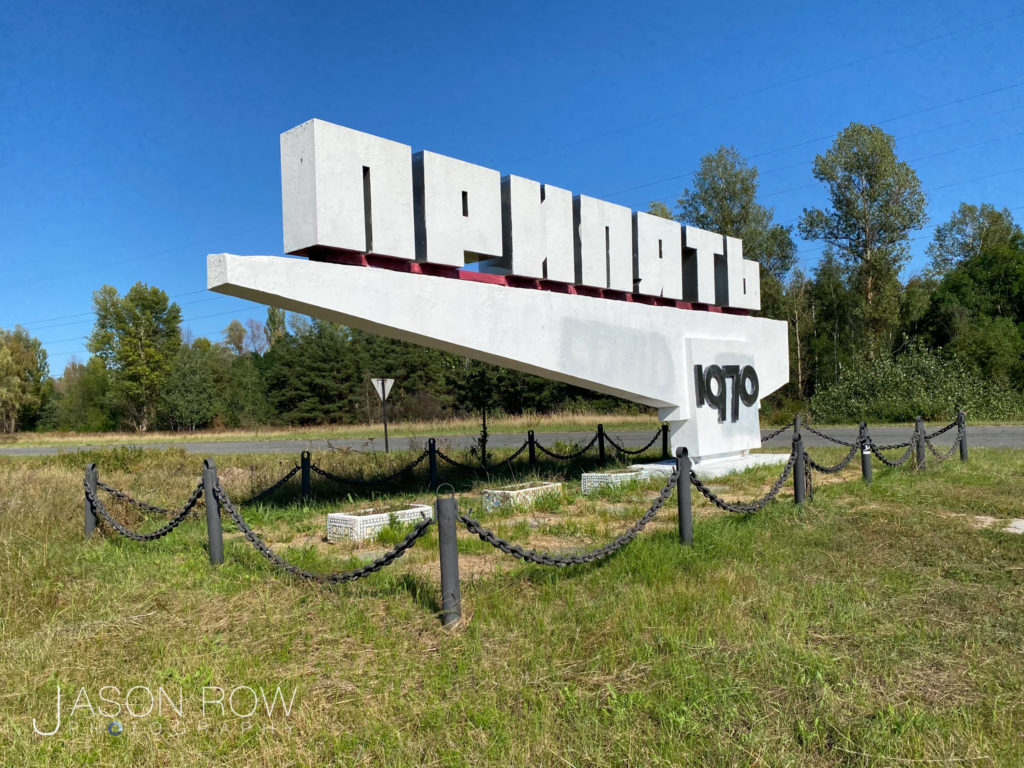 For this reason I will return to Chernobyl either on a private tour on one of the dedicated, two day photographic tours.
To visit Chernobyl has been an ambition of mine for a long time. To have achieved it seems almost surreal. From a purely photographic standpoint, Chernobyl has to be right up there with some of the greatest locations on the Earth.
However, to truly appreciate and creatively cover the site, you will need to take a longer tour or hire a private guide to concentrate on specific locations. Something I am planning to do early next year!
Further Reading:
A Photographer's Guide To Vienna